ICONIC DESIGN:
Stylish Vintage Collectables: Quirky Curios: Art & Antiques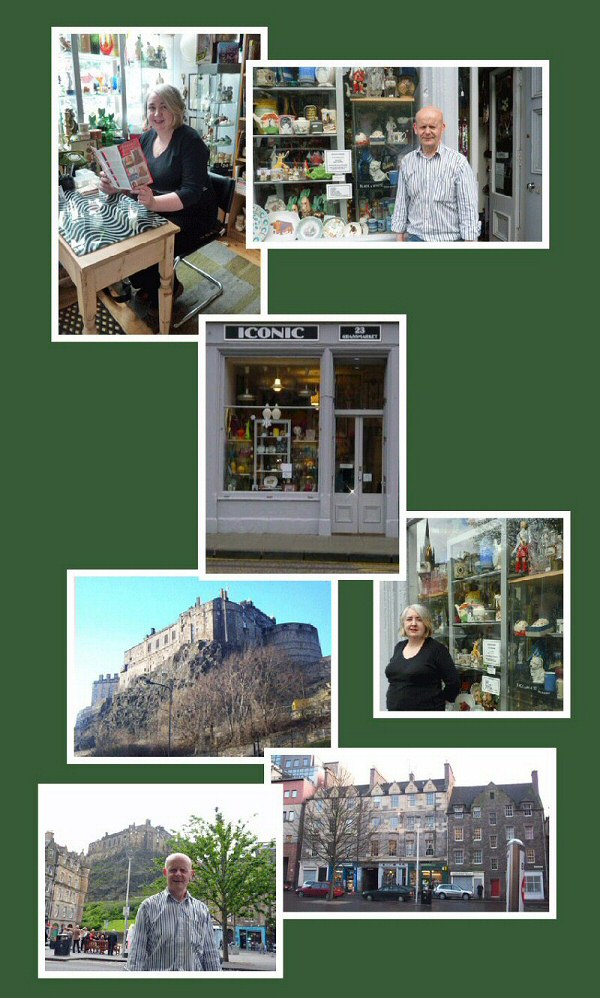 Iconic is a vintage/retro shop nestling below the beautiful Edinburgh Castle in The Grassmarket. Iconic offers curios, antiques, jewellery, glass, ceramics, quirky collectables and retro items. It is also a rapidly burgeoning Internet-based business.
Here, Digger talks to Valerie, proprietor of Iconic, about her, and partner Robert's, love of these eclectic items. The story of how they manage to mix business and pleasure in the physical and virtual worlds is an inspiring one - Valerie and Robert's expertise, energy and enthusiasm a key reason for their success.
---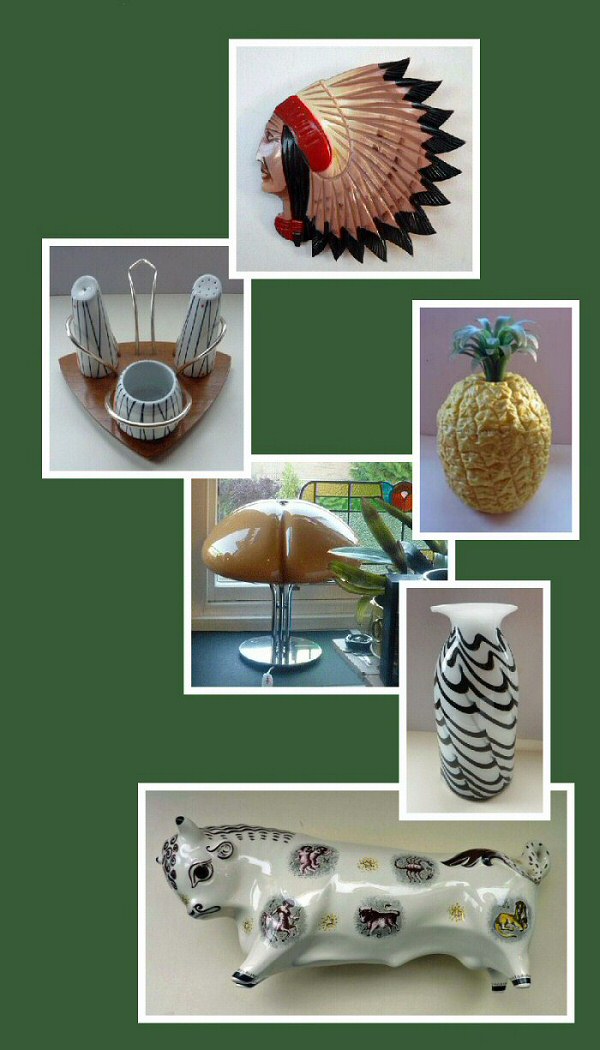 Digger: Can you please tell us a little bit about the background to Iconic Design, Grassmarket?

Valerie: Iconic Design is situated in the Grassmarket area of Edinburgh, and from our shop we get the most fantastic views across to Edinburgh Castle. Iconic is run by myself and my husband Robert . We have been collectors for many years – our tastes complement each other – Robert is interested in the early 20th century and loves Art and Crafts metalwork and vintage lighting. Before opening the shop, Robert was a sheet metal worker. I am more interested in post-war art and design. Before opening Iconic, I worked as Senior Curator in the Department of Prints and Drawings at the National Gallery of Scotland, where I looked after a collection of 30,000 works on paper. My job enabled me to travel and I was lucky to be able to visit some of the best galleries and collections worldwide. I was always delighted to visit Scandinavian countries – and am particularly fond of Finnish art and design. Before we were married, we were avid collectors – and I actually met Robert at a jumble sale – where we were trying to buy the same item!
Our collecting was initially more of a hobby interest. Robert was a friend of the previous owner of the shop in the Grassmarket – it had been run as a second hand shop for the last 50 years. The owner was retiring and we were very lucky to be able to buy the shop from him. Robert was very good at renovation work – and we both set to refurbishing the shop so that it was a bit more retro / vintage in feel and stock. We have now been trading for eight years. Iconic is in a fantastic location - the Grassmarket is a vibrant tree lined square with restaurants down one side, and more specialist shops along the other. The area got its name from the old horse markets which were held there back in the 19th century. The area is steeped in history and is popular with tourists. Our shop is near to the house where the Scottish painter Alexander Nasmyth was born – he is perhaps best known for his iconic portrait of the poet, Robert Burns. The shop is quite small in size and we certainly have made best use of every space inside. We always try to find more unusual vintage pieces – and concentrate of classic 20th century design (with a few bits of Victorian ceramics – I certainly have a weakness for quirky Staffordshire figurines). Sadly the premises does not allow us to buy furniture, but we have a fantastic stock of vintage ceramics, collectables, lighting and costume jewellery. The fact that we had both been collecting for so long meant that we didn't have any problems with stocking Iconic. Indeed, we have more items in store than we can possibly fit into the shop itself.
This led me to learning web design to create our own website – so that we can showcase items that we are unable to offer in our shop due to the space restrictions – Iconic's website seems to have snowballed – and I am quite surprised to have had a lot of international interest in our site. Many people that we have sold to online tell us that they will be coming in to visit when they are in Edinburgh – and indeed many customers that I have chatted with online have called in on a personal visit. It is always great to meet up with them in the shop itself.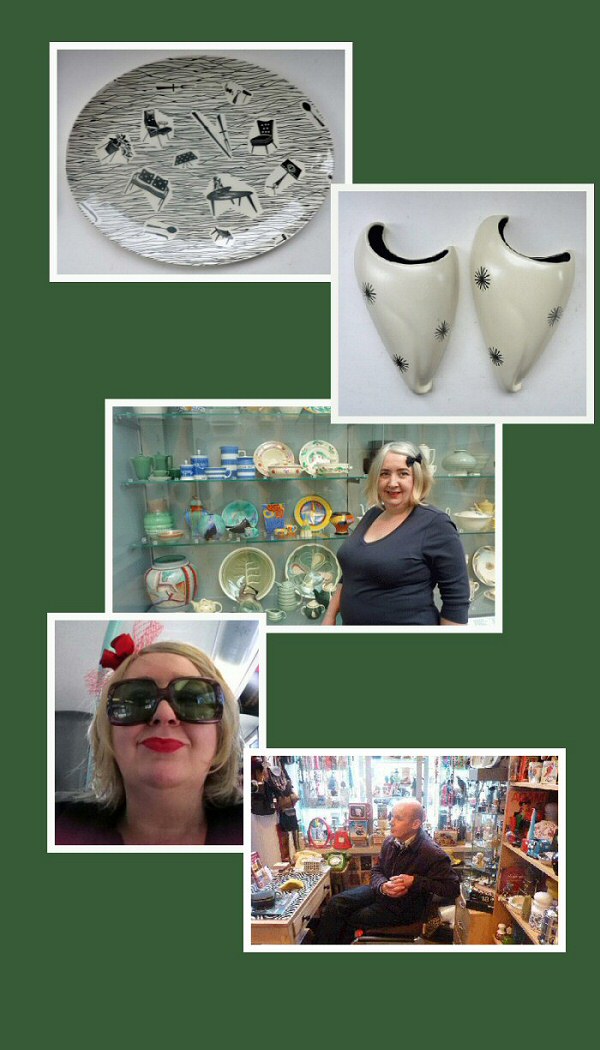 Digger: Why is Retro and Vintage so enduringly popular?
Valerie: I first developed my love of retro and vintage design in the early 1980s when I was an art student at Edinburgh College of Art – students grants had to be carefully spent – and there were a few old fashioned charity shops near to the college. It was great to go in there with a few pounds and come out with a completely unique outfit. I was hooked! I started out with some really strange eclectic outfits and accessories – many of my fellow students still talk about them to this day! At a recent College Reunion one of my friends reminded me of my Day-Glo orange fur coat that I bought – it was a complete "one off" ; probably a good thing! The early 1980s was also great for jumble sales in Edinburgh – this was before vintage was so popular – and both myself and my husband still have some fantastic finds from those days! They were certainly amazing events – you never knew what you would find. Although the early start on the Saturday mornings was hard to fit in with my Friday nights in the student bar!
Both Robert and I love vintage glass and ceramics – with clean lines and stylised design. We also are interested in the history of each piece – certainly something that is lacking in new pieces that you might buy in a modern department store. It is always fascinating to hear stories from people about where they bought certain items and the special personal histories attached to them. If I sell something from my own collection in the shop – I always tell the person who is buying it all about where it came from – and any background information attached to its acquisition. If any of my personal items could speak.. oh! the tales they would tell! I do find many things on the high street to be very dull in design and often not made to last. Vintage items always seem to be of such better quality and many are now unique survivors. If you wish to purchase modern handmade pieces it can often be prohibitively expensive – but you can start a vintage collection even if you have shallow pockets.
We try to stock things in our shop to suit all price ranges – and we even have things that start at a few pounds. There are a couple of little girls that always come into the shop after their dancing classes at Dancebase, which is across the road from Iconic – they come in with a few pounds pocket money – and always leave with something special!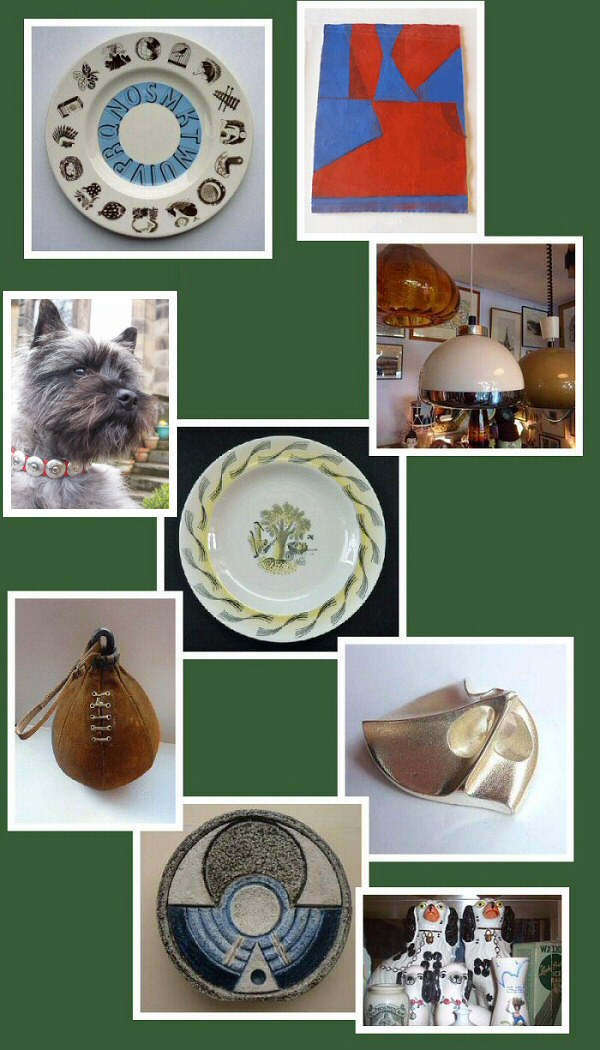 Digger: What sort of feedback and comments are you getting from clients?
Valerie: We always enjoy meeting our customers. My husband is usually in the shop, whilst I spend more time sorting out the stock and updating our website. Robert loves chatting with customers and telling them all about the history of a piece . He is also very good at giving discounts – I was in the shop one Saturday and one of his regulars was in – she told me she liked it when Robert was in as he was better with the prices! He is a bit of a hit with the ladies, so need to keep my eye on him! We try of offer a good old-fashioned service and also like to feel part of the local community. Many people who live nearby who just come in for a chat and a wee browse. Visitors always comment on just how much stuff we have in Iconic and how they could just spend hours looking around.
Many tourists mention that it is nice to find a shop like our one – as many of the old Edinburgh antique shops have closed down over the last few years. We often take note of things that our regulars are interested in and keep things back for when they are next in. But part of the fun in running the shop is being able to chat with people about their own collections. I also spend a lot of time "chatting" with people online – and trying to make purchasing things from our website a pleasurable experience. We have had many of our online customers coming to see us when they are on holiday in Edinburgh. We also have a wee dog called Basil Rathbone (named after one of my favourite actors) . He is often present in the shop… I think that many people just come along to see him.
Digger: What are the most popular items and what are the most sought after, both by you and by your clients?
Valerie: We have such a wide range of items in stock and we both have such eclectic tastes – that it would be hard to say what is our most popular item – we sell quite a lot of vintage tins, and gurgling fish jugs are quite popular – we have a couple who come over from Holland and never fail to buy a few when they visit. We also have a fine selection of vintage costume jewellery at affordable prices – and this is popular with customers as birthday gifts. We also offer a full returns service in case something chosen as a gift is not to the new recipients taste – but this is not something that happens often!
On a personal collecting front – I am always on the look-out for Scandinavian glass and ceramics, although prices certainly have shot up in recent years. I also like to collect little quirky toys which I can easily pop in my display cabinet at home. Robert loves vintage lighting – and I have a nickname for him "Aladdin". We both also like to collect Scottish Art - one of our favourite Scottish artists is James Cumming, we have 11 paintings by him now. I also like Robert Crozier, a contemporary Scottish artist – and I usually buy Robert a print by him every year for his birthday – at his last exhibition in Edinburgh – we finally bought a large painting by him, which I adore. I have actually included a page on our website – called "We Like" – where we showcase items that we both like or special places or collections that we have visited. It takes a lot of time trying to keep this up-to-date, as well as our recent Facebook page – where we hope to be able to interact more with our "virtual" customers.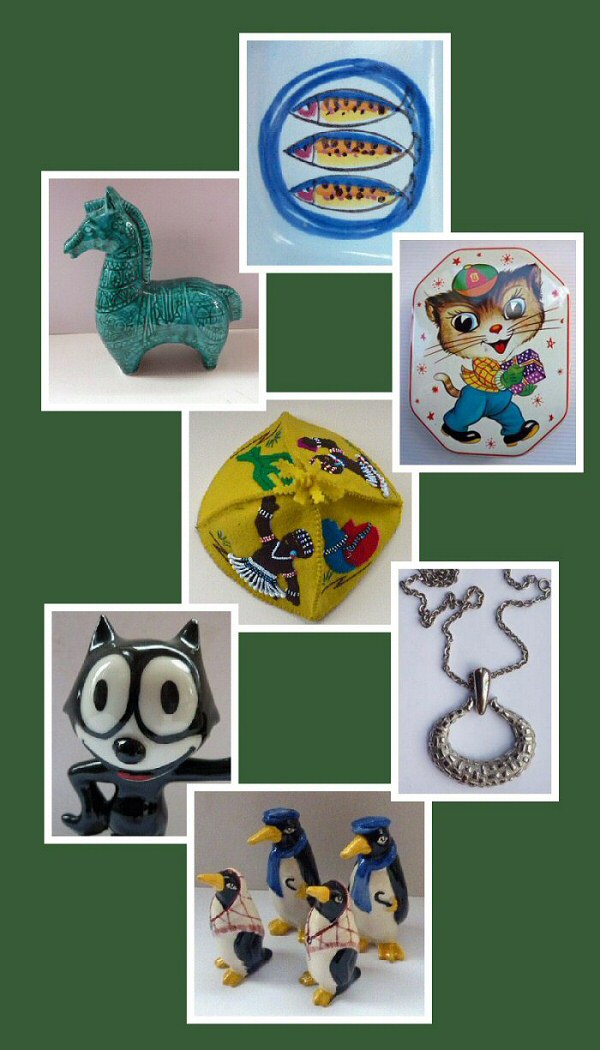 Digger: What do you most enjoy about running the Iconic Design business?
Valerie: The thing that I like most about running the business is still being able to go out and source items – a lot of fun is in the chase for those quirky or special pieces. It is great to be able to find a little treasure that has been overlooked by everyone else. It is also good that we just open up in the afternoon – as after working in a more traditional 9 – 5 for over 20 years, being able to have the luxury of a slightly longer lie in bed is good. I also enjoy developing the website – as this gives me more of a creative outlet. I have so many exciting ideas and things that I want to do in the near future with Iconic's website… so I will have to keep up with developing my IT skills. Robert of course loves meeting all the visitors – many of whom have now become friends.
Digger: What are your own Retro passions?
Valerie: If Robert had to name one of his favourite items, then it would probably be a wonderful copper W.A.S Benson ceiling light complete with an array of Vaseline shades. I would probably love to have some better furniture – I recently pushed the boat out and bought a fantastic dining table and chairs by Hans Wegner. I would certainly love to acquire some more Wegner items… but will certainly need deeper pockets for that! My friend Lindsay has some beautiful Danish rosewood furniture – I am quite jealous of her collection, she is about to set up her own website: V is for Vintage… no doubt I will be tempted to make a purchase.
Digger: Being based in the heart of Edinburgh must be a good thing but what does The Internet mean to the Iconic Design business?
Valerie: The shop in the Grassmarket is the heart of our business – but I have found that more and more of my time is being spent on our online presence. We seem to be doing very well with our website – and have recently had orders from Australia, Japan and New York – we seem to stock a lot of items that very popular with the Australian market. We are happy to ship globally at cost price to our customers. Robert does all of the packing before he goes and opens up the shop – I call him the Leader of the Packers! A lot of the stock on our site are our more expensive items, which we are able to bring down to the shop for inspection on request. I have been pleasantly surprised about how well Iconic's site is doing – and also all the nice comments from people saying that we have a wonderful website. Given that I have taught myself the basics in web design from scratch to do this – this response is certainly very pleasing. I also think that because we have a shop and an actual visible location for our business, that a lot of people are more confident in buying from us online. I do spend lots of time online chatting with customers and many have said that they particularly like this as it is such a personal touch which they have often found missing with other online transactions. It is often very time consuming to try to concentrate on all aspects of my shop. I have recently had to take early retirement from the National Gallery to concentrate on the business – and I am not sure how I ever managed to fit it all in when I was still working.
Digger: Where do you see the future for Iconic Design?
Valerie: I would imagine in the short term that we might be looking for more assistance with the actual running of the shop. But given that collecting vintage items is not only a business but a passion… I couldn't imagine my doing anything else. I always say that "We Shop for the Nation". I would imagine that we will be looking at concentrating on developing our online presence… visitors to our site seems to be snowballing at the moment – so I might have to look at getting some staff in the not too distant future to help with increased demand and interest. It is a great business to be in as you never know just what you are going to do or what treasure you might find the next day -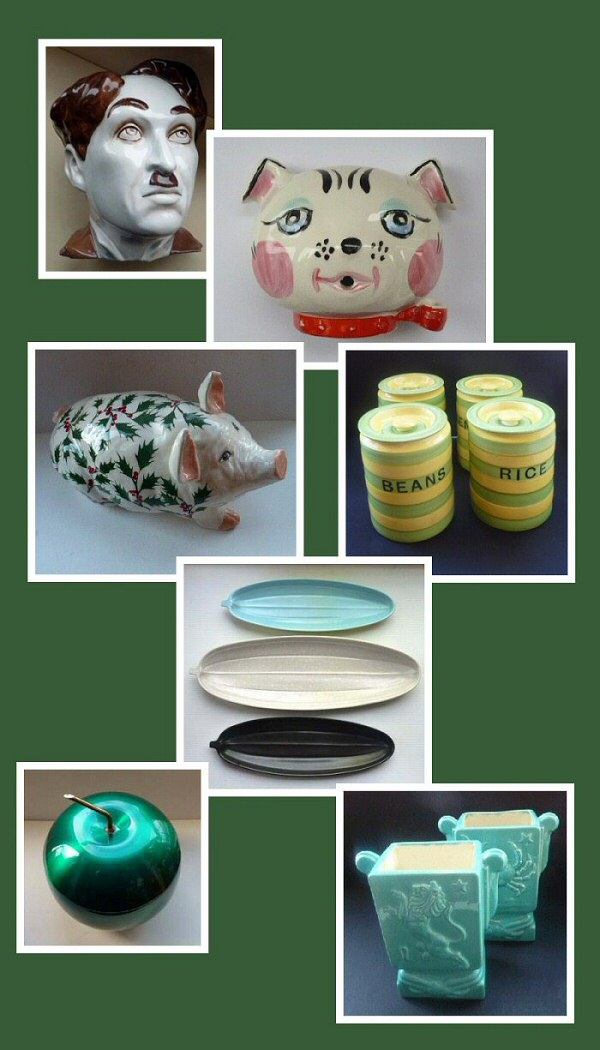 ---
ICONIC DESIGN:
Stylish Vintage Collectables: Quirky Curios: Art & Antiques


Our shop is located in Edinburgh's historic Grassmarket Area, just below the Castle Rock and offering fantastic views to the Castle.

Iconic is half-way between two of Edinburgh's finest vintage clothing stores: Herman Brown's at the West Port and Armstrong's at the foot of Victoria Street. We are also conveniently located near to both the Grassmarket Apex International and Apex City Hotels.

Iconic is a little gem of a shop offering a whole range of quirky, and often unique, design items from the 20th century. A treasure trove of unusual designs: featuring everything from antique Scottish artefacts and etchings to retro ceramics & modern 1970s plastics. We also have a great selection of vintage and modern costume jewellery at very competitive prices.

ICONIC DESIGN:

20th Century Collectables, Vintage & Retro

We also buy quality vintage items, please get in contact with us to discuss items you may wish to sell.

Please note that we do not offer a free valuations service.





Iconic Design,

23 Grassmarket,

Edinburgh.


Tel: 07745299281