Digger: Can you please give us a run down of the background of the individual members of the band?
Natasha: I have been singing from a very young age. Entertaining runs in my family and I take after my Dad who is a professional 1940s entertainer. I studied musical theatre for 3 years professionally at SLP college in Leeds. After graduating, I got my first professional job in a pantomime in Harrogate. I then went on to perform at all the big 1940s events with my father all over the country and even travelling to Holland. I also began establishing myself as a solo singer and started performing 1960s hits at 60s-themed weekends, including Howarth 60s weekend where I met the band.

Robyn (bass player): I started playing music at primary school, starting with cello and piano. I started playing the bass 4 years ago. I enjoy playing a variety of music and play professionally with a classical quartet. I was asked by Natasha, whom I know through another band if I'd like to be part of 'The Gems'.

Mick (drummer): My inspiration to pick up the sticks came through seeing the late, great Bill Atkinson of The Glass Menagerie in the 60as on the drums. I followed the band and Bill sold me my first drum kit. He was the funniest man I have ever met. I then took lessons from an amazing drummer called Ged Lynch. I began playing with local bands in Nelson where I met Paul our guitarist. I gave him the nickname '60s Paul' as he dressed in the style and looked really cool. He showed me some great records of the 60s and together we started a 60s-themed band with a female singer who sounded like Julie Driscoll. After that I went on to play with another band and we played Punk. I also decided to start a Kinks tribute up and played in lots of Beatles tributes too.

Paul (guitarist): I started playing the guitar from the age of 13. A few months later, I did my first gig playing songs like The Beatles and The Rolling Stones. From there I knew what I wanted to do. Then I was signed to a small record label in my late teens, with one of my tracks being played on Radio One. Since then I've played abroad, plus doing sixties weekenders, birthday party's , weddings etc.


Digger: And what prompted the formation of The Sixties Gems?
Natasha: When I met Mick and Paul at Howarth 60s weekend they were then performing as a Kinks tribute. It was Mick who approached me and we exchanged contacts. I then received an email from Paul saying that they enjoyed my singing and that if I ever needed a band they would love to work with me. I jumped at the chance as I love working with live music and we arranged to meet up and discuss things further. We began rehearsing and trying out songs and The Sixties Gems were born. It took us ages to figure out a name and at one point we were going to call ourselves 'Lucy And Her Diamonds', but we then settled on The Sixties Gems.
Digger: Why is the sixties music so special and what does the sixties music mean to you?
Natasha: In all honesty my taste in music at first was much older. I loved to listen to old songs from the 30s and 40s, but then as I got into the 60s and started to research it I fell in love with the songs and the style. Back in the 60s, songs were written for proper singers who had amazing ranges and technique and the songs were cleverly written. I mean, look at all the great legends to come out of that period - Shirley Bassey, Dusty Springfield, Aretha Franklin and of course Lulu. It's also amazing that so many songs I thought were 80s originals were actually original 60s tunes. For example Tainted Love was originally by Gloria Jones and I think that's the best version of that song. So many people of all ages can relate and recognise the songs.

Mick: There's something special about 60s music that no other decade can seem to match. Everything seems to go full circle and end up back in the 60s. Pop, rock, punk, soul and garage all night raves - you name it, it's been done. Bands with make-up trying to shock - its been done. The Crazy World Of Arthur Brown, for example. Dave Davies of The Kinks slashing his speaker to get that heavy sound. Vocal harmonies were a big thing in the 60s. Most of the great groups like The Hollies had fantastic vocal harmonies.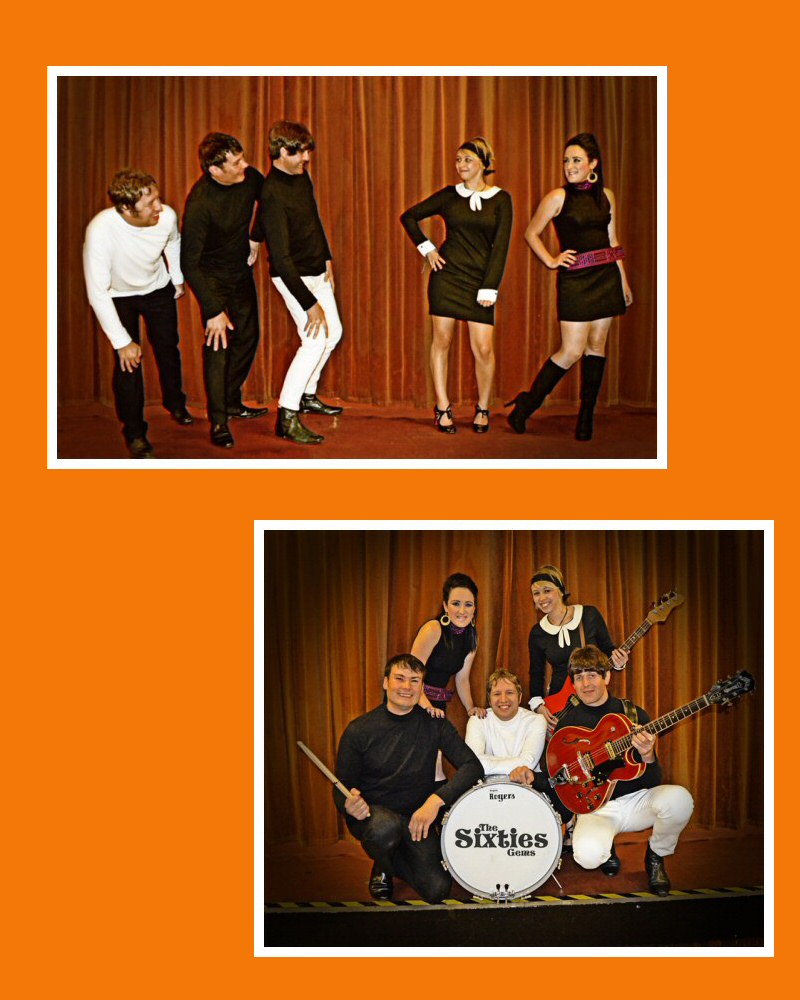 The Sixties Gems
Digger: How hard is it to reproduce authentically the look and sound of these various sixties acts?
Natasha: Speaking from a fashion point of view, it's very hard to source the original clothing as it's becoming more rare to find them now. But I have a few friends who own vintage boutiques who are happy to help us out. I think it's very important to look authentic though as you are almost re-creating musical history. And when you market yourself as a 60s band it really looks professional and more entertaining to your audience if you have the look as well as the sound. We also have original 60s instruments and amplifiers and mikes which I think look great as a package.

Mick: we try to reproduce the look and sound as near as possible. Sometimes you have to compromise - for example, 60s Paul used an original 1960s guitar stand until it fell over and broke the neck of a very expensive guitar. So he uses a modern stand now but we try to hide anything like that. The drums are early 60s English Rogers but the cymbals and stands are modern made to look 60s. It's a compromise for reliability reasons.
Digger: What can people expect at one of your gigs and what would be a typical playlist?
Natasha: Something definitely different. We play lots of what we call bubble gum pop hits, stuff people can dance to. Anything from The Shirelles to The Monkees. When we played one of our first wedding gigs we performed an hour set and we literally had all the guests, bride and groom too, on the dance floor for that full hour. It was wonderful to see. We have, of course, also started work on a tribute to Lulu and The Luvvers and perform all Lulu's big hits including the big one Shout. It's great fun and again it's amazing how popular the songs still are.
Digger: What sort of feedback and comments are you getting from audiences?
Natasha: All positive. Lots of people who have been to our gigs tell us they had a great night and how wonderful it is to hear and see those songs being brought back again. They are also impressed at how smart the band looks too.
Digger: Why is retro, vintage and nostalgia such a big thing in so many people's lives these days, including the new generations?
Natasha: I guess it all stems from the idea that fashion is recycled. I guess music is too. There are many songs in the charts that have been revamped from the 50s and 60s. Amy Winehouse was very much influenced by the girl groups of the 60s look and sound. She even brought out a version of Will You Still Love Me Tomorrow. I guess great music will always be remembered for generations to come.
Digger: Do you have any other retro and vintage passions apart from music?
Paul: I have and ride a sixties scooter. I collect sixties Mod clothing , collect sixties DVDs, sixties records and Dansettes.
Mick: My passion is my vintage 1963 Mini Minor.
Natasha: I collect vintage clothing from the 20s to the 60s. I have a very large collection. The great thing is I get to wear them when I am performing.
Digger: What are the most enjoyable aspects of being in The Sixties Gems?
Natasha: I absolutely love being part of The Sixties Gems. I love working with such talented musicians and we are all great friends too, who share an obsession with 60s music and fashion. It's like having 3 big brothers and a sister now that Robyn's joined us. We all work hard but have a great laugh together too.

Robyn: The music, the people, learning new things. Everyone has so much knowledge.
Digger: Where would you like to see The Sixties Gems developing?
Natasha: We have very positive visions and aspirations for the band. We would like to be working at all the big 60s-themed weekends and events and it would be great to get on the cruises too. It would be also great to have our own touring show around the theatres. We have been told by an agency that there is no-one out there like us so it's a lovely thing to hear and very positive too.
Digger: If someone is keen on finding out more or booking you for their event, what do they need to do?
Natasha: They can contact us via our website: www.thesixtiesgems.co.uk
or email us on: tash1099@hotmail.co.uk
or call us on 07791 294945.
T
---