Digger:
Can you please tell us about your background and the background to The Haslemere Wardrobe John?
John: The Haslemere Wardrobe was started as a theatrical costume hire service more than 40 years ago by my mother-in-law. She had been on the stage herself and found that many costumes were dirty and unpleasant to wear. So she resolved always to offer clean costumes – a tradition we continue to this day.
We have virtually withdrawn from the theatrical market now, although we do still dress people for music videos and advertising photoshoots. Our mainstream business today is general vintage costume hire and vintage clothing sales.
My wife, Kate, has been the driving force on the costume side of the business since we took it over about eight years ago, when her mother retired. I focus on business development, marketing, systems and general management.
Over the past year we have undertaken a massive review of our stock – which reached some 50,000 outfits at its peak – and have streamlined and re-catalogued our hire range to support our highly efficient online costume hire service, CostumeHireDirect.com.
The rest of our inventory provides the backbone of our vintage clothing retail business, which is online at Vintage-Revived.com, and also operates from our shop at 19 St Christopher's Road, Haslemere.
Digger: What is it for you that makes these costumes so special?
John: Our range covers more than 2,000 years of clothing history and there is a high level of authenticity. Most of our 20th century costumes were once worn by real people in everyday situations: what stories might some of these outfits tell – World War 2 uniforms, for example?
The replica costumes of earlier times are all skillfully made – either from contemporary patterns or from extensive research to ensure great accuracy in terms of style, fabric, colour, accessories and so on.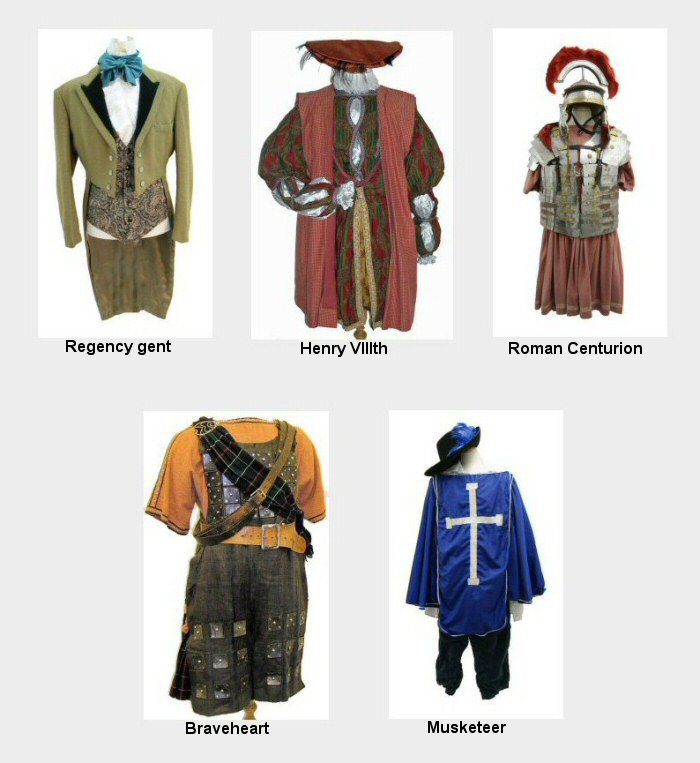 Digger: Who are your customers, where are they coming from and what sort of feedback and comments are you getting from clients?
John: These days our hire customers probably represent a good cross-section of the UK public. Dressing up for themed events, parties and other special occasions is a nationwide favourite. Business has remained good throughout the economic difficulties of the past four years, so it seems we are able to help people escape for a while from the realities of life!
As mentioned above, we also get requests from time to time from the video and advertising sectors ­– most recently some of our World War 2 US Army uniforms featured in a local music video.
Most of the feedback we get commends our clean, well-presented costumes that are delivered on time. But many people also express amazement at the quality and authenticity of our costumes ­– for example, a 1940s RAF uniform might genuinely have been worn by a Battle of Britain hero.
Digger: Please tell us more about the various genres, decades and styles you have to offer. 

John: Our hire costumes range from Ancient Greek and Roman times, through the middle ages to Tudor, Georgian, Victorian and Edwardian times ­– and every decade of the 20th century (except the 1990s, but that will be coming soon!). We have men's, women's and children's outfits for many of the eras.
Our sale range is, naturally, biased towards the 20th century, but this is proving to be an extremely popular offering.
Digger: Events like Twinwood and Goodwood Revival prove that forties and fifties clothes and styles are hugely popular. Is this a trend that you have picked up on?
John: Most definitely! World War 2 and the years that followed have had an immense impact on the society we know today. Many people want to experience some of the 'feel' of that period – and what better way to start than by dressing as their parents (or grandparents) would have done at the time?
Digger: And why is Retro and Vintage generally in all its forms so popular with so many people these days?
John: Costume hire and vintage clothing sales benefit enormously from TV shows like Downton Abbey and other period pieces reflecting 19th and 20th century lifestyles.
On the sales side, in particular, there is also something of a reaction to our 'throwaway' society. Modern clothing is generally not made to last, but people still value quality garments that they can wear over and over again. While quality is still available today, it is prohibitively expensive ­– vintage clothing allows people to acquire quality at affordable prices, and often in styles that are enduring.
Digger: How hard are these costumes to maintain and keep in good repair?
John: The hire business is not just about having a huge range hanging on rails, it's about getting outfits into the marketplace to earn their places in our catalogue for many years. At the same time, we have to invest heavily in costume inspection and maintenance to ensure that each costume continues to work for us by making our customers look good.
Each returned outfit is carefully checked and any defects, such as missing buttons, tears or stains are dealt with immediately. Items are then laundered (in house) or sent out for dry-cleaning. With some costumes booked to go out again almost immediately, there's a lot of pressure on this part of our business.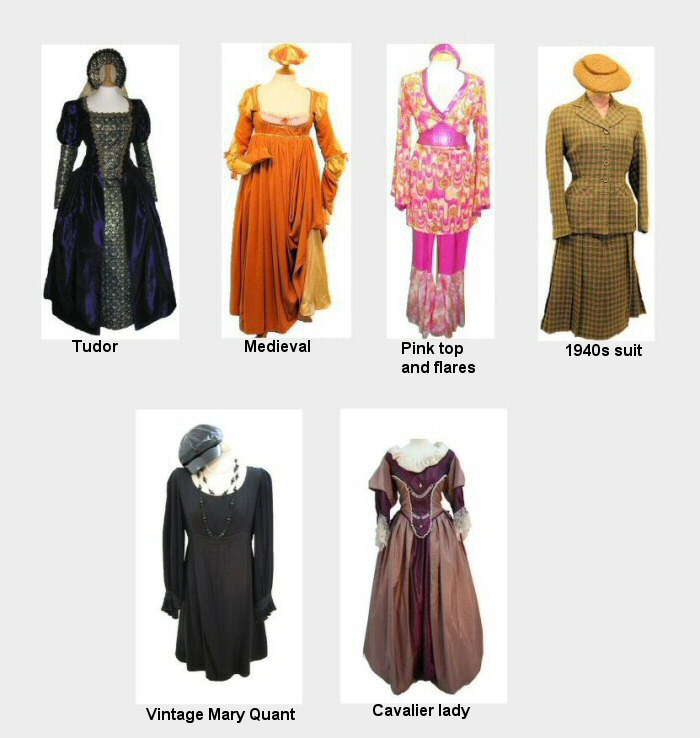 Digger: If someone is thinking of hiring or buying costumes from you, what advice would you give to them by way of being prepared?
John: Knowing their sizes and having a good basic idea of what they want are always a great help. Costumes on our website are arranged to provide an easy visual catalogue, so online customers should not have any great difficulty.
We welcome browsing customers to our vintage clothing shop, but earlier this year we switched in-person hire customers to appointments only. When people book appointments, we find out their main needs and then when they arrive we show them a variety of appropriate costumes to choose from. This saves time for them and for us.
Digger: Can you tell us more about the vintage clothing side of your business?
John: Since we identified the business potential in vintage clothing sales, we have appeared at Goodwood Revival and numerous other 'vintage' events and markets, using them not only as opportunities to sell but also as chances to meet a wider range of potential customers. There's enormous potential in this sector – the vintage clothing business won't wear out for a long time!
Digger: What do you most enjoy about running The Haslemere Wardrobe?

John: As with most businesses, there are risks, worries and sometimes tough decisions to be made, so it's not all plain sailing. But beyond the day-to-day concerns of running a business, we have the enormous satisfaction of helping customers to have costumed fun. They want to look the part, we fulfill their need, they are happy – and so are we.
Digger: Where do you see the future for The Haslemere Wardrobe John?
John: With our two online operations now fully functional we have completed the transition from local family business to nationwide service company. Our immediate aims are to achieve substantial growth in both costume hire and vintage sales: the infrastructure is in place, now we are stepping up our marketing activity. Once the business is ticking over at satisfactorily higher levels we may well seek the challenge of further growth opportunities – we already have some interesting ideas, but it's far too early to talk about them.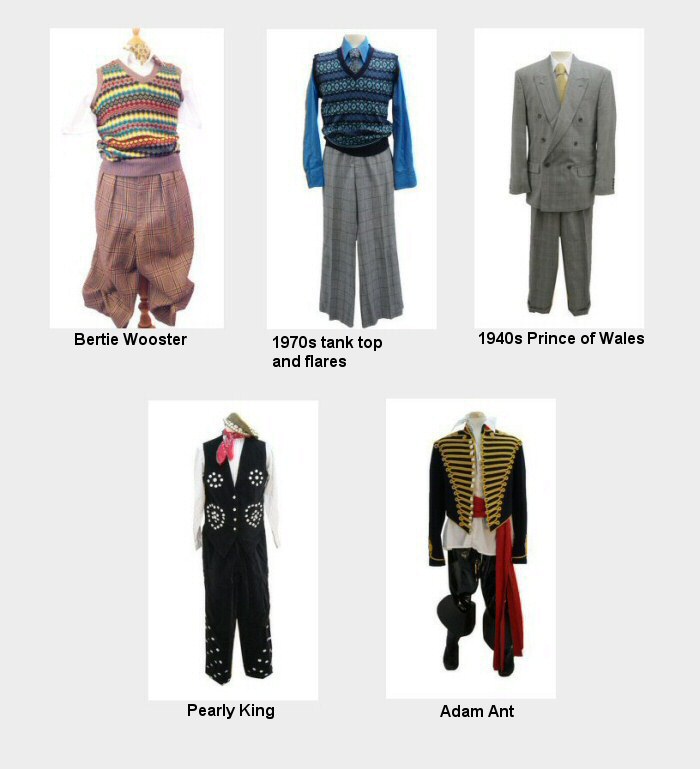 ---
The Haslemere Wardrobe -

The UK's Best Costume Provider
Ancient Times Costumes, Medieval Costumes, Tudor Costumes, Musketeers and Cavaliers Costume, Georgian Costumes, Pirates Costumes, Regency Costumes, Victorian Costumes, Wildwest Costumes, Edwardian Costumes, 1920's Costumes, 1930's Costumes, 1940'S Costumes, 1950's Costumes, 1960's Costumes, 1970's Costumes, 1980's Costumes, Best of British Costume, Countries Costumes, Children's Costumes, Literature Characters, Stage & Screen Costumes, Goodwood Revival Costumes, Occupations Costumes, Christmas Costumes
Hiring the perfect costume for any event or party from The Haslemere Wardrobe has never been easier! Use our easy online hire service to choose a fantastic costume from the comfort of your desktop.

One of the UK's foremost experts on vintage clothing has given leading costume hire company The Haslemere Wardrobe a Victorian boost on national TV – and hailed it for its specialist knowledge and vast range of outfits.

Bookmark the site as your number one source of information about vintage clothing hire (and sales) ... plus useful daily historical notes to stimulate your ideas for themed events and how to look the part.

Contact:
Costume Hire Shop 01428 642202 Option 1
Costume Hire on-line 01428 642202 Option 2
Costume Hire Stage & Screen 01428 642202 Option 3