Groovy Campers
- Classic VW Campervan holiday hire in Norfolk and Suffolk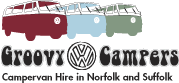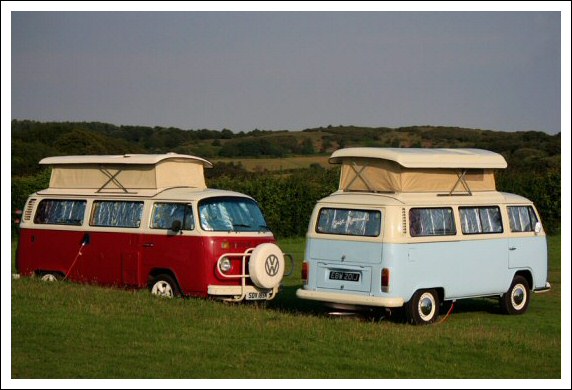 Ruby and Talula
Ed Ewing and his partner Frenesi run a VW Camper business in Blakeney Norfolk (as well as a holiday homes business.)

Talula and Ruby – both imports from Australia – are his two main vehicles, an early and a late bay from the 1970s. They have been refurbished, fitted out and re-trimmed to the highest standard, and Ed's mechanic – known as Doktor Dub – keeps them in tip-top condition...
---
Q: Please tell me about your business Ed.
Ed: We rent classic VW camper vans for holidays in Norfolk and Suffolk.
Q: Now should we read anything into the fact that you previously worked for Apple and that Steve Jobs financed the start-up of Apple with the sale of his campervan in the 1970's?
Ed: Not at all. I've always loved camper vans but never owned one. But the irony wasn't lost on me when I found out. About 6 years ago I went on a European management course and had to do a "Dragons Den" style presentation. Mine was on setting up a camper van business. Since then the idea has germinated and when we made a permanent move to Norfolk last year we wanted something that would complement the holiday cottages that we also own – and this seemed to be the thing.
Q: So it was really a lifestyle choice?
Ed: Absolutely, we fell in love with Norfolk and wanted to start doing things that we enjoyed more, so finding a business that enables us to do that and share our love of the area with other people was key.
Q: How do you manage to keep that balance?
Ed: Through technology. One of the downsides of being in business, especially the hospitality business, is that it can take over your life as you always have to be available. You can end up being a busy fool where you can be living the dream but don't have any time to enjoy it. We've seen a lot of people give up big salary jobs in London, set up a business and become so consumed by it that their quality of life can go backwards. We use VOIP and Cloud based systems that we can access via the iPhone and the MacBook with a 3G dongle or WiFi, so wherever we are - on the boat, in the campervan or just going about our daily lives – we have our virtual office so we're still in touch and we're still responsive.
We know from the cottages that if we leave an enquiry to the next day then we won't get that booking but if we respond in a timely fashion we will. It only takes 5 minutes to do - and being responsive makes the difference between being half booked and being 90% booked which is the difference between making a living and not!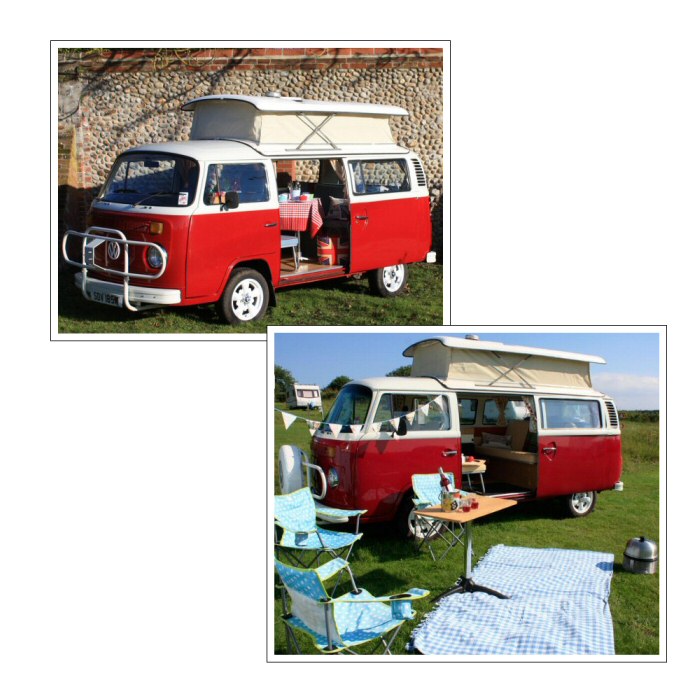 Q: Who are your customers?
Ed: There are couples of all ages – including one just turned 70 – and families, including a seven-year-old with parents in tow. Some have memories of holidaying in a VW Campervan as a child, some want to try something different and some want to try before buying.
Q: Where are they going with the vans?
Ed: What they have in common is they virtually all want to stay around Norfolk and Suffolk rather than venturing further afield. As a business we are so fortunate to be based where we are. Within a 60-mile radius we have everything holidaymakers could want. I'd say 90% of our guests don't go more that 40 miles from Blakeney, even the guests who live locally.
Q: I understand you also cater for weddings?
Ed: Yes. We offer a chauffeured service where we dress the van, pick up the bride or groom party and take then to the ceremony and then drive the bride and groom to the reception with a glass of champagne on route with their own iPod playlist or CD playing.
Q: What items should people bring with them when touring with one of your campers?
Ed: As part of the hiring, Groovy Campers can provide all the necessary camping equipment people would need such as tents, camp beds and barbecues.
Q: If people are unsure about the handling of one of these vintage beauties, what would you say?
Ed: Don't worry. We will even go out for a drive with people who are not familiar with the way a Camper drives, show them what's what and give them some advice and pointers.
Q: What's next for you then Ed?
Ed: Apart from a couple more camper vans, next on the shopping list is to see how we can use an iPad to make it simpler for clients to check out a van – so that'll be my excuse to get one!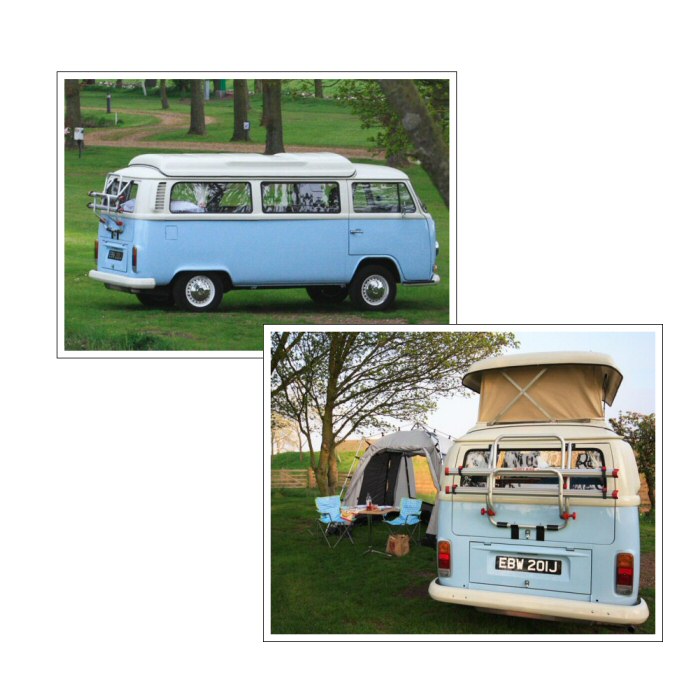 Some parts of the interview courtesy of and © copyright
Chris Little at beyondcuriosity.com
---
Groovy Campers - Classic VW Campervan
holiday hire in Norfolk and Suffolk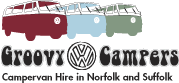 Go your own way in a classic VW Campervan... Walking on the beach, Camping under the stars, Picking up fresh local produce, Cooking bacon butties for breakfast, evenings by the BBQ. Simple things, memories that last.
All of Groovy Camper's vans are from the iconic 1970s so have heaps of character. They have been fully restored to provide electric hook-up, fridge, gas stove & heating, iPod connection and they come equipped with maps, games, all cooking equipment and the irreplaceable air-cooled VW sound - the perfect backdrop to your camping adventure...
They can be hired for short breaks or longer camping holidays - all you need add is your sleeping bag, iPod and a sense of fun. We love exploring 'off the beaten track'; staying at some great campsites, both on the coast and inland - and we hope you will too. So hire one of our vans and go your own way…