Digger: Can you tell us a little bit about the background to DJTees please John?
John: Myself and my partner Dawn set up DJTees 10 years ago because no-one designed t-shirts of the rock musicians we loved. Back then, rock T-Shirts were just black and came in XL. We changed all that doing up to 8 colours per design, offering 8 sizes, as well as women's skinny fits, long sleeves and hoodies. It was a revolution!
Digger: Why is Retro in all its forms increasingly so popular these days?
John: Because to most people, the present never seems as good as the past!
Digger: So who are your customers, where are they coming from and what sort of feedback and comments are you getting from clients?
John: Unlike most T-Shirt companies, we have a large amount of customers between 40 and 70 years old. These are the classic rock generation - it's our generation too, after all. I often get customers on the phone talking about great gigs they've been to, or their favourite albums, prompted by wanting to buy some of our designs. Our work has always been driven by real passion for the music – I'm writing this surrounded by 9,000 albums! – and I think people can see that. Some are also just amazed that we designed a T-Shirt of someone relatively obscure that they love.
Digger: What would you say is special about DJTees and has contributed to your big success?
John: Well, it's a fact that I have an album by every single artist we have designed a T-Shirt of, more usually I'll have their whole discography; from Allan Holdsworth to Aretha Franklin to Howlin' Wolf and Humble Pie. So we like to think we know what vibe to try and capture about an artist. We've also always worked with some fantastic photographers to get images to base designs on; that's been both a privilege and great fun. We've now got such a broad, eclectic range of work - I think that's been a huge asset along with simply offering everything in small to 5XL.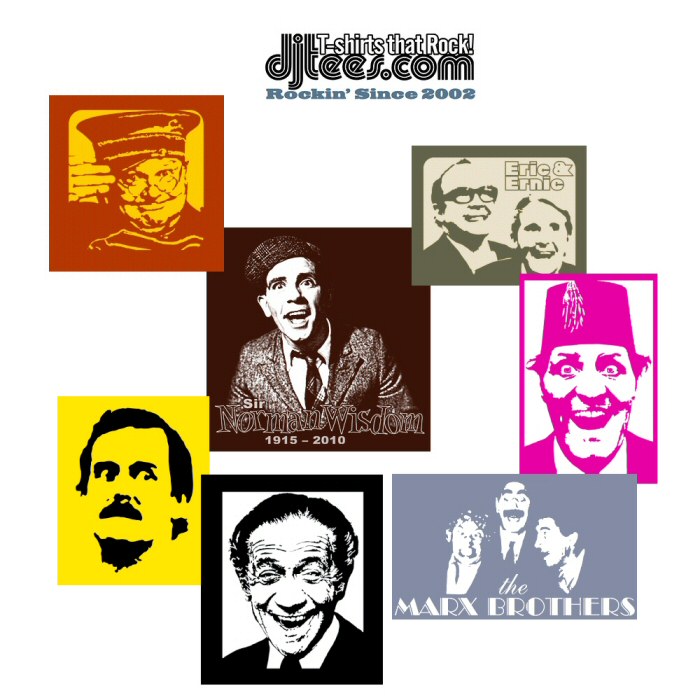 Digger: You have an extensive range of designs and styles. What ranges tend to be the most sought after and the biggest sellers?
John: The funny thing is that we've never had one or two really big sellers, our gig has always been selling small amounts of the 1700+ designs we have created. Some of our most popular T-Shirts are actually of guitars, Flying V's Les Paul's and Stratocasters. We have large 'rock lifestyle' section which has always sold well to people in bands or who used to be in bands!
Digger: What do you most enjoy about running the DJTees business?
John: I love the iconography of rock 'n roll and the passion that the music creates. What we do is all about celebrating that. It all comes from a place of great love. I genuinely mean that.
Digger: What are your personal Retro and Vintage passions John?
John: Vinyl albums. I've been collecting since the early 70s and I love it with a passion. To me, its not just the music in the groove, it's the design of the label, the artwork, how and where it fits into rock history, what it says about the year it was made…..and so much more. I bought 50 albums just last week…so I'm as crazy about it now as I was when I bought my first Kinks single in 1971.
Digger: Where do you see the future for DJTees?
John: I think we'll just get broader and wider in our designs – probably do a lot more obscure stuff and niche artists. We'll probably be the only people to design a T-Shirt of the bass player in Iron Butterfly or something like that! I'd love to do a range of designs of legendary producers like Eddie Kramer and Glyn Johns. I reckon that'd be so cool. But then, I'm not normal!