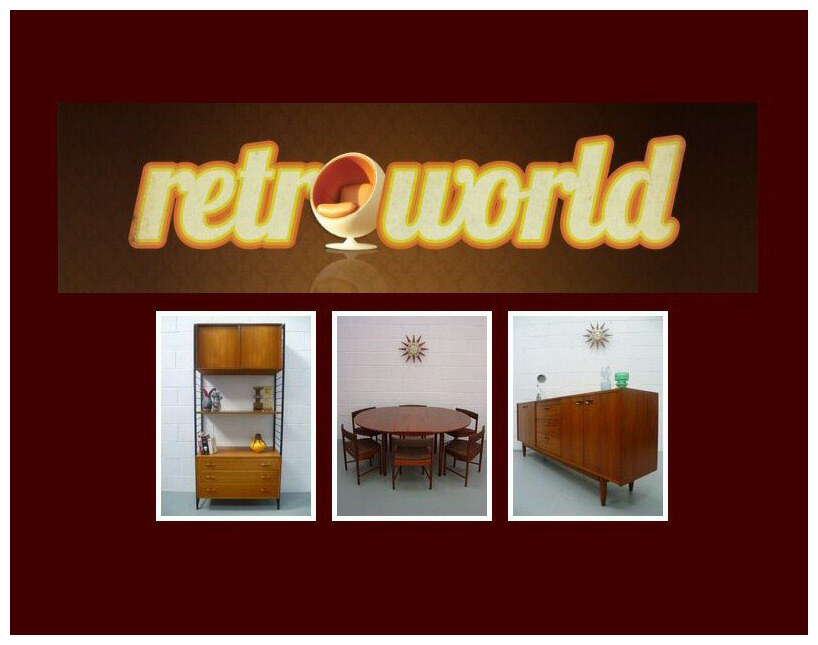 It's a Retro, retro, world out there - retro furniture & accessories have never been more popular or sought after.

Many 20th century designs and objects, formerly disposed of as 'old-fashioned', are now recognised as great pieces of design and solidly made to last. Those that remain are highly-prized. The same is true for 50s, 60s and 70s accessories such as lighting.

Here Digger Barnes talked to Nathan O'Driscoll at Retroworld Online about this busy and thriving marketplace.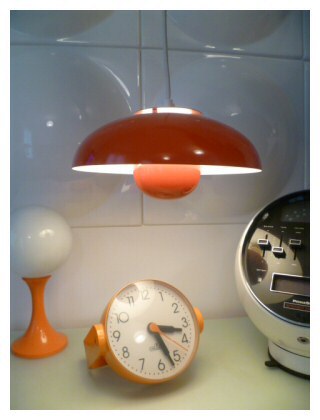 Digger: Can you please tell us a little bit about your background and the background to Retroworld?
Nathan: I am a 39 year old guy who is passionate about anything Retro & Vintage from the 1950's - 70's. Growing up in the 70's, I can still remember as a child swivelling in my Dad's bucket armchair in the chocolate brown lounge. I'd be waiting for my dinner to be placed upon the tulip based dining table and for my Mum to pull down the Guzzini light over the table. My working background was - I worked in the leisure Industry as a Contracts Manager but was buying & selling vintage pieces part time since 2000 (and much preferred it!) So, I decided to follow my passion and launch into the vintage world full-time. Initially, selling via collector's fairs and eBay and then moving on in 2007 by owning a Shop with a close friend in St Nicholas Market in Bristol called Cream & Chrome Collectables. This was great fun but with the business growing the shop just wasn't big enough! Fast forward to today and retroworld is based in a warehouse/showroom on the Weston Industrial Estate in Weston-Super-Mare selling direct to individuals, TV & theatre, interior designers and also via the eBay Shop.
Digger: You have some truly fantastic examples of furniture, lighting and accessories on your site. How do you go about sourcing these great items?
Nathan: Over the years, I have built up a large network of suppliers & contacts from all over the U.K. & some in Europe that I source from, as well as hunting from auctions, collectors fairs, flea markets etc. etc. It's not easy but it's worth the time as the hunting in the best part of the job!
Digger: What is so special about the classic designs of these decades that attracts both younger and older buyers?
Nathan: The classic designs from the 50's-70's are exactly that - "CLASSIC". They are both stunning & unique to look at but most of the time are better quality than the modern equivalent! They are iconic and still being copied today. You will see John Lewis, Debenhams, Next etc. etc. still copying an Eames chair, an Ercol nest of tables or a Poulsen light. Because they are still being copied today that has led to the younger buyers being drawn into the vintage world and a lot of the time turning their back on the repros & looking to buy original.
Digger: And why is Retro and Vintage generally in all its forms so enduring and so popular with so many people these days?
Nathan: I believe its popularity firstly comes from its timeless qualities. I can't see the iconic pieces ever going out of fashion. The vintage market has definitely been helped in recent years by the upsurge in television exposure i.e. vintage pieces being featured on television programmes such as "Life on Mars", "Mad Men" etc. but also being featured in makeover style & also the Bargain Hunters style programmes - these have really brought retro/vintage pieces at the fore.
Digger: Who are your customers, where are they coming from and what sort of feedback and comments are you getting from clients?
Nathan: My customers are a real mixture. Age wise - it varies from people in their 20s setting up their first home to people in their 70s wanting the pieces back that they bought the first time and threw out!! I also sell to interior designers doing vintage makeovers of bars, restaurants, clubs etc. and to TV and theatre props departments. The feedback I get is always fantastic. As an example, I have been selling on eBay since 2003 with nearly 2,500 customers and have 100% feedback. Feedback includes "Absolutely stunning!!! This will be treasured! Thanks so much - perfect!" "Ebay doesn't get better than this for great service, price and courier. Xxxx" "Item exceeded expectations. Seller most helpful. V. pleased!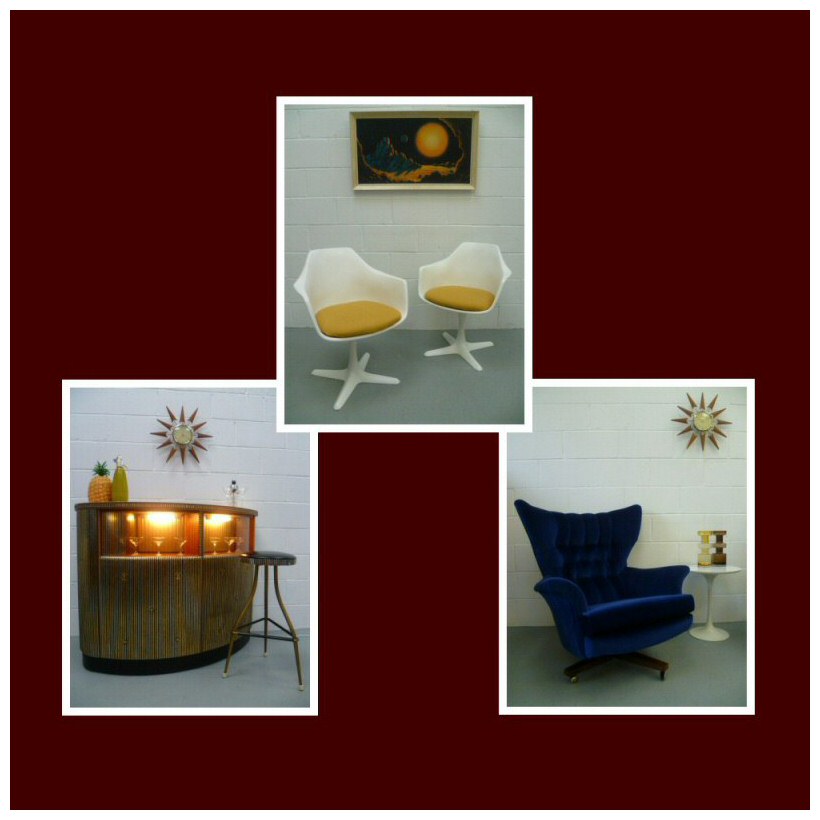 Digger: Apart from Retro furniture, what are your other Retro passions?
Nathan: I love vinyl - I have a 1970's space-age tulip based Weltron model 2007 record player which I annoy the neighbours with. I prefer to say that I am educating them in the world of Bowie, The Stones, The Doors, Lou Reed, Blondie, The Stooges, Hendrix etc. (I'm not sure they see it that way though!) I also love vintage cars from the 70s. i.e. the classic Porsche 911 is something that I am currently saving up for!!
Digger: Are these pieces often bought as one-offs or are there a number of collectors and interior designers who are trying to create a total retro look?
Nathan: It really does range from some people buying a one-off piece that they "need" to some customers who come back again and again who are in the middle of recreating a look for their home. As mentioned before, I have many interior designers who are always looking to create to a complete "look".
Digger: What are your biggest challenges and what do you most enjoy about running Retroworld?
Nathan: My biggest challenge at the moment is finding enough hours in the day!! Retroworld keeps me very, very busy. With The Internet & having the website and eBay shop on my iPhone I am constantly working pretty much 24 hrs a day, 7 days a week. There are no days off BUT I LOVE IT!! It really is the best job I have ever had - it doesn't feel like a job.
Digger: I suppose being online opens up all kinds of additional opportunities for you?
Nathan: Being online is fantastic i.e. you have a huge exposure to the whole of the U.K. (and beyond!)
Digger: What advice do you give to someone thinking about buying an item from you or embarking on a project to furnish their homes in a retro style?
Nathan: My advice would be to read the feedback that I have received from previous customers to give you an idea of the quality pieces that I sell. Feel free to ask any questions at all (there are no silly questions) and feel free to make an appointment to view any item at the warehouse/showroom prior to buying.
Digger: Where do you see the future for Retroworld?
Nathan: I see the future of retroworld as busy, busy, busy!!!!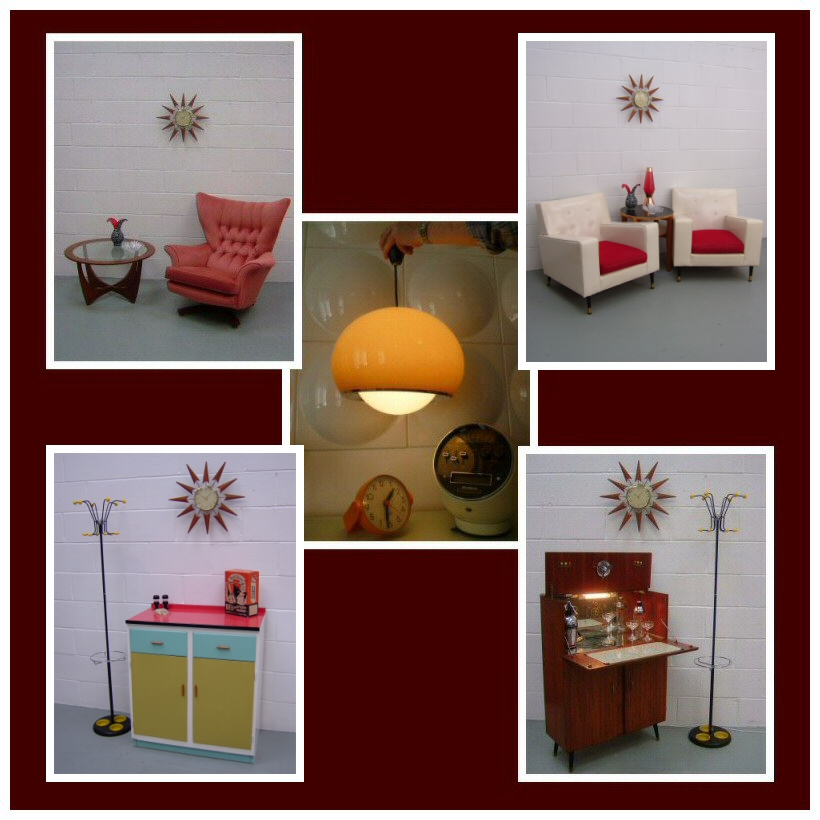 retroworld online - iconic pieces of Vintage Furniture, Lighting, Cocktail Bars & Homeware from the 1950's 60's and 70's








Here at retroworld we specialise in iconic pieces of Vintage Furniture, Lighting, Cocktail Bars & Homeware from the 1950's 60's and 70's.

With ever changing stock arriving from all over the UK & Europe this really is the only Vintage Shop you will need to visit!! Brands include - G Plan, McIntosh, Parker-Knoll, Arkana, Guzzini, Kartell to name but a few. Selling to individuals, interior designers and TV. & Theatrical companies for over 10 years retroworld has a wealth of knowledge that can help you find that all important piece that will finish off your Vintage look. With many happy customers you are assured of both quality vintage pieces and great customer service. Read some of our feedback received to see the high standards we continually achieve.

Visit our eBay store to view our current stock. You are welcome to view any of our stock in our retroworld warehouse/showroom, just contact us to arrange a convenient time.

Nathan O'Driscoll E: info@retroworldonline.co.uk T: 07989 017 957