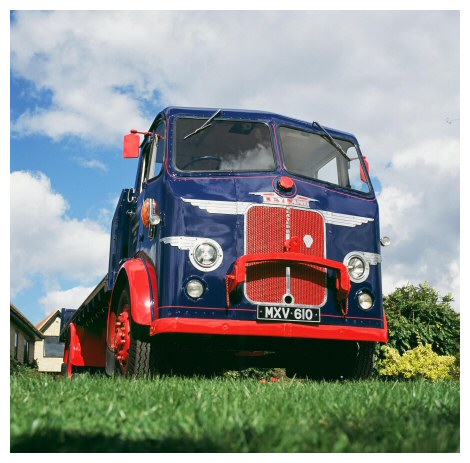 Here Digger talks to David Hall who runs Vintage Lorry Funerals.
David has introduced some innovative uses for a classic truck from 1950. You could arrive in style to some important event, have a memorable ride as a Birthday Treat or in its prime use which is for a most fitting dignified exit.
David offers some individuality to the personalisation of a funeral bringing a respectful element of colour to what is normally a sad event. By offering a customised unique send off for the deceased, carrying the coffin on a classic Leyland lorry, this is truly a dignified and bespoke service. For a funeral that evokes memories of the deceased, and creates a sense of joy to the attendees, onlookers and passers-by, Vintage Lorry Funerals provides a very personal undertaking.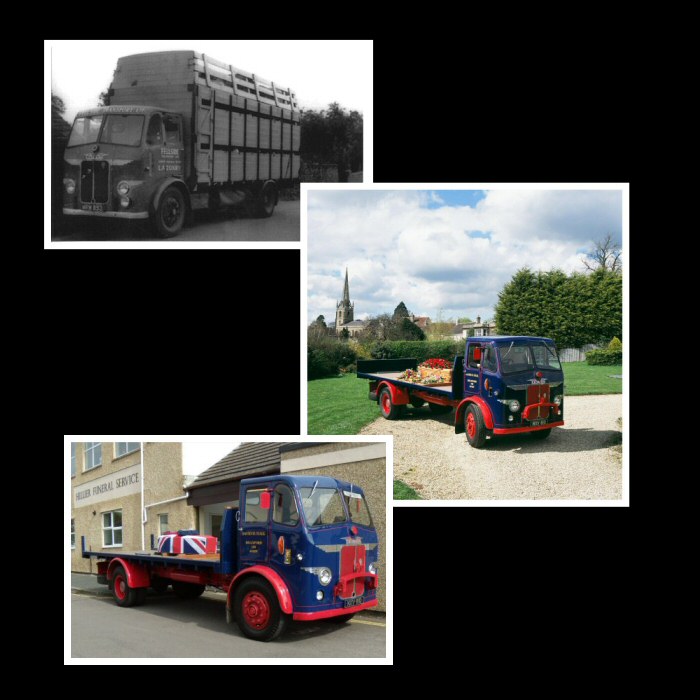 Top. The Fellside Transport 1950 Leyland Beaver that took me to Hawick in 1958.
Middle: Our funeral lorry in a beautiful John Constable-style setting.
Bottom: A military funeral in Swindon for an RAF man whose family were also attracted to the wings on the cab.
Digger: What is your background David?
David: I came from a humble background in the north-east of England. We lived in a two-up, two-down terraced house, where the front room downstairs was only used for funerals and at Christmas. Everything happened in the back room; playing, eating and bathing in a tin bath in front of the fire, with the clothes horse's main function being as a modesty screen. The front door opened directly onto the street and there was a small yard at the back with a coal house and the W.C. My background is similar to many kids in the 1950's, but what made us different to other families were our holidays. Unlike others who would take the train to Blackpool or Scarborough, we went to a farm in Cumberland where my Mum had been evacuated to in WWII.
Digger: And please tell us about your passion for these vintage lorries?
David: On our way to the farm in 1957, the crank-shaft broke in our old Austin van on the top of Cross Fell. A motorcyclist gave my Dad a ride to the Helm Wind Café where he used their phone to contact the farmer, who towed my Dad to the top of the Fell. He coasted over 6 miles into the farmyard. Knowing it was going to take over 2 weeks to repair the van, the farmer took my Mum, Dad and my infant Sister in her carrycot home, but there was no room in the car for me. I was only 4 and had never been left on my own before. The farmer's wife was a lovely person and got her father, Albert Kelso, to visit me. Albert ran his own haulage company, moving livestock from farms into markets, and he took pity on me, taking me back to his yard in Lazonby. I spent many happy hours riding in 1950s lorries. In 1958 I spent a week in Lazonby whilst the rest of my family were at the farm. On the last day Mum told me not to go far as we were going home that night, collecting me at 1700 hours. At 1630 hours, a 1950 Leyland Beaver rolled into the yard and I helped refuel it, as a quick turnaround was required. Totally oblivious to what my Mum had said, I asked the driver if I could go with him and I jumped into the cab, not knowing that we were bound for Hawick in Scotland! I remember standing shivering in my T-shirt at 2100 hours in Hawick Auction Mart, keeping my hands fixed firmly in my pockets, in case the man with the hammer mistook a hand gesture and I ended up with 20 sheep. I eventually got back to Plumpton on the A6 at 2300 hours, where Albert Kelso came to collect me in his Standard Vanguard.
That day shaped my life. I went into Transport Management and when in 1996 I got the chance to buy a 1950 Leyland Beaver, just like the one that took me to Hawick in 1958, I couldn't say no.
Digger: Can you please tell us how Vintage Lorry Funerals started and how the company has evolved into what it is today?
David: During a quiet period in my self employment interim management business, I was looking for new uses for current assets that I owned. A deal was tied-up with my car delivering flowers and I was looking for something to do with the lorry. I was networking with a Funeral Director who made me aware of the growing trend of Alternative Funerals, where vehicles other than a black hearse were used to carry the coffin. This Funeral Director gave me my first funeral when a lady was distraught at her husband having to go in a black hearse and the concept of a blue and red lorry appealed to her. It proved to be a very emotional experience and just as I was recovering at home, wondering if funerals really were the business for me, I got a phone call. The Funeral Director rang to say that the lady had paid her bill and left an additional sum as a thank you for me bringing some colour to a dark day.
I applied distribution knowhow into loading and off-loading the coffin and started to market my service to local Funeral Directors. In my visits I found some interesting trends. Some areas were more traditional, some areas involved less flowers and there were some Funeral Directors who weren't pleased to see me. I developed my website www.vintagelorryfunerals.co.uk
The initial customers were mainly former lorry drivers who selected the Leyland Beaver for their final journey. However, early on I realised that on most funerals there would be space on the 21 foot long deck. I hit on the idea of creating themes after watching a TV programme about the Terracotta Warriors; stone statues that were placed around the late Chinese Emperor Xian. If it was good enough for the Emperor Xian to have what was deemed important to him around his coffin then it should be good enough for John Smith. So I started offering to build wooden models to replicate the vehicle the deceased had driven or the cargo he had often pulled. As time evolved Vintage Lorry Funerals became of interest to a wider spectrum of people.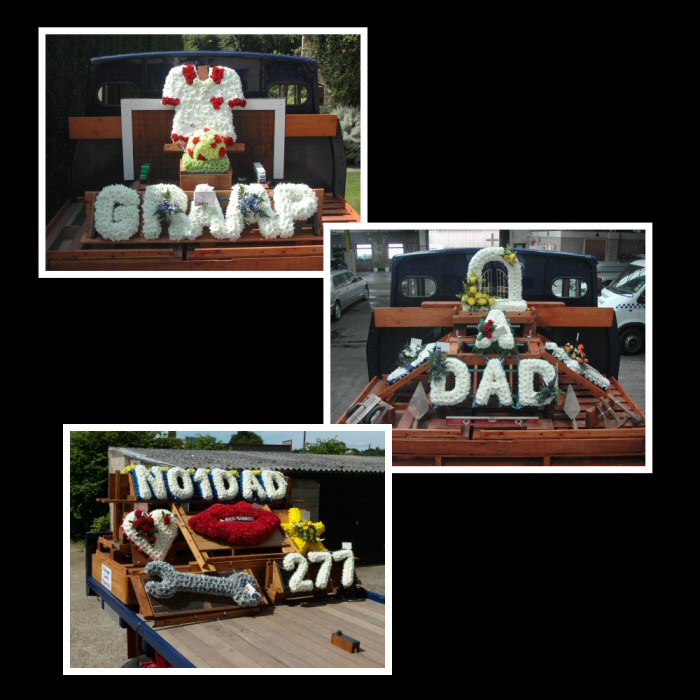 Top. A Liverpool away strip shirt in front of goal-posts with a net in Trowbridge.
Middle: A builder's tools, supplied by me, for a bricklayer's funeral in Nottingham.
Bottom: An example of lots of flowers on this rear display for this stock car racer in Orpington. Most tributes are built from standard bases, however, the 'Kissing Lips' was down to the flair and creativity of the florist.
Digger: You have catered for a lot of different Theme requirements for Clients. Please tell us more about the different options on offer?
David: Currently only around 40% of my business is derived from former lorry drivers, with a growing number of families who had no association with lorries, choosing to use my services for a number of reasons, including:-
Colour. The red & blue in my lorry's livery closely match the colours of the Union Jack and this has led to military funerals. Football fans are interested if their team's colours are red & blue (West Ham, Portsmouth). However, many are attracted more by the goal post theme (Arsenal, Liverpool).


Tradesmen can have their tools, normally supplied by me, positioned amongst the flowers and examples to date include Builder, Plumber, Mechanic & Joiner.


Lots of flowers. I build displays in which every tribute is visible and sometimes there are lots of flowers, the record being 96 Tributes loaded over 2 hours for a care home worker in Walton-on-the-Naze.


An appropriate background for special floral tributes. Currently a 'pillow' can be carried in a bedstead, a 'rugby ball' can be positioned on a green base in front of two white posts and a 'spanner' can appear to be turning a nut.


Exposed to the elements. Some people prefer to work outdoors with the sun on their back, with bird song around them. Why should their final journey not be open to the elements?


Coffins too wide for the hearse. The growing trend of heavy weight people sometimes creates situations where the coffin is too wide for the hearse. The handling techniques on the Leyland Beaver can take any coffin of any size. The record so far was a 47 stone man, whose coffin was 43 inches wide, and his family were most pleased that no crane was involved as 10 people lifted him onto the lorry.
Another popular usage is using the deck as if it were a stage. This is the most rapidly growing sector and can take the following shapes:-
Minimalistic. The coffin appears like an ocean going liner on a calm sea.


Use of flags. A flag can be attached to the head-board to signify that the sprit of the deceased is destined for their homeland.


Detailed model. Sometimes for an additional premium, a detailed model is created, such as a mobile disco for a Disc Jockey in Portsmouth.


Use of props. Occasionally I act like a Stage Manager at a theatre, borrowing items from my contacts that could reflect the deceased's life. Examples of this include 1940s farm tools, Victorian railway cart, 1950s milk churn, 1960s garage tools and kegs from a brewery.
Digger: Why is Vintage, Retro and Nostalgia such a big thing in people's lives?
David: From my perspective my 1950s Leyland Beaver takes people back to happier times. In the 1950s there was full employment, and British engineering still led the rest of the world. It was a time before money spoiled things, when footballers walked to the ground with the fans. It was also a simpler life, less choices, only one flavour of choc ice.
Digger: What would you say sets a Vintage Lorry Funeral apart from a more traditional one?
David: Vintage Lorry Funerals provides a unique ability to personalise a funeral. I tell people that some folks may have had more than one go at a wedding, that you only get one chance with a funeral. People who have lots of flowers surely don't want to see them damaged by stuffing them inside a hearse, whose limited internal height restricts the height of a coffin spray.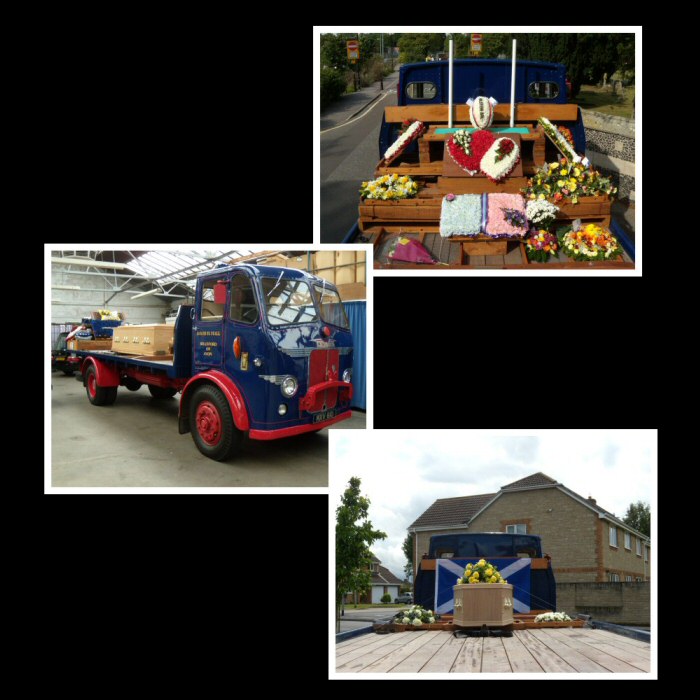 Top. A former Rugby League Player's funeral in Newbury where an appropriate background was created for the 'Rugby Ball'.
Middle: The Leyland Beaver can take any coffin of any size, the heaviest person so far was this 47 stone man in Hounslow.
Bottom: A minimalistic funeral in Yeovil, where the use of the St. Andrews flag was because every year the deceased spent his holiday in Scotland.
Digger: What advice would you give to somebody thinking about a funeral with you?
David: The key advice is to contact me, during 2011/2012, 43% of my funerals came from families who contacted me whilst their loved one was still alive. From knowledge of the type of flowers and the background of their loved one, I will sketch out a proposed design and discuss the involvement of a theme. I will also fix a price. Most Funeral Directors add a margin to my price, some justified and some not justified in my opinion. Some funeral arrangers have risked disciplinary action by giving my details discreetly to a family so that they can contact me direct.
Digger: Where are you customers coming from and what customer feedback/comments do you get from families and friends after funerals?
David: The area covered by my nationwide service is currently bounded by Stranraer to Southampton and Bideford to Billericay, and the Leyland Beaver is thought to be the oldest working vehicle operating over long distances. I take pictures for the family and can write an obituary and place it in the trade press, so I have extended contact with families and I have received some amazing emails and 'Thank You' cards...
Widow in Grays: "Big thank you to you from myself and my family for the wonderful service you provided, I am sure that my husband would have been proud of his send off, which would have not been possible without you. We have lovely memories of the day which will help us through when we have dark days."
Daughter in Wiltshire: "Once again thanks for all U R help we kids R happy U went one step further saved Mum some serious money U R kind and honest and we hope U R kept busy for many years to come its hard to find honesty in this world today."
Daughter in Southmead: "Thank you for the fantastic job you did, we were chuffed to bits with your flower layout, what you do is a true credit to yourself, thank you for showing some much passion throughout and genuine care in getting things spot on."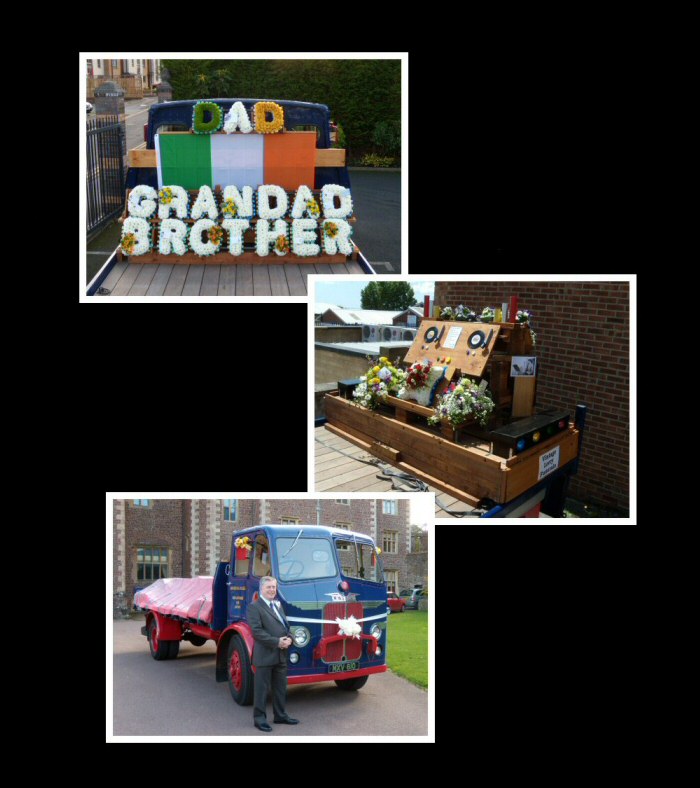 Top. Sometimes the whole display is structured around a flag, as was the case for this Irishman from Solihull.
Middle: This Mobile Disco was created for a Disc Jockey in Portsmouth.
Bottom: Taking the groom to his wedding in Minehead.
Digger: What are the best aspects of running Vintage Lorry Funerals?
David: I get great satisfaction helping people at their saddest times, I still get Christmas cards from families who I helped years ago. I work like a 1950s lorry driver making early starts covering most of the distance to a funeral whilst most people are still asleep, as the lorry only does 30 miles per hour. Leaving in the dark, the roads are quiet, and I see wild animals such as, barn owls, foxes, deer and badgers. I once had a race with a pheasant which flew along side my driver side window for over 100 yards. I could have touched it and I think it was admiring itself in my wing mirror. It is also a big thrill to be driving towards London when the sun rises.
Digger: What are your plans for Vintage Lorry Funerals in the future?
David: My future plans involve me continuing to improving displays with the next stage planned for making 'Heart' tributes appear to float.
I hope, one day, to create the appropriate environment for one of the crazy coffin range so:-
'Viking Long Ship' could be on a blue sea tied to a wooden landing-stage.
'Orient Express' could sit on a railway track.
'Kite' could be tethered to a green 'grass' area.
I also hope, one day, to carry two coffins side by side so that people who have died together can travel together.
I intend to widen the other uses for my lorry which are marketed under www.vintageclassic.co.uk and currently include weddings (taking the groom to church, the example here is in Minehead and was a surprise organised by the bride) and birthday treats (providing an unexpected ride that brings memories flooding back, was evident for Ken Agates who was taken from Reading to Basingstoke. Ken passed away the year after this picture was taken, however, his family still cherish the memories he relayed at the Milestones Museum).
With more and more people travelling on my lorry getting younger than me, I don't look too far beyond the funeral I'm currently working on.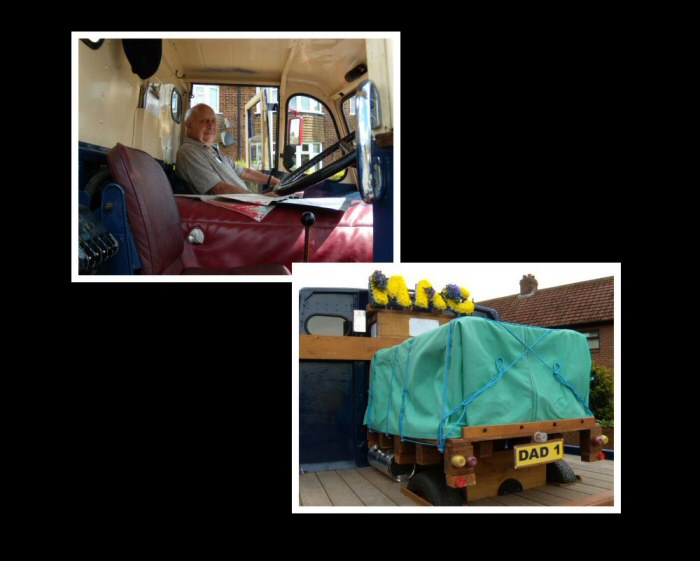 Top. A surprise treat for a Grandad who was taken from Reading to Basingstoke and onto his birthday party near Guildford.
Bottom: A sheeted load theme in Ponteland, Northumberland, for a former lorry driver who was meticulous when sheeting a load to have all the dolly knots to be of the same size and height off the ground and for the ropes to cross in the centre of the rear.

---