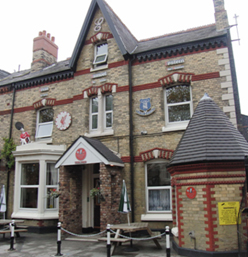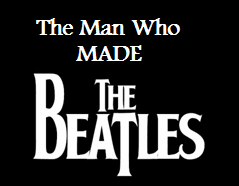 Here Digger talks to Patrick at The Epstein House Hotel about the former family home of the Beatles' manager Brian Epstein.
Ideally placed for music and football fans in Liverpool's Anfield, the guest house offers Epstein memorabilia and an insight into The Man Who Made The Beatles (and many other musicians and singers) and who changed the face of popular music for all time.

---
Digger: What is your background and how did you come to be involved with The Brian Epstein Hotel ?
Patrick: Well, I have a property and catering background. I came over from Ireland and thought the bubble was going to burst so I moved to Liverpool when I heard it was going to be the European Capital of Culture 2008.
Digger: You predicted the demise of The Celtic Tiger?
Patrick: Yes.
Digger: A good time to come over.
Patrick: When I was over here I thought Anfield was artificially under-developed. I thought it would get sorted out with the Liverpool football ground expansion but unfortunately that hasnít happened yet.
Digger: The history of Liverpool has often been one of a lack of investment Ė I remember the Derek Hatton days, but theyíve done so much in the last few years and totally transformed the city centre and the docks as well as other areas.
Patrick: They have, but unfortunately the area of Anfield is still not repaired and refurbished.
Digger: I was there a couple of years ago to see the big concert and it was like a bit of a throwback to the old days around there.
Patrick: The McCartney concert?
Digger: Yes.
Patrick: Well everybody is waiting for LFC to do something.
Digger: In the current climate they canít do everything can they?
Patrick: Well, they donít do anything. What they do is they prolong the uncertainty of the neighbourhood here. The old derelict houses Ė theyíre systematically and strategically and corporately blighting the area.
Digger:
What is Brian Epsteinís legacy and why is he so important?
Patrick: Heís an enigma and a phenomenon, isnít he? He died at 32 years of age having done so much. He inspired and made arguably the biggest band in the world who are as popular now with the younger generation as they were to the people in the sixties.
Digger: Thereís a lot of rubbish spoken about him but you canít take away the fact that he recognised the talent and was so persistent with all the record companies Ė the men in suits. Sid Bernstein described him to me as "a gentleman and a gentle man." He did the US deal with Sid over the phone and stuck to it.
Patrick: Well, Iíve spoken to a lot of people who have known Brian Epstein Ė Sam Leach, Lee Curtis, Joe Flannery and two or three others and the word is that he was a very, very shrewd and methodical businessman. And with his dramatic experience as well he was very conscious of clothing and image and style. Arguably, thatís what got The Beatles noticed at the start, I suppose.
Digger: He had to break free from NEMS Ė it wasnít big enough or challenging enough for him and he was in the shadow of his parents in a way so he struck out on his own.
Patrick: Well he seemed to be happy at NEMS. Iím not sure how long heíd been there but he seemed to be doing okay there and he was certainly good at it. The business was very successful - it was the foremost record shop outside of London. He was destined for greatness in some way.
Digger: Nobody could have imagined how though. Can you please tell us about the history of The Epstein House/Brian Epstein Hotel?
Patrick: The house was built around 1860. Brianís grandfather and grandmother, Isaac and Dinah Ė most people say they came from Lithuania around 1900 to Liverpool but in actual fact Iíve got a certificate which I think was filled-out by the Epsteins themselves which says they're Russian. I only heard that a few days ago.
Digger: Is it possible that borders were moving around?
Patrick: Absolutely, I suppose it is. Lithuania was probably part of Russia then. I notice that in 1911 they lived in Rockfield Road in Anfield in a smaller house and Harry was seven years of age Ė Brianís father and on the document and it said they were Russian. So when they got more prosperous they moved to the house that Iím in now which is 27 Anfield Road.
Digger: Itís a great address and a great location for people coming to the city and youíve got several bites of the cherry there. Itís not just the music fans but the football fans as well.
Patrick: Yes, Liverpool and Everton actually. In fact I just found out the other day as well that Henry Tate, the Tate & Lyle sugar man and art gallery man, also lived in Anfield Road. Iíd be very happy to see Anfield Road coming back to itís rightful elegance again.
Digger: Is there a blue plaque?
Patrick: No, we have a red one Ė Iím not sure of the significance of that but more important than the plaque actually will be the official Liverpool statue to Brian Epstein in our garden here.
Digger: Thatís brilliant. Thatís a bit of coup Patrick. How did that come about?
Patrick: What happened was that the council had a vote. The motion was proposed and seconded and so carried in 2008 which would have been 41 years after Brian died, may he rest in peace. 1967-2008. They agreed he ought be honoured with a statue to be erected either in Mathew Street or some suitable location and I put the case forward for north Liverpool. And thankfully I was selected.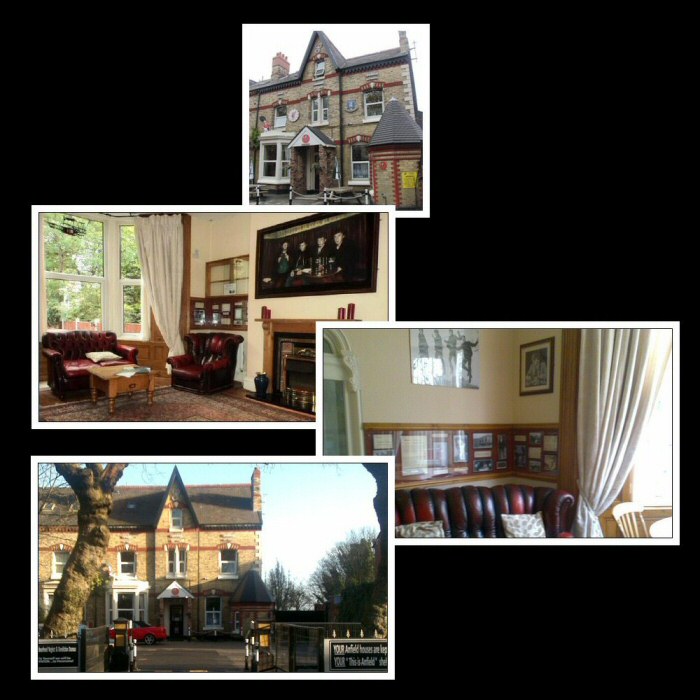 The Epstein House
Digger: Where's it actually going to be Patrick?
Patrick: It's going to be in the garden at our hotel and we'll be calling it the memorial garden. The statute is being sculpted by a vey well known sculptor called Tom Murphy. Tom did the Bill Shankley at Anfield, Dixie Dean at Everton and John Lennon at the airport.
Digger: I saw him just the other day on Google. He came up when I was looking for Tom Murray the Beatles photographer.
Patrick: Interestingly enough as well, I think one of the main reasons why we were chosen for the place for the statue was that NEMS Enterprises - you know what NEMS stood for? - North End Music Stores. And when Isaac, Dinah and their son Harry lived in this house, they traded down the road in Walton Road - les than a mile from here actually. That's where the first Epstein shop was. So some time around 1900 to 1910 they started in what became a block of six shops actually.
Digger: It was a general music store to start and they sold records relatively late there didn't they?
Patrick: I think actually it was a furniture shop and I've got a photograph here that shows the block of six shops together and basically the sixth one they called it NEMS. Paul McCartney's father Jim reportedly bought a piano from them. The story goes that way and I must actually ask Paul McCartney's secretary if Paul would confirm it actually. But the story is that when Brian Epstein asked them if he could be the manager, they said they'd think about it. And when Paul told his father the proposition his father said that he'd bought a piano from them in County Road and he found them very businesslike. And if Brian was like his father then he sounded like a good businessman.
Digger: A good testimonial there and isn't that amazing that such a major cultural explosion could have turned on that rather innocent event? Paul might have said no.
Patrick: Paul's father lived just done the road here at 10 Sunbury Road.
Digger: That was before they moved over to Forthlin Road.
Patrick: Yes. John Lennon asked Brian what kind of car he drove and this would have been 1962 and sports cars weren't as plentiful at that time...
Digger: By no means.
Patrick: ... Brian said he was driving a Ford Zodiac and John Lennon was very impressed with that.
Digger: John was very aspirational. It was three years before he'd pass his driving test.
Digger: What can people expect there?
Patrick: I bought a lot of memorabilia - it was described at the time as being the largest collection of Brian Epstein memorabilia in the world. I don't know whether it is or not but I bought it for a fair bit of money. I'm displaying most of that and very soon we'll have the statue. We've already got endorsements from Billy J Kramer and Gerry Marsden, formerly from the Epstein stable. We've had some correspondence also from Paul but he hasn't indicated yet whether he will actively help us or not.
Digger: So you've got Beatles fans, football fans. Who would be your typical customers and what sort of feedback are you getting about the hotel?
Patrick: Generally the feedback is good. We have people who are attending conferences. We have a nice garden and have done marquee weddings and so on. The future's looking pretty good really.
Digger: What's the theme of the hotel. Is it like a family hotel?
Patrick: Yes, it's a family hotel and when people walk in the door it feels like a house really. It feels homely.
Digger: I love the vibe up in Liverpool. It's a bit of a clichť about the Scousers being different but I think they are. They've just got that great sense of humour, but there's also just a feeling that you're welcome.
Patrick: Yes, they're kind of cheeky and if they don't like you, then they don't like you, but they've got a kind of cheekiness about them.
Digger: There's a good Irish connection there too with both Lennon and McCartney being of Irish descent.
Patrick: I wasn't overly aware of their Irish connections. Can you tell me more about that?
Digger: Jim McCartney's great grandfather was born in Ireland and Alf Lennon's grandparents were from County Down.
Patrick: I've never really looked into the Irish connections.
Digger: Oh, I'm into all that as my mum was from Kerry. Why is retro pop culture still as popular - even with the youngsters?
Patrick: I get people coming here of all ages. Kids of 17 or 18 who come here for the football, who don't even know about the Beatles connection and when they find out they show how enthusiastic they are about The Beatles. It's amazing. I don't know - it must be the quality of the music because several generations have said that the music of the sixties and the fifties rock and roll stands out for them.
Digger: And famously because Liverpool was a port, that's the reason so many of these groups started. Because they were influenced by the music coming in on the ships on records from overseas.
Patrick: Yes I suppose it was the 'Cunard Yanks' coming back with the American influence.
Digger: What are the best and most enjoyable aspects of running The Brian Epstein Hotel?
Patrick: It's good to be involved in something that interests so many people. We intend doing more tour business, weddings and themed business. I suppose it's an honour to own our property where one of the world's most famous and successful men grew up.
Digger: How did you get to own it?
Patrick: A lot of people ask me that - it's strange really. People say "How did you do it?" and the simple answer is - I bought it. (Laughs) It wasn't on the market as such. I bought a few houses around here and there was a house like The Epstein House - there are only four houses like it and there was one for sale that I was interested in. While I was looking at that, I met the guy who owned Epstein's and I asked him if he would consider selling it and he said that he and his partner had only decided the previous week that thy were going to sell it.
Digger: I think there's a weakness in this country that you don't get in America for example. We don't tend to celebrate enough our achievements and our achievers - the important people that have made a difference like Epstein. You Patrick have got in there ahead of the game in a way, because nobody else had bothered to recognise the historical and cultural significance of this house. You've bought the memorabilia, you've got the hotel, you've persuaded the powers that be to erect a statue. Now people will be thinking "Oh yeah. He was important, wasn't he?" It took somebody like you to do that.
Patrick: Yes, well I suppose I did. I remember that from ten years of age I knew that Brian Epstein was the manager of The Beatles. He died in 1967 and I would have been eight years of age. I probably remember him dying.
Digger: Like me, seeing it on the news and them interviewing The Beatles who had just rushed back from Wales?
Patrick: Yes, they were down with The Maharishi.
Digger: What are your plans for developing the hotel and what you've got to offer?
Patrick: Well, there's a lot of plans but cash flow has to dictate the pace and order of your plans.
Digger: What would you like to do?
Patrick: To establish the statue, to get it on the tourist circuit and get the tour bus up here. To start selling memorabilia and increase the memorabilia display that I have here. I'd also like to do a re-enactment in the room that Brian used to use as his nursery here when he visited his grandparents and maybe put some Epstein furniture in there as well.
Digger: That sounds good. Get English Heritage involved as well.
Patrick: It would be great.
Digger: Well, thanks very much Patrick for telling us about The Epstein House Hotel and well done for looking after such an important part of our history.
Patrick: Thanks David. You're welcome up here any time.
Digger: I will be taking you up on that Patrick as soon as I can.
The NEMS store in the sixties and the plaque commemorating Brian's family home
---

Epstein Guesthouse is the former home of the Epstein family. Brianís father Harry grew up in this house along with Isaac and Dinah. The Guesthouse is Beatles Themed and houses the largest collection of Brian Epstein Memorabilia in The World which is on display to guests and tourists.

The Guesthouse has a fully licensed bar stocked with a number of beers, wines and spirits. You can pop in for a sandwich, a beer or simply for afternoon tea. We provide our guests with Bed and Breakfast at reasonable prices. We offer a True Beatles experience with our themed en-suite rooms complete with LCD Televisions, Free Wi-Fi, King Sized Beds and Tea & Coffee Making Facilities. There is plenty of Parking on site with a car park to the front of the building and an overspill car park to the rear.

The house is a key part of the Beatles story as Brian Epstein spent many of his childhood years here, having his nursery in our current Room 3. He and Beatles Booking Manager Joe Flannery would play in the house as children and form a life long friendship that would see them becoming instrumental in the success of The Beatles.

The Guest House is only two miles from Liverpool city centre with a frequent bus service. Epstein House is a great place to stay whether just visiting Liverpool for shopping at the Liverpool One shopping centre or the Albert Dock. If youíre a fan of The Beatles looking to go to the Beatles Story, we can provide you with discount tickets. For football fans you cannot get a closer B&B.

In addition to our excellent accommodation we have an excellent landscaped garden which is to become the Home of The Official Liverpool Council Memorial Statue to Brian Epstein. The statue will be created by renowned artist Tom Murphy who has previously been commissioned to produce a number of statues such as that of John Lennon, Billy Fury, Dixie Dean & many other Liverpool Legends. We are currently in the process of fundraising for the statue, so please keep watching the website for updates on events taking place.

Post: 27 Anfield Road,
Stanley Park,
Liverpool,
L4 0TF