Dub-Box is the two-berth, retro caravan that merges the best in cool with the convenience of comfortable camping.
Here, Digger talks to Dub-Box creators Matt and Becky about this innovational and inspirational merging of retro cool and modern convenience camping.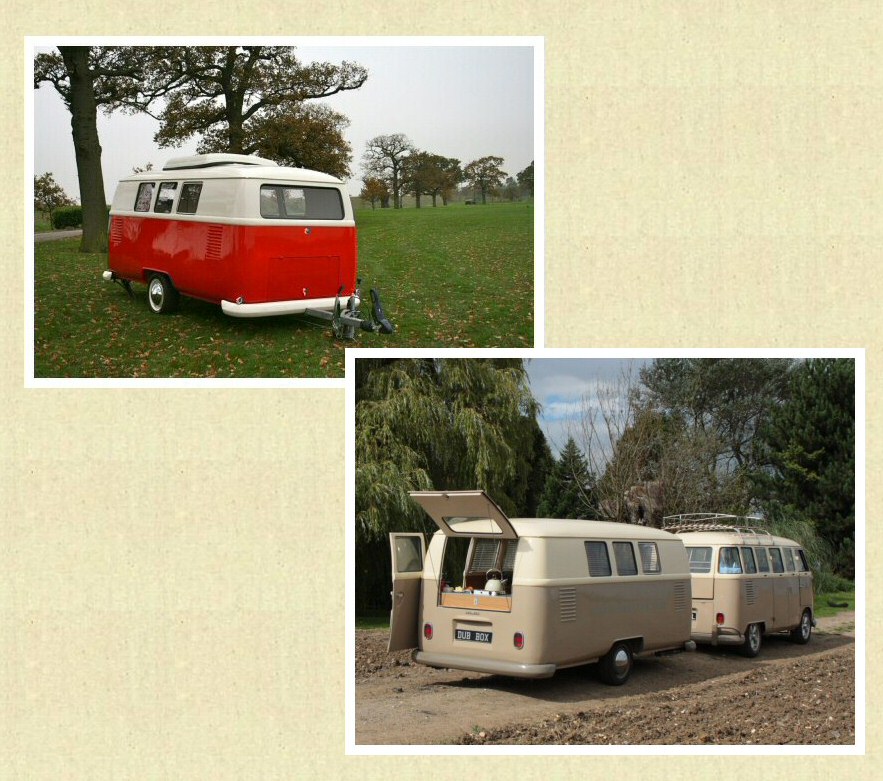 Dub box was born out of necessity, an ever-growing family and only a split screen camper, Matt Clay needed more space! A cool and affordable solution just wasn't available. With an in-depth knowledge of super trailer manufacturing, a background of architectural metal work and a lifetime's fixation with campers, surely he would be able to figure something out. It had to be light enough to be towed by his 48 horse powered camper and be able to stand up to trailer/caravan standards and conformities, but would need to look fit.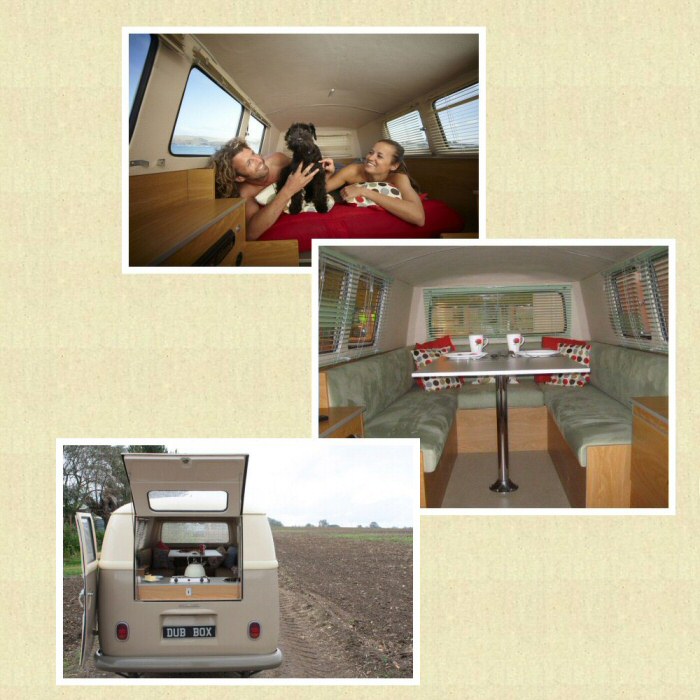 Taking inspiration from American classic caravans and vintage campers, two back ends of front-end crashes were adapted and modified and formed into a mould, from which fibreglass shells are produced. Bonded to a galvanized box section and fitted on a BPW braked T section chassis, together pressed corner steadies, Dub box was really coming to life. The removable hitch would ensure that it would even fit in the garage for winter storage. Insulation with the British climate would be imperative, as well as finding the right repro fixtures and fittings that would ensure the aesthetics would be spot on.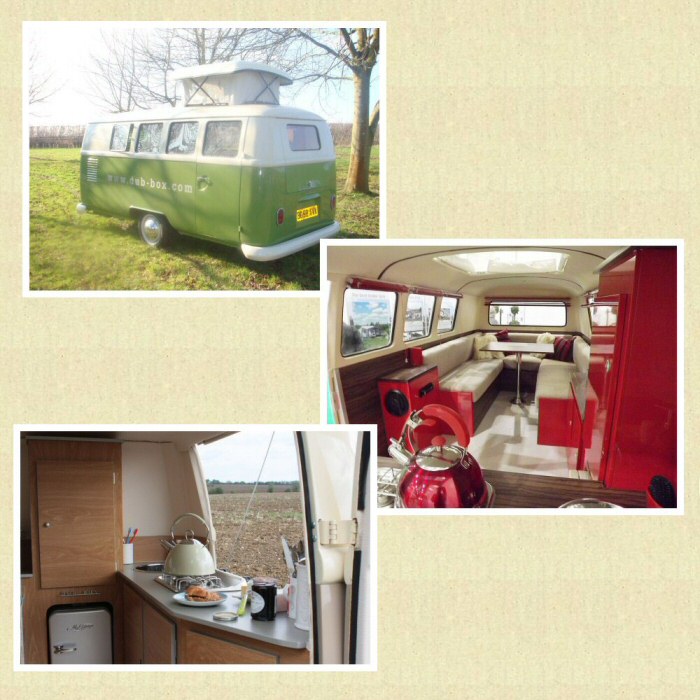 The result of months of planning and hard work has acuminated in a stunning lightweight trailer that Matt is now manufacturing to order, it can be towed by the majority of campers and cars, with a maximum laden weight of only 750kg, and is truly impressive. Dub box can be ordered in your choice of external colours, and can even be colour matched to your towing vehicle. Customers can choose their own upholstery, kitchen cupboards, worktops, flooring and even blinds from a chic, contemporary range of materials.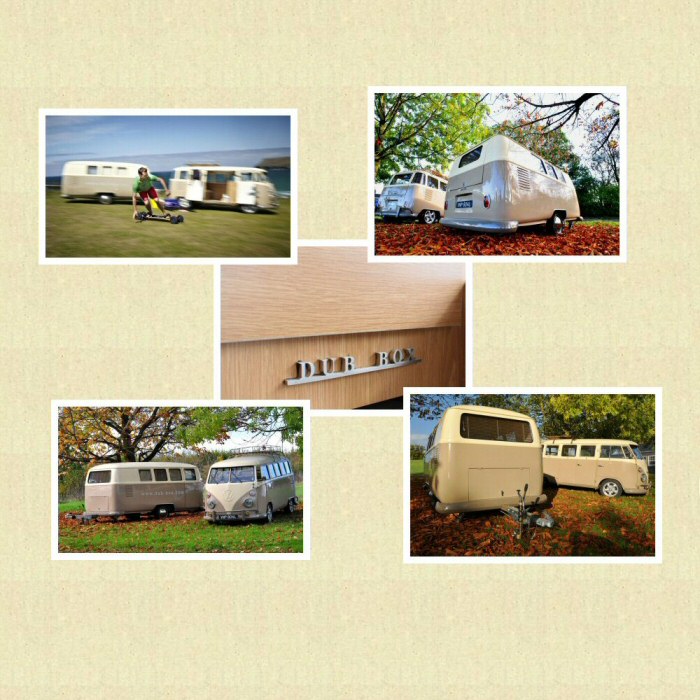 Dub box is a two berth trailer that really puts the cool back into caravanning, however now the children can come too as Dub box gets ready to launch a new range of pop tops with sleeping accommodation for the little ones.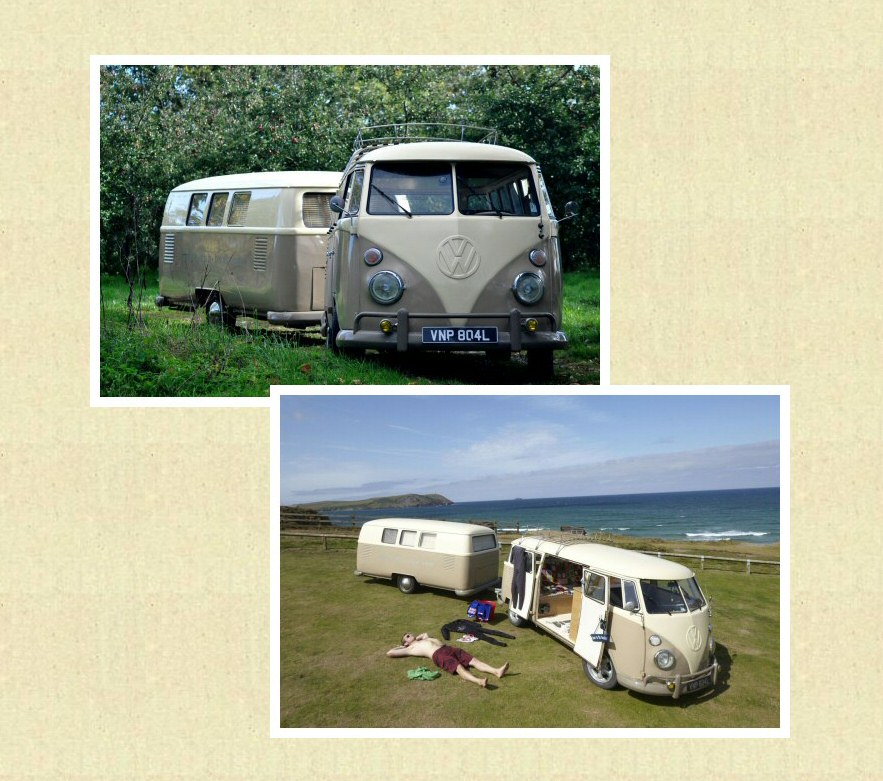 ---
Dub box is the small two berth retro caravan that merges the best in cool with the convenience of comfortable camping. Enjoy the camper kudos without having restoration or upkeep costs. A glass fibre body that will never rust, no extra MOT or taxes.
Our caravans can give you a new view every day, from family weeks on a beach to a weekend festival crash pad or the calm serenity of the British countryside for just the two of you.

The Dub box has many uses, from couples wanting a more sophisticated, comfortable camping adventure , to families dreaming of the outdoor life. Camping made easy, instead of tents, instructions and guy ropes, think park and ...relax.

Dub box is designed to ensure it is not overwhelming or daunting to tow. It is a smooth, lightweight and complementary addition to your journey. Lovingly handcrafted in leafy Herefordshire, every Dub box is created uniquely for its new
owner. The glass fibre body shell will be coloured to your choice. Pick from modern or retro paint codes to compliment your internal finish and fabrics. The range of choice in flooring, blinds, upholstery, cupboards and even worktops
ensures each Dub box is as individual as their owners.

Follow your heart and have Dub box follow you!

See Matt describing the Dub Box on YouTube