Graham Fisher's International Itís A Knockout - without doubt the biggest & most professional It's A Knockout company
Here, Digger talks to Graham Fisher about his original and best It's A Knockout company, now in its third decade of operation...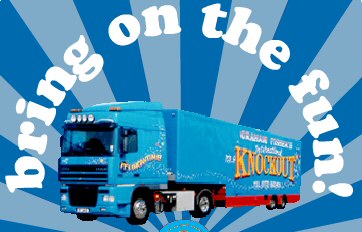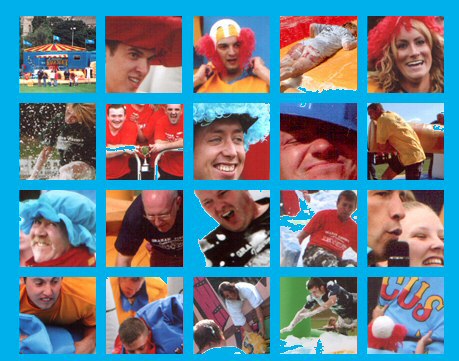 Digger: Hello Graham. It's David at Retrosellers.
Graham: Hello David.
Digger: Can you please tell us about the background to Graham Fisher's It's A Knockout?
Graham: Yes. We took it over from the BBC 31 years ago.
Digger: Does that mean that if they ever wanted to resurrect it they'd have to ask you?
Graham: We used to pay a licence fee to them. But no, I don't think they would.
Digger: Has there ever been the possibility of it coming back on TV?
Graham: We do hope so. Channel 4 did it a few years ago.
Digger: There was the famous Royal one, of course.
Graham: Yes, that was a complete flop.
Digger: It's very impressive when you see the picture of your fleet of trucks, a bit reminiscent of those seventies supergroups or the circus coming into town. How has Graham Fisher's It's A Knockout developed into such a big thing?
Graham: Over the years. We started with a 7Ĺ ton Bedford truck at the start and we got our first artic about twenty-five years ago. We replaced and replaced with new where we could and got to the fleet we have now.
Digger: It's A Knockout seems to be big in people's memories. That's strange for a programme that hasn't been on TV for thirty-odd years, isn't it?
Graham: The thing is, the fundraisers use it nowadays for charity events. The teams pay to enter. Years ago, It's A Knockout was just three teams competing.
Digger: You can use it for team building, for company annual events...
Graham: Oh yes. Team building and getting everybody together, charity fundraising, town shows. We do a bit of TV work, anything from schools to colleges. Fresher's weeks for the universities.
Digger: I hadn't thought of that. That would be a big one for the fresher's.
Graham: Yes, it's everybody's first day at college or university and it's always a bit scary.
Digger: So a good way for people to get to know each other. And you're introducing it to a whole new generation?
Graham. Yes there's a lot of people out there who don't even know what it is because they haven't grown up with it really.
Digger: No I suppose you could say it's a bit like that other show....
Graham: Total Wipeout?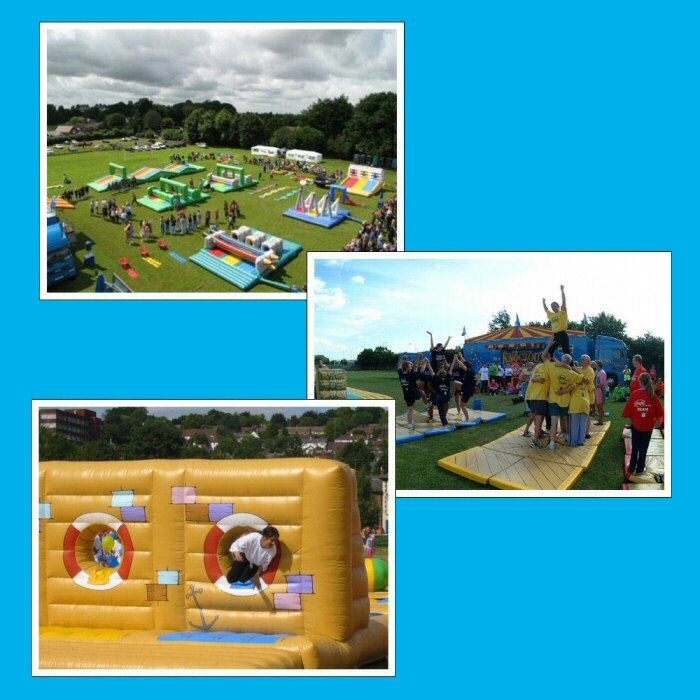 Digger: Yes. Actually I can't get that excited about that show.
Graham: No I'm not over keen on it either.
Digger: The good thing about the original series was that you were putting together parts of the country that wouldn't normally be meeting or competing against each other.
Graham: Right. It was actually the most expensive television show of its era.
Digger: Wow. I didn't know that. Amazing.
Graham: It was on every Friday night.
Digger: They didn't have to pay for performers because it was Joe Public taking part - it was just the expense of moving people and equipment and the outside broadcast?
Graham: That's right. It was very, very costly.
Digger: Who are your 'typical' customers Graham?
Graham: Anybody really. We do a lot of hospices and hospitals. Corporates. We used to do a lot of banks, but we don't anymore because of the economic climate. We have done work for Coca Cola, Boots, Woolworths - all over the continent and as far as New Zealand. We got to Malta every year and we raised in the region of Ä60,000 to Ä70,000 for their charity.
Digger: Wonderful.
Graham: And this year we've been to Sicily, Sardinia and we might be going to Morocco this year.
Digger: All the trucks going over on the ferry?
Graham: Yes, we usually go Dover/Calais and drive through.
Digger: That must look impressive.
Graham: It dos actually, yes. Especially when going through the tunnels at Mont Blanc.
Digger: Do you get pictures taken?
Graham: We have got some.
Digger: I'd like to see those. What sorts of games can people expect?
Graham: Obviously, we develop games every year and change the shows every year. We invent the games, we do the drawings and the plans. A lot of it is inflatable equipment. We've still got the big backdrops and the wooden props which we make and paint them ourselves with an artist finishing them off. They go as flat packs into the trailers. For the inflatables - we give the idea to the manufacturer to find out if it's feasible to make and if it is we crack on with it and do it. We have made games in the past, spending a few thousand pounds on them and the only way to try them properly is with the general public and with teams. If they don't work, we scrap them.
Digger: It really is a bit like the circus coming into town, isn't it Graham?
Graham: I suppose it is really.
Digger: Talking of teams, you obviously need people to set the games up and then to help them. Have you got a team on hand?
Graham: Yes, we have a crew of fourteen. Four presenters and two rigs on the road going out at a time.
Digger: I suppose some of these presenters have to be multilingual?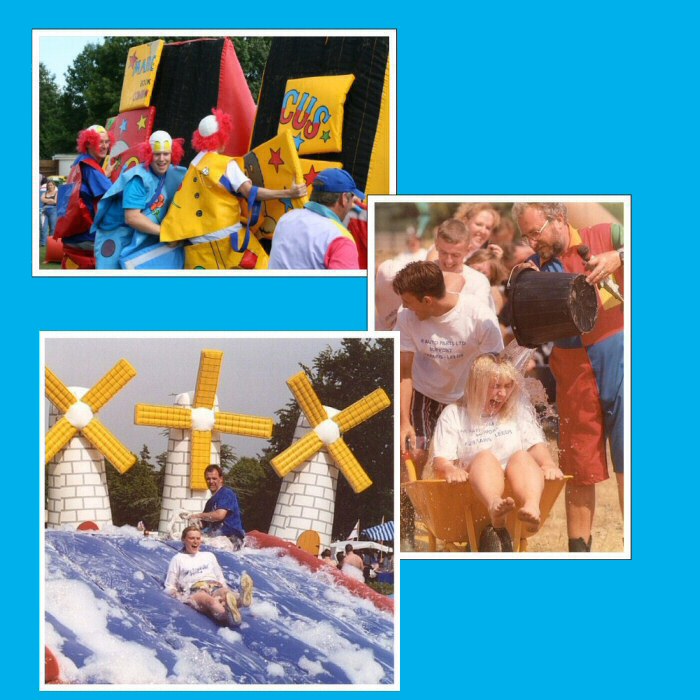 Graham: Yes, we have some presenters who speak different languages, which is handy.
Digger: What do you enjoy most about running Graham Fisher's It's A Knockout?
Graham: Pulling into a town or village a couple of days before and setting all the equipment up.
Digger: And you're totally involved in this and hands on?
Graham: Yes, we get the forklift and transfer the gear from the trucks and start building the equipment. Then meeting the organisers and making sure they're happy with all aspects of the show, doing the show and then pulling down and moving on to the next venue quickly.
Digger: Have you any other retro passions Graham?
Graham: I like old lorries.
Digger: Being online, I suppose you get a lot of customers you wouldn't get without The Internet?
Graham: The thing is, years ago it was all telephone work and you could actually talk to the clients. Nowadays it's email and it takes a lot of your time up writing emails.
Digger: It does.
Graham: It's far easier talking to somebody about how it works and how we build and how we go about doing the show rather than writing it in an email. But it's how things are done these days.
Digger: What advice would you give to someone planning an event with you?
Graham: Obviously make sure you've got plenty of time to organise it, make sure you've got a good venue - a park, a rugby club or something like that where there's plenty of parking and showers available, if possible. Organise the catering and things like that for all the teams and spectators. Side stalls, fairground stuff and things like that to make a family fun day of it, and then crack on from there really. It's not difficult, just time-consuming trying to get the teams together - that's the biggest thing and trying to get companies to take part.
Digger: You need to contact more people than you need as well as somebody is bound to bow out?
Graham: If you do a company or corporate event and invite 120 people then maybe only 80 will take part because they might have a bad back or be pregnant or whatever. There's quite a few stand down.
Digger: Are there any special clothing requirements Graham?
Graham: Just be sensible. T-shirt, shorts, training shoes and obviously bring a change of clothing because you WILL get wet. That's what Knockout's all about really, isn't it?
Digger: What abut the future Graham?
Graham: More of the same really and try to get a little bit bigger if we can. We are thinking about putting another unit on the road that is more economical for people than the big stuff.
Digger: Trying to cater for the budget market in this recession?
Graham: That's right. Our only reservation is that we don't want people to get confused and think that's our main offering.
Digger: I can see that. You could almost be diluting your brand.
Graham: So we will probably do it under a different name.
Digger: That makes sense.
Graham: It's A Knockout is still popular and very much out there. There's more competition out there than there used to be.
Digger: But you're the original, the biggest and the best Graham.
Graham: Yes. Some people may operate for less money but we offer a superior product. We get a lot of repeat business and referrals which is good because we're obviously doing something right aren't we? The vehicle are always nicely polished up and cleaned wherever we go because it's the first impression as soon ay you enter a town. All the crew are smart and unformed out and everything.
Digger: Do the staff find digs in the town or do they have special trailers?
Graham: All the vehicles we have got have been specially adapted for ourselves. Showers and beds on board, so there's no caravans at all to be towed around. We're self-sufficient and can be away for months on end.
Digger: It's coming up to your peak season now?
Graham: Yes, another week and we're off...
Digger: Have a great season Graham.
Graham: Thanks David.
(Graham send me images of trucks going through the mountains)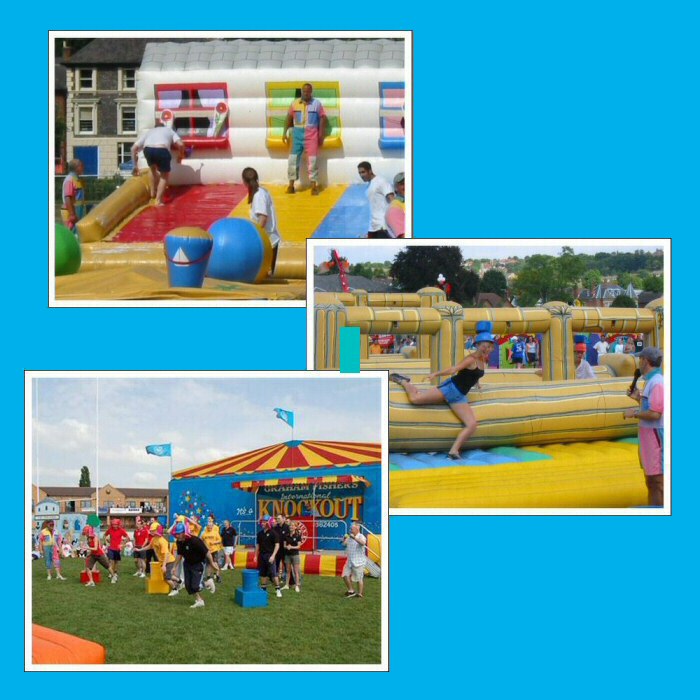 Play the video...

---
Graham Fisher's International Itís A Knockout - without doubt the biggest & most professional It's A Knockout company


Itís A Knockout . Fun Days . Corporate Entertainment . Tournaments . Team Building . Family Fun . Events . Contests . Game Shows

Twenty five years ago, we were the first company to take ex BBC Props on the road presenting the touring version of It's A Knockout...although they are long gone & but a distant memory the company has gone from strength to strength.

Some of you may remember the 70's It's a Knockout from TV or the Royal Knockout of 1987 and then there's a whole new generation who don't!

However we have not stood still moving ever forward with the times, from the days when inflatables were a new thing! We have continually developed new ideas & equipment every year. Providing highly individual Inflatables, Games & Challenges.

We are without doubt the biggest & most professional It's A Knockout company on the road from here on in it's all Fun, Fun, Fun.



Tel: 01772 862405 / 07860 586794

Email: info@itsaknockout.co.uk