Nicks Guitars - Buying, Selling & Trading Classic Vintage and Used Instruments
www: nicksguitars.com
Selling vintage, used guitars and basses, Nicks Guitars offers a wide variety of instruments at all price levels.
Here Digger talks to Nick about the background to the business and about what's on offer.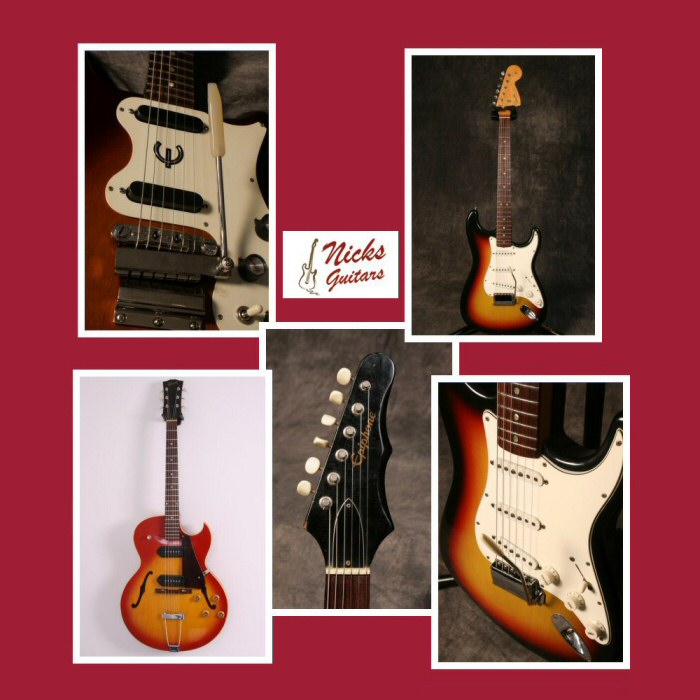 ---
Digger: Can you please tell us a little bit about your background and the background to Nick's Guitars?
Nick: I have been playing guitar in bands off and on since 1965; the good old days! I was initially involved with a show band in Southport where I lived then. We were also incorporated into the local Musicians Union orchestra/dance band and played many big functions mainly at the Southport Floral Hall. Rock bands took over for a while during the late 60's-70's before I settled down with the occasional musical foray during the 80's. Then I got back into playing by joining a local Blues band www.bluekings.com on Bass! And I have been doing that for the past 15 years or so.
As a guitarist, buying and sometimes selling guitars to fund the next purchase, it was inevitable that one day the Nicks Guitars business would be born. The business is Internet-based through my website and local guitar shows.
Digger: Please tell us more about your services and the vintage guitars and other music equipment that people can find at Nick's.
Nick: Selling vintage, used guitars and basses, Nicks Guitars offers a wide variety of instruments at all price levels. Business is conducted via the Web site, (www.nicksguitars.com) through the 'Nicks Guitars eBbay listings' and at local Guitar Shows. Callers are welcome to try before they buy and collect instruments. We are located near Wetherby, West Yorkshire. Only 5 minutes from the A1. As players as well as dealers we understand the needs of both collectors and musicians. Many local, national, and international customers purchase from us with confidence. We work hard to keep our customers happy and are proud of our customer feedback record.
Digger: Why are these vintage guitars such a big thing in so many people's lives and why are they so iconic?
Nick: Young and old continue to be fascinated with the past. I get stories almost every day from people telling me about the instruments they had and should never have sold (me included). Middle aged to teenagers, they mostly want an old guitar. It's the "Mojo" I guess. Thinking of all the stories an old guitar could tell and guessing who may have played it in the past all adds to the magic of vintage guitars. A good quality used guitar will save you hundreds of Pounds/Euros etc. over a new one and you will not really lose any money if/when you come to sell it. In many cases it would be worth more in a few years. During these economic hard times I get many players who are buying used and vintage guitars rather than leaving the money in the Bank earning little interest.
Digger: What is the enduring fascination people have generally with Retro and Vintage in all its forms?
Nick: If you look back over the past 60 years to when guitar music was booming there have been hundreds of iconic songs produced with what I call "classic vintage guitars". From Les Paul to Jimmy Hendrix and Eric Clapton to Peter Green and many, many more, each have performed with what are now considered to be awesome iconic guitars from the "golden age".
Digger: Who are your customers, where are they coming from and what sort of feedback and comments are you getting from clients?
Nick: Customers come in all shapes and sizes, bless them. I ship all over the world, including Australia and the USA. Closer to home the majority go to the UK and Europe including several instruments to Scandinavia.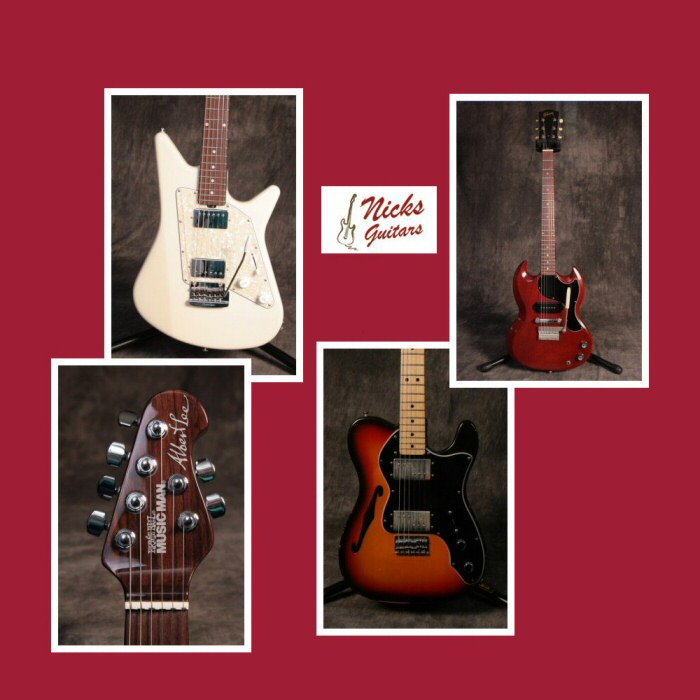 Digger: How hard is it to source these vintage guitars or parts for them and the amps?
Nick: This is the tough part. It is indeed difficult and time consuming. I continue to learn every day at every twist and turn.
Digger: What are the biggest challenges running the business?
Nick: Keeping costs down and making a margin. Not being afraid to say no and being cool about holding on to guitars for a long time. Don't panic!
Digger: And what do you most enjoy about running Nick's Guitars?
Nick: An old cliché I guess but meeting my customers is a real joy. I get to meet some great musicians and many become repeat customers too which is nice. Of the majority that are mail order it is always great to get a thoughtful email letting me know how pleased they are with the instrument and service. Most enjoyable is the buying trips when I get to catch up with my dealer pals.
Digger: What are your own particular retro passions Nick?
Nick: Being mostly a bass player these days I just love old Fender basses. Just wish I could afford them.
Digger: What would you say makes Nick's Guitars special?
Nick: Our aim is to seek out not only vintage instruments but also the more affordable player grade pieces. Particularly pro quality used guitars. Most guitar shops are stocked with shiny new guitars and one or two used instruments. Some will not even take a guitar in part exchange so they never have any used ones! I also stock a lot of pre-owned and vintage bass guitars. All the main lines are generally in stock. Playing bass myself that is a natural thing for me to do and makes me stand out from the crowd. Also I will offer people time to pay for an instrument as long as they have paid a reasonable deposit they can take up to 3 months to pay. Not many other Guitar stores will do that!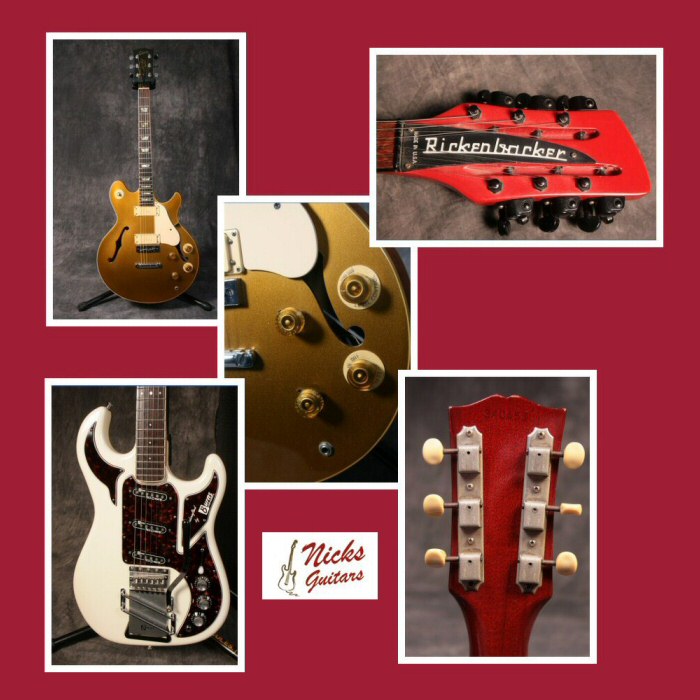 ---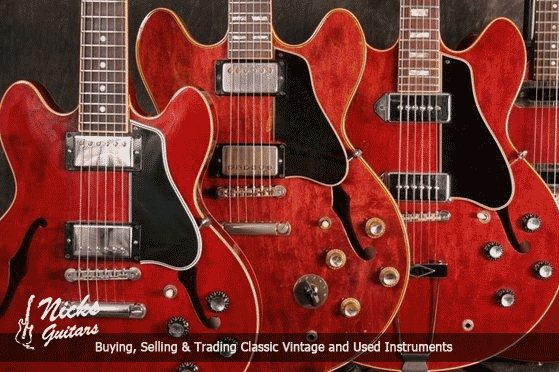 Nicks Guitars
Fender, Gibson & Epiphone Solid Body, Gibson & Epiphone Hollow, Ricky Gretsch Guild PRS Others, Acoustics, Basses Fender Basses, Gibson Basses, Musicman Basses, Other Basses, Other Guitars Acoustics, Ukes, Lap-steel & Mandolins, New Eastwood Guitars, Amps & Cabs, New Events and Music, Horns, Guitar Art
Selling vintage, used guitars and basses, Nicks Guitars offers a wide variety of instruments at all price levels. Our aim is to seek out not only vintage instruments but also the more affordable player grade pieces. Business is conducted via the Web Site, through the 'Nicks eBay Shop' and at local Guitar Shows. Callers are welcome to try before they buy and collect instruments. We are located near Wetherby, West Yorkshire. Only 5 minutes from the A1.

As players as well as dealers we understand the needs of both collectors and musicians. Many local, national, and international customers purchase from us with confidence. We work hard to keep our customers happy and are proud of our customer feedback record.

If you don't see what you're looking for on the site, please get in touch. We'll try and help you find the perfect vintage or used piece.

We hope to hear from you soon.

Nicks Guitars
Wetherby
West Yorkshire
England


T. 01937 541 290
M. 07531 229 812
email: sales@nicksguitars.com
www: nicksguitars.com