Retrospective -The Label for Nostalgia & Vintage Jazz
www:retrospective-records.co.uk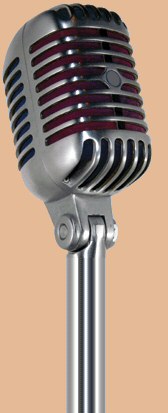 Launched in October 2008, the RETROSPECTIVE label is a partnership between Nimbus Records and veteran nostalgia specialist Ray Crick, who has the job of selecting the repertoire, compiling the programmes, sourcing the highest quality transfers, and supplying biographies and informative notes for the booklets. "I am delighted to be involved with RETROSPECTIVE because it enables me to create CD programmes that bring alive the finest recordings by those wonderful vintage entertainers of yesteryear, both popular and jazz, for people to enjoy today."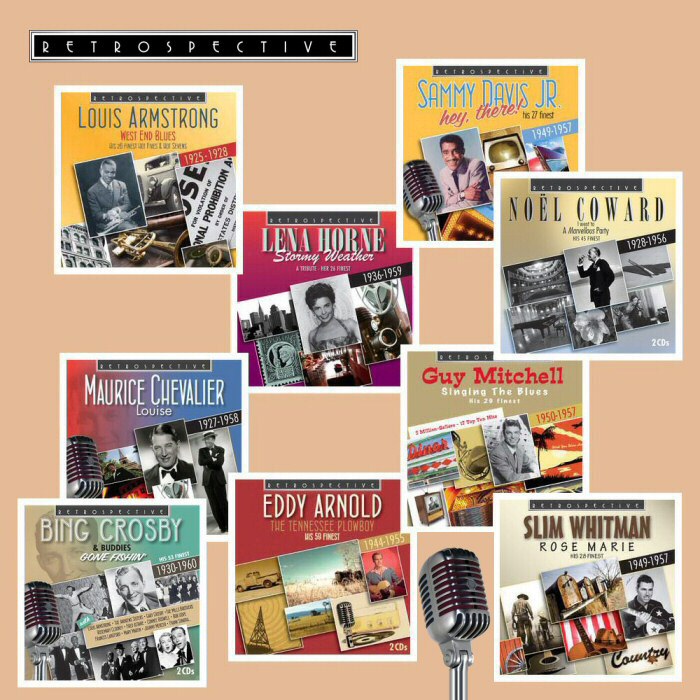 ---
Here Digger talks to Ray Crick about the background to the Retrospective label and about what's on offer.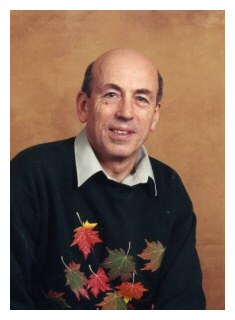 Ray Crick
Digger: What is your background, Ray?
RC: I'm, dare I say it, an Essex man who has spent even more than his whole working life in the record business. Even at school I ran a local record shop in South Woodford. At 20 I was taken on by the Classical Promotion Department of Decca, where I stayed for 14 years, working with such as Pavarotti, Solti and Benjamin Britten. From there I was headhunted by RCA to be Classical Marketing Manager, nicely coinciding with James Galway's rise to superstardom. A six-year spell as Classical Manager of PolyGram's Britannia Music ended in 1986 when I was invited to be Marketing Manager of ASV – and this is where nostalgia raised its enticing head. During my 20 years with them, I began to take a controlling interest in ASV's nostalgia label, Living Era. Sales increased as the catalogue grew, until they were more than all the rest of the company's products put together. Eventually it became necessary to relinquish other marketing responsibilities and concentrated solely on a label which had become acknowledged as the finest and most comprehensive in the country for nostalgia and vintage jazz.
Digger: Can you tell us about your passion for this music and how Retrospective Records started?
RC: I was a fresh teenager when Rock 'n' Roll exploded so a love of popular music was always going to complement my passion for classical music. And the Trad boom of Acker Bilk and co. ensured that jazz also became an essential part of my listening. But it was taking over and building up Living Era that focused my attention on the huge variety of both light music and jazz from the decades before Rock Around The Clock: the 40s, the 30s, the 20s and even earlier. There is so much life and exuberance that I found it irresistible. I was lucky in being able to translate my enthusiasm into a huge catalogue that had grown to 665 titles by the time of the disastrous takeover of Sanctuary (the company that had bought out ASV) by Universal in 2007. In an act of monumental musical vandalism the entire catalogue was deleted.
I immediately began a quest for a company that would allow me to start all over again from scratch and, a whole frustrating year later, thanks to Jeremy Elliott I was introduced to Adrian Farmer and Ant Smith of Nimbus. Despite the general decline of the CD market they took the courageous decision to launch a brand new nostalgia and vintage jazz label with me supplying the product. Since it ideally described the contents of each release, the name of Jeremy's company – Retrospective – was chosen for the series.
Digger: Please tell us more about the rarities and nuggets you have on offer.
RC: When we launched with 25 Retrospective albums in October 2008, my aim was to set out our stall to show the full range and scope of the many different types of entertainment going under the heading of "nostalgia". Thus, alongside such big names as Fred Astaire and Nat King Cole we had The Golden Age Of The Music Hall, with its oldest track, Florrie Ford singing Down At Old Bull And Bush, dating from 16th February 1905 – 107 years ago! On Jug band Specials we had 25 compelling examples of that idiosyncratic genre made by such as the Memphis Jug Band or Cannon's Jug Stompers between 1926 and 1935. Then there was that wonderful group of nine French singers, Les Compagnons de la Chanson, with Neuf garçons . . . Trois cloches. Plus 20 other issues also covering Country music, Latin, traditional, mainstream and modern jazz. In fact the only common denominator, and indeed basic requirement, was that each chosen example was excellent of its kind.
Digger: How do you go about sourcing so many interesting items, genres and artists for your catalogue?
RC: Over the years contacts have been built up with many belonging to that invaluable, but dying, breed, the record collector. Posterity should be eternally grateful that precious hoards of 78s have been lovingly maintained in places as far afield as Toronto or Birmingham, and Retrospective has been fortunate in having access to these often rare originals. As to choosing the repertoire, while I have many special enthusiasms of my own, there is no shortage of suggestions I get from other experts in the various genres. My job is to make the selections in order to achieve a good balance for the label and to steer its course.
Digger: This vintage and classic music from the past is so enduring. Why is that?
RC: That's not a difficult question. Put on any classic record from the past, say a Duke Ellington from the late 20s, and listen with an unbiased ear. There is such musicianship, sophistication and sheer joie de vivre. These qualities don't fade. While every era produced it fair share of ephemeral rubbish, the best will still delight. Musical history is not a steady development; later music isn't "better" than what went before, simply different. Each age has its own distinctive styles which, when you immerse yourself in them, can provide immense enjoyment – from the 1900s though to today (except for Rap, which I don't count as music!).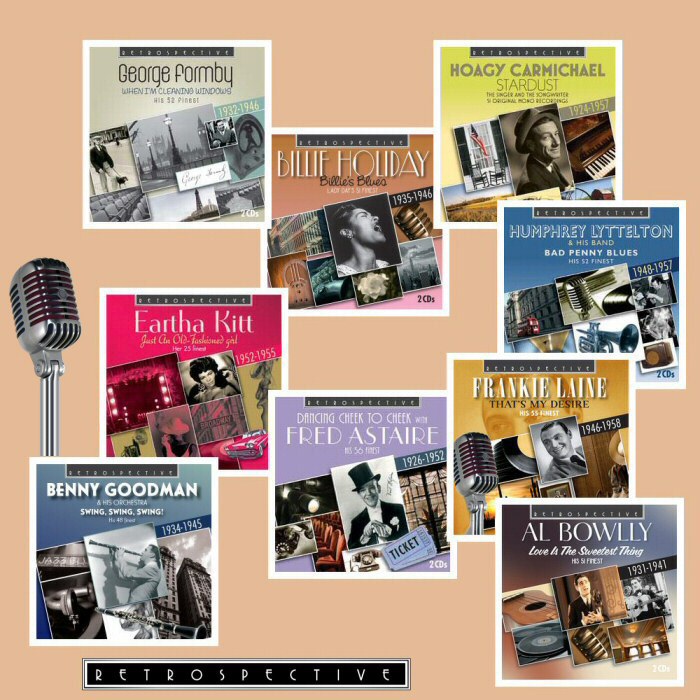 Digger: Why do you think generally retro, vintage and nostalgia is so popular with so many people these days?
RC: Possibly as an antidote to Rap and the more-difficult-to-assimilate aspects of contemporary music, the sounds of yesteryear have an engaging directness, and often romance, that is in tune with people's idea of melody. I won't say "They don't write songs like that anymore", because there are brilliant songwriters today, but there is no doubt that the golden age of Gershwin, Porter, Berlin, Kern, Rodgers and co. produced an unsurpassable legacy. And Retrospective is doing its best to let everyone enjoy it still.
Digger: Who are your 'typical' customers, where are your customers coming from and what customer feedback/comments do you get?
RC: With the decline of record shops and growth of online sales, customers are ever more spread out – they certainly crop up from all over the globe. We get great feedback from such wonderful programmes as for example that presented by Anne Hopper for BBC Radio Cumbria, clearly demonstrating the area's enthusiasm for "our kind of music". Everyone is of course unique but it's pretty obvious more Retrospective buyers are closer to the finish line than the start of life's race. But whereas it used to be genuine nostalgia for the music of, say, the 30s – listening to Fred Astaire could take you back to the dancehalls you used to waltz around in your youth – the passing of time means that real nostalgia (for the music you actually enjoyed first time around) has for many now moved on to the 50s and into the 60s.
Digger: Are younger generations getting interested in these vintage performers and performances?
RC: For my daughters, nostalgia means the 80s, so interest in vintage performances can't be that it takes you back, because you weren't there in the first place! Where there is support it is because of the essential quality of the music itself. For ever and a day any jazz enthusiast is going to thrill to the mastery of a Benny Goodman or a Lionel Hampton. What I do notice is that there is a tremendous interest among young people for the music of the Swing Era. I watch with awe and admiration at the throngs of young couples Lindy-Hopping with unbelievable energy.
Digger: What would you say is special about the products and service Retrospective Records provides?
RC: My Retrospective credo has been hammered out over the years of masterminding Living Era, and in response to many, many letters and comments. Our customers appreciate us taking their choice in music seriously. I do a great deal of research into each project to ensure I have included all an artist's essential and best recordings; indeed, to provide a true retrospective. I always maximise the number of tracks that can be included up to 80 minutes per disc. Having chosen the running order that follows a logical sequence, the rough master then goes to one of the very best audio restorers in the business, Alan Bunting in Stirling, who always manages to invest a special magic into polishing up those elderly originals. As befits things of historical value, every track is thoroughly documented with artists, composers, sources, numbers, dates and locations. And a comprehensive booklet note fills in the background story. All too often labels just stick on 20 seemingly random tracks, barely giving you the titles, and slap it out – not us! A distinctive montage-style series design has been created so that Retrospective CDs are easily spotted . . . and easily obtained too. Nimbus has the unique ability to respond immediately to every single request, so that no eagerly-awaited CD is ever "out of stock".
Digger: What are the best and most enjoyable aspects of running Retrospective Records?
RC: I suppose I've always been a musical evangelist, and I get tremendous pleasure out of persuading other people to share my musical enthusiasms. Years ago at Decca I produced the Your 100 Best Tunes series that sold several million, and I can recall my satisfaction in having spread the classical music gospel so widely. Later I felt the same with Living Era, and now I am very lucky that Retrospective gives a similar frisson. The heart of Retrospective is "Respect"; we respect the music we produce, and it is immensely pleasing if our efforts gain respect. It's so rewarding when a Gerry Stonestreet In Tune International review praises, as it so often does, our production values.
Digger: What are your plans for the Retrospective Records business in the future?
RC: Essentially to increase the comprehensiveness of our range. We're up to 70 albums now, which is considerable, but there's a long, long way to go and the queue of artists awaiting their turn is endless. There are still plenty of big names (we salute Perry Como's centenary in May), but I welcome any opportunity to extend the boundaries. For example we recently put out the first CD devoted entirely to the great clarinettist Frank Teschemacher, followed by one of otherwise unavailable Marek Weber (the André Rieu of the 30s). Then in June we have a terrific jazz programme full of rarities by trumpet genius Billy Butterfield. Downloading will of course represent a growing proportion of our sales over conventional CDs. But, whatever the format, the music remains the same – and it's there to entertain us all. Enjoy it!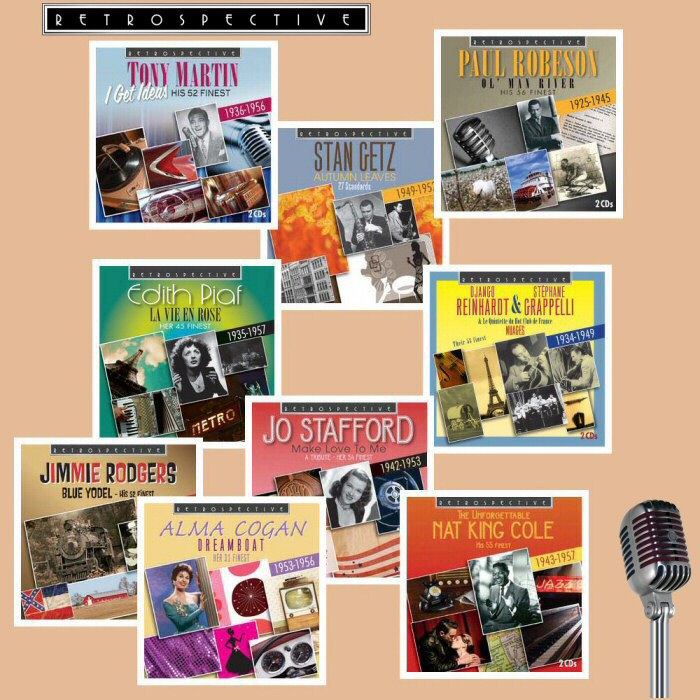 ---
- The Label for
Nostalgia & Vintage Jazz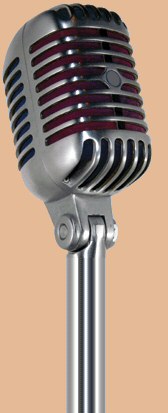 New releases are added every month, delivering the very best in musical nostalgia from music hall to rock 'n' roll – and everything in between! We hope you will relish these classic recordings from the past. Packaged with an iconic series design, and with booklets containing all the detailed information needed to enhance your pleasure, RETROSPECTIVE is a highly collectable range.

In 1989 Nimbus turned the opera world upside down when it launched the historic reissue series Prima Voce. Taking mint condition 78s they presented recordings made by the great singers between 1902 and 1958.
Adrian Farmer, Music Director for Nimbus, commented,
"We decided right at the beginning to dedicate Prima Voce to Opera singers, which meant that a great many of the more popular performers were passed by. We now feel that the time is right to revisit the period and showcase some of the popular artists who made the 1920s, 30s, 40s and 50s the golden age of music."
Launched in October 2008, RETROSPECTIVE now has a catalogue of some 70 titles, on both single CDs and two-disc sets, featuring many of the greatest artists in the worlds of both Nostalgia and Vintage Jazz.
The label is managed by veteran nostalgia specialist Ray Crick, who is tasked with repertoire selection, sourcing the highest quality transfers, plus providing detailed biographies and informative notes for the booklets
.
"I am delighted to be involved with RETROSPECTIVE because it gives me the chance to create CD programmes that will bring alive the finest recordings by those wonderful vintage entertainers of yesteryear, both popular and jazz, for people to enjoy here and now. We anticipate that the entire project will eventually total more than 400 releases, each with a smart series design, making for an eminently desirable range."
RETROSPECTIVE is a joint venture between Wyastone Estate Limited and Retrospective Recordings Limited. All sets will be manufactured in the UK and the USA using the Nimbus disc and print 'on demand' production services and distributed world-wide by Wyastone Estate Limited. The in-house production facility ensures that titles are never overstocked or out of stock and that we can respond immediately to market demand.

RETROSPECTIVE is available from all good record shops or can be purchased directly from the website. A full printed catalogue is also available.
www: retrospective-records.co.uk