Gifticuffs - unique gifts and jewellery
for like minded music fanatics!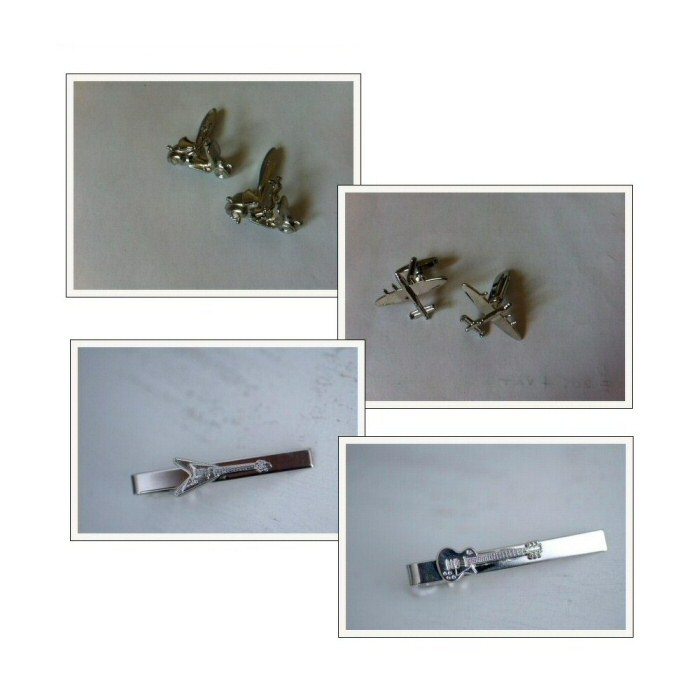 Simon Gynne runs Gifticuffs.com. The business developed from a gap in the market which Simon noticed when looking for finely detailed replicas of musical instruments for people to wear. Now Gifticuffs has a large and loyal international customer-base and local representation on other continents.
Whether you're into Classic Rock, Classical Music, Brass Bands, String Quartets - Simon should have something for you with his assembly of music-related gifts. Greetings Cards, Rock 'n Roll Guitar Posters, Cufflinks, Guitar Posters, Music Teacher Gifts, Keyrings, Tie Slides, Hobbies, Gift Sets, Pin Badges/brooches, Earrings and more.
Here Digger talks to Simon about the business and what's on offer.
---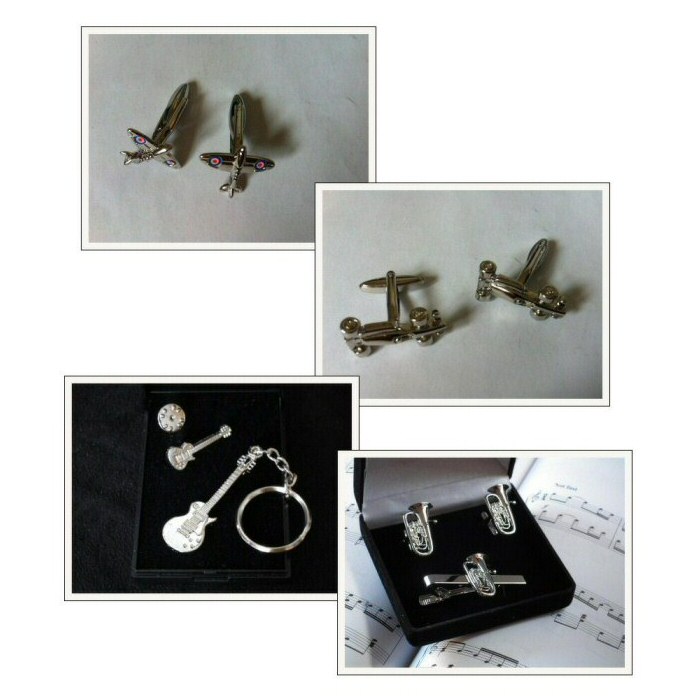 Simon's creations are produced with a fine eye for detail
Digger: Can you please tell us a little bit about your background Simon?
Simon: My background in terms of career was in Sales & Marketing in the Gaming Industry. From 2005-2010 I was an electronic game creator & developer for a unique (at the time) gaming device known as an Electronic GameCard. It was sold to US State Lotteries as part of their gaming portfolio alongside their scratch card and on-line lottery products.
Digger: What are your music passions?
Simon: I tend to sum up my music passions thus: I love music in general, the blues in particular and Led Zeppelin especially! I am an avid listener to blues & classic rock and a moderately serious collector of Zeppelin items - having said that, if it pleases my ear, whatever the genre, I will listen to it from AC/DC to ZZ Top, accordions to zithers!
Digger: Please tell us the background to Gifticuffs and how the business was established?
Simon: I've always been creative and I had an idea many years ago to develop finely detailed replicas of musical instruments and accessories as gift items such as cufflinks, keyrings & badges. This was largely borne out of frustration and disappointment that I couldn't find these items for myself. I wanted to develop some ideas that would really appeal to like-minded enthusiasts out there (and there are a lot of them.)
So I took the plunge, invested a small amount of money and designed some cufflinks for piano players - a treble clef for the right hand and a bass clef for the left hand. Nothing too radical but no-one else was doing it. They sold like hot cakes and it gave me the confidence to further indulge my ideas for designing highly detailed and accurate reproductions of other music symbols and instruments. I set up my own design company, Libero of London, as the innovation and production side of things and Gifticuffs as the retail arm. So I can truly say that the products I do are exclusively designed for Gifticuffs and not available anywhere else in the world!
In particular, my love of classic rock inspired me to produce cufflinks and keyrings etc. based on the exact guitars that my heroes played - so the products weren't just guitar-shaped but a faithful reproduction of, say, Jimmy Page's 1959 Les Paul complete with pick ups, strings, machine heads. Again they sold so fast, I realised I was on to something and I now have nearly 100 different lines and sell all over the world.
Digger: Please tell us more about the music-related items on offer.
Simon: The items I design and sell are generally extremely hard to find, if not unique. It's not that I can protect or copyright any of the items I do, it's just that no-one else seems to do them.
The basis of my products is "by musicians for musicians" and certain items like Euphoniums, Blues Harmonicas, Explorer guitars and even left-handed guitars have proven extremely popular - largely because, like me, customers have been looking for years for a gift or keepsake that represents their own instrument or passion and, at last, someone is coming up with the gifts they want.
Digger: We have interviewed a number of the key musicians who played in the bands. You must get many musicians buying your products - who is your 'typical' customer?
Simon: My customer base is extremely broad - everyone from professionals, amateurs and general music lovers. Many of my customers are relatives and friends of musicians and music lovers or music teachers and students who appreciate the wide range of products and different ideas I have. The cufflinks in particular have proven extremely popular at weddings and I often sell several pairs in a single transaction because they are having a music theme at the wedding, particularly in situations where say, the groom is the singer in a band, the best man is the drummer, the ushers play guitar, bass, keyboards etc. Likewise with brass band players, string quartets and so on.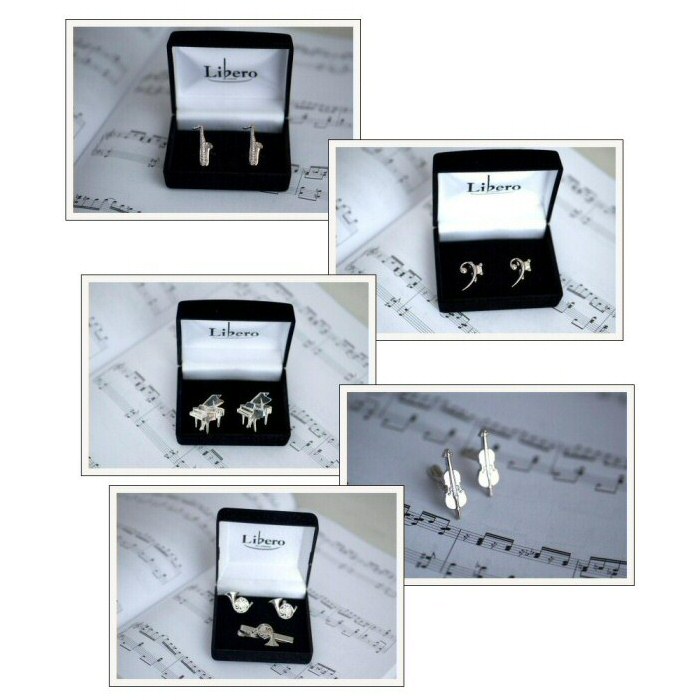 The Libero range guarantees quality
Digger: And where are your customers coming from?
Simon: I sell all over the world via The Internet - the USA & Europe (especially Germany and Spain) are really big markets and I regularly take pitches at UK craft fairs, county shows & music festivals all over the South East of England. I now have someone doing a franchise for me in Oxon & the South West and with all the marketing cards & leaflets I give out at these events, I get enquiries and sales from all over the UK.
I've opened a distribution point in Australia last summer and plan to launch in the USA so I can "trade" more locally in these countries that have such a large customer base.
Digger: My favourites are the drum kit cufflinks, but then they would be. Your cufflinks, keyrings, earrings, tie slides and pins are very highly detailed and well finished so what sort of feedback and comments are you getting from clients about them?
Simon: The feedback is always very kind and people are very complimentary about the quality and price of the items, whether I make a sale or not. I'm particularly gratified when people tell me they've never seen anything like it before and they will make fantastic gifts for someone.
Digger: Why is retro music and pop culture such a big thing in so many people's lives, especially the youngsters who didn't even live through those times?
Simon: Retro/nostalgia is big business these days - probably always has been really but my peers, the 40 somethings, are always looking back fondly to the 70s & 80s and love reminiscing and being reminded of snapshots from their youth, from TV shows, video footage and especially music.
Music is such a powerful and widely-enjoyed medium and the music produced in the 50's to the 80s constantly brought something "new" to the listener - from rock n roll to Hip Hop. By and large it's all been done now, so it's difficult to find something truly new & innovative in today's music. My peers, who now have children old enough to be truly interested in music, will naturally be guided and certainly exposed to the music that provided the soundtrack of their parents lives.
I've lost count of the number of times I've chatted to teenagers who are massive fans of bands long since disbanded, (Beatles, Pistols, Zeppelin) because "Dad played me his old records"!
There's also the "if you think that's good Son, listen to this" type of conversation in households everywhere. Much of my own musical tastes were developed in just this way thanks to my own Father and his friends and indeed the older brothers & sisters of my own friends. Basically great music will continue to influence people for generations to come - we still talk about and listen to The Stones, Kinks, Who etc. with a sort of reverence. The number of "great" bands that are reforming or selling out in minutes rather proves the point. I think The Stone Roses, who only split in the 90s, announced a reunion gig for 2012 and tickets sold out in minutes - the mind boggles to think what would happen if Led Zeppelin or the original Guns n Roses line up for example, were to reform! Long Live Rock n Roll!!
Digger: I suppose The Internet has a massive impact on what you do?
Simon: The Internet is a hugely important selling tool for me both on my own website & eBay.
I need to make much greater use of it, in terms of marketing the company and utilising the various online marketing tools that are available. To be honest it's an area I'm not great with and keep telling myself I must develop further - any suggestions greatly appreciated!
Digger: What do you most enjoy about running Gifticuffs Simon?
Simon: Basically I love what I do - it's the best decision I ever made! I enjoy being in control of and shaping my own destiny.
Whether it's enjoying the successes or learning from the mistakes - whatever happens is entirely down to me and the fact that, so far, it's not only successful but growing rapidly means I take an enormous amount of pride in what I do. I'm basically getting paid to research, discuss and indulge my music passion means I have the greatest job in the world!
Digger: What would you say makes Gifticuffs special?
Simon: I guess Gifticuffs is special because of the attention to detail, product range and quality together with my determination to constantly provide outstanding customer service. It may be a cliché, but the Big Enough to Deliver, Small Enough To Care adage really applies to Gifticuffs.
Digger: Where do you see the future for Gifticuffs?
Simon: The company is growing year on year and I very much intend to keep producing innovative ideas to continue that success. On a slightly grander scale, I would love to see Gifticuffs as the biggest and most popular provider of music gifts in the world. In the absence of total world domination though, I want to ensure that the company is always regarded as a professional, caring and innovative designer/ retailer and continue to have Fun, Fun Fun as the Beach Boys would say, along the way!
Can I finally say at this point that I must thank my beautiful wife for her support, belief and encouragement in what I've done and intend to do in the future with Gifticuffs. I would never have got this far without it, nor would it have been as much fun!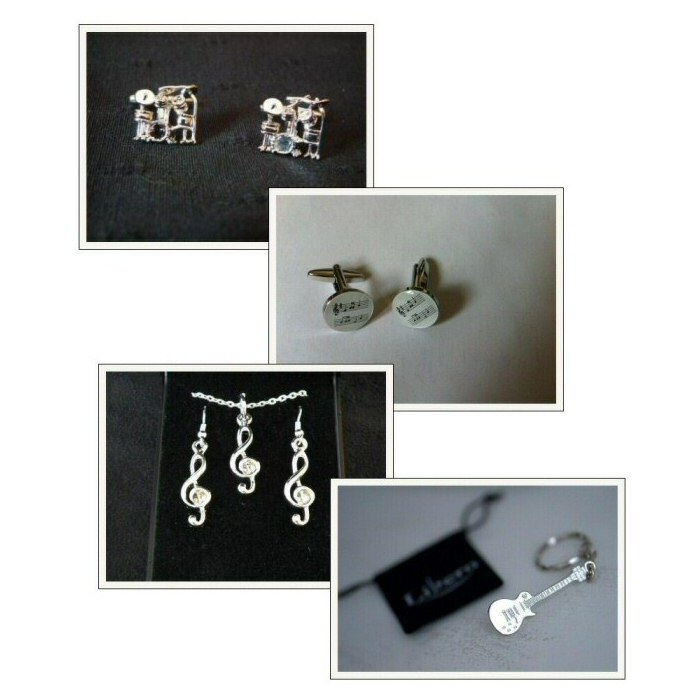 Whatever the music or genre, Simon has a gift for them
---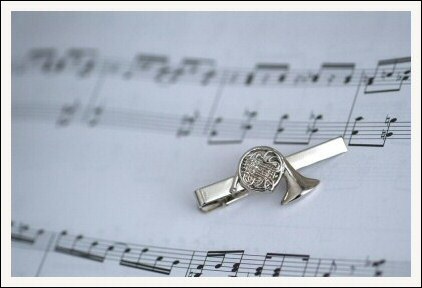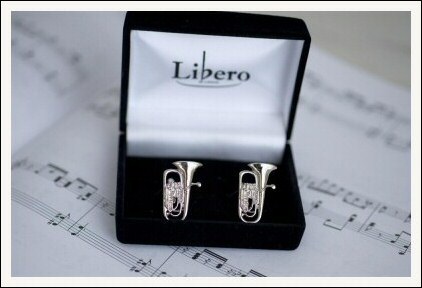 Gifticuffs - unique gifts and jewellery
for like minded music fanatics!
MUSIC - we love it, we're obsessed by it and frankly we couldn't give a Flying V for anything else!!
Gifticuffs - the website that offers unique gifts and jewellery for like minded music fanatics! All designs are unique to Gifticuffs and produced by Libero of London - therefore you will not find these particular designs anywhere else. Many of the products you find here are almost, if not actually, impossible to get elsewhere, such as Euphonium cufflinks, Tuba keyrings, Flying V tie pins and Gibson Explorer badges - plus lots more! Oh - and did we mention - Free Shipping! Anywhere in the world!
That's why we've designed these fantastic gifts for like minded music enthusiasts - whether you're into Classic Rock, Classical Music, Brass Bands, String Quartets - we should have something for you and we're always adding more designs, many of them unique and certainly different.
Greetings Cards, Rock n Roll Guitar Poster, Cufflinks, Guitar Poster, Music Teacher Gifts, Keyrings, Tie Slides, Hobbies, Gift Sets, Pin Badges/brooches, Earrings
There are great gifts for all occasions - especially popular as music teacher and student gifts as well as Father's Day, Mother's Day, Christmas, Wedding Day and any occasion you can think of... Everything you find here, from cufflinks to pin badges are all designed by us with many unique designs such as Euphoniums and Left Handed guitars. We hope you like the products you see and that your shopping experience is a pleasant one.
Office: 01582 593130 or 07723 014686
www: Gifticuffs