- vintage clothing from the 1940's and 1950's

Rocket Originals is run by Martin and Kaye. Digger met up with them at their Sheffield premises; Two people more into the forties and fifties scene he is yet to meet.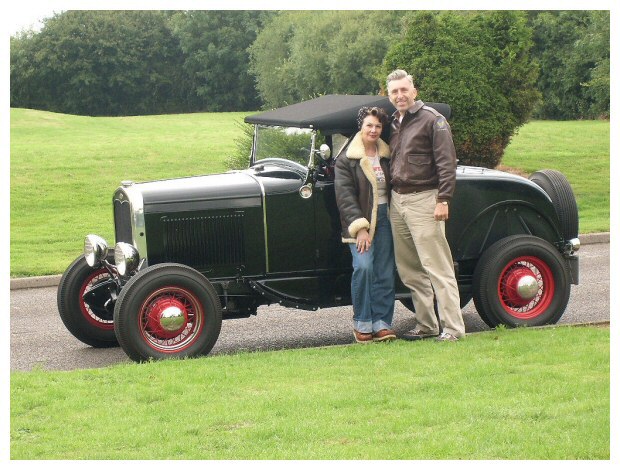 Kaye and Martin
With a genuine excitement for what they are doing that only comes from a real passion, Martin and Kaye offer fabulous authentic-looking clothing and footwear for those with an eye for vintage style.
Here Digger talks to Martin and Kaye about what they are doing.
---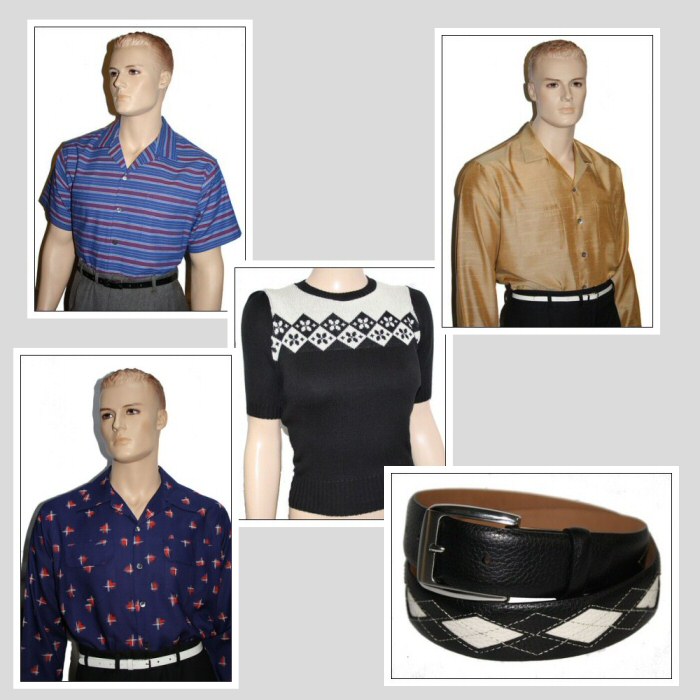 Digger: What is your background Martin?
Martin and Kaye: Weíve both been interested in everything from the1940ís and 50ís scene for decades Ė since our teens.

Digger: Can you please tell us how Rocket Originals started and how it has developed into the business it is today?
Martin and Kaye: Kaye first started the business in 1988. It was called Rockhouse Clothing Co at first then after a few years the name was changed to Rocket Originals.

In those days the bulk of the business was from selling T-shirts that she screen-printed herself as well as vintage American clothing, footwear (some manufactured and some bought wholesale). No websites back then - so she had a stall at rock 'n roll weekenders, car shows and worked at Santa Pod racecourse regularly, and also sold mail order. After running Rockhouse Clothing/Rocket Originals for approx seven years, she went back to working in an office full time for a few years.

In 2006 Kaye was made redundant from her position as PA/Office Manager, so we decided to start Rocket Originals again. So the website was built and we were up and running.

Martin came on board full-time in 2009. At the time heíd been working as a Regional Health and Safety Manager for a large construction company.

Rocket Originals was run from our home at first with stock stored in a self-storage unit, but since 2010 weíve had our own warehouse. Itís big enough to store all the stock and has an office in there where we work from. Customers come there occasionally to buy from us direct.

Digger: Please tell us more about the clothes, shoes, bags and belts you have on offer.
Martin and Kaye: Rocket Originals is a brand; all stock is manufactured specifically for us. All products are copied from 1940ís/1950ís designs, which are taken from either a vintage pattern or an original item of clothing or footwear, and is copied as closely as possible to the vintage version.

Rocket Originals donít sell wholesale so all our own brand products are only available from us direct.

We decided that all the products we have manufactured would be limited editions, with only a very limited amount of shoes, sweaters etc. being made in any style and colour.

Digger: Sourcing British is very important to you, isnít it?
Martin and Kaye: Rocket Originals use British manufacturers whenever possible. All the sweaters and shirts are manufactured in England. The menís shoes are made at one of the oldest footwear manufacturers in England, the menís socks are made at one of the oldest hosiery manufacturers as well.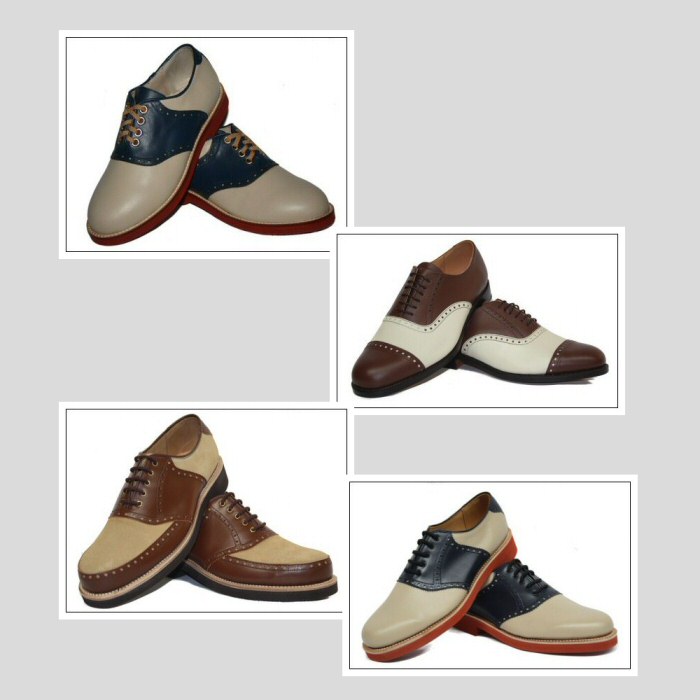 Digger: I know you are passionate about the forties and fifties. What is it that particularly appeals?
Martin and Kaye: Everything about the 1940ís and 50ís appeals to us, the music, cars, bikes, clothing, home design. We also particularly like art deco designs for homes and interiors.
Digger: Why do you think retro, vintage and nostalgia is generally so popular with so many people these days?
Martin and Kaye: A lot of people prefer it to the Ďmoderní way of life (us included), because itís far more interesting!

Digger: And, besides clothing, what are your other personal retro passions?
Martin and Kaye: Listening to and collecting music from the eras weíre into, and going to events. We like to support local rock n roll clubs, and attend loads of events on our scene and weekenders all over the UK and abroad. We love watching old films and collect books on all things vintage. Weíve always liked old cars and owned at least one classic car at any one time over the years. Our current vintage car is a 1931 Ford Model A that we have hot-rodded in the style of the 1940ís.

Digger: Who are your Ďtypicalí customers, where are your customers coming from and what customer feedback/comments do you get?
Martin and Kaye: Our Ďtypicalí customers, and the majority of customers are the ones that wear 1940ís/50ís styles on a regular basis. Through the website weíve sold to over 25 different countries so far. We get a lot of excellent feedback, itís lovely to receive and we always appreciate it. To receive good feedback/comments from customers saying how happy they are with our products and service makes it all worthwhile, and shows weíre getting it right.

Digger: What should people be looking for when they are thinking about getting into the forties and fifties look?
Martin and Kaye: Itís important to look as authentic as possible if you want to get the look right. It doesnít necessarily mean wearing all vintage, as thereís a lot of good reproduction versions out there at the moment (unfortunately, it has to be said, thereís also a lot of bad reproductions!) Old films and photographs from the era are of course a good source and there are a lot of good reference books.

Digger: What would you say is special about the service you provide?
Martin and Kaye: We value our customers and try our best to give them good products that are well made and good value for money. We think you should provide a good service and one you should expect yourself.

Digger: What are the best and most enjoyable aspects of running Rocket Originals?
Martin and Kaye: Itís good to do a job selling products that you have a genuine interest in and are enthusiastic about. Itís great being your own boss and having control over what you sell and do. We also like working at all the different events and meeting customers.

Digger: What are your plans for the Rocket Originals business in the future?
Martin and Kaye: We have lots of ideas and new products in the pipeline. Weíve no plans to expand the business, we just want to keep it small as we feel the bigger a company gets it sometimes loses that personal touch.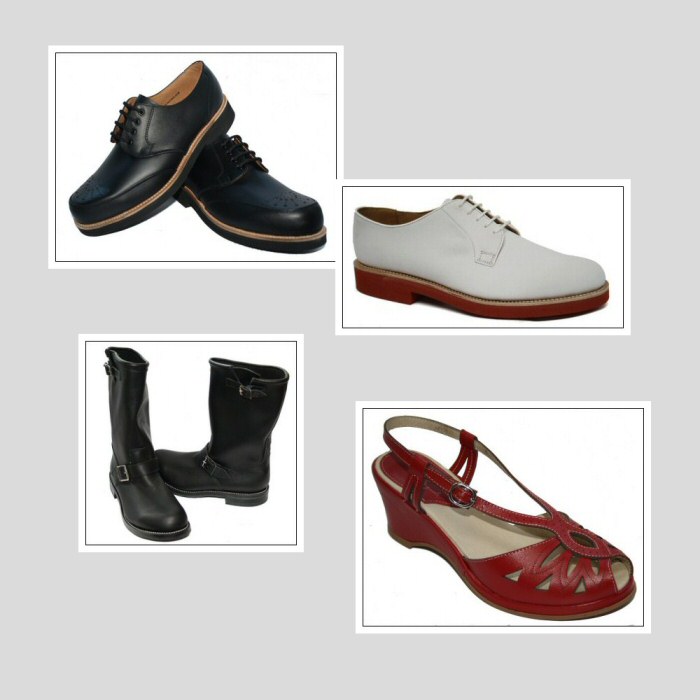 ---

Rocket Originals - vintage clothing from the 1940's and 1950's
Rocket Originals was originally formed back in 1988 and after a break of a number of years (and also due to redundancy from a "normal" job) we're back! Our on-line shop opened in 2006.

We're based in Sheffield in the U.K. We've been collecting and wearing vintage clothing from the 1940's and 1950's and been on the "scene" for over 30 years now since when were teenagers - and we don't intend to change now.

As for our business, we have our own range of Rocket Originals' shoes for men and women manufactured, we're very fussy in trying to get things right (yep, we drive our manufactures up the wall at times!) and try to get them as authentic as possible, they're made from original patterns in most cases.

The men's shoes are all made here in England, as are our men's socks and belts. We're proud to be doing our bit in helping keep our British industries alive and try, whenever possible, to have our stock manufactured in good old blighty.
Our ladies' Belts are also manufactured in England. All the designs are taken from vintage knitting patterns, and one of the companies we use still has a vintage mechanical knitting machine, so we have some of ours knitted on that (very authentic!) We get asked "don't you knit them yourselves" - well, no we don't (we can't knit that well, it would take forever and wouldn't look nearly as neat!)

As well as selling through our website we like to get out there and meet people and sell at various events, and we'll be having a stall at quite a few weekenders etc this year, which will be listed on our homepage as and when they come along.
We also have an eBay shop.