Subbuteo World - the worlds largest Subbuteo Table Football, Zeugo, Pegasus and Total Soccer website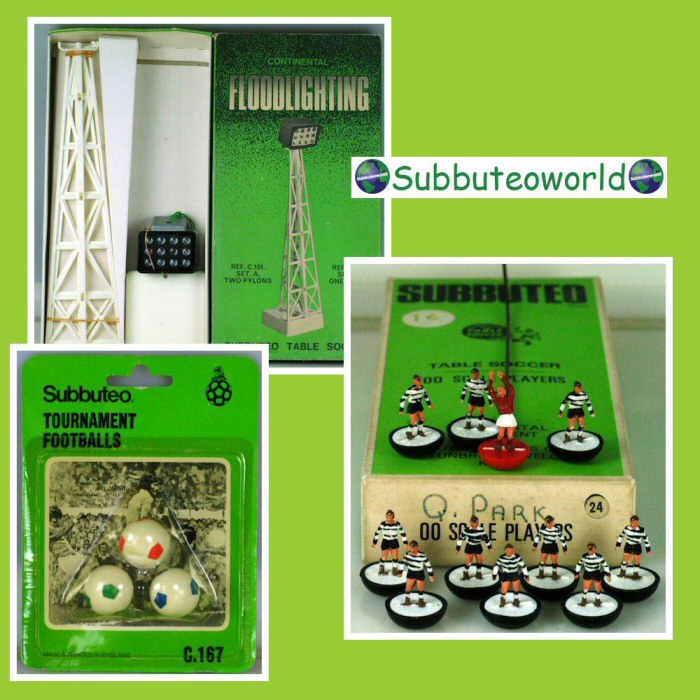 Subbuteo was a mainstay of childhood, teenage, and often adult, pastimes back in the pre-technology days of the sixties and seventies and has remained popular to this day.
But don't be fooled by the relative simplicity of the games - be they football, cricket or rugby. Subbuteo is very hands on and interactive and provides a terrific platform to satisfy people's passions for the game and for their favourite teams. It also generated a huge collecting and trading mentality among the aficionados.
Here Digger talks to Pete at Subbuteo World about the world of Subbuteo and table football.
---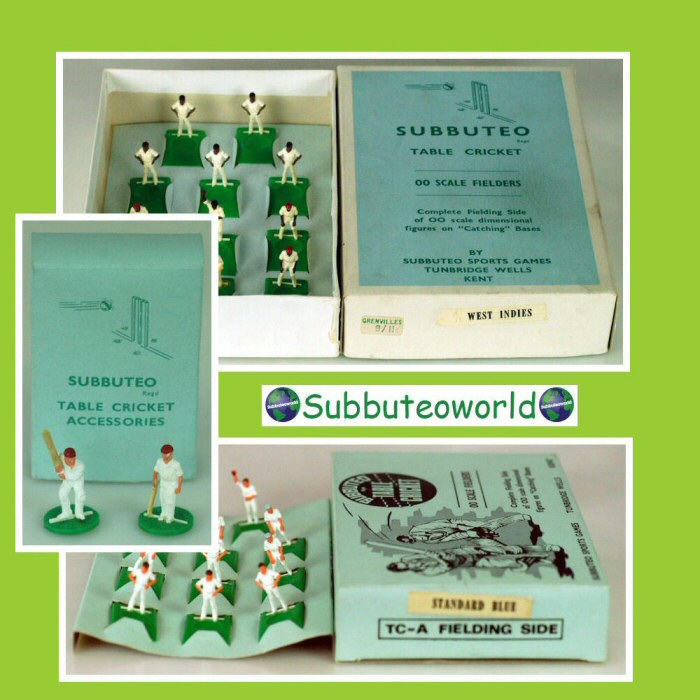 Digger: Can you please tell us a little bit about your background and that of Subbuteo World Pete?
Pete: Before Subbuteoworld I was a professional athlete, having competed for GB at the 1996 Olympics in Atlanta, the 1994 European Championships in Helsinki and the 1995 World Championships in Gothenburg, where I was 4th in the marathon. I loved to collect things like Subbuteo and vinyl records and as my running career was coming to an end I needed to look for some new ideas for the future. I thought selling just Subbuteo through the Net could work as no-one else was doing so, or ever had specialised in just selling Subbuteo. So in March 2000 I registered the name Subbuteoworld, had a website built and in June 2000 Subbuteoworld went live.
Digger: Please tell us more about what is on offer at Subbuteo World.
Pete: Subbuteoworld started out by selling just secondhand Subbuteo. When we started out in 2000 there wasn't much new Subbuteo material being made and all the other Table Football brands that we now sell didn't exist. At first it was easy to get secondhand items. The Internet wasn't what it is today (I think at that time only 10% of the UK had a computer) so the best way to buy in was car boot sales, toy fairs or advertise in papers and magazines, which is what we did. But as time went on we were finding it harder to buy secondhand Subbuteo as most people were now selling their collections on eBay. So we decided to branch out and sell new material as we realised that if Subbuteoworld was to survive and grow we had to sell new material even if it wasn't Subbuteo branded. It was important that youngsters had the opportunity to buy their favourite up-to-date team and be able to collect and basically keep the game alive. So gradually over the last 8 to 10 years we have specialised not only in secondhand Subbuteo but also in all new Table Football products being made. These new brands include Zeugo from Italy, Total Soccer from Spain, Perfect Flick also from Spain, Flickmaster from Argentina and our own Pegasus brand. So to sum up we specialise in bring together all the best Table Football products from around the world.
Digger: Who are your typical customers and where are they coming from?
Pete: We sell all over the world: Africa, North and South America, Japan, Hawaii, all over Europe, Korea, Russia, New Zealand, Hong Kong. We really have sold to just about everywhere. We sell to parents who want to get their kids off the XBOX; We sell to dads who want to relive their childhood; We sell to Table Football Clubs, professional players, collectors who want to collect all the new teams being made regardless of brand name and we sell to kids who have got into the game and come back to buy more new teams.
Digger: Are youngsters getting involved with Subbuteo or does it tend to be those of us who love and remember it from the first time around?
Pete: Both really. Yes, youngsters do get involved in the game, usually between the ages of 6 and 12 then after that either they move on to other things or they may continue to collect the teams and maybe even join a Table Football Club.
Digger: What sort of feedback and comments have you been getting from clients?
Pete: The feedback about the new Subbuteo is mixed. The "old school" collectors and players don't really like the figures of bases. The new generation like them.
The feedback has ranged between quote: "Morning Peter, I've just seen on Facebook the new range of Subbuteo Teams & they look awful...oh my God what a bad step back they've made" to "I read about the bases they play great and much better than older lw official bases" and also "The new Chelsea Subbuteo team arrived am today - a real beauty".
Digger: What is this enduring fascination people have generally with Retro and nostalgia in all its forms?
Pete: I think going back to your childhood and having those games etc; either you had as a child or wanted but could not afford as a child. Plus the love affair we have in this country with collecting.
Digger: And why has Subbuteo stood the test of time?
Pete: I think to put it simply... While there is a massive interest in the real game, there will always be an interest in the Table Football version. I don't think it is a coincidence that in the 60's and 70's, when football in the UK was at its peak ('66 world cup, Liverpool, Forest dominating Europe) that Subbuteo enjoyed it's biggest sales. Then in the 80's and 90's, the Subbuteo game declined at the same time football was in decline: Hillsborough, Bradford and Heysel disasters, the clubs being banned from Europe, less people were going to football matches and the general bad publicity that football was getting. But since the mid 90's, the interest in Table Football has grown again as the actual game had grown. However Subbuteo and Table Football will never be as popular as it was 40 years ago. But there will always be a market for the game.
Digger: What are your own Retro passions?
Pete: I have always been a collector, I think it's in the genes. As a kid (1970's) I collected Subbuteo, Action Man, those little Airfix soldiers. Then in the 80's I really got into collecting records. This lasted through to the late 90's, when I sold my collection of over 3,000 records - mainly 7" singles. However around 1995 I remember going to a car boot (looking for records) and saw a table with loads of Subbuteo teams. Remembering Subbuteo from the 70's and still having all my old teams in the loft I decided to buy them. That was it - I was hooked. By the time I started Subbuteoworld in 2000, I had 100's of teams and just about every box set and accessory they made. The loft was full of the stuff. I used all my collection to get Subbuteoworld started.
Digger: What are the best things about what you do and what do you most enjoy about running Subbuteo World?
Pete: The best thing is I am my own boss and I love the game. There is no better feeling than buying a Subbuteo collection, it's just great. Even when new material arrives like new Zeugo teams I get a buzz just looking at the new kits (many of which have been done for us).
My wife Sandra used to work for HSBC, but in 2004 I was so busy with Subbuteoworld I needed some help so Sandra left the bank and we now run the business together from home. It means we have flexibility to come and go as we please, which is great when you have 2 young children. Also I have a genuine passion for Subbuteo and Table Football. I have been in this business now for 12 years and I can honestly say there hasn't been one day in all that time that I have woken up in the morning and thought "Oh God I have to work today".
Digger: What are your plans for the future for Subbuteo World Pete?
Pete: We plan to continue running Subbuteoworld for at least the next 20 years and beyond. I am not one for retiring and can see myself still selling Table Football well into my 70's as long as I can stay healthy. As for the business itself ,we are always adding both new and secondhand products to the website and coming up with new ideas to keep people interested in the game. Each year new teams arrive which always freshens up the website and the re-launch of Subbuteo and the advertising that has gone with that will hopefully help our business to grow. We are top of all the search engines and have been for 12 years. Our main aim is to have the largest range of Table Football Equipment on The Net and bring the best that Table Football around the world has to offer all under one roof. Hopefully we can continue to do that.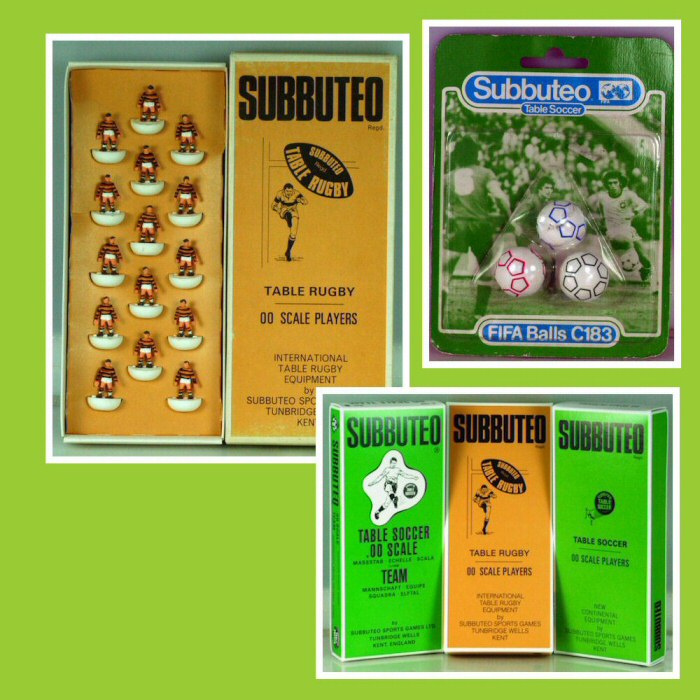 ---

Subbuteo World - the worlds largest Subbuteo Table Football, Zeugo, Pegasus and Total Soccer website
Welcome to the worlds largest Subbuteo Table Football, Zeugo, Pegasus and Total Soccer website. Subbuteoworld have 100s of Subbuteo, Zeugo, Total Soccer & Pegasus products in stock both new & used & many "SPECIAL OFFERS". It is easy to create an account, get on our mailing list and shop faster with Subbuteoworld.
Looking for a specific Subbuteo, Zeugo, Total Soccer or Pegasus item? - then go to our "QUICK FIND" - see at a glance if we have your item in stock. We organise two SUBBUTEO COLLECTORS FAIRS a year - see the website for more details.

Subbuteo World
4 Durling Drive
Wrose
Shipley
BD181HT
UK

Tel: 44 (0)1274 589422



Email: info@subbuteoworld.co.uk



www: Subbuteo World