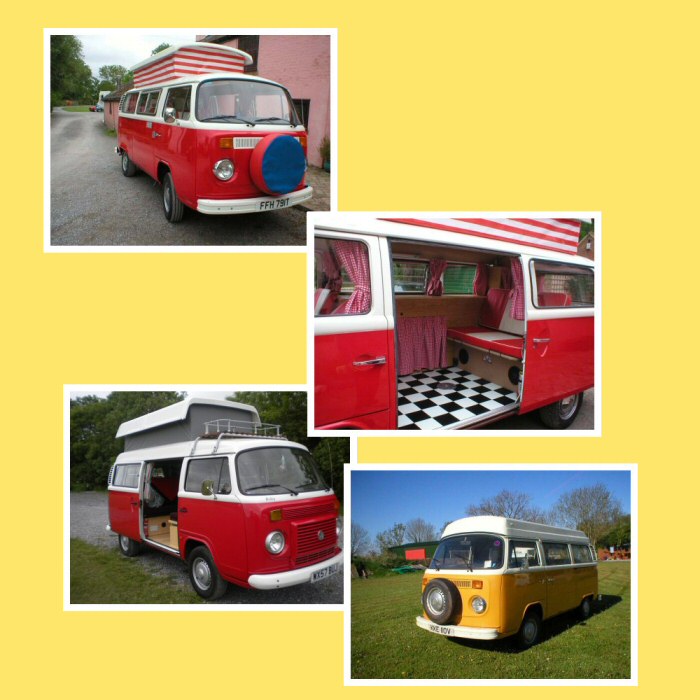 Digger: Hello Terry.
Terry: Hello David.
Digger: Can you please tell us a little bit about your background and the background to Bristol Camper Company?
Terry: This company is run by myself and Gary in partnership. My background is within the motor industry - my last relevant work was with The Hartwell Group and then Tom Walkinshaw Racing.
Digger: Both big names.
Terry: I ran a Hartwell dealership, then I went into the buying team and then was working for Tom running his south of England dealerships and managing his stock. Gary is very much a Jaguar man with Swallows Jaguar, who we are very much involved with here. We restore, sell and service Jaguars - enough to keep us busy. And whilst we were doing this, a business became available. We heard that somebody was selling The Bristol Camper Company, which consisted of a retro and a Danbury. We went to se them and it was very obvious there was potential to grow the business. They were in the middle of Bristol in a very narrow street - it must have been a nightmare for them - they had been running it for a year and it was running them ragged. We decided that because we're on a farm here we've got plenty of room to do these things and expand as a little sideline. But (laughs) the first two phone calls we took were from people who were after a bigger and more modern European-type motorhome. This made us question if we did the right thing. But also it made us realise that there was a business to be had with the more modern ones. So, that weekend, we popped out and bought a new seven-birth and we bought another Vdub. We then did another Vdub up, because we have our own workshop here with a mechanic we employ full-time to look after our hire fleet. So during the winter, when it's quieter, we bought one for him to do up. Instead of spending what was meant to be three months and £7,000 we spent five months and £16,000 on doing our Ruby camper. It's a beautiful little camper van.
Digger: Ruby Tuesday?
Terry: Yes, Ruby Tuesday. We run competitions in the local papers and because they're red, yellow and blue we tend to get people coming and giving them obvious names. So our yellow one was called 'Buttercup'. We all here call it Kiki because the registration number is KKI. As it happens, the first person who came in to hire it from us was called Kiki! A spooky experience. So they all have to have names like California Blue or Bristol Blue.
Digger: There's a gent in the midlands and his fleet are all called Van Halen, Van Outen and so on.
Terry: That's right, I spoke to him.
Digger: Good fun.
Terry: It's a really nice thing to do and the people who tend to want to hire them are very much like that.
Digger: Wacky. A bit like us Terry?
Terry: I don't have a problem with it. I think it's nice. People say "Can we call it something else while we have it?" And we say "Of course you can."
Digger: You can call it whatever you like while you've hired it!
Terry: Exactly.
Digger: What a strange request. Why are campers such a big thing in so many people's lives, younger and older?
Terry: My theory from talking to the people is that it goes back to a better era. It goes back to a time when everything was simple. Not only maintaining and keeping them, but most people know somebody who at one time has had one or have been away in one. And you get people who say "God, the last time I was in this was back in 1969. My dad was taking us away to Weymouth for a weekend and it broke down on the A37." They all have little stories to tell and some even go too far and say "I was conceived in one of these."
Digger: I wondered if you'd mention the 'c' word! (Both laugh)
Terry: But everyone has a little story and there's a great deal of pride in this. An interesting fact is that we do new ones - we just bought a brand new one which was £47,000 with air conditioning, central heating, power shower.
Digger: So this is a new one?
Terry: Yes, a European van, not one of the Danburys which are the new 'old look' campers. I have never successfully talked somebody into buying a European who first enquired about a Vdub. Even if we had them for the same money, I have never had someone say "Okay, we'll have that European rather than the Vdub." There's that loyalty, it has to be the Vdub, that's what they want, that's what they're going to go away in. The kids get incredibly excited about it. It's not unusual to see them turn up with a Vdub T-Shirt they've bought online and the hats. It's a whole 'let's get together as a family' thing and do something totally unusual. The other thing we get comments on is because one of our little sayings is 'Life in the slow lane' or 'Fun in the slow lane.' When you go away in these vans, we tend to spend a fair amount of time going through how to work them but also a fair amount of time to protect them so they're not abused. Because they are old, they don't drive like a modern vehicle. We say 50, 55 m.p.h. that's great. Have a stop. And as a little welcome pack, we provide people with some cakes and coffee and milk and tea and bits from the local village.
Digger: That's good.
Terry: We say "Within an hour or an hour and a half of starting your journey, just stop and let the van cool down a bit and you've got all the bits there for it." And when they come back it's wonderful to hear all the comments about how they pulled into a famer's gateway, because they'll fit, and they went to play in a field. And the mum and dad had the side door open and watched what was going on. Something you would never do at 90 m.p.h. in the outside lane of the M5 trying to get to Torquay as fast as you can.
Digger: It's the old A road mentality.
Terry: It is. As much as possible we say don't go on the motorway. If you have to, you will, but you will really enjoy it on the A and B roads. They're not built for motorways at 70 m.p.h. for three hours and they just overheat. But on the old A and B roads they drive very well - the engine is very 'torquey', so you're not changing gear so much. That sound from the old air-cooled engine is very addictive.
Digger: And you get people with great big grins on their faces.
Terry : Yes.
Digger: Who are your customers, where are they coming from and what sort of feedback and comments are you getting from clients?
Terry: There is no typical customer. We thought it was going to be a load of youngsters going off to do the surf holidays at Newquay and festivals but nothing could have been further from the truth. They tend, in general, to be middle aged people reliving their youth or the odd younger people who have a passion for Vdub. They'll use them for weddings, anniversaries, special treats. We have one coming up at the moment where it's a secret - the man is dealing with it all because his wife is a Vdub nut and she just loves them. He is supposedly coming in here to collect something, but in fact they have hired one of our Danburys for the week. He said she's just going to go absolutely crazy. She couldn't think of anything that would be better than to have a week in a Vdub.
Digger: Two weeks in a Vdub?! What do you most enjoy about running Bristol Camper Company?
Terry: We meet some wonderful people. All we are is a catalyst, like a good landlord. People come in, they want to go on holiday, they're excited, they want to do something special. Our job is to make sure we put the very best in front of them, maintained so as it's not going to go wrong. We give them the confidence in what they're doing because we spend a good hour and a half showing them how these things work. We're very lucky - we have a campsite on the farm here and lots of little roadways privately on the farm that people can practice on. The gear changes and the gear box is three miles behind you. The people are very nice and appreciative because they've got the confidence when they set off on the road. Gary is very good and has travelled many of the routes we recommend so is able to offer lots of in-depth insight into the best place to stop or to pull over. Where there's a great coffee shop or which pub has a good landlord who'll be pleased to see you and a decent car park. So it's nice seeing people off on their holidays and it's terrific when they come back with a big smile.
Digger: Is this a very British thing?
Terry: We're getting a lot more people now from Australia and New Zealand. We get a few of the Europeans because with the Euro the way it is it's great value for money.
Digger: The people from Europe and the US don't just have to deal with the gear change but also it being on the 'wrong side'.
Terry: But it's surprising how easily they adapt to it. The gears are small - if it was a great big European thing it would be difficult. But with an old Vdub, it's relatively easy to be on 'the wrong side' as far as they're concerned. We jump into different vehicles all the time but you have to be aware from a customer's point of view that it's something different for them. It's important that they understand what they do. Each vehicle has a very simple instruction book that is done with pictures, so there's a pictorial guide and little arrows showing everything that we've told them. So that when they get to stop for their first time and they've forgotten everything we told them they can just very quietly, while having their first cup of tea, go through the book and make sure they're doing everything they should.
Digger: It doesn't want to be a trial or a test, does it?
Terry: Not at all. No, it should be a great big grin from the moment you get here until the moment you get back.
Digger: What's the Dr Who connection Terry?
Terry: The red Ruby II which is a Danbury converted in 2007...
Digger: Is it because of your proximity to Wales where they're filming?
Terry: Yes. They wanted a VW to feature in one of the episodes and liked the look of her and decided that would do the job. We had our other Vdub on The Gadget Show when they were doing an episode on retro camping as opposed to modern camping. They tend to go out doing lots of interesting things.
Digger: I enjoyed the programme where Martin Dorey was travelling around the UK in a Vdub and cooking locally sourced food as he went.
Terry: Yes, that was good.
Digger: What are your other retro passions Terry?
Terry: We both live and breath old Jags.
Digger: I used to pass a posh house in the country that had a his and hers pair of E-Types. Lovely!
Terry: We just sold an E-Type funnily enough. We bought two and were going to hire them out and we decided not to in the end. So with Gary and his tie-in with Ace Face Clothing and the older type of clothing, the old scooters and the Mod revival thing.
Digger: Do you ever get to those events?
Terry: Gary travels round an awful lot and gets invited to a lot of places because of the connection with the bands.
Digger: We promote quite a few revival Mod bands on the site as well as having a lot of interviews with the original Mods like The Small Faces, The Who and so on. What would you say makes Bristol Camper Company special?
Terry: I think it's a wide thing and not just one particular thing. Because of our location, we're right on the doorstep to Devon and Cornwall.
Digger: Yes, a good location. And close to Wales.
Terry: If you drive to us we're able to park your car for free. If you want to spend your first night with us we can put you on the campsite for free.
Digger: And you provide that goody hamper.
Terry: Yes, you get the goody hamper. A lot of our passion comes out in advice and counts for a lot. Not just how to drive it but places to go and little tips about where to go and things to look out for and to see. We tend to, where we can, give their car a little clean so that it looks very pretty when they come to get it back. We're passionate, obviously and it goes without saying, about all of our vehicles and all of them are checked over vigorously before they go out and checked over rigorously when they return to make sure there's no problem. And every month we service them and our mechanic goes through them front to back.
Digger: You must get lots of referrals and rebookings I would have thought?
Terry: Yes, this year it's been the best ever with that. We've got vans going to Le Mans to the Grand Prix - these are people that have hired before and had a great time. So I think it's the whole thing of what we try to do from start to finish. Being no spring chickens, we've learnt the hard way that to get on in business you've got to be friendly but you've got to be professional. You have to go the extra mile to make it work.
Digger: As customers we just want to be treated as well as we would treat others. Some businesses don't seem to get it right.
Terry: It's vital. These are forty year old vehicles. We had a client burn the clutch out. So we had another Vdub loaded on the back of a trailer and drove the 270 miles to where she was, dropped that off for her and brought the other one back and put a new clutch in it. She was happy to use the one she had but in two days she'd done the clutch in that as well and we fixed it all at our own expense. We just thought it was part of what we needed to do - to keep them mobile in something that they wanted to do.
Digger: Impressive Terry.
Terry: It was a day to us and a lot of money but we kept them on the road, they were able to do the festival and come back to us.
Digger: Maybe it was the manual gearbox that threw them. Were they American?
Terry: Yes.
Digger: They're not used to stick shift.
Terry: No, that could have been it.
Digger: Where do you see the future for Bristol Camper Company?
Terry: Interestingly enough, we just had a day or two talking about the future. Last year was our best year, this year looks to be good - I'm not sure if it will be as good as last year. But bearing in mind the economic climate as it is, we've just got a couple of T25s that you can pick up for half the price of a type 2. And these are something that we are now putting on the road as a cheaper form of hire. We've also got an older type of Transit which is absolutely, spectacularly immaculate. We've got those because I think there may be people out there who can't quite afford it, whilst we're competitive with our pricing, it doesn't matter if our price is £600 and you've only got £300. So we've got those vehicles now in place to have another facet to the business which is a little less costly and for the people that are happy to do that.
Digger: There will be people that need that.
Terry: What we're doing works very well and I'm confident that it will continue to do so, no matter what happens. The moment you look on the M4 and all you see is cycles going up and down is the day we are in trouble but until that happens...
Digger: Well, your vans are riding the economic highway very well. Thanks Terry.
Terry: Thanks David. That's great.
Digger: Take care.