smallcarBIGCITY - Private Guided Tours
of London in Classic Minis

Back in the day, just about everybody had a Mini. Peter Sellers, John Lennon, George Best -Twiggy even had one before she could drive!
Today, you can take a tour around London (and shortly around Liverpool and New York) in an iconic classic mini.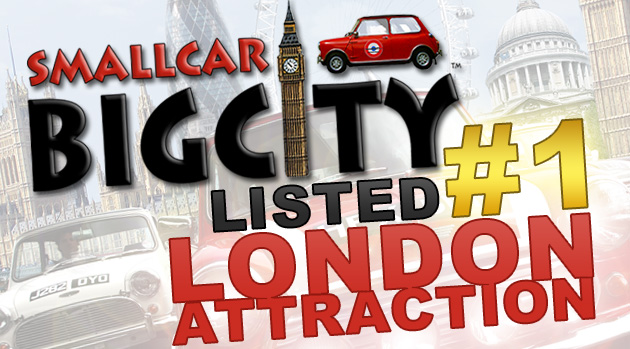 There are a large number of tour formats and options available. Take in the wealth of history and of popular culture London has to offer, chauffeured in a nippy vehicle synonymous with the swinging sixties and with an expert and friendly guide at the wheel.
Here Digger talks to smallcarBIGCITY founder Robert Welch about the tours and his company.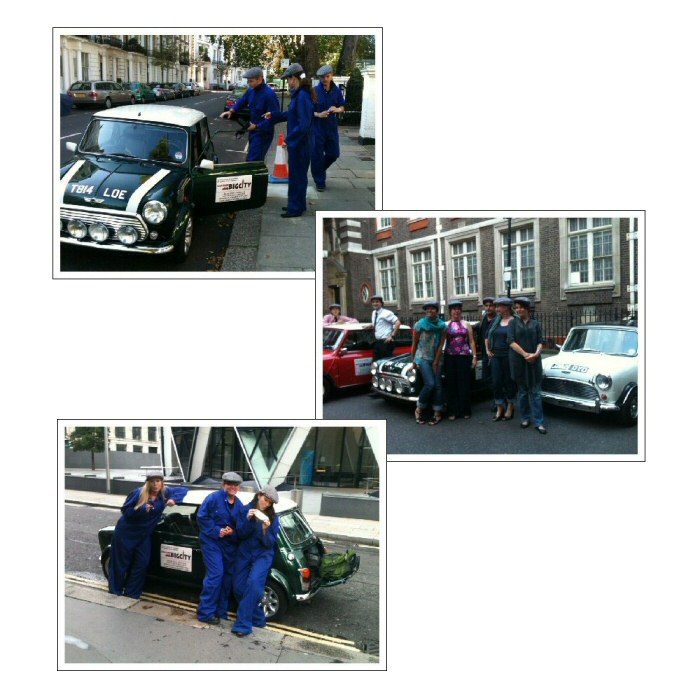 Digger: It's a great story about how smallcarBIGCITY came about. So please tell us something of your background and the background to smallcarBIGCITY.
Robert: I was given a bright red Mini Cooper for my 17th Birthday and immediately fell in love with the car. When I drove around London in it when I was at university, I noticed hundreds of tourists stopping to take photos of my little car. I dreamt of one day running a tour company that only used a fleet of classic Minis to take tourists round London.
Despite identifying a potential niche in the market, I wanted to cut my teeth in the City of London. Little did I know, my dream was far closer than I would have ever thought due to the economic instability at the time. Securing a job in the financial industry in June 2008 was virtually impossible due to the recessive economic climate at the time.
It wasn't until a fateful interview for a less than desirable sales job when I met Oliver Knight. Oliver also happened to own a classic Mini Cooper and had also noticed the attention they created in London. It was not long before we were creating business plans and pitching for investment towards the very banks we were applying for jobs in only months before. Upon seeking outside investment, suitable premises to operate from and a welcome third pair of hands, Alastair Bruton became the third smallcarBIGCITY director in June 2009.
smallcarBIGCITY officially opened for business on the 26th August 2009 - exactly 50 years to the day that the first ever classic Mini rolled off the production line, bring the swinging little Mini back onto the streets of London.
Since then things have been moving thick and fast – buying Minis, setting up the website, obtaining the required licences, acquiring premises and staff, the list was endless! Despite the worsening economic constraints, 2009 was the best possible time to launch a new business in the tourist industry; the appreciation of foreign currencies lead to a boom in visits to the capital.
Since our launch we have taken over 3,000 clients around London. The company has since evolved to incorporate, wedding hire, film and photo shoot hire, and even out door media advertising campaigns. We have been voted as one of the best things to do in London by the Independent Review website TripAdvisor, going from 1,678th place to 3rd in under 6 months! Our guides have been trained to the highest standards and know the secret, undiscovered London.
We won New Business of the Year in 2010 and have been lucky enough to work alongside The Queen and The Prime Minister in 2011. We have worked with key brands such as Aston Martin, Expedia, Last Minute and Red Letter Days to name just a few.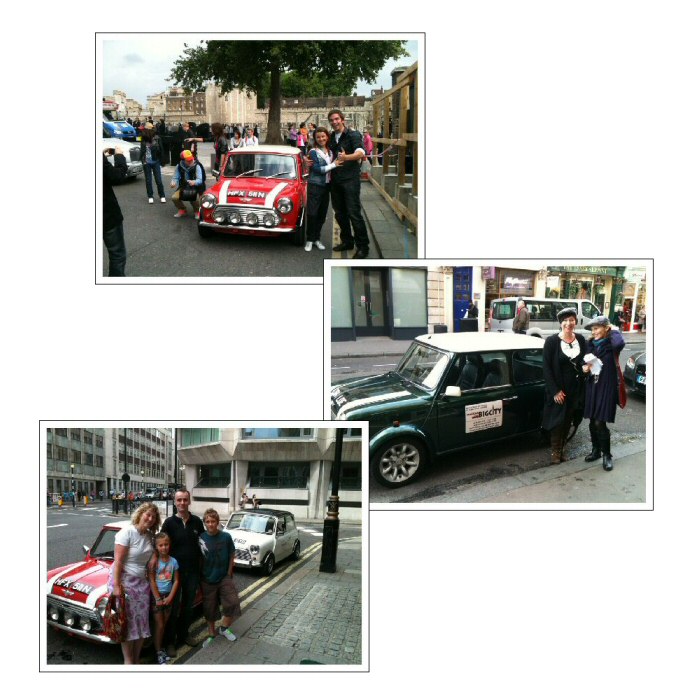 Digger: As usual, the best businesses are born out of a passion for the subject. What would you say is special about the Mini and about London?
Robert: In the 1960s the Mini was the vehicle of choice for celebrities across the world. The rich and famous were instantly won over; everyone from Paul McCartney, Twiggy and Peter Sellers to Kate Moss, Mr Bean and King Hussein of Jordan had one! As a result, the Mini now encapsulates a period of revolution – popular culture, literature, music and politics all experienced transition and would never be the same again. On the swinging streets of London today, nothing turns more heads. The Mini is an internationally recognised British design icon and the perfect medium to get down London's twisty old back streets.
Digger: You have a variety of tours on offer. Can you tell us more about the packages available?
Robert: Our tours vary from a 30 minute blast down the Mall to a fully tailored 8 hour guided tour of the city. We also do themed tours such as Valentines Day Tours, Harry Potter Tours, Beatles Tours, Christmas Lights Tours and of course, Italian Job Tours!
Digger: What can people expect at a smallcarBIGCITY tour?
Robert: Highly knowledgeable guides, tours tailored to your individual requirements, a swinging 60s sound track, drivers dressed in period 60s attire, great food and drink recommendations, bars of gold in the boot, tweed flat caps and bright blue jump suits should you do the Italian Job Tour!
Digger: Who are your 'typical' customers, where are they coming from and what customer feedback/comments do you get?
Robert: When we first started our main demographic was American Tourists, but now we are getting slightly more established in our home market we are taking more National tourists round and more Londoners, which we are really happy about. We wanted to create a product for Londoners. They are notoriously difficult to please and hate anything remotely touristy! We have had some really nice customers that have written rave reviews of us on Trip Advisor. Without these reviews we would not have been able to survive our first year of trading.
Digger: And why do you think that generally retro, vintage and nostalgia is so increasingly popular with so many people these days?
Robert: I think it provides people with a bit of escapism. If they can remember the era first hand then they can reminisce about a their own youth. (Most of the people that come on our tours have had a Mini at some stage!) If they were not fortunate enough to have experience the coolest decade for themselves then they can briefly see what it might have been like and get lost in a see of colour and a world not shrouded by bureaucracy, but surrounded by opportunity.
Digger: Can you tell us about some of your favourite smallcarBIGCITY experiences so far?
Robert: Meeting the Queen at the Royal British Military Tournament was very surreal. We sponsored the event with three cars that featured in the show. There were 35 motor bikes jumping over the cars and flying the rings of fire. It was a great feeling to be a part of such big spectacle. We also meet the Prime Minister at the launch of Start Up Britain. It was excellent to have the support of someone I admire so much.
Digger: What are the best and most enjoyable aspects of running smallcarBIGCITY?
Robert: The most rewarding aspect of running your own company is the fact that every success is a direct result of your own efforts. When you get it right, there is nothing more rewarding. Also, when things get a bit much in the office, it is so nice to be able to step away from it all, drive a classic car round in the sunshine and meet new and interesting people.
Digger: What are your plans for smallcarBIGCITY in the future Robert?
Robert: We aim to franchise the idea out in Liverpool within 12 months and New York within 18 months.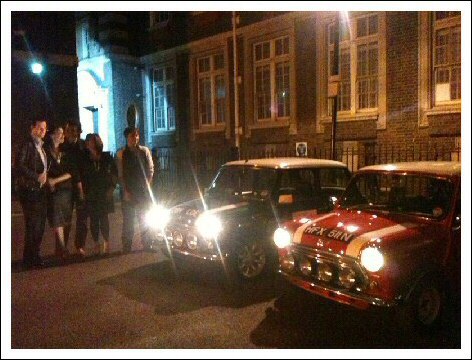 smallcarBIGCITY -

Private Guided Tours
of London in Classic Minis...

Royal London 0.5hr


The A-List Tour 1hr


The Italian Job 1.5hrs


A Bridge Too Far 2hrs


The Great Escape 3hrs


Special Seasonal Tours