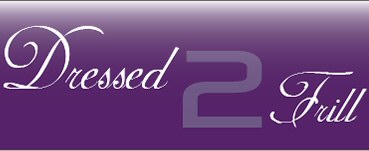 Digger talked to Mark at Dressed 2 Frill, a major presence on The Web for sixties and seventies fancy dress. For costumes, outfits, wigs and footwear for your sixties and seventies-themed events, Mark has got it covered.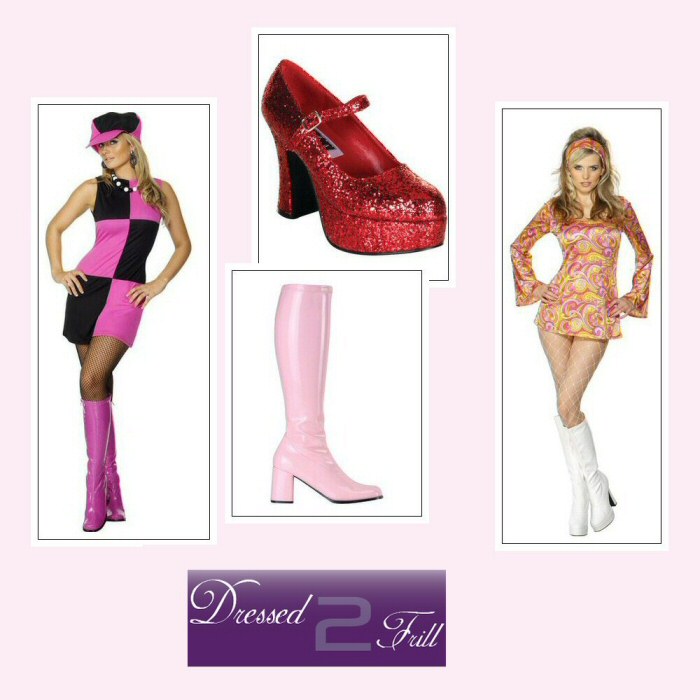 Digger: Please tell us something of your background and the background to Dressed 2 Frill Mark.

Mark: Although I would love to tell you I have a background in Retro Clothing, the truth is I started out as a chef, then a Butcher then a forklift driver. And then we started a house removals business, which until around 10 years ago was quite lucrative. But then the housing market started to decline and the rest is history. We found ourselves testing the eBay market, at first with a variety of items which included a few 70s-style dresses. We noticed they would achieve a higher sale price than the other fancy dress items. We decided to buy 20 of the same items from America and sell and resell on eBay (just the same dress.) Next, we ordered 100 of the same dress and resold that and so on, and it really grew from there to eventually building our own website. Our 70's boots ranks no. 1 and 2 on Google searches and we do really well with the other products on Google searches as well. So it is really growing now.

Digger: What is it about fancy dress that you are so passionate about?
Mark: I cant really say it's fancy dress especially that we are passionate about. More the era, being born in the 60s and growing up in the 70s, the style of clothing, along with the music, evokes times when you didn't have a care in the world. And I personally wouldn't say it was a happier time, as at the moment we have two grandchildren so we couldn't be happier. But the 70s takes you right back to jukeboxes, listening to The Sweet and Slade with your bellbottom jeans on.

Digger: Can you tell us more about the products and services you are offering there?
Mark: We offer all styles from the 60s and 70s and are trying a few 50s styles in the next few months, including ladies' platform boots, men's glam boots, Abba-style clothing, hippy clothes, wigs, tops and so on.

Digger: You seem to have the 50s, 60s and 70s very well covered on The Internet. Apart from decades, what are the most popular genres, subjects and styles?
Mark: We find the most popular parties people attend are hippy parties, Abba parties, glam rock, with 60s Beatles type close behind.

Digger: The 50s, 60s and 70s never seem to go away from people's consciousness. Why are the music and fashions of those decades so special?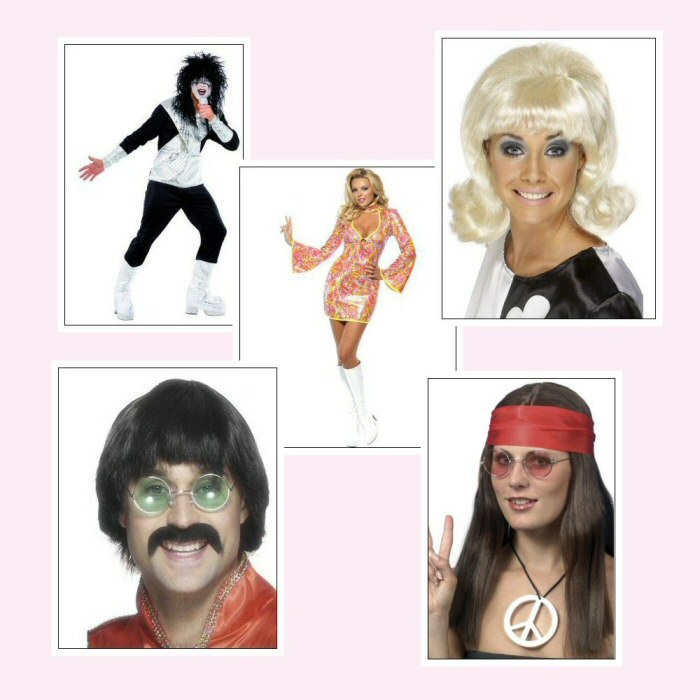 Mark: Like I said in the earlier question I think it transports people to a time when they were young and so the pressures of society weren't solely on their shoulders (it was mainly their parents.) And as all music evokes memories more than any other medium, people remember what they were doing at that particular time and what they used to wear. Being the 60s and 70s, the fashions and colours were very acute and stuck around until punk reared its head really.

Although the seventies are a period in time that not many people are able really relate to in the 21st Century, the clothes are experiencing a resurgence. The early 1970's saw the mini skirt at its most popular and was worn by a multitude of people from a plethora of different backgrounds; this fashion phenomenon in combination with flared jeans produced a street scene that would be almost unrecognisable on the streets of the UK today. The music of the time influenced the style of dress hugely and bands such as ABBA played a huge part in producing that unmistakable seventies look. No reflection on seventies fashion would be complete without reference to the iconic platform shoes. These shoes, with soles 2-6 inches thick, were the footwear to be seen in and were hugely popular with both men and women. Embroidered and knitted clothes with an ethnic flavour were also very popular and were favoured by fashionistas and the psychedelic set alike and produced a distinct subculture, whilst drawing influence from the sixties was still very much a seventies look.

Digger: Who are your 'typical' customers, where are they coming from and what customer feedback/comments do you get?

Mark: Our customers come from all over the world really. We have recently sold to multi-millionaires in Egypt and Monaco, English royalty and a 5 year-old boy in Blackpool. It's really that diverse. Anybody who is going to a retro party is going to need an outfit as not many people are going to fit into something they wore 40 years ago, even if they were around then. Our feedback is fantastic - a lot of people call us after their parties, as because we import a lot of costumes they aren't available in many of the high street shops. So people are usually the only one at the party with that particular outfit on.

Digger: What would you say is special about the Dressed 2 Frill customer experience?
Mark: We like to think of ourselves as a small (which we still are compared to a lot of the larger Internet companies) but personal service. All our products have a direct telephone number on them. Jean has personally worn a lot of the items to parties, so she can give really detailed information on the ladies' styles, as with me and the men's costumes. Most of the stock is actually in stock not like a lot who buy to order, which means we can get the outfits to them within 24 hours most of the time.

Digger: What are the best and most enjoyable aspects for you of running Dressed 2 Frill?
Mark: That's easy, I don't have to go to work in the cold anymore, carrying heavy furniture, standing in a freezer cutting up meat or listening to irate customers telling me their steak isn't cooked right. I get up, have a coffee, walk into the stockroom (which is in our house, we don't have a shop ) turn on ITunes with The Sweet, Slade, Focus to name but a few blaring out. I might even slip on some platforms and the disco lights (just kidding about the last two???) and turn on the computers and the phone for orders. Who says you can't enjoy your work?!!

Digger: What are your plans for Dressed 2 Frill in the future?
Mark: The scope to expand is large. Do we expand and possibly lose the personal touch to make more money? I don't know, maybe if we take on more staff it would be possible. But at the moment we are more than happy with this great little Internet site we have, talking everyday to people with the same interests, whether it be a one-off retro party stage show or a royal bash.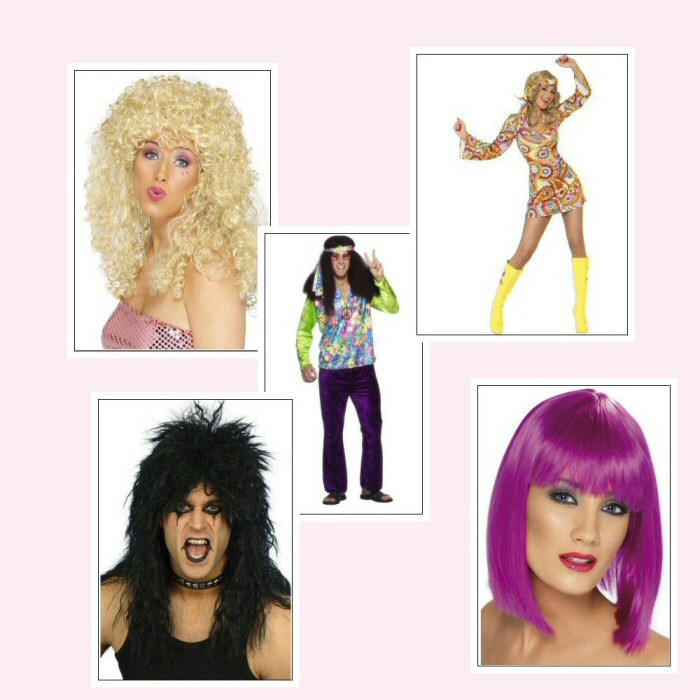 ---
70s & 60s Fancy Dress Outfits & Footwear. Stage Quality Abba style 60s and 70s Fancy Mini dresses, Outfits and Boots with Same day despatch.

60's & 70's Footwear
Ladies 60's & 70's Dresses & Outfits
Men's 60s & 70s Outfits
Retro Accessories
Retro Tights and Stockings
Retro Kids
Retro Wigs

Email: maz9999@gmail.com

Tel: 07807 015393

www: dressed2frill.co.uk