Digger went up to Leeds to meet Conrad Davies at Hammer Films Art. Conrad is producing beautiful mounted prints of some of the most memorable images from the iconic Hammer Horror movies. The quality of these prints has to be seen to be appreciated - they are stunning and come from a time when the publicity department at Hammer knew more than a thing or two about lighting and photography.
Conrad is clearly passionate about this imagery and about producing and offering the best possible quality reproductions of these great shots from these Classics of the genre.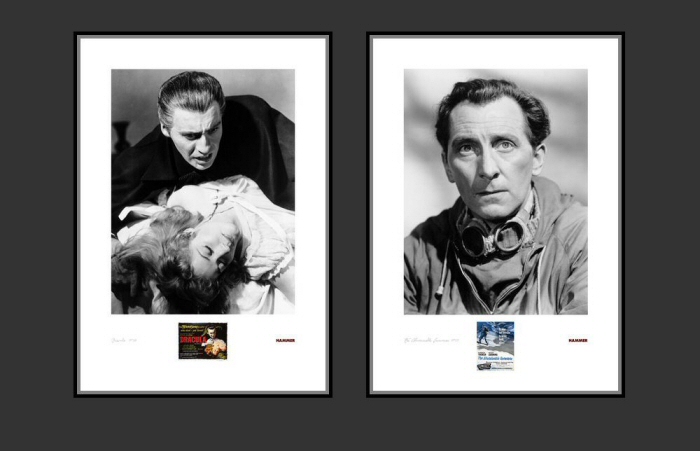 Christopher Lee as Dracula and Peter Cushing in The Abominable Snowman
Digger: Can you please tell us a little bit about the background to Hammer Films Art?
Conrad: This is an offshoot of my graphic design company. It started out as a hobby following a project years ago when an art publisher asked me how they could print to order rather than a full edition which may not sell out. This was 16 or more years ago and a friend had been asked to test digital cameras for a company who had developed a digital camera and wanted to field test it prior to offering it to professional studios. So, together we worked out how to photograph an original piece of art and fingerprint the digital data through a computer and then a large format printer, which today is really the norm as most people can do this. A few years later It transpired that I got the rights to publish limited edition prints from an Edwardian fairy book which we'd seen on the Antiques Roadshow, and so when I got the chance to publish Hammer prints I knew I could do an excellent job and here we are today hoping to provide collectors prints to all the enthusiasts out there.
Digger: What is so special about the Hammer genre and what is the enduring fascination people have with Hammer?
Conrad: People of my age will always remember Friday nights at 11pm, I think, when these horror films would be shown and if we had been good enough we were allowed to watch them. It was probably the fact that there had not been anything like them on TV before and for a young lad the chance to see a semi- naked pretty girl was worth the nightmares the film may have caused. Now though, on looking back, I can appreciate the way they scared you without all the sanitised gore we see today. There's something more scary when the mind is left to imagine the horror rather than the in-your-face slashing of today's films - the shower scene in Psycho is probably more disturbing than a lot of the modern horror/shock movies.
Even now when you watch them they have an indescribable aura/fascination about them, similar to the old Dr Who - both timeless classics.
From what I can recall Hammer was the first to produce these types of film and in a way they were lucky to have Christopher Lee and Peter Cushing as stars (or they made them stars) as they really became the face of those early films - women at shows tell me they are still haunted by Christopher Lee's staring eyes when he's Dracula!
Digger: And why is Retro in all its forms so popular with so many people these days?
Conrad: I'm not sure but for myself it's a kind of 'trying to get the good days back', our memories of youth maybe - Mods and Rockers, VW camper vans, its a circle of trends I suppose.
Digger: Who are your customers, where are they coming from and what sort of feedback and comments are you getting from clients?
Conrad: The customers are mainly web-based, but with a great response from fairs and collectors events. Overall the feedbacks have been great, everyone loves the prints and are blown away with the quality of print, paper and service we give. Customers have been from UK, Europe and a lot from the US
Digger: Please tell us more about the various art & print options you offer.
Conrad: At the moment we offer three sizes of prints on Hahnemuhle fine art paper but can reproduce if a specific size is required. But, as you saw on your visit, we have sampled printing these iconic images direct to acrylic to give a very contemporary result which again has had a very positive response.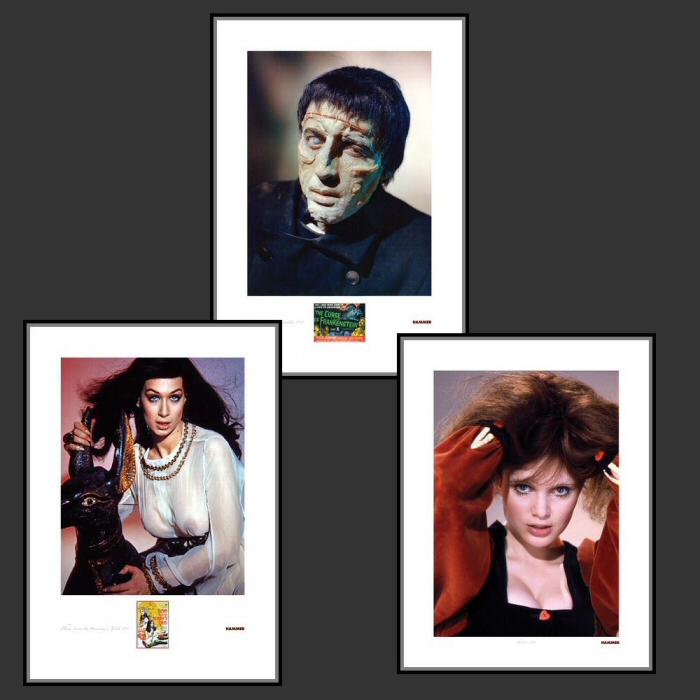 Christopher Lee as Frankenstein's monster, Valerie Leon in Blood From The Mummy's Tomb
and Madeline Smith in Taste The Blood Of Dracula
Digger: What is the ethos of the company and what are your USP's?
Conrad: I try, and do, succeed in producing a very high standard of product at the right pricing so its available to all. All the papers and mounts are archival and conservational quality, recognised by the Fine Art Trade Guild and the inks are 125yrs lightfast - but if in 130 years your print starts to fade I'll happily send another Free of Charge!
Digger: Can you tell us more about your Fairies business?
Conrad: The Edwardian collection of fairy prints are from a hand-made, hand- written and illustrated book a lady wrote and illustrated. She even tooled the leather cover, which was never published, so its unique, and I got the chance to publish. It took me 12 months, on and off, to get the papers and colours or the edition correct to the originals which are absolutely superb watercolours. The story is of a boy who the fairies think is too perfect for the human world so they take him into theirs where the goblins capture him. It takes mother nature to send the seven divas to his rescue, following which she has all the world's fairies, nymphs etc. to a celebration and each has a detailed illustration - even an Egyptian one which is unknown of. Anyway, you have to see them to appreciate the quality. visit for more art4walls.com/fairies.html
Digger: What items tend to be the biggest sellers?
Conrad: The biggest seller in the Hammer collection? There are 6 or 7 which sell more than the others, Dracula, Frankenstein, Twins of Evil, Valerie Leon, Ingrid Pitt and Yutte Stensgaard to name but a few - everyone has a different favourite. Women buy the glamour ones for their husbands, as they find it funny they still sigh over the actresses now. One girl wanted Dracula so she could replicate it as a tattoo on her thigh! An eleven year old lad came up and told me all about Hammer and their early years and which were his favourite films ( all classics) though he was not interested in the newer stuff. It seems though that there are various age groups who are into it and they all have different tastes.
Digger: What do you most enjoy about running the Hammer Films Art?
Conrad: The shows where you get to meet the collectors and enthusiasts and the chats you can have with them as they are all so into 'Hammer'
Digger: Where do you see the future for Hammer Films Art?
Conrad: I would hope we could expand the number of images available, but the intricate copyright issues will have to be sorted with Hammer first
---


Dracula . Frankenstein . Hammer Glamour . Horror . Mummys . Science Fiction . Vampires

Half a century ago, Hammer released its first Gothic horror film, The Curse of Frankenstein, quickly followed by Dracula and created a whole new era of blood and barely restrained cleavage in colour, mixing sex and horror with a style and panache that made Hammer world famous and was the made international stars of Peter Cushing and Christopher Lee. Hammer inspired a whole generation of filmmakers, including George Lucas, Martin Scorsese and Tim Burton.
Now you can own a part of this classic genre with fine art prints and contemporary art from the Hammer archives. These collectors prints are official Hammer licensed limited editions. And come with a signed certificate of authenticity.

Now when you see the Hammer logo you know it is a very special print.

Why not dig into our vault and stake your claim for a piece of this classic film genre from Hammer Films.
Giclee prints are produced on acid free fine art Hahnemuhle German Etching 310gsm papers with light fast (100yr life) inks and can be supplied with or without conservation double mounts.

All our Hammer Films art editions orders are professionally packaged in either art sleeves or tubes and despatched within 2 days of ordering. Alternative sizes may take up to four days depending on size requested. www: Hammer Films Art