safetyrazors.co.uk - A good modern (or vintage) safety razor will last a lifetime

Digger talked to Eddie Czestochowski about his business selling vintage razors, shaving equipment and accessories. Eddie is also offering a replating and renovating service for razors that have seen better days.




---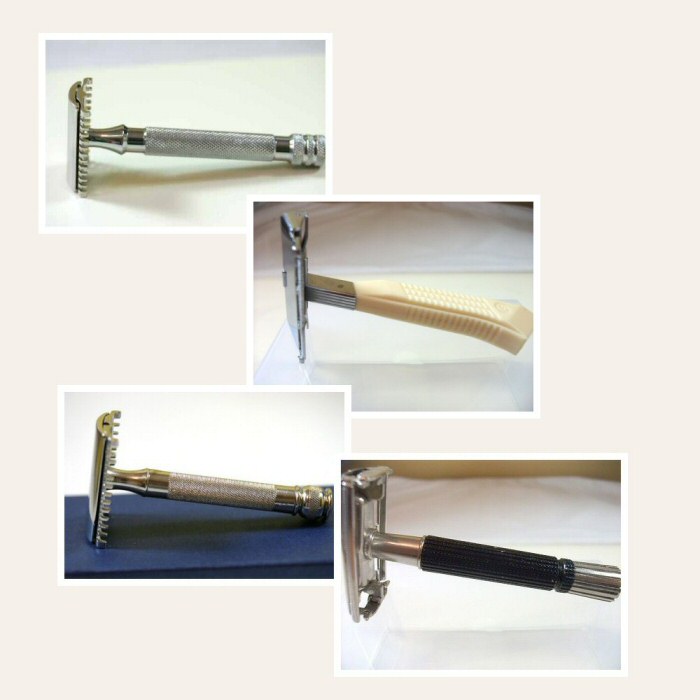 Digger: Hello Eddie. How are you?

Eddie: Good thanks.

Digger: What is your background Eddie?

Eddie: I went to Manchester Poly, studied Electrical and Electronic Engineering and left when I was twenty-one and ended-up selling Batteries. I did that for about twelve years, for four different companies. Then about thirteen years ago when I was about 35 or so, I decided I wanted to work for myself. I set up as a one-man-band designing and building battery packs for a wide variety of customers. I've been doing that for over thirteen years now . From a start-up situation I now employ twenty four people in the battery pack assembly business, we do a lot of customisation of standard batteries for OEM applications, anything from data loggers to tracking devices - most of these pieces of equipment need some sort of battery pack and essentially what we do is to provide solutions for these wonderful applications . I became very successful at understanding what my customers needed and built up a fantastic team of people that form the basis of our Award Winning company Cell Pack Solutions Ltd. We developed a great ecommerce website that has been running successfully for seven or eight years now. This has helped us to grow to where we are now.

The Safety Razor Project came about in this way; What happened was about three years ago I met a chap called David Glynn, who ended doing some SEO work for me on my website. He had this great hobby, re-plating old-fashioned razors - the old double edged Gillette type RAZOR.

Digger: Yes, the sort my dad used to use.

Eddie: Exactly. And I looked at it and thought "God, that's fantastic." I loved the feel and look of these old vintage razors .

Digger: I can remember taking them apart and being fascinated by that.

Eddie: I was fascinated by Butterfly Razors and just the fact that these little things were so well engineered. Maybe because I come from an Engineering background I just liked the look of them and it stirred something in me. So I said to Dave that whenever he felt he wanted a change then he should give me the first shout and I'd be interested. His main business was web design and software design, so he created a website called SafetyRazors.co.uk to fund his hobby and to develop and prove his search engine optimization skills.

He developed the original Safety Razor Website to sell additional products like Soaps , Brushes, Blades and everything else you might need , and before long he found that it was taking over his life and away from his original hobby and his full time job. I saw the opportunity , and a bit like VICTOR KIAM, I liked the product so much I bought the company.

I liked the fact that it was so niche. I liked the concept of the product and I felt we could fit it in with what we do. Even though it's nothing to do with batteries, we have a full logistics system that enables us to deal with a few hundred orders a day through our Internet website. I knew we would be able to cope with the customer service side of things quite easily.

Digger: What you're also doing is diversifying and hitting lots of different markets which can't be a bad thing.

Eddie: Also my character is that I like a challenge. If I look back in time, the reason I moved four times in my career was that after a couple of years you get a bit complacent . and I always like a fresh challenge.

Digger: Some people like routine and it's good that there are those and also people who need change.

Eddie: Yes. I got to the position in the companies that I knew the job back-to-front and couldn't see any progression: That happened four times so in the end I thought "If I can't find a job that's going to keep me happy, then I've got to create my own." So I ended-up with our battery business and that was forever changing. Obviously you were always learning new skills running a company, HR and all of the other stuff as opposed to just being a technical sales guy for a company where everything else had been handled for you. We are now at a point where the company is doing really well and I can afford the time and the risk to take on new challenges. I felt the Safety Razors Company was a great challenge .

We have now created a formal limited company and called it THE SAFETY RAZOR COMPANY LIMITED, it's a totally separate entity to Cell Pack Solutions Ltd . The idea is that once it's off the ground and all systems are working I can then give it to somebody to run for me or find a way or running it together but maybe take on a graduate or an APPRENTICE (like Lord Sugar.)

Digger: You are sounding like Alan Sugar Eddie.

Eddie: (Laughs) In a small way, a small way! I know what you mean and I wish I was but it's like anything in life you need to take a risk. I was talking to a friend of mine at the weekend, I hadn't seen him for about twenty years. I discovered that he'd done the same thing as me (created a company) down in another part of the country and what he said was, that he'd never done it for the money. He doesn't do what he does now for money, it's just that the money comes along with success. It's never the thing that drives me, it's the idea of making something work well and to enjoy doing it. So taking over the Safety Razor Company was something that ticked loads of boxes for me .

Digger: Why is vintage, retro and nostalgia such a big thing in so many people's lives?

Eddie: When I spoke about the idea to my accountant he was the same as me. He's about nine or ten years older than me - I'm fifty this year and he's sixty or so and he just said "Wow, a fantastic idea." I think there's a market out there because people like familiarity and certainty of things. In the vintage razor market some of the things we sell are forty, fifty years even eighty years old or more.

Digger: Please tell us more about the products & services on offer. You've obviously got the razors but also all of the accessories?

Eddie: Yes, brushes, soaps ,bowls and even though I've bought the business off my old friend Dave, he will still continue to do any re-plating, so we still offer a re-plating service. If you found your grandfather's old razor in the loft and you felt you wanted to resurrect an old family heirloom; Get it re-plated and then put in a presentation box, possibly for something to pass on to the next generation. You might not want to do it now because it might be old and rusty but after a re-plating job they look absolutely brand new. And it's something you might want to continue to use. We know people that have done that. There's a trend for people to buy what they call a 'birthday razor', for example if you were born in 1962, you may hunt out a Gillette razor from the year of your birth. Bizarre as it seems, that's what some people do and there are these sites in America - the shaver forums , you wouldn't believe how big a market it is , and how involved people get with this sort of thing. In the UK, what are there?... 30 million blokes and 20 million of them have got to shave. Obviously, a lot of them shave with electric or with the throwaway types of razors , but there's nothing beats spending a little time in the morning for a proper shave.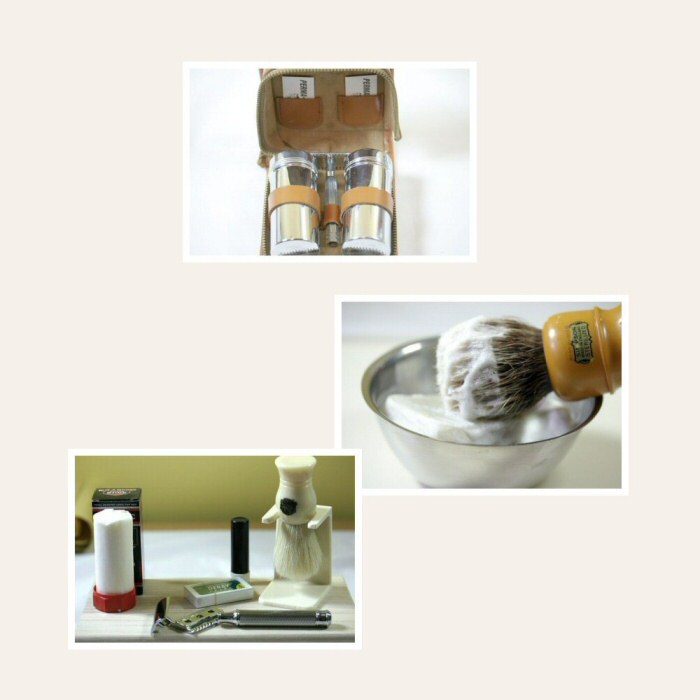 Digger: Are you a good advert for the product Eddie?

Eddie: I am now . I use a brush and the soap and spend ages in the bathroom and my wife says "What are you doing in there?" Because it's a great feeling in the morning and a bit of a ritual to take a little time out and think about the day ahead.

Digger: And it's what you do so you can certainly justify spending a bit of time.

Eddie: Yes exactly and as you said I think there's a feel for retro and people like using good old equipment, whether it be razors or whatever.

Digger: It's the touch and the smell and all those senses.

Eddie: Yes, exactly.

Digger: There are so many retro programmes and films, that must be a good promotion for you? We often see images of somebody shaving in the traditional way.

Eddie: I love old films , and old programs from the early days of Television , things like Randall and Hopkirk and The Champions , it was also great to see a Black and White Retro film do so well at the Oscars .Its great to see the images of men shaving , I think people seem to have more time in the good old days. I have spoken to a lot of people over the last couple of months and they say "My dad used to do that" or "My granddad used to do that" and you think there's a massive market out there. Obviously, there are youngsters today who have only ever shaved using Mach III's and there's a bit of an untapped market. I'm sure there's a lot of competition for what I'm doing, which is great and I love competition, but I think the market's big enough.
I love old films , and old programs from the early days of Television, things like Randall and Hopkirk and The Champions, it was also great to see a Black and White Retro film do so well at the Oscars.

Digger: Yes, you've potentially got half the population and you can go worldwide too.

Eddie: Exactly and I've got to be honest. Already in the couple of months we've been doing it we've had orders from Singapore, from Germany, from Italy, Spain and Portugal. I find it hard to believe, but it's great.

Digger: The Internet has lost that stigma it once had where people were nervous about buying from overseas. They don't mind now.

Eddie: I don't think they do if they can find something they want at the right price then they'll go and buy it. We've had orders from all over the world.

Digger: What are the most enjoyable aspects of running safetyrazors.co.uk?

Eddie: I bought the website in October and I've got a lot of things going on at the moment, so it's taken a slight backburner. I was in no hurry to get into the Christmas rush, for example. At the moment we're in the process of redesigning the website - we're trying to get that sorted within the next few weeks. My plan is to have the new website with a new admin back-end and also we're looking at redesigning the logo and the whole look of the website.
We're still making our minds up what the logo will look like and we're going to go more traditional, looking at a half a dozen choices. We've got one or two more ideas to come in and then we'll look at them all and whittle it down to one or two, Then we'll do a little bit of market research, which could mean not only asking our friends, but also going to the high street just asking random people. It's a big decision and once we make it we've got to stick with it for a while.

Digger: Where are you sourcing these razors?

Eddie: When I bought the company from Dave, I inherited his list of suppliers, so it wasn't a case of starting from scratch - I inherited quite a lot of information from him. So there are some existing suppliers that we're using but I'm busy at the moment trying to identify some new suppliers. And without giving away too many trade secrets, we're also considering some other options to improve our stock. Some of the things we do can be very niche and I think there is a market in the UK. I've discovered that there are people at the top end who collect these things who buy razors and brushes just for collecting's sake. In the States especially you wouldn't believe it - there are people who'll spend hundreds on a brush or razor.

Digger: Do you know those cups they made for men with moustaches back in the day are also highly collectable according to the Antiques Roadshow?

Eddie: I didn't see that. One of the things we're looking at is putting these together as presentation kits for the gift market - presents for father's day.

Digger: Or an 18th or 21st?

Eddie: Yes, or leaving presents or anything. Put together a nice looking kit in a nice looking box and it's a present that people keep for a long time. It might sound a lot of money, but even from what we've done, with very little marketing or effort, we were getting orders over Christmas for people buying them as gifts for their husband or loved one.

Digger: So you're being found on The Internet?

Eddie: Yes. The other box that the website ticked was that it had a fantastic name - Safety Razor is one of those key words and it defines the product.

Digger: Yes, it pays to get what you do into the URL.

Eddie: Exactly. It's difficult to do that these days because all the key names have been taken or reserved. So we were fortunate that the name was obtained some time ago. The same with you and Retrosellers I suppose?

Digger: Yes, we got the name back in 2000/2001.
Eddie: I started my other business in 2001 and didn't really get on The Internet properly until about 2003. By that time, people were squatting on names. I know people who made a fortune by buying the right name and then selling it on to people who really wanted the name.

Digger: What about the future for safetyrazors.co.uk Eddie?

Eddie: Last summer, I bought a piece of land in South Shields. We currently run out of three business units in a business centre and really we can't grow with this any further because we're out of space. We're about to sign a deal to get a building built on the land and it will be about 9,000 square feet on two levels. So by the middle of the summer we'll be in a new building and will have a lot more space. We can have the batteries business on one floor and the shaving on the other.
Digger: You might need another floor for your next project too!
Eddie: Yes, I will look for something that will complement what we're doing to an extent and that we can integrate into the system that we run. The important thing about ecommerce is stock control, managing it and shipping it out and making sure you have customer service as the back end. We've done all that for the battery side of things for ten years, so all we need to do is find products to fit that - products that we like and can get attached to. And the razor was one of those. You look at it and think "Oh yes, that's great."

Digger: They do look good. I would often walk around St James's in London and look at the gents shops. There were some that specialised in shaving requisites.

Eddie: I'm going to try to keep what we do at that top end. I don't want to be competing at the bottom end of the market just on price. It has to be on quality and service. Because we offer a good service in what we do. It's the same principles that I run Cell Pack Solutions with really. The best quality service to solve particular problems.

Digger: Sounds good to me Eddie. Can I just ask you a cheeky question? How do you pronounce your surname? As a Catholic, I went to school with lots of Poles and Czechs but am not too sure about Czestochowski.

Eddie: If you think of the town Chester. Then you think of the Hof and then Ski.

Digger: Chester-Hof-Ski? Is that how you remember it too Eddie? (Both laugh)

Eddie: No, everyone just calls me Eddie.

Digger: Touché! Thanks Eddie for telling us all about safetyrazors.co.uk

Eddie: Thanks David.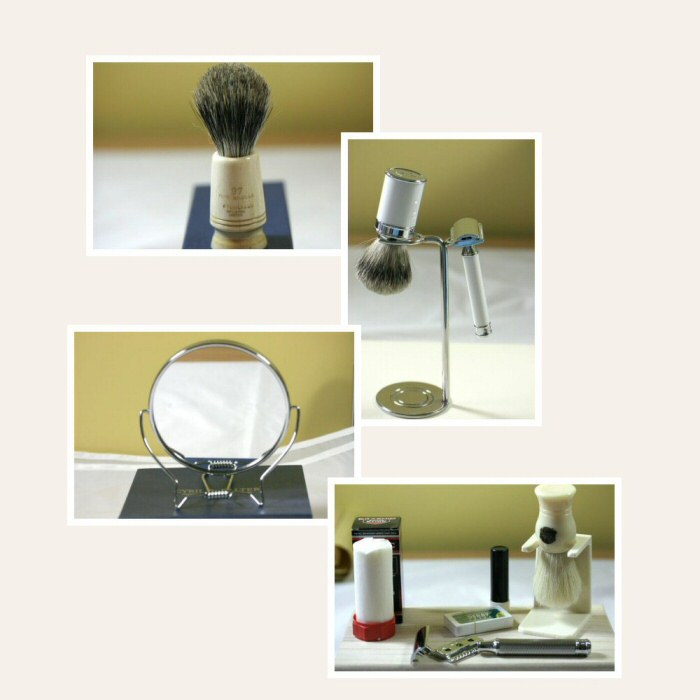 ---
safetyrazors.co.uk - A good modern (or vintage) safety razor will last a lifetime

Why a Safety Razor?
Well, to be honest a group of us got chatting about shaving and how we all seemed to be spending more and more on the three, four and five blade offerings from the razor manufacturers. Also, no matter how many blades were added, it was still a case of squirting some goo from a tin, rubbing it onto our face and then dragging the latest razor across for a very average shave. No real thought, just a daily chore.
I decided to buy a modern safety razor, some blades, proper soap and a shaving brush. The really nice thing that I found, right from that first shave was that I actually thought about what I was doing and actually enjoyed the experience! What's more I didn't cut myself and got the closest shave I've ever had! That was it, I've never looked back. Much less expensive and better for the environment too!
The double-edged safety razor blades are far less expensive than the latest multi blades – see for yourself in our catalogue. The safety razor blades are also totally recyclable as they aren't encased in plastic, they are good quality coated steel – just save the old ones in an old steel drinks can (not an aluminium coke can), crush it and pop it in the recycling bin.
The soap also lasts far longer than aerosol foam or gel and your skin will feel much better too. So gentlemen, in short we are being conned, the latest semi-disposable razors rely on expensive consumables (the blades) – the razor may last you a year or two (until you are forced to buy the next model or the current one wears out) but you'll spend hundreds of pounds on blades.

A good modern (or vintage) safety razor will last a lifetime and instead of paying around £8 for four blades, you pay around £1.50 for five to ten blades and they'll give you more shaves per blade too! Well, here's a chance to change all this, try a safety razor and see for yourself.

safetyrazors.co.uk

6 West Walpole Street
South Shields
NE33 5BY
Tyne and Wear
United Kingdom

Phone number: 0191 496 9988
Fax: 0191 496 9996

E-mail: info@safetyrazors.co.uk

www: safetyrazors.co.uk