Here Digger talked to Paul at The Canal Warehouse, satisfying the big demand for canal memorabilia amongst holidaymakers and aficionados of Britain's historic and beautiful waterways, both in the UK and overseas.
Digger: Can you please tell us a little bit about your background and the background to The Canal Warehouse?
Paul: I originally come from working in an IT environment for one the UK's largest banks (I always stress that I was not a banker). When redundancy came calling I had the opportunity to come and work at the family business, learn the ropes and eventually take over. So we took the plunge, upped sticks and myself, my wife and children moved the 200 miles north from London.
The Canal Warehouse came about as an extension to our physical shop at our boat holiday base. It seemed silly to me to just have one outlet to sell through and so an online extension to the shop was born.
Digger: What sorts of products are you offering?
Paul: We offer all sorts of gifts. maps and guidebooks based on the UK's waterway system.
Digger: And what are the best sellers?
Paul: The best sellers are things like crew badges, mugs and model narrow boats.
Digger: Why is retro and nostalgia so enduringly and increasingly popular?
Paul: Well everyone likes to think back to their childhood don't they? The music was better, the TV shows were more fun and having a Raleigh Chopper was so much better than a modern mountain bike! However I still can't do a Rubik's cube. I think, with time, that most people remember the past fondly and with the growth of the internet you can easily find information and products that spark that nostalgia.
Digger: What makes The Canal Warehouse special?
Paul: The Canal Warehouse is a very niche site and there is very little in it that you could find by walking down your local high street.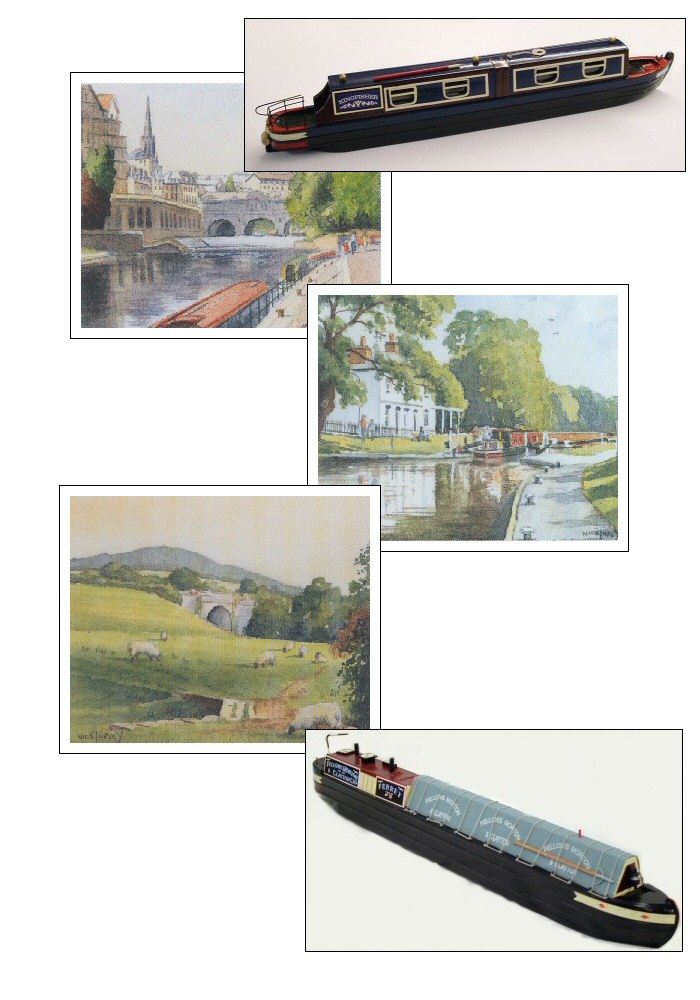 Digger: What are the most enjoyable and best things about what you do?
Paul: Well along with the Canal Warehouse, our main business is providing canal boat holidays so the best things are definitely getting to play with the boats. Seeing the guests really enjoy themselves as they head of on their holiday does give me a real sense of satisfaction and it's always good when we spend the first hour or so with them, chugging along the canal in the sunshine! It beats working for a living!
Digger: What sort of feedback are you getting from clients?
Paul: The feedback on the Canal Warehouse has been positive. It's early days for the site so we are growing it slowly and finding out what works best for our customers. It seems they certainly like to be able to shop online for these niche products and prefer to shop with an "expert" on the subject matter rather than at a big online department store.
Digger: I suppose The Internet is a major source of business? Where are clients coming from?
Paul: Our customers come from far and wide. Many have a strong interest in the canals and waterways, some are from overseas and a lot have either been on one of our boats or have visited us in the shop.
Digger: Where do you see the future for The Canal Warehouse?
Paul: I think for the next few years the canal warehouse will supplement our main holiday business and be of added benefit to our customers. Further down the line I'd like to see it selling more to overseas customers such as in America. For now though we'll be concentrating on making sure we give a great experience to our current visitors.
Canal Shop, Badges, Bookmarks, Bridge Plaques, Calendars, Canal Art Prints, Canal DVD, Clothing, Coasters, Cross Stitch Kits, Fridge Magnets, Magazines, Miscellaneous, Model Boats, Mugs and China, Tea Towels, Toys and Games, Waterway Map Shop, First Mate Guides, Lockmaster Maps, Nicholson Guides, Pearson Canal Companions, Waterways World Guides, Nostalgia Gift Shop, Blackboards, Coasters, Fridge Magnets, Keyrings, Kitchen Aprons, Memo Boards, Metal Signs, Mugs, Notebooks, Chandlery, Popular Brands, Food & Drink, Wartime, Household, Transport, Frys, Bovril, Cadburys, Childhood, Golden Shred, Marmite

The Canal Warehouse is the online waterways shop of Claymoore Canal Holidays.

Formed in 1973 as a boat hire company, Claymoore has a reputation for our friendly approach and quality of service. We are a family owned company with many years experience of holidaying on boats prior to running a hire fleet.

As well as running the canal holiday hire fleet and busy boatyard from our base at Preston Brook in Cheshire, we have now expanded our canal side store to provide our waterways products online via our website.

Claymoore Canal Holidays
The Wharf
Preston Brook
Warrington
Cheshire WA4 4BA

TELEPHONE: 01928 717273