Custom Clothes - Made-To-Measure Vintage Style MADE IN UK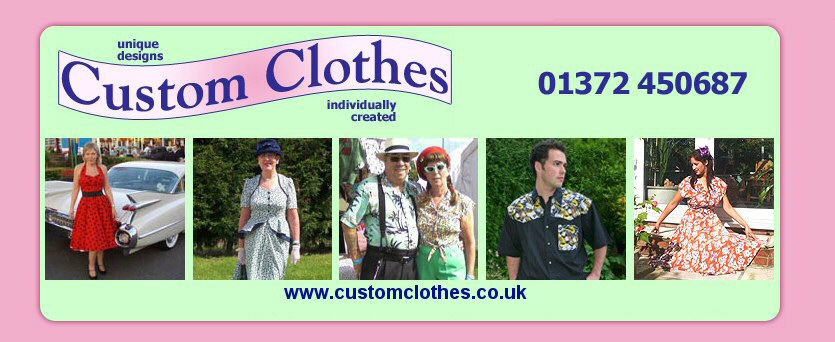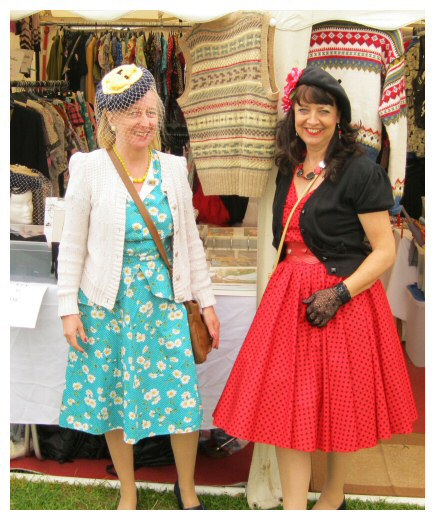 Digger talked to Jennie who custom makes beautiful and authentic-looking clothes replicating the styles of the forties and fifties.
Jennie and her creations, proudly made in the UK, can be seen around the UK at a number of vintage and retro events. Or at her website Custom Clothes
---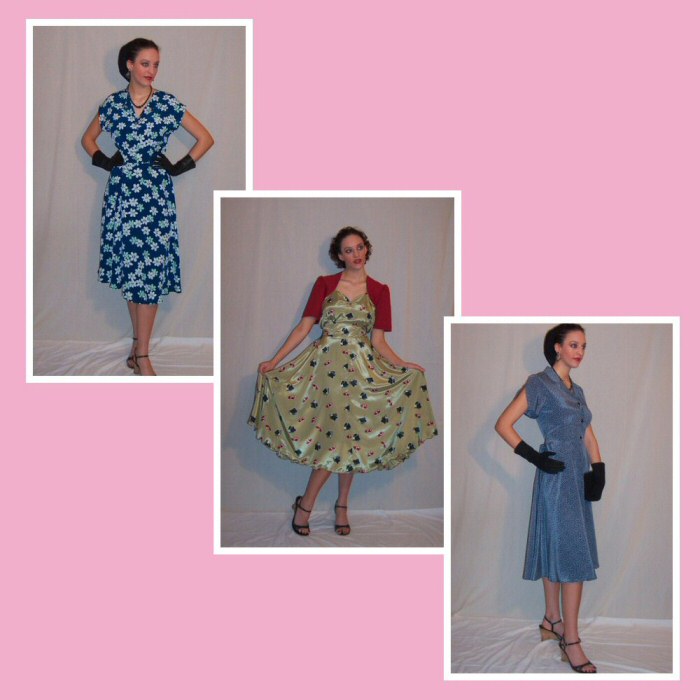 Digger: Can you please tell us a little bit about your background and the background to Custom Clothes?
Jennie: I have been making clothes and knitting since I was a small child about 12 years old. My mother used to make all my clothes until then. I continued making and designing my own clothes whilst at school. I went to Berkshire college of Art and completed an art and design diploma in fashion. I have been working ever since. I continued designing clothing for men, ladies and children for various companies in London for 6 years before I became self-employed, to then help other companies in design and pattern making for wedding dresses (sold in Harrods) and small boutiques to mail order catalogues etc. Whilst working in London, I used to visit the V&A museum and go to the library to research 1940's clothing from American Vogue for inspiration. I then set-up my own business, designing and producing ladies separates selling directly to small shops. I was producing this clothing solely on my own.
After breaking to have my family (whilst making and selling my own children's wear) I then started dancing after a divorce and saw a gap in the market for dance clothing for jive.
I have continued producing dance clothing and for other events for 13 years as Custom Clothes (since 1999.) I then began attending railway and 1940's events. My mother comes with me to many re-enacting events held to honour the war veterans to tell her story as she was in the WRENS. We found her original sketches in the loft from 1947 that she had designed after the war. I have made the patterns for her and have been making and selling these designs as they are ordered by customers.
A few years ago I began selling knitwear, by reproducing 1940's and 1950's patterns by hand and on the knitting machine and this part of the business is expanding very quickly. Many of these designs have been sent to Australia. I now have a small team of outworkers sewing and knitting for me.
As all designs are custom-made by myself hence I chose the name Custom Clothes.
I don't sell through other agents and none of my clothes are factory made but are made to a high commercial standard. ALL designs are hand cut by myself and then sent to machinist before being returned and finished by me.
Digger: You clearly love the 40s and 50s. What are your specific retro/vintage passions?
Jennie: I love the music and the colourful clothing of the 50's and the elegance of the 1940's clothing and knitwear.
Digger: You do made-to-measure vintage style. The designs are very authentic-looking and really impressive, so please tell us more about your inspirations for these designs.
Jennie: Yes I make to measure vintage style. All my designs are original and based on the 1940's and 1950's 'look'. The designs come from my head, but are inspired from all sorts of media etc. Some designs develop from the fabrics as I go along. Some of the fabrics come from the USA and some from the UK.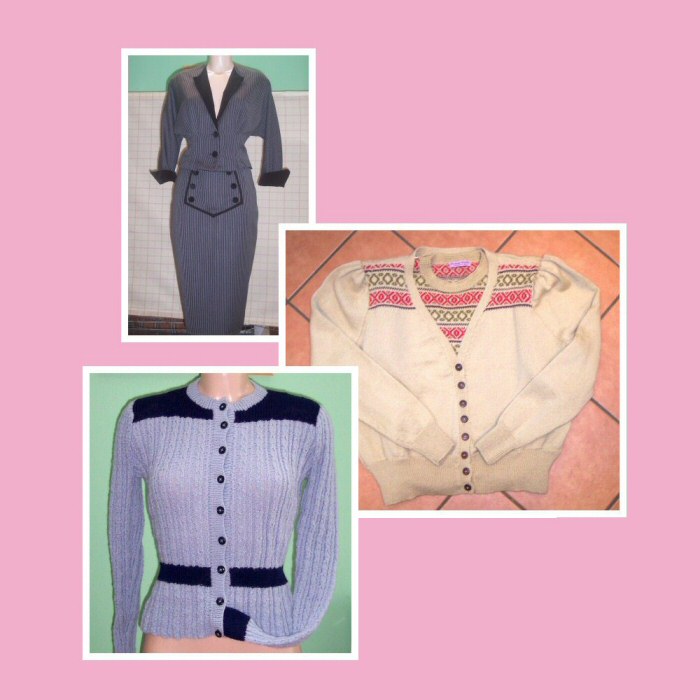 Digger: Does the modern lady's and gent's shape create challenges for you when trying to blend it with 40s and 50s style?
Jennie: Yes I do make for very small and larger sizes for men and ladies also for children. I am always up for a challenge, even if it's a mans trousers or Shetland 'vest' for a 48" chest.
Digger: What is this enduring fascination people have generally with Retro and Vintage in all its forms?
Jennie: I guess everyone has an interest for different reasons. The men are generally interested in Militaria, planes and trains and they like their ladies to look feminine. As for the 50's, a lot of my customers love the music and love to dress the part when they go dancing and haven't grown out of it since the first time around! I make for all age ranges as well. From 18 months old for a rock 'n' roll party/wedding to older ladies gents in their 70's that attend railway events.
Digger: You attend a great number of events, as described on your website, so there are lots of chances to see you around and about. How important are these events to what you do?
Jennie: These events are very popular and new ones are happening every year. As I attend them in a marquee, sometimes in an airfield. this is the chance for customers to see me on their doorstep as I am based in Surrey. I then get follow-up orders from new customers that I meet. This happened last year when I attended the Goodwood Revival for the first time.
Digger: Who are your customers and where are they coming from?
Jennie: My customers are dancers and re-enactors and come from all over the UK and other countries. I have sold to Australia, Germany, France, Italy, Portugal, Belgium and Scandinavia to name a few.
Digger: And what sort of feedback and comments are you getting from clients?
Jennie: I get emails and texts and messages and cards form many satisfied customers. And they come back for more outfits. Please see testimonials below.
Digger: What would you say are the key advantages to wearing vintage?
Jennie: The main advantage of wearing my clothing is that 1) it fits and 2) it can be washed (without falling apart).
Digger: What would you say is your USP at Custom Clothes?
Jennie: I think I have covered my USP - Unique and individual. (As each piece is a one-off and made to measure to the customers requirements. Very occasionally repeat for a customer)
Digger: What do you most enjoy about running Custom Clothes?
Jennie: Being creative and meeting some very interesting people from all walks of life.
Digger: And what are your plans for the future for Custom Clothes?
Jennie: To continue creating new designs. Selling more through The Internet and enquires abroad. (I would love to have a shop but the economic climate does not allow for this sadly.) I will never be rich, but I love what I do.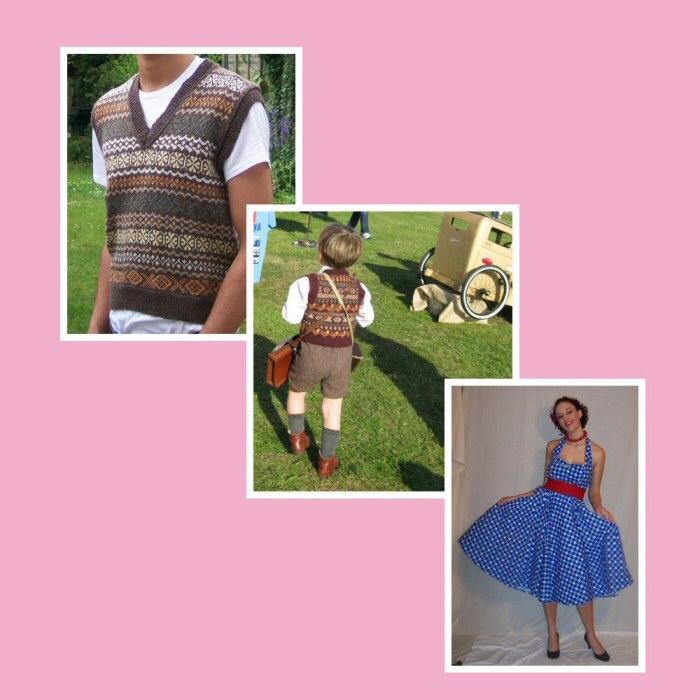 Some client testimonials
Your parcel arrived today and I cannot thank you enough for such an amazing piece of work. We all adore it, especially Ruby its everything and more than we were ever expecting.
Thank you for all your hard work, will send you some pictures with her wearing it when I get round to it!
Yours Gratefully,
Jo
---
Thanks Jennie LOVE the trousers! Will def order some more after Christmas when I get my bonus! Please keep my measurements, they are a perfect fit.
Lin
---
Hi, Jennie,
Received my new trousers yesterday. They are terrific, fit perfectly and look 'the business'.
I'm still thinking about a jacket/ waistcoat to go with them either in the same material (I know you said you had a limited amount) or something which would give a casual/smart 1940's look for re-enacting. I'll let you know when I get some inspiration. If you have any thoughts let me know.
Thanks once again.
Best regards.
Geoff
---
Hi Jennie,
The dress arrived today safe and sound. It's absolutely lovely and fits perfectly. Seems a long time until the next show at Ramsey, see you there!
Thanks very much, Louise.
---
Dear Jenny
Received cardi on Saturday and it is so lovely I want another one ...what colours do you have available in this wool. However although it fits I may have the other one just a 1/2inch bigger around the bust
Thank the lady it is so nice I am really pleased and my daughters love it
Thanks
Linda
---
Hi Jennie
Just to say my dress has arrived this morning and it is really lovely. I was worried it wouldn't fit we me measuring myself but it fits well and the material and gold contrasting collar is really nice. I just wondered, you don't know of any retailer who sells seamed stockings do you? I tried everywhere in York yesterday but plenty of stockings and hold-ups but no seamed ones.
Once again, many thanks for my dress.
Maureen
---
Hi Jenny just to let you know that the parcel arrived yesterday. thank you. Sarah wore the lilac outfit to our Christmas party and she looked lovely. We had quite a few compliments on our outfits which is due to your hard work. By the way, Sarah has a h/hernia and gallstones - so a double whammy! Thanks again and have a lovely Christmas and great New Year.
Regards Carol
---
just to let you know that the dress came today and she loves it. the craftsmanship is superb. again
thank you. graham
---
Hi Jennie,
Yes I am!! - many thanks, I had loads of comments on how nice it was when I wore it to the party on Saturday!!!! I am really pleased with it
I did take it in at the waist for a tighter fit but have left the skirt so I can walk and go up stairs!!
Thanks again
Rachel
---
Hi Jennie, sorry its taken me ages to respond, but just to let you know I LOVE MY RED CARDIGAN!!!!!
Thanks so much for all you hard work and sending it out to me so speedily, I really appreciate it.
Kind regards,
Janet
---
The dress came today and it is fabulous, I could not be more pleased with it.
The dress fits well and looks great.
Kind regards
---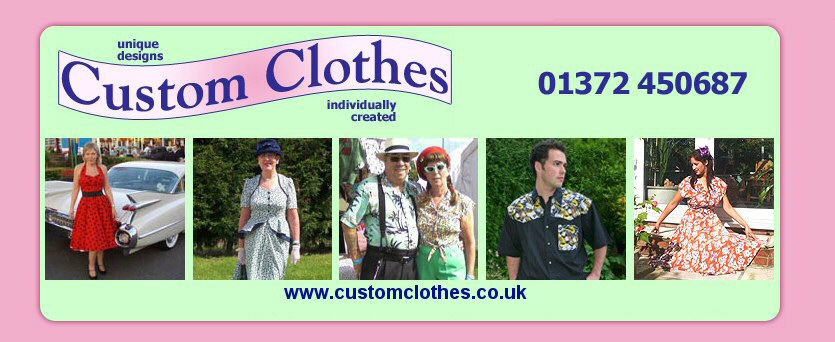 Custom Clothes - Made-To-Measure Vintage Style MADE IN UK
Clothing for all styles of Dance, Re-enactors for Men, Ladies and Children and other occasions, parties weddings.

ORIGINAL DESIGNS, INDIVIDUALLY MADE.

1940's - 1950's Rock 'n' Roll, Jive, Swing, Vintage Style, Lindy Hop, Salsa, Ballroom, Competitions, Theatre and Stage.

New for this year…Original 1940's Designs for Day and Evening wear….never made before.
All clothes are individually designed and made just for you.

Please telephone or email for an appointment to receive a personal service:

jcustomclothes@aol.com

01372 450687 07979 500314

www: Custom Clothes