Vintage Lynndy Loo - Corsets for the modern day

Digger talked to Lynndy Loo about these modern day corsets which are proving very popular with a wide spectrum of clients. Lovers of burlesque, brides and waist trainers amongst them, there is even a rapidly-growing male client-base too.
---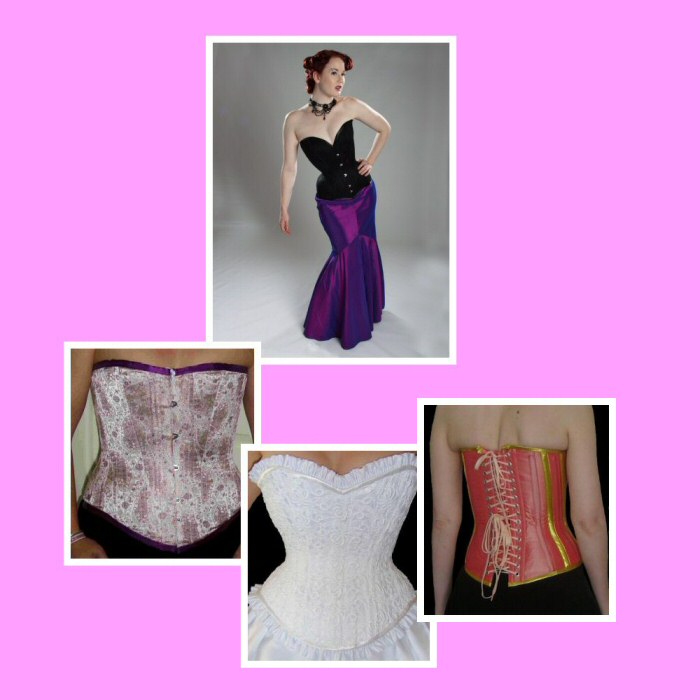 Digger: Please tell us something of your background and the background to Vintage Lynndy Loo.
Lynndy Loo: I was discharged on medical grounds from the RAF in 2004 with chronic arthritis. For years I was unable to work as my specialists worked to stabilise my health. Having worked ever since I left full time study at 19, I was completely at a loss as to what to do with myself day in & day out. So I joined my local theatre group's wardrobe team. It was like doing a condensed apprenticeship under some incredibly talented ladies' guidance. In September 2006, we did Jekyll & Hyde & the director wanted 7 mock up corsets made. I made them using a bodice pattern I converted, using plastic boning. After that I wanted to make a real one, which I finally did in 2007 & I was hooked. Vintage Lynndy Loo opened in June 2008 with 3 bridal commissions.
Digger: Please let us know more about the range of corsets and accessories you have on offer and what can people expect from your online store.
Lynndy Loo: I mainly make bespoke corsetry. I am planning on having a small range of off-the-peg waspies, or waist clinchers in the online shop eventually, but at the moment all my commissions are bespoke pieces. In the online store, we have a range of Alchemy Gothic jewellery, a product handmade in the UK, there's some off-the-peg skirts as well as detachable suspenders. I've just sourced a lingerie supplier, so we will be stocking ladies underwear, as well as offering a few select pieces designed & made by myself. When shopping at Vintage Lynndy Loo, clients can expect a quick despatch on their goods, usually with 24 hrs of payment if it's goods we have bought in. For the items we make to order, we keep the dispatch time updated at all times, and we email our clients with regular updates.
Digger: Please tell us more about your fascination for and involvement with corsetry Lynndy Loo.
Lynndy Loo: I love corsetry because it allows people to experiment with their body shape & alter it. My clients come in many different shapes & sizes, so each new commission is effectively a blank slate. The reasons why people wear corsets are varied as well, so the psychological aspect can be fascinating. Understanding why a client wants the corset they do, is often key to coming up with an appropriate design. I wear corsets myself, although not on a daily basis as it's just not practical spending all day behind a sewing machine tightly corseted! However, when I do lace myself in, I love the sensation of the tightening. It's a sensation people either love or hate! From a corset building aspect, one of my biggest fascinations is drafting the pattern. Simply by moving seam lines, you can change the whole look of a corset. One of my clients has 5 corsets of mine & not one of them was made to the same pattern. Yet another one has 3 pieces of mine & the same pattern was used each time. It's all down to personal preference. And a person's "squish" factor. I.e how well their body corsets. It's different for everyone and the one unknown factor until I lace them into their toile.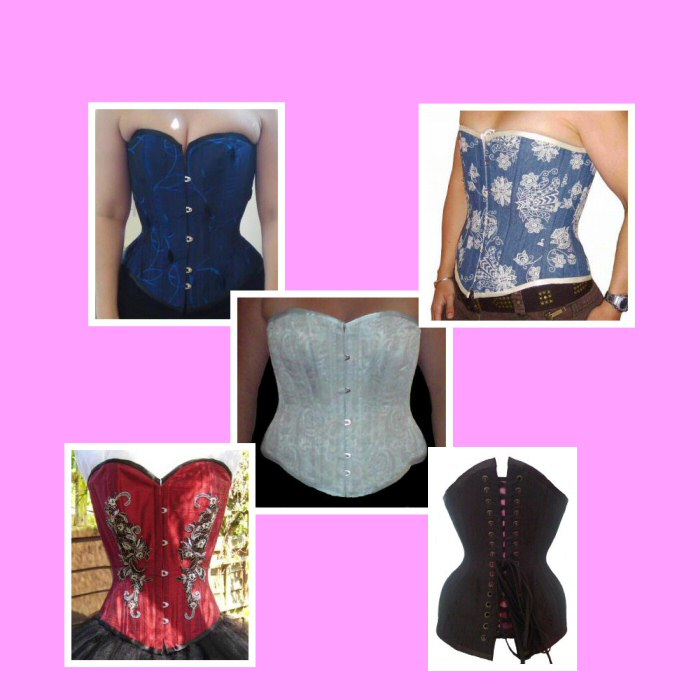 Digger: You are launching a new T-Shirts range – please tell us about those.
Lynndy Loo: The t-shirts came about because the VLL brand is growing stronger. I know that corsets, especially the bespoke kind, are a luxury item and in today's economy it's beyond some people's budgets. I had a lot of people asking if I did anything cheaper, as they wanted something from the brand but couldn't stretch to bespoke corsetry. So after months of research, brain storming & consideration, I decided to launch my own t-shirt range. There will be a new one released every six months. So for Spring/Summer 2012 the first VLL t-shirt will appear. The t-shirt will be white & have a design and corsetry-related slogan. They will also be numbered. I'm hoping to have them ready to go on sale for 15th March. Then, come 15th September, a new t-shirt will be released, this time a black shirt, and a new slogan. The numbers will start from 1 again. Once the 2nd t-shirt is released, the 1st will only be available until the stocks are exhausted. I won't be re-printing them again.
Digger: Please let us know more about the commissions service you offer.
Lynndy Loo: I offer all manner of commissions. Last year I completed a fully submersible mermaid costume for a client who was performing under water. It came complete with a removable monofin and the majority of the scales were stitched on individually. I also did a huge piece for a film, although I can't discuss the details as the film hasn't been released yet. At the moment, I'm on deadline for a burlesque dancer in Australia. This is a full costume, and will be her signature piece. From bridal to burlesque, film to stage, I'm open to most bespoke commissions, the more unique the better!
Digger: Why do you think that more generally retro, vintage and nostalgia is so increasingly popular with so many people these days?
Lynndy Loo: I think people are beginning to realise that whilst historically times gone by were a lot harder than they are today, people seemed happier. I think people have become disenchanted with the immediacy & disposable nature of things today. Certainly in terms of fashion, there is only so much you can do with clothing. If you think of iconic figures such as Christian Dior and his New Look (1940s) or Vivienne Westwood & Punk (1970s), these were trailblazers in fashion. Today we don't seem to have those visionaries. Fashion has become almost androgynous, whereas vintage fashion was designed more with a woman's shape in mind. A 50s circle skirt will suit more than one type of figure, today's modern skinny jeans, not so much. Women dressed up more in by gone eras, although I know a lot of women of today who will argue they had more time back then to do so. That's certainly true.
Digger: I understand that corsets are also popular with men. Please tell us more about that.
Lynndy Loo: Men & corsets - still very much an underground trend, but far more popular than people realise. There's often the assumption that a man who wears a corset is either a cross-dresser, or transgender and I have male clients who fall into both those categories. However, I'm currently waist training a gentleman who is neither. For him it's about creating a more masculine shape. He's got a lean body type & can't build his shoulders up. So by reducing his waist, he will achieve the masculine shape he's looking for. My pet hate are corset sellers who insist on squashing men into corsets made for women in the mistaken belief that it will give the male body more feminine shaping. If the corset is not shaped correctly for the person wearing it, then the desired outcome will never be achieved. Whether the body wearing it is male or female. I only make male corsets as bespoke items simply because the masculine reasons for wearing a corset are quite often far more complicated than that of the feminine. In order to draft the correct pattern, I need to know what the male wearer is hoping to achieve. I am currently working on a corseted male waistcoat for a gentleman who wishes to be corseted without it being immediately obvious under his suits.
Digger: What are your other retro and vintage passions Lynndy Loo?
Lynndy Loo: My true passion lies in historical costume. Particularly the Victorian era. I have a huge variety of books showing exquisite garments, most of them made by hand as sewing machines hadn't been invented. I can only imagine the weeks and weeks of labour one garment took to produce. The work & detailing are often incredible. I also love the sumptuous fabrics they had in abundance back then. A good portion of my day can be taken up searching for the exact right fabric for a job, often having to source them around the globe. I'm not so naive not to appreciate how hard such work was, in often poor conditions, but back then, the skill and mastery was breathtaking.
Digger: Who are your 'typical' customers, where are they coming from, what are their various motivations for wearing corsets and what customer feedback/comments do you get?
Lynndy Loo: The best part of my job is there is no such thing as a 'typical' customer. My oldest client was a gentleman in his 70s, my youngest a 15 year old girl. They come from around the globe and want corsets from bridal wear right through the spectrum to fetish wear. Some are occasional wearers, others daily wearers. Some can only lace down a couple of inches, others as much as 6-8 inches. I have a lot of female clients who are very slender & wear corsets to give them more defined shape. I have clients who wear corsets to slim down or change their silhouette to something they find more satisfying. Some of my favourite corsets have been made for burlesque dancers. Their corsets are often more elaborate & over-the-top which I love. Most of my clientele come either by word of mouth, or seeing an existing client in one of my pieces. A good example is, last week I completed a lovely understated black piece to be modelled at a shoot by my model, this week I'll be completing a real show stopping piece for a burlesque dancer & next week I'll be completing a leather underbust for a private client.
Digger: What would you say is special about the Vintage Lynndy Loo experience?
Lynndy Loo: I like to think that the VLL experience is very personal. I invest a lot of time in my clients & am happy to spend time getting the initial design right, then further time perfecting the fit of their toile. The toile, or mock up is what I use to make the final corset from. I'm very open-minded, and equally happy making the most understated piece to the flashiest. It's all about what the client wants & realising their dream.
Digger: What are the best and most enjoyable aspects of running Vintage Lynndy Loo?
Lynndy Loo: I love working for myself. In the 3 years that VLL has been running I have met some incredible people. From the most outlandish to the most reticent, I seem to attract the most colourful of characters. One of my favourite parts is that no two weeks are ever the same. The business is constantly evolving & every new job seems to bring a new horizon for me. But most of all, I'm just grateful to be back at work after being in a situation where it looked like I may never work again.
Digger: What are your plans for Vintage Lynndy Loo in the future?
Lynndy Loo: This year I plan to expand VLL in terms of the products we buy in. Doing this will increase turnover, but allow me to concentrate on the bespoke side of the business. This is also the year I release my first collection. Entitled Warrior Women, this collection is more about corsetry as art rather than clothing, and will be very different to anything I've done before!
Digger: What does the Warrior Women range consist of?
Lynndy Loo: It's about strong women, so they're going to be wearing a lot of armoured stuff actually. But in leather rather than in metal.
Digger: Going back to Knights of Old?
Lynndy Loo: I'm going to be doing a Valkyrie and she's going to be in a corseted leotard. I'm just finishing my latest piece for Australia. I'm doing a full bridal piece in white faux leather, a straightjacket linked by a corset which is quite bizarre, a Boadicea and Joan of Arc as well. With the Valkyrie in the corseted leotard I want it to be an exact replica and rather than having metal all over her it's actually going to be done in crystal. It will be about 10,000 crystals on this piece. Different shades of grey and black.
Digger: It's almost going down the works of art route, isn't it?
Lynndy Loo: That is what I want. One of my clients is even talking about making these in miniature for her collection of dolls. So I will be doing high-end items but at the same time I don't want to remove myself from the ground that I started from because I think everybody needs to keep hold of where they came from. By doing the collection, it allows me to have a completely different audience sit up and take notice. So I can say "This is me, this is what I can do if you give me the reins to do it with and the budget." I appreciate that not everybody has that budget but there are people out there that have. And, more importantly, there are performers out there that have and if you can hit that market then you'll never look back. I get a chance to test my skills and be fairly paid for it.
Digger: It sounds very exciting Lynndy Loo.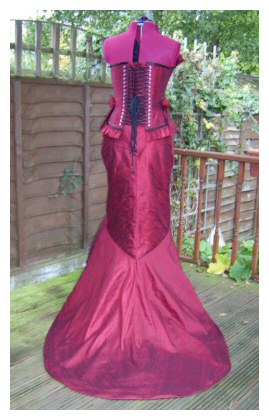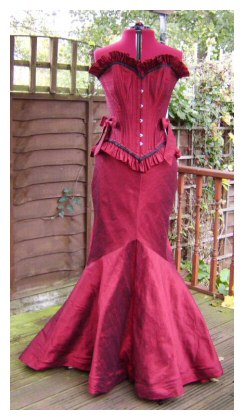 ---

Corsets, Costumes, Bridal, Accessories, Bespoke Services

Welcome to the home of sumptuous corsets and high end corset based costumes! Here at Vintage Lynndy Loo we strive to provide our clients with items made from the best materials we can source according to the job specification and budget.

From the simplest design to the most complex, we aim to work with our clients every step of the way as we bring to life your dream corset or costume. Our client base covers the burlesque industry through to the occasional wearer, the ardent wearer, the waist trainer and the bride. There is a corset for every occasion.

We don't just cater for the ladies either. We provide custom made corsets for the gentleman including those who wish to waist train.

Phone: 01502 580786

Email:
info.vintagelynndyloo@gmail.com (general enquiries)
shop.vintagelynndyloo@gmail.com (for enquiries related to our online shop)
www: Vintage Lynndy Loo