Iconic Rental - Vintage Airstream trailers for hire. Restoration, customisation and importing service.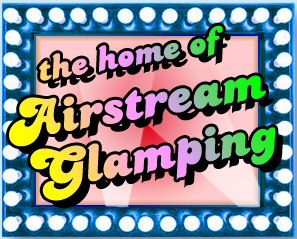 Digger talked to Sarah-Jane at Iconic Rental about these Airstream trailers, so evocative of the fifties rock and roll era and an iconic piece of Americana
---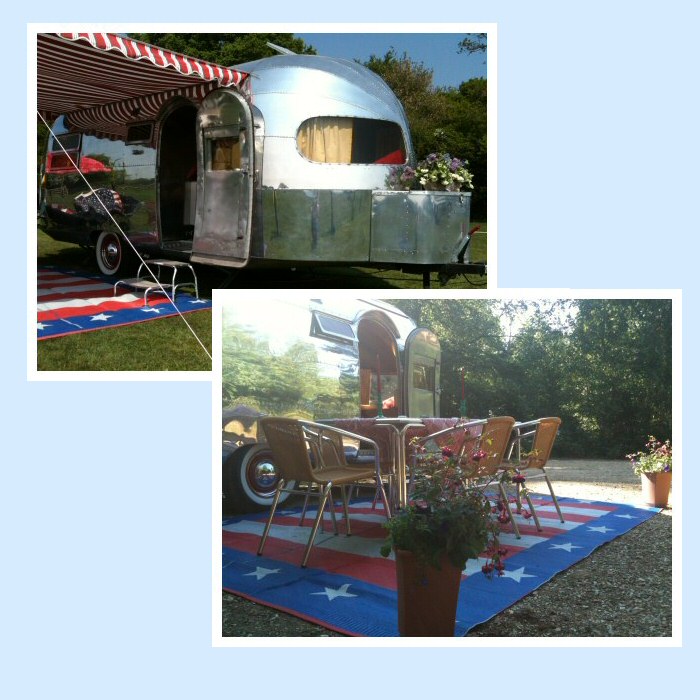 Sarah-Jane: Good afternoon. Iconic Rentals.
Digger: Hello Sarah-Jane. How's things there?
Sarah-Jane: Very good actually.
Digger: Are you bucking the trend?
Sarah-Jane: We are actually.
Digger: It's good, isn't it? There seem to be a few of my retro clients who seem to be very busy.
Sarah-Jane: Retro is very in at the moment, it really is. Even with the interiors. We're doing three conversions at the moment for clients and we're racking and stacking - we have three in line and they're all going for retro interiors.
Digger: Why do you think that is? I've been doing this since 20001 and I've noticed a steep upward curve in the retro scene.
Sarah-Jane: I think people want something a little bit different. They're mixing the retro with the quite contemporary. They've got all the modern fixtures and fittings behind the scenes to make life a little bit easier. But when it comes to the design element, the bits and pieces they want inside, for example the light fittings, the fabrics, the furnishings, they want to go back in time. And obviously they've got the retro look on the exterior so they want to bring it inside. We're just doing a trailer at the moment where we've got the polished aluminium inside the trailer as well, with the dome rivets, so we've actually brought the outside in. And Sanderson, for example, are doing a retro fifties theme with their fabrics. They did a trailer with one of their themed interiors. Sanderson jumping on the bandwagon is fantastic for us and the likes of or clients because the fabrics are more readily available rather than going to our suppliers in the States.
Digger: We noticed that with the vintage clothing as well. The high street stores suddenly had a retro or vintage look in their ranges.
Sarah-Jane: What goes around comes around doesn't it?
Digger: There are all these classic design from the past - do you think it's because the modern designs aren't there or so appealing or is it all just technology-driven these days?
Sarah-Jane: Today is driven by technology and people's iPhones and iPads and it drives them insane. I don't think they take time to step back and say "Actually, let's go back to basics with some of these things." I don't think we have got anywhere near, design-wise, to the fifties and some of the really quirky designs that came out in the fifties. The atomic designs.
Digger: Yes, the Festival of Britain stuff was great.
Sarah-Jane: There's nothing like it and we're in a bit of a boring age, I think. Computers and iPhones and all sorts of things. We need to get back to basics, get on the road and get inside your Airstream and enjoy life. Obviously we have got the mod cons behind the scenes in some of these Airstreams for those people who do want to plug in their laptops and have signals and so on.
Digger: You can hide them all can you?
Sarah-Jane: Yes, it's cleverly done.
Digger: Please tell us more about the services that you're offering. Repairs, restorations...
Sarah-Jane: There are two sides to the business - we've got Iconic Rental, which solely focuses on the rental of vintage Airstream travel trailers. We rent them for film, photographic, fashion shoots and we do a lot of corporate marketing - for example big companies that want to launch new products. L'Oreal, for example, used our 1950s-style beauty salon just recently to promote one of their new fragrances and it was the perfect marketing tool for them. Because from a marketing point of view they are a people magnet. So people will see the exterior of shiny aluminium and say "Wow, what's that?" and then they will get closer to the Airstream and that's fantastic. Then obviously the company that are marketing their product then have the chance to air their products to the people that have actually come to look at the Airstream. So it works very well.
Digger: How close are you to the Airstreams? Are you living in one? Do you take one around the country?
Sarah-Jane: My hobby has turned into a full-time business, but I used to live in an Airstream for eighteen months, even with my two children. And the Airstreams have been a part of my life for about twenty-two years now. I was one of the first people to import Airstreams into the UK at that time, nobody else was doing it and there were just a handful of Airstreams in the UK at that time. I was very much into the historic car world. My father used to race, so we were around the race circuits and that's the first time I saw an Airstream in the UK.
Digger: Was this Yank tanks?
Sarah-Jane: Yes. And obviously the Airstream fitted-in with our way of life being very much into the classic cars and American cars and bikes.
Digger: And rock and roll?
Sarah-Jane: Exactly, so it is all part and parcel and that's how I started. I brought the first Airstream in from the States because I wanted to holiday in one and I'd go to a lot of American shows and people would say "Wow, where did you get that from? That's so cool!" And then I was made redundant from a very well-paid job.
Digger: Yes, the same happened to me. I had a high-paid job in IT.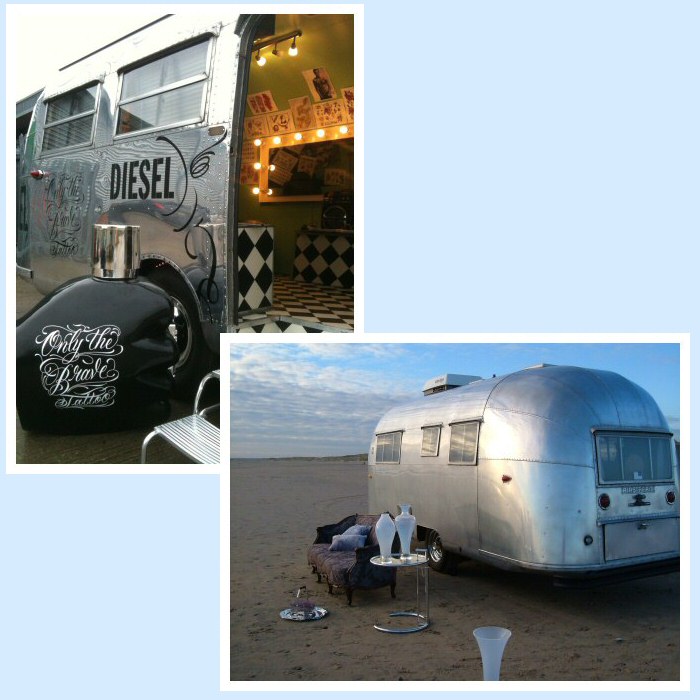 Sarah-Jane: But it's not about the money is it?
Digger: No, I enjoy this so much more.
Sarah-Jane: To have a job that is a joy to go to every day and you can pass on that pleasure to other people that have an Airstream that is actually built to be part of their family. It's quite a special thing to be involved with.
Digger: How difficult are the shells of these trailers to source? And how many do you have on the go at any one time?
Sarah-Jane: We've toned down the business a lot. We were averaging about seven Airstreams a week.
Digger: Wow!
Sarah-Jane: Exactly. You can imagine what chaos that sometimes generated.
Digger: You can't have had any time to yourself.
Sarah-Jane: No, you're absolutely right, so that's why we decided to get more into the rental of the Airstreams rather than the restorations and the imports. They are getting very difficult to source - the forties, fifties and sixties models, which are the most desirable are very, very hard to find in good condition. Original models I mean, and not the gutted shells that have been sat in somebody's backyard for twenty years.
Digger: Is there a temptation to do a complete repro one?
Sarah-Jane: We have thought about it and there is a company that do that but it's just not an Airstream and it hasn't got it. It hasn't got the charm or the history and every Airstream has battle scars here and there, so that's what is quite special about them. They've each got their individual charm and you can build on that charm for a bespoke interior for you and your family. That's the charming thing about them.
Digger: That's a nice feature on vintage vehicles where you can see the panels. That's an important part of the look.
Sarah-Jane: Every one is different and that's what I like about the vintage models. So personally I wouldn't be interested in doing a reproduction model. There is a company that do that, I don't think they're particularly popular and I don't think that they've much of a following. You've got two markets - people that want something new and then people that want something with a bit of charm and a bit of character.
Digger: There's quite a few caravan and trailer parks that have sprung up, so I should imagine they would be customers of yours?
Sarah-Jane: Yes, Glamping is the new thing. We supplied three Airstreams to Mawgan Porth and to Perry at Belrepayre in France.
Digger: There's also one up north - La Rosa. It's an environmentally-friendly site with some vintage stuff going on there as well.
Sarah-Jane: The Glamping thing is big at the moment because people haven't got the money to go abroad anymore. They're saving their pennies, or at least being very captious with what they're spending and holidaying in the UK is a good thing. For us and the Airstream rentals it's brilliant because there's nobody else that really offers what we do with regard to the trailers that we have on offer. We deliver them to the site as well. It could be a special occasion, a wedding, a birthday party. Anything you want, we'll deliver and set them up and even bespoke the interiors as well if the client wants something in particular. We give the client a crash course in how everything works and leave them be for the weekend. And it works really well.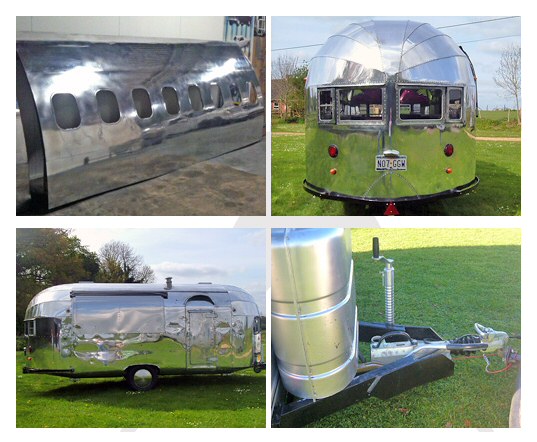 Digger: So you deliver the Airstreams to the client's location?
Sarah-Jane: Yes, nobody is allowed to tow them. There's lots of reasons why, the main being insurance. There's not one insurance company that will insure somebody to be driving a £60,000 Airstream on the back of their car when they've never towed anything before. I wouldn't let them out of my sight anyway, to be honest.
Digger: They're your babies. So you must travel one hell of a distance each year?
Sarah-Jane: Yes, we're on the road most of the time, the summer being the busiest of course. We've got a nice big American vehicle that runs on gas. So we're kind to the environment but we do cover a lot of miles each year.
Digger: You're very used to people turning heads.
Sarah-Jane: Yes.
Digger: It must be a great conversation starter everywhere you go.
Sarah-Jane: It certainly is. Wherever we go "Wow, look at that!" And when we're towing down the road, people are taking pictures and videoing and all sorts.
Digger: I don't suppose you could be doing this without The Internet?
Sarah-Jane: For the marketing of the business The Internet is the main place for our clients to find us. We also get a lot of word of mouth from existing clients. We seem to have a circle of clients in the Glamping scene and they pass the word so we've actually sold quite a few Airstreams and rented too to a growing market. So word of mouth is fantastic.
Digger: Where would we have seen your Airstreams on film and TV?
Sarah-Jane: They were in a fashion shoot for Next catalogue. L'Oreal, The BBC and MTV. Vintage TV - they're really nice guys. They did their launch at The Twinwood Festival and used one of our trailers.
Digger: I saw that. There were two or three next to each other there. Were they yours as well?
Sarah-Jane: No, they belonged to a friend of ours. Nicky.
Digger: They were 'attached' to a couple of vintage stalls.
Sarah-Jane: Yes, for vintage clothing.
Digger: They looked gorgeous.
Sarah-Jane: One was an Airstream but the other was actually a Jetstream.
Digger: I wanted to have a nose inside but obviously they weren't keen on people walking around inside their baby.
Sarah-Jane: Some people will walk off with things. It's a bit sad really.
Digger: Outrageous.
Sarah-Jane: That's the world we live in I suppose.
Digger: So what are the best and most enjoyable aspects of running Iconic Rentals?
Sarah-Jane: I think just putting a smile on people's faces when you turn up and they've had a lovely weekend in one of our trailers. And when they've written lovely notes in our visitors book saying that we paid attention to every little detail and they've had the most fantastic weekend. And their faces when they come to collect their trailers when we've completed the conversion work for them. So, it's for us to pass on that joy for people enjoying the Airstreams as much as we do.
Digger: I should imagine the design and planning process can be fun as well?
Sarah-Jane: Yes, the majority of our clients turn into friends at the end of the day because we spend a lot of time together. With us trying to get inside their heads and exactly what they want from the design pint of view. Yes you do end up communicating a lot with them and seeing them a lot. It's a whole new concept to them and a learning curve. We will even spend time with them at a show or at a campsite so they get to know their trailer with us on hand as well if they need it.
Digger: These are trailers and not caravans?
Sarah-Jane: Yes, I hate the word caravan as it conjures up images of flimsy English holiday caravans.
Digger: You also offer props and a beauty salon as well?
Sarah-Jane: Yes, we have a trailer which is a 1948 22 foot Airstream liner which is believed to be one of the oldest Airstreams in Europe. They used to call them Land Yachts in the sixties, which was quite a grand title. We have converted it internally into a 1950s beauty salon and it's been at Goodwood for quite a few years with the girls in dainty little hats and quirky little outfits. When we were at Goodwood, the salon was used backstage for the stars and Sandie Shaw got in it and she said "I don't want anybody else in it, I want it for my own use." Goodwood put on a very good show and it always generates a lot of business for us.
Digger: What are the plans for the future Sarah-Jane?
Sarah-Jane: We've got two companies - Iconic Rentals and Iconic Airstreams which is the website which is actually going to launch very soon. We just wanted to split the two because people did get confused that they can actually buy Airstreams from us and have conversion work done, or if they have their own Airstream then they can have the conversion work done by us. So having the two sites makes it clearer for people
Digger: You still continue to ship in from the USA?
Sarah-Jane: Yes, we average one a month coming in from the States. We're quite happy ticking along in our wonderful environment we have here. We actually enjoy life rather than working 24/7 and not seeing the light of day. We are very lucky in what we do, it will never set the world on fire but I don't intend for it to be so. We see so many people, thoroughly enjoy what we do and it's a passion for me and Daniel. He's original into Hot Rods and when we met we had the mutual interest in Americana and rock and roll and so on. Now we spend every minute together.
Digger: And it works?
Sarah-Jane: Absolutely.
Digger: That's' good.
Sarah-Jane: Daniel is very talented with what he does - the fabrication work and the woodworking skills that he has and the plumbing and electrical skills - he can turn his hand to anything.
Digger: Do people need to do much preparation or planning before they come along to see you about a conversion?
Sarah-Jane: Not really. The majority of our clients come to us not knowing anything - we are the experts in the field and that's not just blowing our own trumpets. We were the first to import Airstreams into the UK and we really know the ins and outs of the Airstreams. So we have a background knowledge from all the vehicles and we can do anything the client wants. The majority come to us with an open mind and we go through things like how many people it needs to sleep, is it for touring or static and we go through all the options. Will they be using it or renting it out? Is it an extra house? A lot of people have an Airstream because they can't afford an extension on the house or can't get planning permission, so they have it as a den or an office or for all sorts of reasons. They don't really need to know anything - just bring their thoughts and ideas along. But if somebody came with a mood board and said "Actually, this is exactly what I want..." (Both laugh)
Digger: Do your work for you? But that's very unlikely.
Sarah-Jane: Exactly. That would never happen.
Digger: Your passion for these Airstreams and what you're doing really comes through.
Sarah-Jane: Thanks. The conversions we do the client gets a weekly progress report with photographs, spreadsheets of where the money is going and what's been done on a weekly basis.
Digger: And so no surprises. Sounds perfect. Well, thanks Sarah-Jane for letting us know about Iconic Rentals.
Sarah-Jane: Thank you David.
---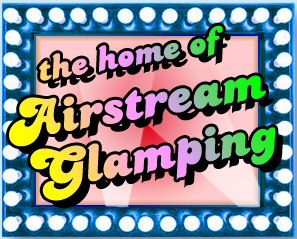 We at Iconic Rental have over twenty years combined experience within the Americana industry, with Iconic Airstream Travel Trailers, vehicles, motor bikes and memorabilia.
A full custom-build, restoration, sales and polishing service are available.
We can provide a unique Iconic Airstream for many different types of events, from corporate to private.
Iconic Rental can create a memorable experience for all involved, we can provide packages for your summer getaway, romantic weekend, or just an escape to the country.

Tel:
01489 877806
07786 725343
07810 455425

Address:
Iconic Rental
The Lambing Shed,
Bushey Down Farm,
Droxford,
Hampshire
SO32 3QW
www: Iconic Rental