Halcyon Classic Parts - the highest quality British-made products for Classic Motorcycles and Vintage Cars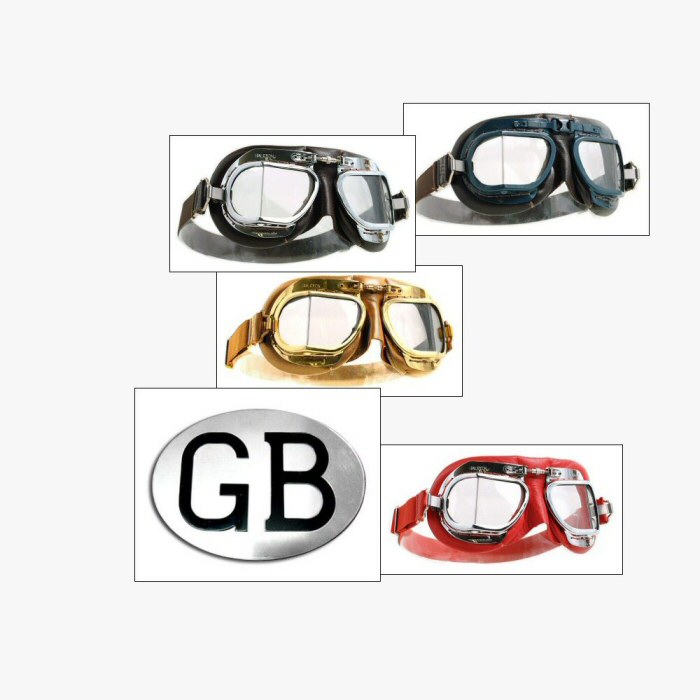 Digger talked to Andy Anker who runs the family businesses Halcyon Classic Parts and HDM. The core business is founded on their keystone products - goggles, helmets and mirrors. These products are popular with aficionados of classic motoring and aviation - Halcyon are recognised for their quality and design.
---
Digger: Please tell us something of your background and the background to Halcyon/HDM Andy.
Andy: Halcyon Accessories as it used to be – we were a manufacturer of a range of our own products – The Stadium goggles, The Mark goggles, the handlebar mirrors and the licence holders that you see on the website today. So it was a family run manufacturing business. We bought all the tooling from Stadium in the early eighties.
Digger: How long has it been going for?
Andy: About forty odd years.
Digger: You're bucking the trend with manufacturing in this country, aren't you?
Andy: It's a traditional kind of manufacturing, with the old press tools and the old machine shop lathes. We haven't really changed our direction since the eighties – we've had some ups and downs but have now diversified into other areas. We've got our retail business, which is a fairly recent bolt-on of about four or five years ago. That has gone from strength-to-strength. We have a fabrication and insulation side where we do things like fire escapes, street furniture, security fencing and stainless steel surrounds.
Digger: So you're really diversifying?
Andy: Yes, there's four or five facets to the business. We do work for BMW on occasions and sanitation companies. It's a group of areas where we operate and when one has a slump then the others pick up and that's how we've managed to keep our heads above water for the past five years.
Digger: That seems like a perfect rationale for a business.
Andy: It has worked for us – when one side of the business goes down it does effect the others. You have to switch your resources from one area to another as and when you can.
Digger: Do you cross-train?
Andy: Yes, we have people who move around and you have to be as flexible as you can. We're trying to open up new areas of business as well. The building industry side of things. And we're always looking to expand into new markets and new products. It's all about finance and we've had a couple of loans from the government, which have been greatly welcome. And we've invested in areas of the business and streamlined things - we purchase a lot of items from China and India now which has saved a great deal of money. Not because we wanted to but, to be honest, there were so many companies going bust in this country like Platters and Casters so you couldn't find a company that could do it for you. It's inevitable you have to go abroad.
Digger; Does retail include the online side of things as well?
Andy: Yes, our Classic Parts is the mainstay of what we do and we've also got a Scooter website which is still in its infancy. We're waiting to try and launch that properly with a load of new products and an advertising campaign and try to get some full-time staff on it. Then we've got a dealer site, where we do our trade and wholesale management of our own products through our 185 customers worldwide. We've got about 95 customers in the UK who take our products on a wholesale/trade basis and then we've probably got about another 75 customers internationally – USA, Europe, Australia and they're just sprinkled around, sparingly if you like. And we capitalise on this where we can. We keep getting more and more new customers on a regular basis and we're slowly expanding.
Digger: Are you trying to get into the BRIC countries?
Andy: Yes, Russia is of interest and China and we've got some good contacts in India. Brazil and Cuba too.
Digger: We've seen a lot of changes in our lives, haven't we?
Andy: Who'd have thought I'd be promoting and trying to sell my products to China when you think they can probably make it for a third of the cost of what we can. But it's just not viable for them to make it like we do so we've got a market over there – it's a fashion statement as well as a practical thing for motorcycles and the aviation industry as well which is another area we seem to get business from.
Digger: The success seems to be because you have such a diverse product range.
Andy: That certainly does help.
Digger: You've got some best sellers but some other stuff as well.
Andy: Yes, the mainstays, like the Mark goggles - we've expanded up to 25 or 26 varieties and we've done additions and enhancements to them and to the packaging and re-branded them. Then we have the bar-end mirrors and the new scooter mirror which is a hot product and we just can't make enough of them to supply. We have plenty of work and plenty of opportunity – the challenge is financing and the logistics of producing using British manufacturers.
Digger: You're almost like an island on your own now.
Andy: It does seem that way at times. We've had a great relationship with our bank and our bank manager's done us proud. So I'm hoping we're going to continue that great relationship and possibly take on the acquisition of a company and see if we can take things to the next level and secure the company's stature, as it were.
Digger: It's the old cliché – if you can do it in times like this, what's it going to be like when the market is better?
Andy: It's funny, because if you're in a strong position now, then now is the easiest time to do it. There are companies out there who are bending over backwards to be bought out instead of going bust. Not in a cold sense but you can hammer people down on their prices because they want the business.
Digger: What are your other retro and vintage passions Andy?
Andy: I've got a classic bike although it's not recognised as a classic. I managed to put it together and hope to get it on the road for the summertime and then when that comes around I'll take it up to Stafford and pass it on to someone who wants to enjoy it. Perhaps I'll look at buying the old Triumph Bonnevilles or something retro like that. I'll put that in the garage and use that at weekends with the missus on the back. Also I'm interested in scooters. I like the Goodwood Revival – I missed it last year but I'd definitely like to get over there for the coming event and what I would like to do if I can… A friend of mine has got one of the E-Type Jags but it's a classic. I've always been an E-Type fan and I went to a car show where there was a particular E-Type Jag and I can't believe he drives it around locally in Enfield. It's worth about £60,000 – I'm not sure if it's got the special engine but it's a real beauty. It's totally original – I don't know if it was owned by somebody special or if it's the model that is special but it's worth an absolute fortune. There's another friend of mine had an E-Type project and I'd like to go along those lines. Find an old E-Type and tidy it all up and take it out on Sunday afternoons and off to the car shows. I think that's where I'd like to be in the next five or ten years.
Digger: You might be interested in The Retro and Classic Car Show in Essex in June. They attract some superb classics from the early 1900s through to 1970.
Andy: Thanks – I'll take a look at that - I appreciate that. I love to see the cars at the Enfield pageant – the sports cars like the Jaguars and even the old Masseratis and older Ferraris.
Digger: What would you say is special about the Halcyon/HDM experience?
Andy: I think it's just the quality and the concept of our engineering – the tooling that we use and the processes that were invented in the seventies and eighties and even going back to when the tooling was conceived in the thirties and forties when Stadium were around. It was the attention to detail – we've got a couple of threading machines that are probably the only two in existence in the country and they thread our licence holders in such a way that you just can't replicate nowadays on modern technology. The way they mesh together is second-to-none. The things like the mirror heads – we go through task after task – there's probably at least six operations on our mirror heads to curve the rims over so that the seals that fit between the glass are as narrow as possible instead of being thick and ugly.
Digger: You talking about me again Andy? (Both laugh)
Andy: I wouldn't be so presumptuous!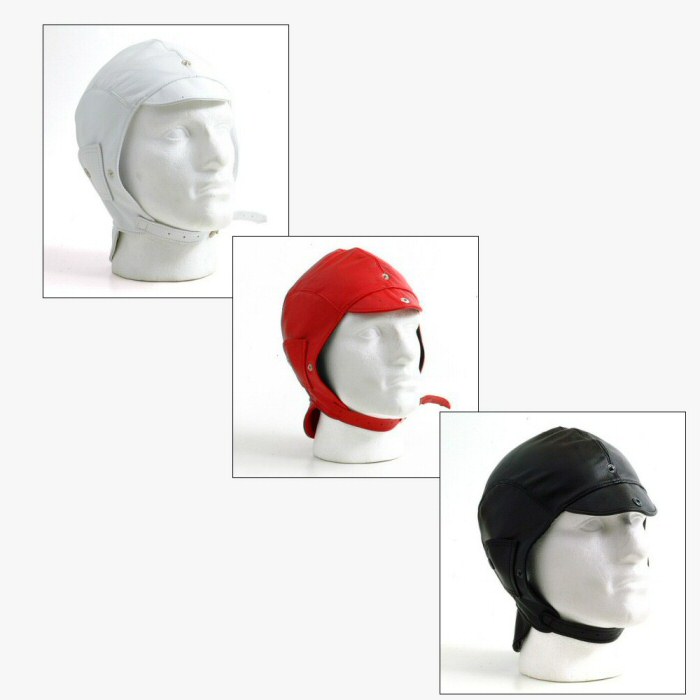 Digger: What are the best and most enjoyable aspects of running Halcyon/HDM?
Andy: I think the enjoyment for me and also for my father and my brother is the engineering. We get a lot of pleasure out of the engineering process and making these things. We're a family of engineers and we like to make things and get the feeling that when we've produced a product or added a product or created one and it goes out of the door then it's an achievement. Oberon are another manufacturer of good British accessories and he's a good friend of mine over there – Steve Street, and again he's a motorcycle enthusiast but an engineer at heart as well and he takes pride in what he produces. I think ultimately that's what we do. As hard as it is to continue, it's something which I get pleasure out of. I'm not sure I'll be able to say that in another ten or fifteen years.
Digger: Have we made a big mistake in this country losing our manufacturing and engineering capabilities and going over to service and finance?
Andy: I think where we've gone wrong is the mentality of investing in our manufacturing side. If we'd been given access to investment funds ten or fifteen years ago, or more, then our set-up would be a lot more advanced and efficient and the R&D side of our businesses would have been allowed to flourish more. Instead of battening down the hatches and banging away on old machines just to make a crust.
Digger: I saw a huge roll-call of names from the motor and motorcycle industry when I went to Coventry Motor Museum, many classic names and 99.9% of them have gone. It seems like sacrilege.
Andy: It is sad because there are some things that we do very, very well. It is sad when, to sustain our market for things, we have had to go to places where they've not got quite the same attention to detail as we have as British manufacturers. The Germans do it very well and even the Americans do it better than us so we've lost a sense of what we are but we've picked up in other areas and it's never too late. They say there's going to be a revival and I tend to think that's probably true.
Digger: Every country has its day.
Andy: Yes, the most interesting at the moment is Brazil – a fascinating country and I'd like to spend some time over there and find out what they're up to.
Digger: What are your plans for Halcyon/HDM in the future?
Andy: The three family members of the firm need to collaborate and focus on where we want to be in ten or fifteen years and what we want to do with the rest of our working lives. It's a question of creating a vision, I think that's the keyword, of what we would like to achieve in our business and that may not necessarily be building a retail empire although that would be great. We talked about developing the building trade side of the business and seeing where that may lead and possibly keep an element of the manufacturing and the assembly. But the things we can't do efficiently will have to go abroad.
Digger: It's easy to get distracted because you are so diverse and you want to do everything but sometimes you have to stand back and see what you should be concentrating on.
Andy: I think that's the negative side of being so diverse. It's certainly got its positives – the stability when things are up and down is one but if you can't focus on one particular area then you get trumped by the other sides and it's two steps forward, one step back. If you choose the right area and focus your efforts and develop that side it might really pay dividends. With us, my feeling is that the retail side is the way we should go. My father and brother have different ideas entirely.
Digger: Do you all get on?
Andy: We have our moments.
Digger: You don't need Alex Polizzi, The Fixer, going in to sort you all out? (Both laugh)
Andy: No. That would be bad. (Both laugh)
Digger: You're doing a really good job there Andy. You're flying the flag for Britain, you're keeping our industry going, you've got some great, really well-made vintage products there, so well done you.
Andy: We are quite proud of some of the things we're doing and we are trying to develop them but it's nice to get recognised. It would just be nice if the government were to stick their head up and say "We'll give you a nice business rate holiday for 12 months to assist you." Or reduce PAYE or something to make it a lot easier. That would be nice. Nobody in government sees the woods for the trees, do they?
Digger: Well, it's only people like us Andy.
Andy: (Laughs) Yes, and we can't do anything about it.
Digger: Well Andy. Thanks for letting us know about the business and keep up the sterling work.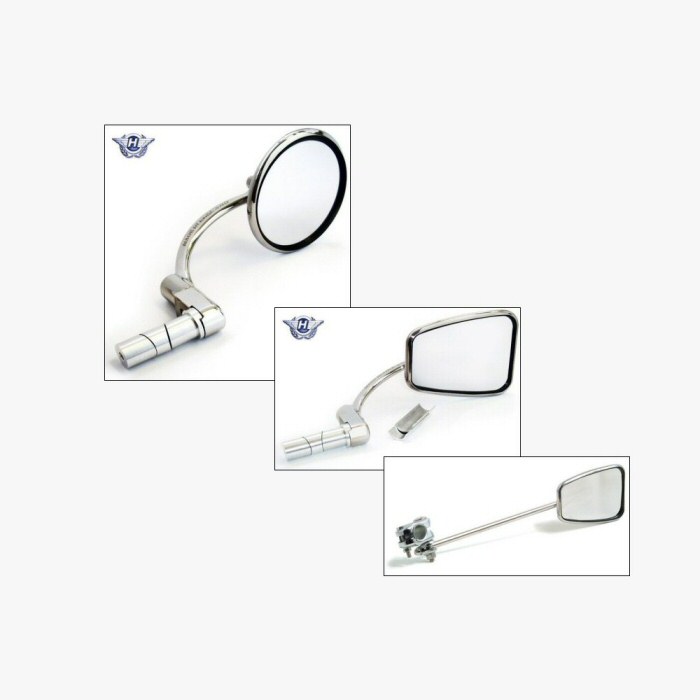 ---
Halcyon Classic Parts
The highest quality British-made products for Classic Motorcycles and Vintage Cars
Goggles, Classic Goggles, Modern Goggles, Classic Motorcycle Products, Motorcycle Mirrors, Motorcycle Accessories, Motorcycle Goggles, Classic Car Products, Classic Car Apparel, Classic Car Mirrors, Classic Car Accessories, Classic Car Headlights, Classic Car Universal Parts, Aviation Apparel, Aviation Goggles, Flying Helmets, Leather Gaunlets, Aviation Leather Box-Sets, Classic Scooter Products, Scooter Goggles, Scooter Mirrors, Scooter Accessories, Lambretta Helmets

Welcome to Halcyon Classic Parts, an online store built around the highest quality British-made products for Classic Motorcycles and Vintage Cars. Specialising in Chrome and Stainless Steel classic accessories and the finest range of leather aviator and motorcycle goggles on the market.

With products still being handmade in England using traditional methods, Halcyon accessories have a unique and visible distinction in quality which makes them the right choice for any owner who takes pride in their Classic Automobile.

Halcyon Design and Manufacturing Ltd have been manufacturing and selling high quality Classic Accessories for 25 years. Many of the Classic Parts we make are manufactured to the same specification as the Original Products from Stadium.
01992 537546
www: classicpartsltd.com