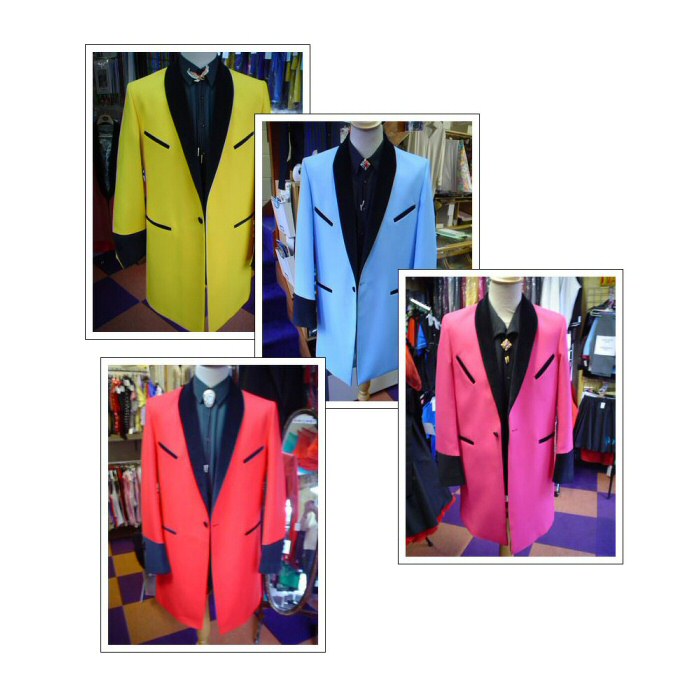 Digger: Hello Andy.
Andy: Hello David.
Digger: Can you please tell us a bit about your background Andy?
Andy: Iím originally from the motor trade. I'd always had an interest in all things retro - the vehicles, the phones and so on. With the fifties and sixties, any era in fact, I find the clothing, the cars and the current affairs sort of represent an era. I love the fifties and sixties in general. I'd also studied things like The Great Train Robbery and the criminal element at the time - that was something I'd studied at school as well.
Digger: Were you also familiar with the lives of The Krays and The Richardsons?
Andy: Yes, in fact I know Charlie Richardson because, in between the motor trade and what I do now, I actually ran a security company for a number of years.
Digger: Ah! There's a rule that there's often a fine line walked between the police and the criminals. Did you see that?
Andy: I would tend to agree with you having witnessed it first hand. I was a qualified close protection officer - personal protection and that sort of thing. And one of the tours that I'd done was with a guy who had written a book about the underworld and so I got to meet a lot of those people. We did the security for Tony Lambrianou's funeral. I think if you're looking at an era, then something like the Train Robbery was groundbreaking at the time in the same way as Brink's Mat was in the eighties. When you think of an era you think of the music and what was in the news at the time and they are the memory joggers.
Digger: That's true, and also the fashions as well. Which can include things like photography and design and so on.
Andy: Yes.
Digger: What sorts of cars appealed to you?
Andy: I've always been into vintage and classic cars, and in the days when I could afford to, I used to restore old Jaguars.
Digger: You are reminding me of The Sweeney with all this talk of The Krays and Jaguars!
Andy: If I was to run you through a list of cars I've had... I must admit I've been terrible - until we took Unicorn over - I am a bit of a hoarder, I'm afraid. For me being in the motor trade, it was vehicles and we got to the point where I had restored several Jags over the years. And Triumph Stags and others. I said to Becky, my partner, that now that we're running the business we're just not going to have the time to do all of this. I've got a big collection and we had a big clearout - you'd cry if you saw some of the stuff we got rid of. Early XJ Jaguars and a Triumph Stag and a very late Ford Capri, a Dolomite, a Mark II Cortina and those sorts of things that I kept meaning to get around to. They all did go to good homes. I said to Becky "I've been doing these cars for twenty years now - but we've got Unicorn now and there's something else to concentrate on" so I said "Pick one car that you really like and I will restore that but that's the last one that I'm going to do." So I'm just in the early stages now of doing a 1959 Cadillac Sedan Deville, the one with the big fins on.
Digger: Lovely.
Andy: Not only are we keeping it for ourselves but when it's finished that's going to be the Unicorn promotional vehicle. I'd like to keep it as original as we can and it just fits in so nicely with what we're trying to do.
Digger: Of course it does Andy and you just keep telling yourself that. (Both laugh)
Andy: It's my justification anyway.
Digger: Please tell us more about Unicorn. What 50s products are on offer?
Andy: We do ladies and gents. The larger part of our sales is the gents - things like the drape jacket, which is our number one seller. We took the business over from a lady who started it about 27 years ago and she'd run it to the point where it was providing a full income for her and her two daughters. She reached seventy and decided that she wanted to retire. Their initial plan was that they were going to sell everything off to retire. Becky and I were ex-customers and it quickly became apparent to us that there were a lot of items that they did which we weren't going to be able to get anymore. Obviously, that was a source of concern for us and quite late in the day we were looking to do something. We approached Debbie, who was the daughter, about the possibility of taking over rather than the business closing down altogether and seeing what we could do with that. That was 12 months ago and they were quite a way into running it down. So we're now on the uphill trying to get the stock levels back to where they were with the previous owners.
Digger: And stamping your mark on it?
Andy: Yes, and we're trying to emphasise that it is relatively young people who are running this because I think that helps. There are a couple of companies around but we're finding a lot of the people who get into this era are not just people who remember it the first time round. We're finding a lot of teenagers and early twenty-somethings that are really interested in this and we find that quite encouraging.
Digger: To be quite brutal, a lot of the people who remember it first time around are getting fewer and fewer, aren't they?
Andy: If we had to rely solely on those people who remember rock and roll from its infancy, and without wishing to sound unkind, we would have something of a shelf life and that was something we initially wondered about. But we quickly realised that it wasn't just the original people who were into this.
Digger: Why are youngsters being attracted to the fifties rock and roll?
Andy: Weíve thought about this long and hard and I think there was a certain innocence about the era which people find quite comforting compared to the era we're living in now. And if you look at sorts of things that my kids are listening to now, they're not going to look back at it in forty or fifty years time and say "Ooh, classic"- there's a special something about the rock and roll which has meant that it has endured.
Digger: Could you have been doing this for the sixties as well because you said you had a passion for the sixties?
Andy: Yes. The possibility is there and what we've decided to do, because there are a couple of other companies that are involved with similar products to us... We sat down and thought about this when we first took over. We decided that, rather than make ourselves the same as all the others - there's one that does fifties, sixties, rockabilly, country and western - so rather than be a jack of all trades we wanted to remain a master of just the one, as it were. Unicorn has been running as a designated fifties and rock and roll style business for over twenty years and it was a working formula that we didn't consider needed fixing.
Digger: Sounds good to me. If a youngster finds all this sort of thing appealing and is thinking of getting into the fifties scene, what advice would you give?
Andy: It would always be worth realising that although it's a niche market they're certainly not on their own and that would encourage them a great amount. There are probably more young people that are interested in this sort of thing than would be prepared to openly admit it. But if they went to one of the events or concerts and had a look in the audience, they would realised there a lot of people of a similar age that are into it. It's one of those things nowadays, and particularly for the younger kids, anything that is perceived as different then sometimes they're not quite so confident to advertise the fact are they?
Digger: No that's always been with the way with youngsters - they want to rebel and be different yet in doing so they tend to conform to groups and styles.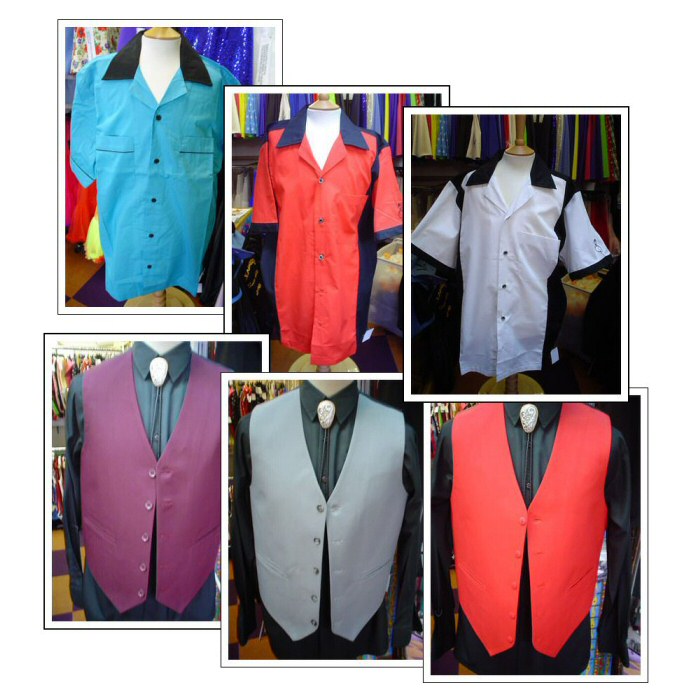 Andy: I do think certainly there are a lot that are interested and it's a safety in numbers thing. Once people realise that they're a lot more confident about getting involved. It's also very importantly because the whole rock and roll period, you've got to remember, was that whole transitional period between the years after the war when everything was so rigidly controlled and straight-laced. Rock and roll and the fifties era was a very important part of the development of our society and our country.
Digger: It was the first time we'd had a youth culture.
Andy: Thatís right. Thatís the reason why itsí so important for the development of our society as well as just the clothes and the music. It all forms an era that was important not just for us but for other countries.
Digger: Where are your customers coming from Andy?
Andy: Our customers are from the UK but also places like Germany, Holland and so on because weíre finding theyíre not able to get hold of the items as readily. There arenít that many places left doing them because the issue that we have here is, because this is a niche market, itís not necessarily something which booms when thereís a recession on. Itís a non-essential item Ė itís not as if weíre producing food. So in order to make it work, we decided that I would keep my job on anyway and Becky my other half has also done so. This is a part-time business which weíre trying to turn back into a full-time business. Itís important to us to keep the business viable and thatís the reason why we run it from home, for instance, rather than having a shop which we couldnít afford. Thatís why a lot of niche market businesses are falling down - they canít afford to stay open on the revenue theyíre generating. The only way we make it work is by making it a part-time business that we're able to do in and around our regular work from home.
Digger: You certainly couldnít be doing it without The Internet.
Andy: No. The one decision we did make Ė the previous owner had a shop up in Nottingham. Retail premises up there would be about £450 a month but where weíre based weíre looking at three times that for something similar. A business of this nature just will not support that, which is why The Internet is absolutely vital because we wouldnít survive without it.
Digger: I love the irony of so many retro businesses taking full advantage of The Internet and new technologies.
Andy: Yes, weíre lucky inasmuch as we took over a very well-established name Ė Unicorn. People recognise it. If you go to rock and roll shows and talk with people they will recognise the name and the product straight away and that helps us. But that would not be enough on its own in this day and age. We do get people coming to the house to try things on, but we wouldnít see any of the business that we have done from Norway, Denmark, northern Ireland, the Isle of Man and even California without The Internet. The long-term plan is that we want to make the business viable enough to move into a retail unit somewhere in the Oxfordshire area.
Digger: And give up the day jobs as well?
Andy: That would be lovely. I work from home already so I can balance the two and if the phone rings with a Unicorn enquiry Iím usually able to handle it there and then. Thatís the sort of thing that helps us to make it work where somebody else might not be able to.
Digger: Do you do the Shows and Festivals Andy?
Andy: The previous owners certainly did because they attended the Hemsby rock and roll weekend and The Butlins and so on. When we initially took over, we simply didnít have the level of stock left to be able to do that. Whether or not that will be possible by showtime this year Iím not entirely sure. But what I wouldn't want to do is only turn up with a limited amount of stock when I know that weíre capable of so much more for the sake of waiting twelve months. Iíd rather people see the whole lot once weíve got it up to its full extent. I would like to try a couple of the smaller festivals this year but the long-term plan includes going back to Hemsby and so on. We are in this for the long run and so if it takes a little bit of time to get things right then so be it.
Digger: Itís good, isnít it, that there are people like you that are prepared to do this sort of thing and keep things going?
Andy: I donít think this is just something you could do as a job Ė you have to have a passion for it because you would get fed up with it very quickly otherwise.
Digger: What are the most enjoyable aspects of what you do?
Andy: I enjoy being involved with it because we meet people that we perhaps otherwise wouldnít have done. We enjoy walking into a concert and have people that we have never met walk up and say ďYouíre the guys from Unicorn. Iím so-and-so. Nice to meet you.Ē Because they'll have bought a jacket or something like that and itís almost like walking into a room full of friends, even though a lot of the people there you havenít met. We went to a concert in Ilkley in Yorkshire Ė it was Showaddywaddy and it was Dave Bartramís last concert. Afterwards, we stopped at a kebab shop, a guy walked in wearing one of our shirts and we had a bit of a conversation with him and he said ďI got it from Unicorn.Ē And when he told me his name the name rang a bell. Iíd never met him before and I remembered heíd had a bootlace tie as well and itís just nice, particularly for me where Iíd worked in security for years and all everyone wants to do is shout and swear at you. To come into this genre, where everyone is pleased to see you and pleased to deal with you is like a breath of fresh air. Even on the very, vary rare occasion if you sell something to somebody and itís perhaps the wrong size or something like that.
Digger: Itís also how you handle it Andy. You can even turn a negative into a positive if you deal with it right, as you know.
Andy: Because we donít have the shop facility for people to try things on Iíve always said to everybody "If you get something and it doesnít fit or if you just donít like it when it arrives then just pop it back to us. I will, without any quibble whatsoever, replace it for something else you do want or I will replace it no questions asked." I think people like to have that protection if they canít physically try something on before theyíve paid for it. Youíve got to be fair with people Ė itís a niche market and not many of us around and itís not worth falling out with people over something as silly as that.
Digger: And realistically, because it is a relatively small community the news travels fast as well.
Andy: Yes it does.
Digger: Andy, Iím looking forward to meeting up with you.
Andy: Likewise.
Digger: Iím sure our paths will cross soon.
Andy: Your website is fascinating.
Digger: Thank you.
Andy: You donít realise that a lot of these people you interview on the site are still working. The guys from Showaddywaddy for example Ė we actually supply all of their stage gear. The jackets, the shirts Ė everything.
Digger: I always wondered where they came from.
Andy: Itís all from Unicorn and they are all such a wonderful, approachable bunch of guys. And one of the best things about what we do is meeting people from all walks of life that we probably wouldnít meet in ordinary life.
Digger: Sounds like you're onto a winner Andy. Thanks and all the best.
Andy: Thanks David.