Memories on postcards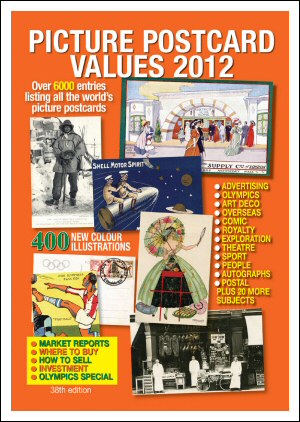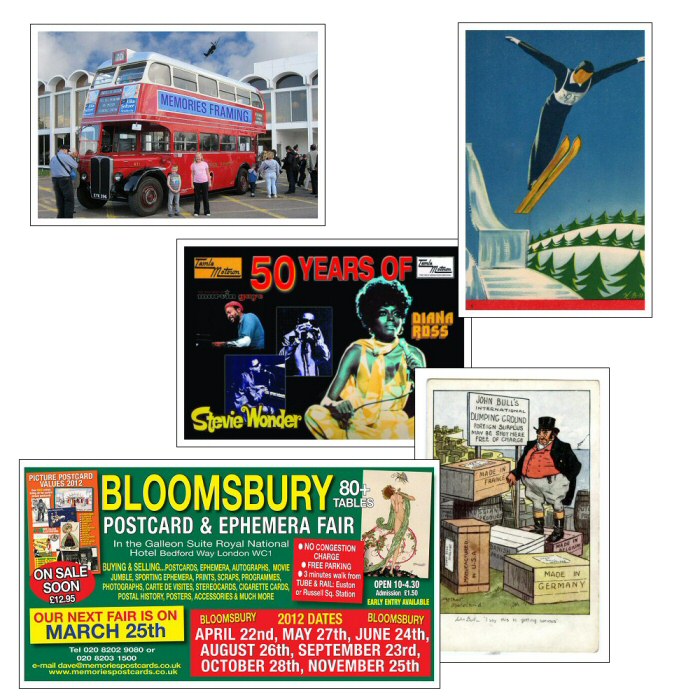 Here Digger talks Dave at one of Britain's most established postcard and ephemera companies, Memories Picture Library.
The archive specialises in postcards of London and the suburbs but virtually every geographical area and genre is also catered for, from aviation to zoology.
Dave also runs the regular Bloomsbury Postcard and Collector's Fairs and Memories publishes the authoritative Picture Postcard Values guide.
---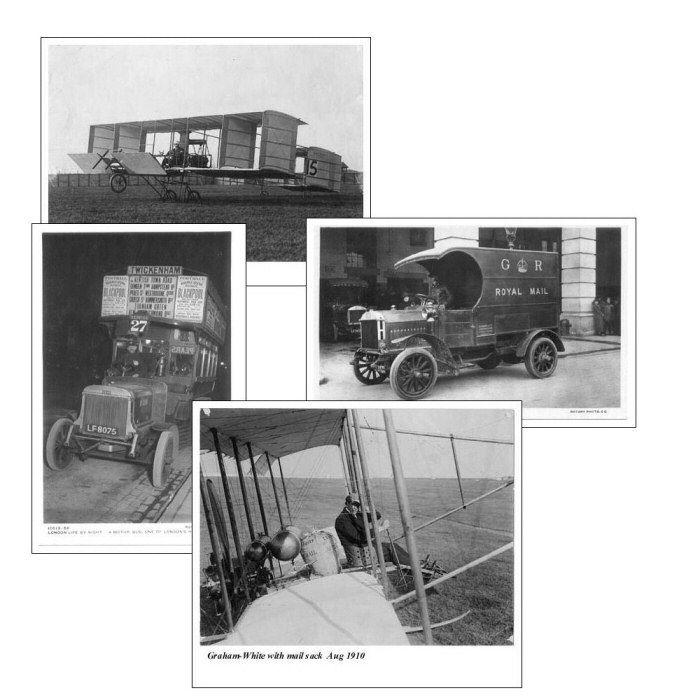 Transport postcards
Digger: Hello Dave. Can you please tell us the background to Memories?
Dave: We started thirty years ago. My father started the business in the seventies, doing a collector's shop and picture postcards in a unit in Portobello Road and also a little shop in Hendon. In 1981, we got our first shop in Bell Lane Hendon –The Memories shop started then. We also published local history books on Hendon, Hampstead, Golders Green, Finchley.
Digger: Highgate?
Dave: Not Highgate. It was there to be done and we've got loads of material on it – it would have happened…
Digger: I love that part of the world.
Dave: …Yes, it's lovely. We did Hampstead and were going to do Highgate and then time went against us – we didn't have a strong collection in the early days although we did later on. The books are still in print actually.
Digger: That says something good about them then.
Dave: We've done some books for Southern Publishing. Then we did local history pictures, where we reproduced the old postcards as photographs which we frame up for people. In the eighties, we were doing a lot of pub refurbishments and provided all the pictures on the walls, the mirrors and things. And that went through to the nineties as well but then dried-up a bit lately because there's less picture work and, well, less pubs. We still do bits and pieces for pub groups – research and finding local pictures and pictures of the pub in the old days, streets nearby and so on. We still collect on all areas.
Digger: Is this London-centric Dave?
Dave: Yes, London and the suburbs. North west London is our strength but then we cover all of London and the whole country in a smaller way. London north west is where we're from and where our interest is.
Digger: In the scheme of things where does Memories stand? I presume you're one of the bigger players?
Dave: In the postcard world we're quite a big player. We organise The Bloomsbury Postcard Fair every month – nine fairs a year. We also publish the main catalogue on values every year.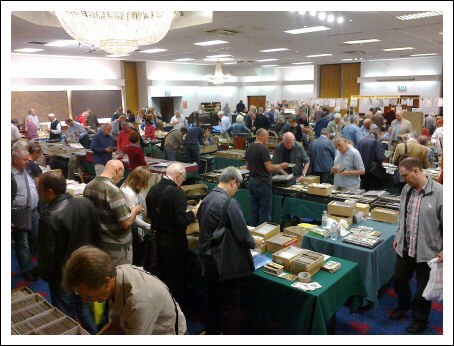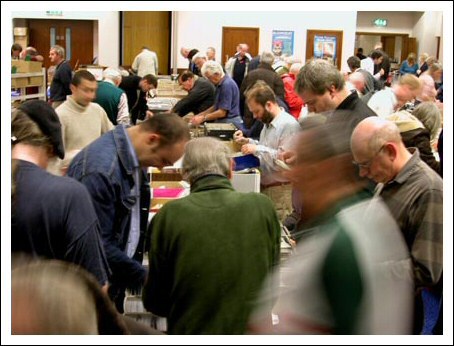 Digger: I think you just answered my question! "Don't be so stupid, of course we are big!"
Dave: (Laughs) We're founder members of The Postcard Traders Association and yes we're pretty big in the postcard world. In the framing world, we're just another number on the scene.
Digger: These days, because of all the digital stuff available, they can end up being a good resource.
Dave: Yes, a lot of stuff people seem to want to find for free on The Internet whereas in the old days they would come to libraries like ours and buy them. There's a little bit of a problem there now – people wanting stuff without accessing and owning it properly.
Digger: The Internet has devalued images and information in some ways hasn't it Dave?
Dave: Yes it has. It waters things down and makes people think that it's all readily available for free whenever they want it.
Digger: Pay? You must be joking!
Dave: Why would they want to pay for it?!
Digger: There's a good example of that with newspapers who are having all sorts of problems trying to persuade people.
Dave: Yes, pay per view.
Digger: What sorts and genres of postcard are you offering and what are you seeking?
David: We go back to what they call the golden age of picture postcards, which is from the 1900s to the twenties. That's the period when most of the cards were produced, because it was the telephone and text of its day and people used it for communicating. Now obviously a text or and email is the way to do it but in those days it was a postcard sent to tell people what they were doing the next day.
Digger: Much more exciting.
David: Yes, a handwritten thing has got to be better than an anonymous text or email.
Digger: Having said that, I suppose you're very reliant on modern technology now so there's a bit of an irony there?
Dave: We use all the technology. We've got an eBay shop and we've got the website and all that stuff. You have to – you can't ignore it.
Digger: Have you got an iPhone where you manage updates to the website via a clever App?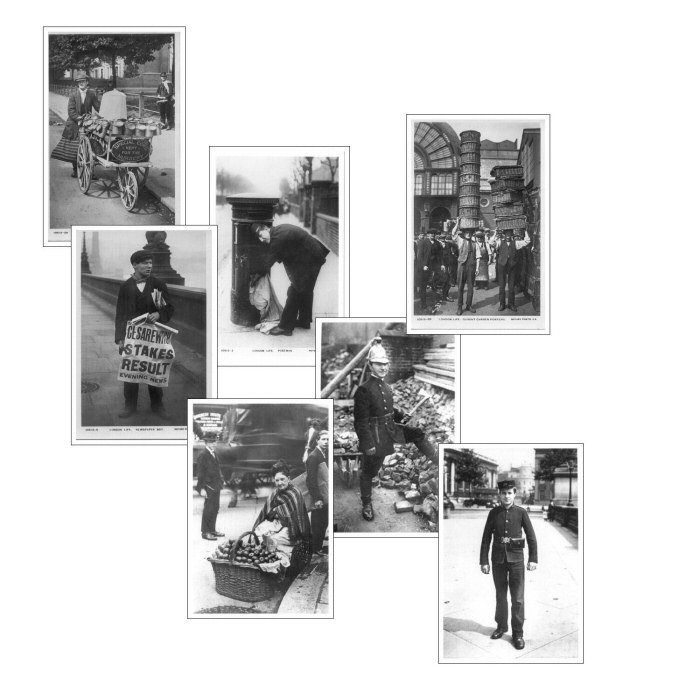 Occupation postcards
Dave: Now steady David!
Digger: (Laughs) What are your specialisms and what makes Memories stand out?
David: Our speciality would be our London and suburbs collection.
Digger: And your expertise I would have thought?
Dave: Yes, the fact that we're around and have been for years and we have a physical shop whereas lots of people work form home or whatever. People can come and see the stock here. It's all here to be looked at.
Digger: Are some of your customers real old school and they don't have Internet and do everything by mail order?
Dave: Definitely. They come in and order stuff and they don't have a computer. They don't have a phone or anything. They just want to buy postcards and the people who come to fairs – eBay offers millions of cards for sale but people still come to the fairs.
Digger: It's that tactile thing where they can see and feel and even smell the pedigree of the cards. Is it mainly men of a certain age?
Dave: No we get a lot of young people coming.
Digger: That's good.
Dave: We have obviously got the crowd that you're referring to.
Digger: People like me?
Dave: Yes and me.
Digger: What's drawing the youngsters to the postcard?
Dave: It's just something different and they're looking at things that are unusual. They like the fact that it's a bit of history, a hundred years old and it puts them in touch with the past. And there's also all the various themes that we cover. So there's something for most interests.
Digger: I've been doing this for ten years now and there are thousands of businesses in the UK making a living from vintage and retro. It's amazing.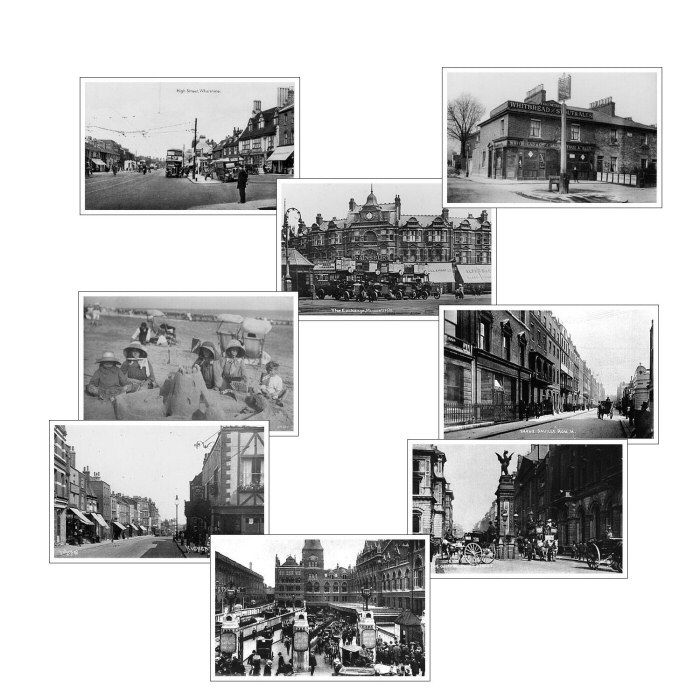 London and UK scene postcards
Dave: In some ways it shouldn't be healthy should it? We should be looking forward rather than back.
Digger: That's right. I agree with you. I don't suppose we do look back in our personal lives, just in our professional ones.
Dave: Yes. You can't help it in some ways, because it's a world that looks a lot nicer and happier back then.
Digger: Especially in the current climate. Tell us about the fairs Dave … what can we expect at Bloomsbury?
Dave: There's about ninety tables of postcards and paper and ephemera. Mixtures of vintage material. Comics, cigarette cards - but the strength of our fair is postcards, I've got to say. Picture postcards is our background and that's what most customers come for. That's what we've got a reputation for. It is spreading a bit – you get people bringing letters and books and the stuff that comes with that but it's all connected. So if you've got someone collecting cinema or something like that, they can pick up a programme from a show or photographs, a still, a postcard anything that goes with it really. So they're not just collecting one thing.
Digger: What are the Holy Grails of postcard collecting?
Dave: Everyone goes for the money side of things in the postcard world, but it's usually connected with something to do with the philatelic angle - the stamps and so on. That's where the value comes. If something has been posted with a particular stamp on it. Sometimes it can be something like The Titanic, where you get stuff that was posted after the first sailing of The Titanic. They're massively valuable.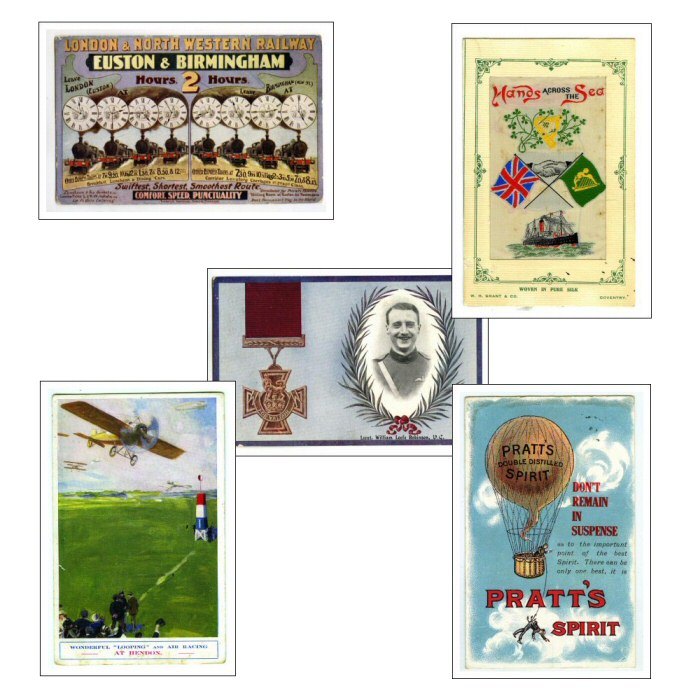 Digger: Have they ever passed through your hands?
Dave: No, they're really specialist and go through specialist auctions. But you could get lucky I guess.
Digger: What do you find most enjoyable about what you're doing?
Dave: I enjoy doing this anyway but I mainly enjoy finding something I have never seen before, another angle on one of the streets or buildings. I enjoy dealing with the public – it has its moments, but I've spent my life doing it.
Digger: Generally people are very good-natured.
Dave: Yes.
Digger: What about feedback from clients? Is there a lot of repeat business?
Dave: We've got customers who have been with us all of the time so that's great feedback.
Digger: Is The Internet having a big impact on who they are and where they're coming from?
Dave: I don't think The Internet effects it too much. We do a lot of framing here – that keeps the wolf from the door as it were. It came with the stuff that we do – people want their postcards and pictures framed so we started doing framing and we've been doing that for thirty years. It's a nice way of making a living as well because you make something for somebody but sometimes we make the picture and make the frame and they get something lovely for their wall. It can be as a gift or for decorating or refurbishing a place. A fish bar, café, restaurant, pub – we've done them all. We did a block of flats the other day – they're putting up old pictures of their area. We do them on a canvas rather than a frame so it's modern and it was a picture of the old high street – it gave a nice contrast with the canvas and the historic image.
Digger: A hotel I stay at in the west end has that famous photo of the builders sitting eating their lunch on the New York skyscraper.
Dave: Yes, that's a well-known one.
Digger: There's also that one of the man in the thirties with vintage cars behind him jumping over a large puddle in the road and you can see he's probably not going to make it.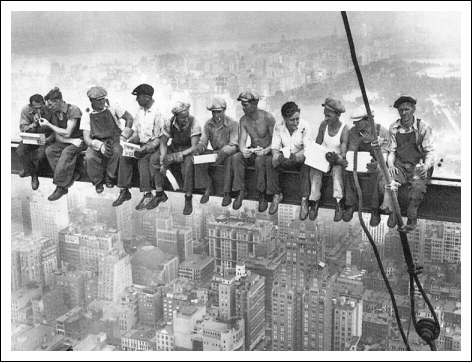 Lunch atop a Skyscraper (New York Construction Workers Lunching on a Crossbeam),
a photograph taken by Charles C. Ebbets on the 69th floor during construction of the
GE Building at Rockefeller Center in 1932...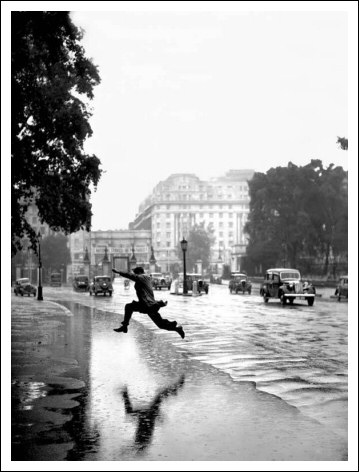 ... Man jumps puddle at Hyde Park taken in the thirties (photographer unknown)
Dave: Yes. They've all been around for some time but they still work. They still make you look at them and they still make you happy.
Digger: That's the classic thing about images. You can talk for England but a picture does really say a lot, doesn't it?
Dave: Some of the old views are lovely. You look at some of the streets now and they look really scruffy and then you see them in the old days. I also am doing some work on some images from the sixties now.
Digger: Great.
Dave: I got an archive from a newspaper and I obtained all of the negatives so I'm going to do something with those. They're all local but it's good social history – it's a good period. A lot of people remember it and that's my next project.
Digger: Sounds Fab. I love the sixties images.
Dave: It's nice seeing some of the places around here and some of the local characters as well. I was born in '60 so I don't remember some of them but I remember my dad talking about them. It's good in that respect.
Digger: What about the future Dave?
Dave: The future will be working on this archive, keeping on with the postcards which are getting more difficult to source.
Digger: They're not turning up when people raid their relative's attics and so on?
Dave: The thing is that it's over 100 years ago so original collections should really have been out there by now. So now you have collections which were made by people since and they often go to auctions or to The Internet – they get sold at higher rates, so as dealers we can't really get involved in it unless it's to do with our own collecting area. If it was to do with this area then we would get involved and buy them. If you're buying for resale, it's a different matter. So we'll be trying to keep the postcards going and trying to keep the fair going. Hopefully, we can keep it going because the dealers are retiring and dying off and the youngsters aren't coming in to replace them.
Digger: It might end up just on The Internet.
Dave: That's the way it's trying to go.
Digger: All my favourite movie memorabilia stores in the west end disappeared too. Such a shame.
Dave: It's happening all over the place. All areas of collecting are the same – they all have the same problem. I suppose antiques can't, because of the size of the things, but anything you can put in the post or sell from a photo will definitely go on The Internet. The postcards are built for it really. They're perfect – they're flat, a small size and the same size, you know the postage and you can scan them and display them easily.
Digger: So in that sense you've got a good product there really.
Dave: Yes, but you've got to keep moving with the times.
Digger: Thanks for letting us know about the Memories business, Dave.
Dave: Thank you.
---
Memories Picture Library have been supplying pictures and frames to the leisure and publication industries for over twenty five years.
Specialising in U.K. wide, Local and Social History photographs, we are able to research any City, Town or Village requested. Our expansive photo library also holds various themed subjects, including among others Transport, Brewing, People, Animals, Sport and Advertising.
Memories Edwardian Picture Library and Framing supply to the leisure industry and the public. We have tens of thousands of scenes from all over the UK as well as social history photographs, posters, sporting images and books. We can supply these pictures bordered, framed or to suit your particular requirements.
With over 25years of experience in dealing with picture postcards we specialise in UK Topographical cards and are always on the look out for more to add to our collection.
We offer top prices for your cards.
130 - 132 Brent Street,
Hendon, London, NW4 2DR
Tel : 0208 203 1500
Fax : 0208 203 7031