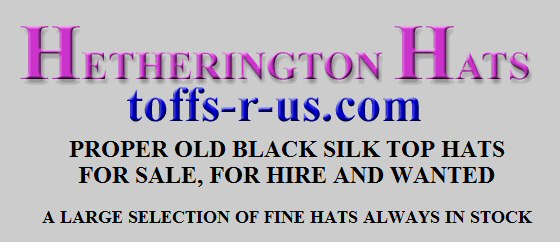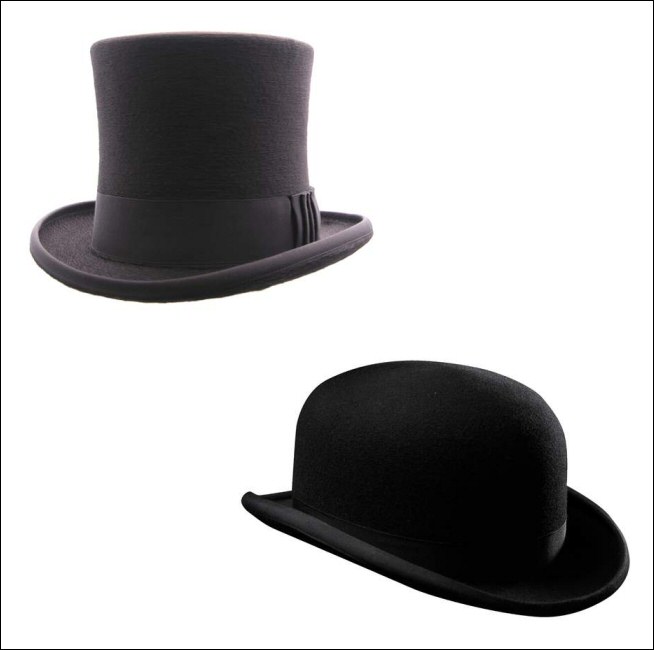 Hetherington Hats - toffs-r-us.com - Top Hats and Bowlers in mint condition at sensible prices, all sizes
Top Hats and bowlers are very much part of the British tradition, top hats most notably at Royal Ascot. And the bowler has been made iconic by generations of City Gents through to the sartorial John Steed.
Digger talked to Martin Ellis Jones, 'The Top Hat Man', about his business providing Top Hat and Bowlers to the Great and the Good.
---
Digger: Good morning Martin, how are you?
Martin: Fine thanks Digger.
Digger: You're always out and about and on the move. It must be a fascinating lifestyle?
Martin: Oh, I just spend my time on the hoof.
Digger: It's great, and rather appropriate too! There was a story that Adam Faith, who turned from a pop star to a businessman, never had an office. He just used to use restaurants and cafes to run his business.
Martin: I'll tell you what he did. He had a table at Fortnum's and also the very handsome chap at the time of Michael Caine... what was his name?
Digger: Terence Stamp?
Martin: Yes, Terence Stamp did exactly the same thing. Adam Faith was always in the Fountain Room and Terence Stamp had all the waitresses worshipping him. I knew Adam quite well, actually. He was very nice but not quite to the taste of the waitresses so much as Stamp.
Digger: How did Toffs-R-Us and Hetherington Hats originate?
Martin: Very simply I've been an antiques dealer all my life and if you type into Google 'Martin's The Tops' some time then you'll see a bit of my potted life history come up. I decided to do it having been selling top hats to various people - Lock and Hackett's and various other dealers, selling it to them to retail. I fell out with Locks over one hat and then I advertised in The Racing Post the week before Ascot Week. I had this very contentious northerner, who writes a column every week, and he said "Is that Hetherington Hats?" And I said "Yes it is. This is Martin Ellis Jones, good morning." And he asked "What's a proper old black silk hat then?" Because I'd put in the ad 'Proper Old Black Silk Hats - All Sizes, Sensible Prices.' Anyway, he did a telephone interview with me and I thought no more of it until the next Tuesday when he'd published a half page on top hats and he mentioned me. The phones started and it never stopped.
Digger: Great.
Martin: That's how it started - as simply as that.
Digger: Are you still friendly with some of these retailers in St. James's?
Martin: Yes, friendly but now they send me customers rather than the other way around.
Digger: I see, a nice reversal of fortunes. It's great to take a stroll around there - the shops selling gentleman's requisites for shaving, smoking, "huntin', fishin' and shootin" and so on. It takes you right back.
Martin: Yes, well I spend quite a bit of time there.
Digger: Can you tell us a bit of the history of Top Hats Martin?
Martin: Originally Top Hats were made of beaver fur, hence the beaver trade and the term re-furbished. However, in about 1830 the carriage trade required something more sophisticated and black Top Hats made out of French manufactured 'silk plush' became the objects of fashion.
Although London, Luton and Stockport were the English centres, Top Hats proceeded to be manufactured all over the world, with various style changes, in this form for more than a hundred years. Whilst Top Hats have been fashionable for all sorts of social events and in show business, the wearing of Toppers in the street finally stopped when the Stock Jobbers ceased wearing them in the City in October 1986. It was about this time that the silk plush also disappeared from the scene as the owners of the last looms in Lyon, two brothers, fell out and the looms were destroyed.
So after about 1980 black silk Top Hat manufacturing ceased. It is highly unlikely that this silk manufacturing will be revived due to the vast cost of making new looms. The cost of the silk itself would be heady, and because the silk is cut on the bias, causing much wastage, it would take a metre and a half of this silk per Hat. The wheel always tends to turn full circle and now Old Black Silk Top Hats are regaining their former status. Gentlemen are demanding fine Top Hats for the Derby, Royal Ascot and weddings and garden parties.
I took the name for the business from John Hetherington. On February the Seventeenth 1797 John Hetherington was the first gentleman to be seen wearing a Top Hat, supposedly his invention, in a fashionable part of London, probably St James's.
Digger: It's weird that the bowler hat is quintessentially British, or is it English?
Martin: English I think.
Digger: People like Patrick McNee as John Steed, the City gents, A Clockwork Orange, Chaplin - they have all helped to make it a visual icon, a shorthand almost, for this country.
Martin: It was a sort of badge of office for the working City men.
Digger: I can still remember working in the City in the seventies and eighties and it was still quite common to see bowlers. Not so much these days though.
Martin: No, not at all.
Digger: So I wonder if you think we'll ever return to the 'heady' (pardon the pun) days where everybody wore a hat? I have a photo of our local theatre and the entire audience, no matter what age or what class, are wearing hats.
Martin: Yes, what could happen is if we get a star or icon like David Beckham or others wearing one then that might happen. But I don't think it will. Hats are a bloody nuisance, because wherever you go with a hat - I wear a hat all the time but you have to take it with you, take it off and put it back on, leave it behind the counter.
Digger: Forgetting it's there, of course.
Martin: Yes.
Digger: Do you wear the same hat or is it a seasonal thing?
Martin: I always wear a hat but it's always a different one - either trilbies or fedoras and I've got a lot of them personally.
Digger: How would you describe the Hetherington Hats/Toffs-r-Us business?
Martin: I've got a large selection of Black Silk Top Hats to fit anyone at all and we have an interesting customer-base. Very rich and famous people, trainers, pop stars and all sorts of people. It's quite a broad reach.
Digger: Joe Public as well?
Martin: Not very Joe Public - it's those who are going to The Royal Enclosure.
Digger: Have you got one of those incredible measuring devices for the head?
Martin: I have, yes.
Digger: What gives you the most pleasure about what you do?
Martin: It's just a very amusing way of spending one's working life, meeting the most glorious people and making a little bit of money and having a very joyous time.
Digger: Do you focus totally on the hats now?
Martin: No, I still buy antiques but it's a very difficult area although I've still got a big passion for antiques. I've got myself into a position where, at the moment, I'm Mr Top Hat. How long it'll last I don't know but it might last me out.
Digger: Let's hope so Martin.
Martin: But I have cornered this market.
Digger: Are clients also from overseas?
Martin: No, my business is basically those going to The Royal Enclosure, from the Aga Khan sideways and down if you see what I mean. But I haven't got a Royal Warrant and I never will because the Royals go to Lock. They have traditionally been going to Lock for many years because they're just around the corner (from Buckingham and St. James's Palace.)
Digger: So they're 'Locked' in then?
Martin: (Laughs) Yes, I'm Locked out! (Both laugh)
Digger: So your customer-base is basically the great and the good?
Martin: Yes, pretty much the great and the good.
Digger: What sort of feedback do you get from clients or is the only feedback you need that they keep on coming back?
Martin: As a rule, once they've bought a hat then, unless they lose it, they don't come back unless they want it refurbished or re-done up.
Digger: You do that sort of thing too, don't you?
Martin: Oh yes, I refurbish hats.
Digger: You use a special device - a 'mouse' to get the sheen and shine back on the hats?
Martin: Yes, we do it with water and steam.
Digger: Generally why do you think retro and vintage are so big Martin?
Martin: There are no tricks like the old tricks. All these things have been a build-up over the years and nobody can really improve it. What most people now seem to do is improve their look by forgetting to wear a tie and as they don't know how to button their shirt up they always look like rubbish. If you are going to avoid wearing a tie...
Digger: Which a lot of people do these days.
Martin: ... They do too many buttons up and they need a higher collar and the second button undone, but they don't and they look rubbish and I can't stand it. But that's up to them.
Digger: Back in the day I used to be suited and booted and I'd never wear a suit without a tie, even though they have lost their historical raison-d'Ítre.
Martin: I wear a tie all the time and tend to wear a tie-pin but that's only an affectation of mine. I do that and then lift the tie up so it sticks out straight from the collar. I take a certain amount of care over it.
Digger: What do you think of people who tuck their ties into their trousers Martin?
Martin: It means they must have a very long tie or they've tied it incorrectly.
Digger: (Laughs) Or they must be very short. So what of the future? More of the same? Onward and upward? World domination? Like you said, it makes you a comfortable living and you thoroughly enjoy what you're doing.
Martin: World domination is not part of the plan. I am happy that it continues along similar lines.
Digger: It was good catching up with you Martin - it sounds like a great and fascinating life. Great fun. Do you ever go outside the M25 corridor as it were?
Martin: Very much so because I've got an interest in a farm just outside Latimer.
Digger: As in Chalfont and Latimer?
Martin: Near Chesham.
Digger: Yes, I know in Bucks. At the end of the tube line.
Martin: I've got a hill climb car that I sponsor - I can't get into it, but I sponsor it. A thing called a Pillbeam. It's the top end of that sort of thing.
Digger: That also sounds like fun. Thanks for letting us know more about these hats and the Hetherington Hats business Martin. Good talking to you.
Martin: And you.
---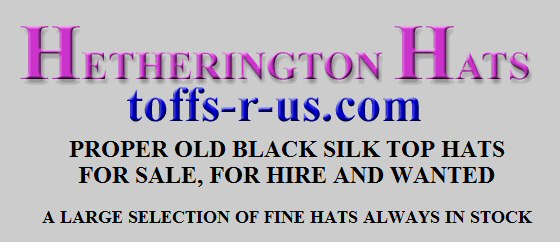 Hetherington Hats - toffs-r-us.com - Top Hats and Bowlers in mint condition at sensible prices, all sizes
Hetherington Hats has a stock of over seven hundred of these masterpieces in fine condition at any time for sale or hire.
We also keep a decent stock of antique leather hatboxes. Also gentlemen's' gold tie pins with an accent on racing, suitable for wearing with morning dress. Unlike others, Top Hats and Bowler Hats are rigid so as a rule they have to be steamed and made to fit the head shape of the customer precisely. This unique experience lasts about ten minutes and will take you back two centuries.

Wonderful shapes in mint condition at sensible prices, all sizes.

We also supply fine Victorian and later hat boxes, gun cases and cartridge magazines.

By appointment only. Here in Chelsea, or any other location
25A, WALPOLE STREET
CHELSEA
LONDON
SW3 4QS


We are also very keen to buy fine hats of the type we sell.