Art Vinyl is the original way to display your favourite music and vinyl record art. Something new for music enthusiasts and an original interior design concept...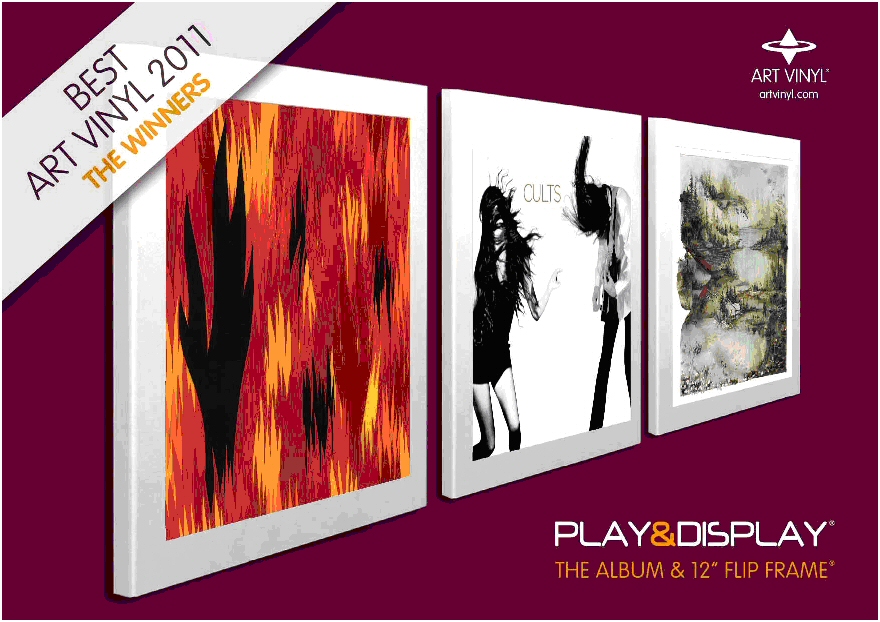 Create an original display with vinyl records you already own and buy. Experience more pleasure from your favourite music and artists with the Play & Display Flip frame.
It's easy to change your Art Vinyl display.

The Play & Display Flip Frame has a unique quick release system, allowing you to instantly change your Art Vinyl record display as often as you like, available in both a neutral black and stunning white.



Digger talked to Andrew at Art Vinyl about the Play and Display frames and about his Art Vinyl business.
---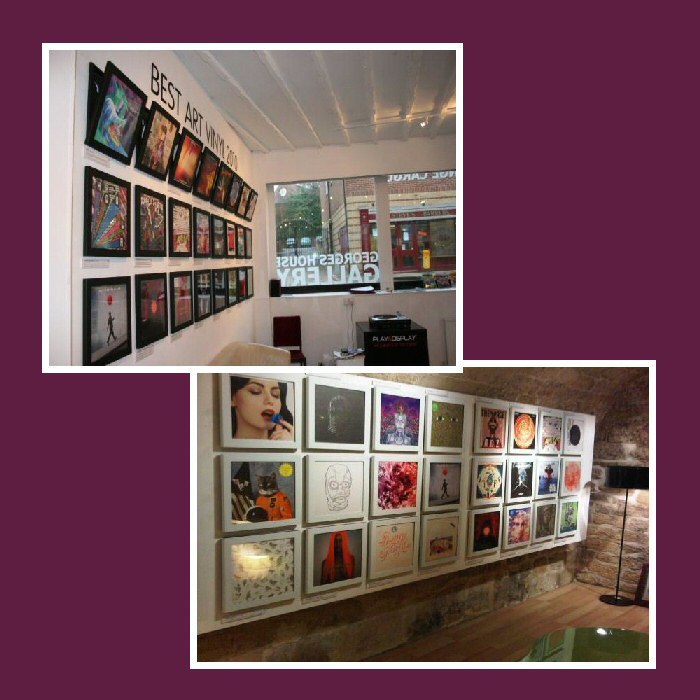 Digger: Hello Andrew. Can you please tell us about your background?
Andrew: I come from a marketing background in music retailing. Art Vinyl was a logical step. I was working with a lot of images to sell music, and a lot of those images were quite appealing. So I found myself choosing to buy vinyl versions of music rather than CDs, because the cover art was larger and I got more for my money.
Digger: What generation are you?
Andrew: I am 44.
Digger: You probably still grew up, like I did, with the whole experience of the vinyl and it was such an experience wasn't it? It was really good value, because you got the album cover with all the sleeve notes on there and the artwork and it stays with you. Don't you feel sorry for the youngsters today who might miss out on that experience when they simply download a digital file?
Andrew: Yes, but fortunately, a lot of our customers are quite young.
Digger: I've got two grandkids and they didn't understand what vinyl was and I had to show them. Hopefully they will get introduced more to it as they reach their teens.
Andrew: Yes, a lot of our customers are teenagers.
Digger: What sorts of packages do you have available and can you tell us more about the product?
Andrew: The core products that we sell are what we call Play and Display Frames, which were the first ever picture frame that was specifically designed for vinyl records. It's extremely unique in that it's the first ever picture frame that you can change without taking it off the wall. So it's quite exceptional in design. It's been designed the way it has because, as well as looking at record cover art, we also appreciate that people want access to the contents inside, namely the vinyl records. So with our Play and Display frames you can have instant access with the frame mechanism we provide so they can put it on the turntable any time they want.
Digger: It's clever stuff. I suppose the alternative would be to have another copy of the album or to have some sort of scan done of the image?
Andrew: Yes, but then you get into breaking copyright laws.
Digger: That's a good point.
Andrew: When you buy a record you pay your copyright and you've got the record cover art. But once you start replicating things it becomes a bit problematic.
Digger: Copyright is a bit of a minefield. So you just unclip and play?
Andrew: Yes.
Digger: That's good isn't it? There seems to be this rule of three that applies in many things like planting flowers in the garden or arranging objets d'art and it seems to also apply with your frames. They look good in groups of three or odd numbers much better than in twos or even numbers...
Andrew: Yes. One of the reasons why we promote our packs of three is because they work so well and they work out cheaper for people as well. The reason we do the three is that, from a visual perspective, three together look fantastic. But also it provides an opportunity to do theming. As you'll see on our website, you can use particular colours or, if you hark back to the early eighties when I was growing up, most of the time when you bought an LP there'd be possibly two or three 12" singles that would come off of that as well. More often than not they were done by the same designers as well. Depending on how you collect your music you'll find that there will be three pieces of artwork, albeit LPs, 12" singles or inner sleeves that are usually done by the same designer. So if you've got a set of three frames then instantly it's much more playful and you can start to use images and colours to create the theme you're looking for.
Digger: In my head from the 80s I can see The Smiths and also The Thompson Twins LPs and you're right - they did have several versions of artwork. They'd look brilliant as a theme. What are your personal retro passions Andrew?
Andrew: I first got into records purchasing Blondie's Parallel Lines - all things post-punk I personally didn't enjoy. But I think the beauty of what we do with this business is constantly finding new items. Each year, we celebrate the best album covers of the year because we do an annual award for best art vinyl which is quite a substantial award now. The best art vinyl for 2011 was from 8 exhibitions in five countries after 50 nominations of past winners so we do bring to the wider public greater knowledge of current trends in record cover art. 60-70% of all new music is still available on vinyl, so it's a very contemporary art form as well as something that has got nostalgic value.
Digger: A few years ago they were predicting that vinyl would just die but it certainly hasn't.
Andrew: When we launched Art Vinyl, sales of vinyl were at their lowest. Sales of vinyl have increased every year since we launched Art Vinyl seven years ago. We now have over 100,000 customer in the UK, and if they have our frames you can bet your life they're buying vinyl records, new contemporary stuff, to go in their frames. And because so much of the new stuff comes with digital downloads or a new CD they are getting the digital format as well. So, in effect, we've brought what can only be described as a new piece of hardware to the music market. This is now stimulating reissues and new records coming out on the vinyl format where people can actually enjoy the artwork as well via the mechanism we've provided them with.
Digger: There's a very funny website where they show some of the weirdest album covers of all time. I suppose you're familiar with those?
Andrew: Yes, I know it. There are quite a few of those actually.
Digger: It's amazing what has been released over the years.
Andrew: A lot of them are connected with religion.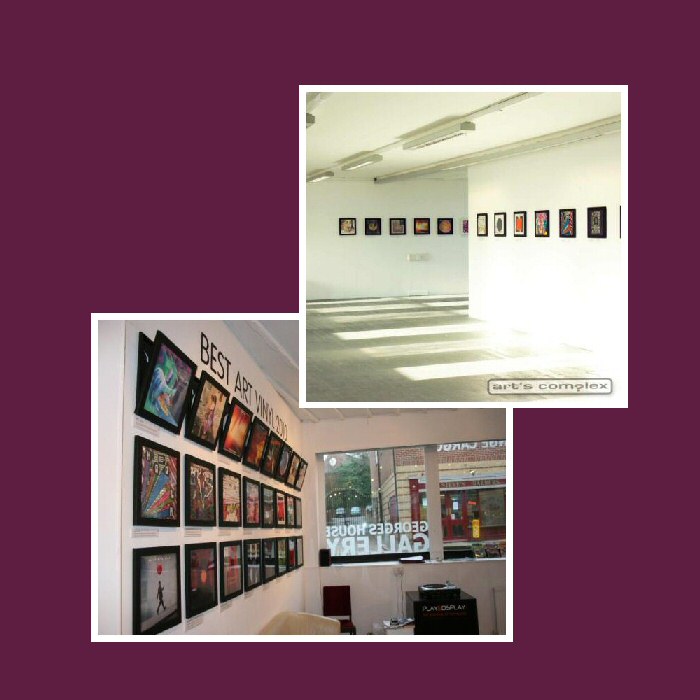 Digger: That's right! I can see that image of an angelic, but slightly disturbing-looking family. And it looks like a parody but it's not, it's real. Who are your typical customers Andrew and what sort of feedback are you getting?
Andrew: Our customers tend to be thirty-something, dance generation types. Because when vinyl was at its lowest levels of consumption in the late nineties and early noughties, it was the dance movement that was keeping the whole thing alive through 12" vinyl for DJs. So obviously a lot of people who came through from the world of dance music have now got 12" records with great sleeve art. That whole genre of music has always been very associated with vinyl, which we sometimes forget now. Because people immediately associate vinyl with the retro and sixties and seventies.
Digger: Yes, like I did until you made it clear to me.
Andrew: The reality is that if it hadn't have been for the DJs into the dance music there wouldn't be quite as many vinyl pressing plants left in the world fuelling people's passions for records now.
Digger: A good point.
Andrew: Those customers are great for us and you look back at that period with the likes of Fatboy Slim and so on and the cover artwork was actually a very important feature in that period as well.
Digger: Ministry of Sound type tracks.
Andrew: Yes and the Hed Kandi stuff. There was a lot of cool stuff during that period and a lot of people came through doing great graphic design as well who were associated with the record labels. It's retro, but not over-retro.
Digger: It's pretty good because you've got your foot in two camps - the best of both worlds with the dance music generation and then the wrinklies like me!
Andrew: Most of our customers tend to be from that generation, buying for themselves and then possibly getting presents for their parents and so on with the older records. It tends to be the thirty-somethings who are our initial customers.
Digger: Why do these make such great gifts?
Andrew: Whoever you're giving it to will use their Play and Display frame for the rest of their lives for sure. It's something that is ever-changing and your walls will never be boring again. Because you can just exchange them over whenever you like. So you know that you're giving something of quality that will last a lifetime and will be used as well. The way we look at things, even if you have a small record collection of say 50 to 100 records, you basically have a small image library available at your fingertips that you can use and access. Put it on the wall. With vinyl records, we have quite strong emotional attachments to these things, so sometimes a picture of Blondie's Parallel Lines might mean a lot more than a picture of the mother-in-law on the wall.
Digger: And it will be a talking point when people come in.
Andrew: The other thing that's quite nice is that we sell a lot of these for gifts because the Play and Display frame provides an instant way to personalise a gift as it's so easy to use. It's very easy to pick up a copy of Parallel Lines on eBay for £2 and then personalise the gift for the person you're giving the gift to.
Digger: When they transferred that album to CD there was nothing to see. The LP art was far superior.
Andrew: Nothing to see and also the sound dynamics were ruined when it transferred to CD.
Digger: Yes, that's true. What are the most enjoyable aspects of what you are doing?
Andrew: Discovering new artists, in both senses, both the graphic artists and the music.
Digger: A bit of a dream job really Andrew?
Andrew: It certainly is. It's fantastic. We've just finished this year's best art vinyl awards. There's been records on there that I certainly wouldn't have listened to but I've come across through being seduced by their wonderful sleeve art. And also it works the other way as well - there might be a new album by a contemporary new artist that sounds great and you wonder what images they've used for their record covers. It's the perfect combination of art and music and discovering new art and music.
Digger: Can you always tell a book by it's cover? Does a good album cover always reflect the contents?
Andrew: Probably not, but it's often the way in, if you see what I mean. It comes down to personal taste as music and art always do. You can be drawn in by something and go "Wow, that's incredible." The visuals on the front will certainly reflect what relationship you are entering into, if you like, with that record that's for sure. If someone mentions any record, then an image will come into your head and that's going to be the record sleeve image in your head.
Digger: Our ability to remember not only tunes but also images is amazing. I recall listening to Electric Warrior or Atom Heart Mother cross-legged on the floor with them playing on my Dansette and chain smoking while getting into the albums and reading the sleeves. A solid memory and it took me ages to be able to listen to those properly after I gave up smoking!
Andrew: Atom Heart Mother is a real classic.
Digger: So what about the future for Art Vinyl Andrew?
Andrew: We're about to launch a new batch. We currently have a range of about twenty vinyl records that we supply with frames from our website and that range is about to double. We now have a lot of people who've got our frames and they want to get more frames and records as well. Our frames are the most popular vinyl frames in the market and we also have access to some exciting reissues such as The Stone Roses who are reforming and touring this summer. In effect, we're providing the records which people want to go in their frames. If you look at something like The Stone Roses' album, it was released at the height of the CD purchasing, so it wasn't readily available on vinyl at the first time it was very popular. So there's lots of people who would love to have that artwork done by John Squire in a 12" x 12" format.
Digger: What you're doing is also promoted when these bands re-form.
Andrew: Absolutely. We're celebrating fifty years of pop and rock music. That's what we've done with our range with selections from the sixties, the seventies right up to contemporary. Our biggest seller from last year was The Specials first album but we cover all the genres and decades.
Digger: A great idea for young and old alike Andrew. Thanks for letting us know about your Play and Display Frames.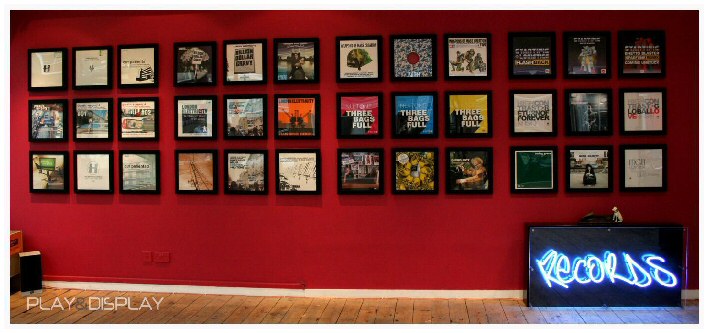 Examples of Play and Display plus vinyl gift packs
•Adele: 19
•The Clash: London Calling
•Coldplay: A Rush of Blood to the Head
•Duran Duran: Rio
•Florence and the Machine: Lungs
•Franz Ferdinand: You Could Have It...
•Goldfrapp: Head First
•Gorillaz: Gorillaz
•Green Day: 21st Century Breakdown
•Hard Fi: Stars of CCTV
•Kings of Leon: Only by the Night
•Kylie: Aphrodite
•Lady Ga Ga: The Fame
•Madonna: Confessions on a Dancefloor
•MC5: Kick out the Jams
•Nirvana: Nevermind
•Pet Shop Boys: Introspective
•Pink Floyd: Dark Side of the Moon
•Pixies: Surfer Rosa
•Pulp Fiction: Soundtrack
•Radiohead: OK Computer
•Radiohead: The Bends
•Rolling Stones: Let it Bleed
•Roxy Music: Three Album Set
•Sex Pistols: Never mind the Bollocks
•Soul of Man: Mylowdowndirty / Foxy Moron
•The Specials: The Specials
•The Strokes: Is This It:
•Velvet Underground & Nico
---


Art Vinyl is the original way to display your favourite music and vinyl record art. Something new for music enthusiasts and an original interior design concept.

Create an original display with vinyl records you already own and buy. Experience more pleasure from your favourite music and artists with the Play & Display Flip frame.

It's easy to change your Art Vinyl display.

The Play & Display Flip Frame has a unique quick release system, allowing you to instantly change your Art Vinyl record display as often as you like, available in both a neutral black and stunning white.

Play & Display Flip Frames can display any variation of Albums or 12" records, and are now available in a choice of white or black that will stylishly celebrate your chosen sleeve design.
Unique to Art Vinyl, the Play & Display range are all Flip Frames which allow immediate access to your playable contents without removing the frame from the wall.