Rock n Rolls Tours with Ronnie Scott

Digger talked to Ronnie Scott, your private guide at Rock n Rolls Tours, who will help you discover London's swinging city in true style. Join him in his own 1976 Rolls-Royce Silver Shadow where you will be escorted through the heart of the city while you discover many of the famous areas of London which help to shape Pop and Rock History. The tour tells the story of swinging London from the start of Skiffle to the heady days of the Beatles roof top concert and the Rolling Stones in Hyde Park.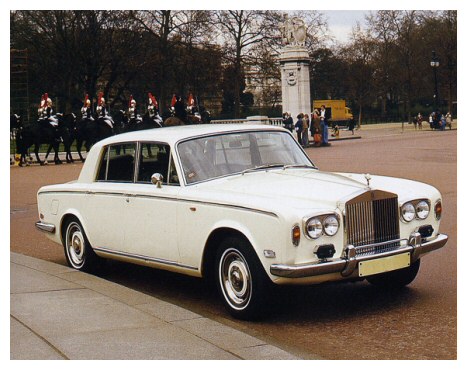 ---
Digger: What is your background Ronnie?
Ronnie: I was born in Belfast in 1952 and spent my teenage years listening to blues music…Elmore James and Memphis Slim. And catching big acts as they played the Radio One Club next to my school in downtown Belfast. I saw Led Zeppelin play the Ulster Hall with a new song called Stairway to Heaven. (Wonder what happened to them?!) At school, I ran concerts and tried to book the acts as seen the night before on the Old Grey Whistle Test.
New acts like Elton John .. £250 a night .. Wishbone Ash £200 .. Yes £220 and Chicken Shack .. £180 !!! But of course these groups became overnight stars after the test and £800 was the norm which meant I couldn't book them. I did book heavy rockers Stray who came all the way from Belgium that night with explosive pyrotechnics in their van. They joined Van Morrison's band Them on stage with Rory Gallagher's bassist brother!! And a young Ronnie Scott on harmonic and vocals in his band Spotty Dog!
Then to Leeds to study landscape architecture. The Who had just played Live at Leeds so that was The Place for the big bands to come. Roxy Music, Status Quo, The Moody Blues, Golden Earring, New York Dolls. I remember playing a bit of blues on the pub piano after a Bill Haley concert, only to be told by his Hell's Angels fans to play it again and again and again. It's funny how you keep going when you hear chains rattling in your ears!
Then down to London in 1976 to live in Chelsea and then to Portobello Road. I once made tea for Helen Mirren (a young up-and-coming actress I believe) who was reading lines in my flat owned by a Spanish director. Portobello shook to the sound of reggae and punk and we spent our nights with Boy George's mates at Legends in Savile Road just opposite Apple. I danced one night with a lady called Bianca who had some boy friend called Mick! After that. hard work and travel took me away from the music scene but I collected Vinyl and CDs, and practiced the harp (BLUES THAT IS) and piano in case those angles ever came back.
Digger: Can you please tell us how Rock 'n Rolls Tours started?
Ronnie: Now I live in West Hampstead a few metres away from the Decca and Parlophone recording studios And it was my love of classic cars and British music heritage that fused into ROCK N ROLLS. The tour takes into account the history of the London Rock scene from the early days of Skiffle to the sophisticated Rock scene which gave birth to Band Aid.

Digger: What can people expect when they get into the 'Roller'?
Ronnie: I break London into villages, as each have their own character, and tell their story of their contribution to British rock as it was formed in those early days. From Lonnie Donegan to Freddie Mercury. You visit the sites where it all began, where deals were done, where new sounds were created. And where the greats lived and sadly of course died. Hampstead, Notting Hill, Chelsea, Mayfair, Soho, Camden, Highgate. As you drive in the 'Roller' you will hear the fabulous soundtrack which accompanied swinging London and get a sense of how the music evolved through that most creative of times.
Digger: Please tell us what options and packages are available, how long the tours typically are and how much they typically cost.
Ronnie: The tour can be tailored made to suit your taste and pocket. It costs £29 per person per hour. 1 hour will see 2 areas of interest, 2 hours will see 4 areas and most of central London can be viewed in 3 hours. But don't worry if time overruns because of traffic or weather - there is no extra cost. You can stop and photograph most of the sites and on longer journeys a rock style café can be visited.

Digger: How would you describe the Rock 'n Rolls Tours experience?
Ronnie: I would describe the Rock and Rolls tour as unique. Nowhere else can you feel like a rock star for the day as you sit in a cocoon of leather and wooded luxury and relive the life style of Lennon, Jackson and Mercury at their height!
Digger: London must be, along with New York, the most important rock city in the world. How do you go about choosing what to include and what not to include in the tours?
Ronnie: I have chosen the places and homes where British rock music was created. But I can also include areas and names which have special meaning to my clients. Nothing is impossible. From the tree which Mark Bolan tragically hit, to the trendy disco where Hendrix played DJ and Lennon met Yoko Ono. For the very adventurous I can even drive you to Liverpool, starting at the famous Ace Café on London's North circular and ending in the newly-built Cavern club in THE POOL…that is a journey of a lifetime!
Digger: Why do you think retro pop culture and music is so important to so many people these days?
Ronnie: This is the age of fast food and compressed iPod sound. We look back at our past when everything was possible and creative genius came from the heart, not an X Factor factory. For the silver-haired, the swinging sixties was a time to break loose from the grey war years. For the young of today, it is the inspiration of true music which is COOL and relevant in this era of rapid change and uncertainty.
Digger: And what are your personal retro and music passions?
My passions envelope all that is good in British music, from the beautiful rich tones of Matt Monro to the beat classics of Georgie Fame through the eccentric Englishness of the Small Faces and the Kinks to the experimentation of Cream, The Moody blues and, of course, The Beatles.
Digger: Who are your 'typical' customers, where are your customers coming from and what customer feedback/comments do you get?
Ronnie: I have no typical customers. Like the music, the age group is vast. Last week I had a twenty-something couple from New York who were into Hendrix, The Beatles and Bob Dylan. I've just booked a couple in their sixties from Northern Ireland who want to hear about The Small Faces, The Beatles and The Stones. Interest from North America and Australia is big, but there is also great interest from the emerging countries like India and China where British music has cult following.
Digger: How would you describe the ethos and aims of the business?
Ronnie: The ethos of the business is to embrace the spirit of the swinging sixties. To enjoy the energy and creativity of the era and to give the client a brief yet memorable insight into London's important rock heritage. All the family is welcome as the ageless music and fashion knows no boundaries.
Digger: What are the best and most enjoyable aspects of running Rock 'n Rolls Tours?
Ronnie: Every day is different and the clients all have their own memories and inspirations from the era. On New Year's Eve, I parked the Roller on the edge of the Abbey Road crossing and turned up the Beatles singing Revolution on the stereo. 50 tourists of all ages and cultures danced and sang as they crossed the road over and over again. A great moment and a potent symbol of the love and hope music gave to the world….. Priceless!!!!
Digger: What are your plans for the future of Rock 'n Rolls Tours?
Ronnie: My plans are to run a few more Rolls Royces and perhaps a classic drop head for the summer and link closely with other Rock venues and happenings!


---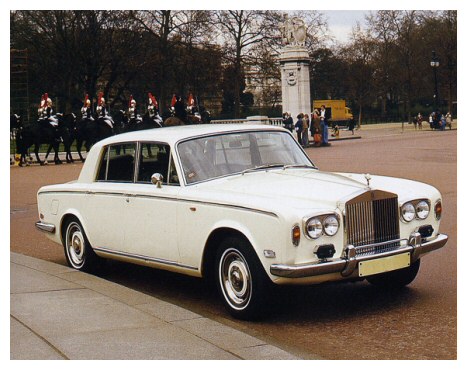 The Rock n Rolls Sightseeing Tour of London is the greatest way to visit the landmark sites in London that made it the rocking hub for the swinging sixties and seventies.

The Rolls-Royce acquired cult status in the swinging sixties as iconic transport for the rich and famous. To be a hit was to be seen in a 'Roller.' This is a once in a life time chance to glide through London in a Rolls-Royce Silver Shadow and relive those Fab times by visiting a kaleidoscope of famous places where the movers and shakers of the 60's and 70's rock world hung out and worked and died!

Ronnie Scott is your private guide who will help you discover the swinging city in true style. Join him in his own 1976 Rolls-Royce Silver Shadow where you will be escorted through the heart of the city while you discover many of the famous areas of London which help to shape Pop and Rock History. The tour tells the story of swinging London from the start of Skiffle to the heady days of the Beatles roof top concert and the Stones in Hyde Park.

Ronnie has lived in London for the past 40 years and knows every side street of this fascinating city Coupled with this knowledge is his great enthusiasm for the pop and rock scene in Britain during the swinging eras which oozes out from every brick and cobblestone, every street and mansion visited.

Feel like a Rock star for the day as you glide through the streets of London and grab the opportunity to see, hear and photograph the sites in the coolest city in the world in one of the coolest cars ever made!


Telephone:
+44 207 624 2168 (international)
0207 624 2168 (UK)

email: info@rock-n-rolls-tours-london.co.uk