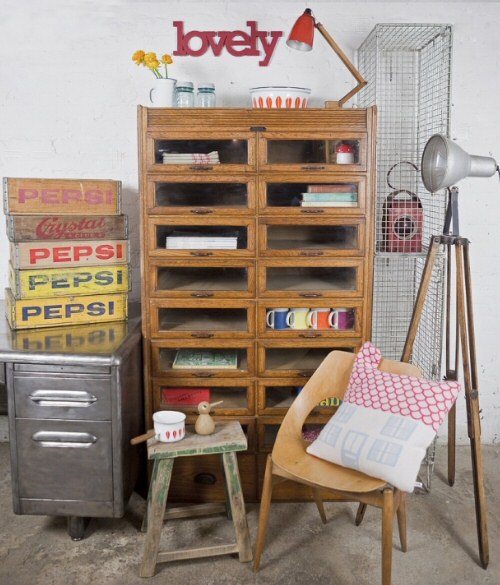 Digger talks to Lucy who, together with partner Enzo, runs Brighton-based online furniture, vintage and modernist store Lovely and Company, selling furniture, lighting and homewares from the loft of their restored house.
---


Digger: What is your background Lucy and can you please tell us how Lovely & Company started and how the company has evolved into what it is today?
Lucy: Both Enzo and I worked in the music industry for many years. I was a lawyer and he was a DJ and ran a record shop in Covent Garden. Eight years ago, we moved out of London, had 3 kids and our focus changed somewhat! Since then we've been involved in property development – buying run-down flats in Regency houses and restoring them to lovely modern homes. Mixing modern and vintage started from there really. Two or three years ago, we did a couple of open houses. I made retro-style prints and we also sold textiles and ceramics made by friends of ours, as well as some vintage finds. We've always been collectors and have been buying vintage for years. Instead of watching telly, I would spend my evenings reading about chairs on the Internet! So Lovely & Company has evolved from a personal hobby/obsession into a living. We now have some storage units and a workshop, where our colleague, Tim, does all of our restoration work. Mostly, however, we work from the loft of our house, in Brighton.

It is lucky we love what we do, as the boundaries between business, pleasure, home and workplace have been completely blurred and Lovely & Company is our whole way of life! Our children know a lot about buying and selling and know their Eameses from their Wegners!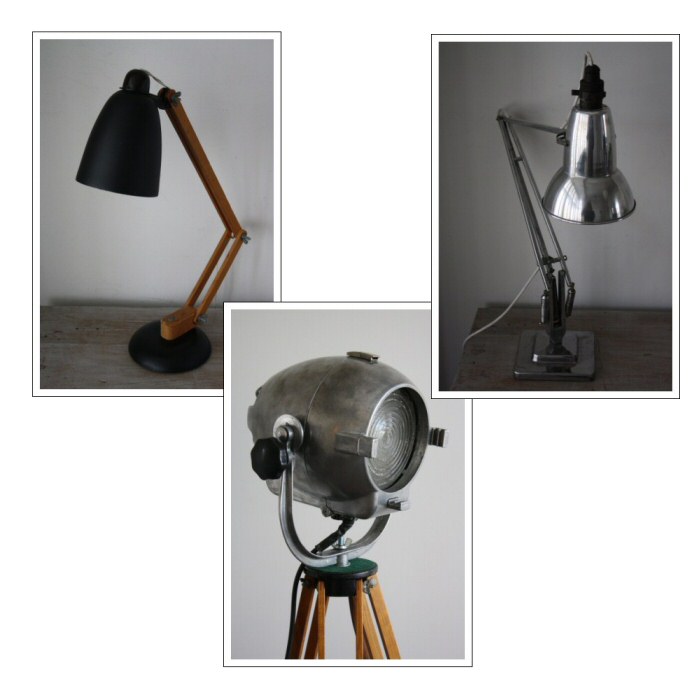 Digger: What are your personal retro and vintage passions?

Lucy: Pretty much everything we sell we have in our home, so we have developed our product lines from there. Enzo specialises in the industrial items – shop fittings, lockers etc. I love the mid-century, Scandinavian stuff. I also love Dutch interiors. But for both of us, it's all in the mix. An entirely mid-century interior would feel like we were on a set of Mad Men – lovely, but we're in 2012, not a bygone era. As well as being a bit limiting – there are things I love from other times and places. It's about how beautiful vintage pieces work in a contemporary home. In any case, with 3 kids, trying to recreate any sort of stage set would be impossible!

Favourite items we have at home include our France & Sons rocking chair, our 1930s haberdashery cabinet and our Arne Norell Safari chair. We're particularly fond of Maclamps and have them everywhere, as well as soda crates - can't get enough of them. There are so many brilliant retro chairs – we have a mixture of them round our kitchen table. Eames DSW chairs and Carl Jacobs Jason chairs are complete classics that make me happy every time I look at them.
I would love a Hans Wegner folding chair although I don't know where I'd put it – there are too many gorgeous vintage items for the average house.

Digger: Please tell us more about the furniture and accessories you offer and about your other services.

Lucy: We sell furniture, lighting and home wares, which can broadly be termed "modern" (mostly mid-century), "rustic" or "industrial". Most of our finds date from the beginning to the middle of the last century, with one or two new bits as well. We source stock from all over Europe and America, from settings as diverse as private homes, farms, factories, schools, museums and old shops. Whilst we sell some design standards, we're not into design snobbery and will happily put 20th Century design classics alongside Pepsi crates and milking stools. All our items are originals, but not everything is designer. Our site is like a highly edited flea market – eclectic and ever-changing.

We offer a sourcing service and can customise certain pieces to suit personal preferences. We also buy items.

Digger: Why do these iconic designs stand the test of time and appeal to newer generations?

Lucy: Mid-century Scandinavian design looks as modern today as when it was made. So much modern design is now referencing stuff from that era. The lines of modern architecture haven't changed all that much and mid-century pieces look perfect in contemporary spaces; a smattering of vintage is what stops modern homes looking like offices or shopping centres. Likewise, we have retail clients who want vintage shop pieces for new shops – the idea of individuality is appealing in an age of corporate branding.

We overuse the word "timeless" but so many of the design classics really are that. They're also highly versatile – you can put a Wegner wishbone chair, an Eames rocker or a classic anglepoise in a Huf house or a Victorian semi; you can make an Ercol daybed look modern and sleek, or vintage it right up with patterned cushions, linen and ticking. Moreover, they're well made, and get better with time – the patina of a Stouby sofa, for example, or a rosewood sideboard, just improves with age.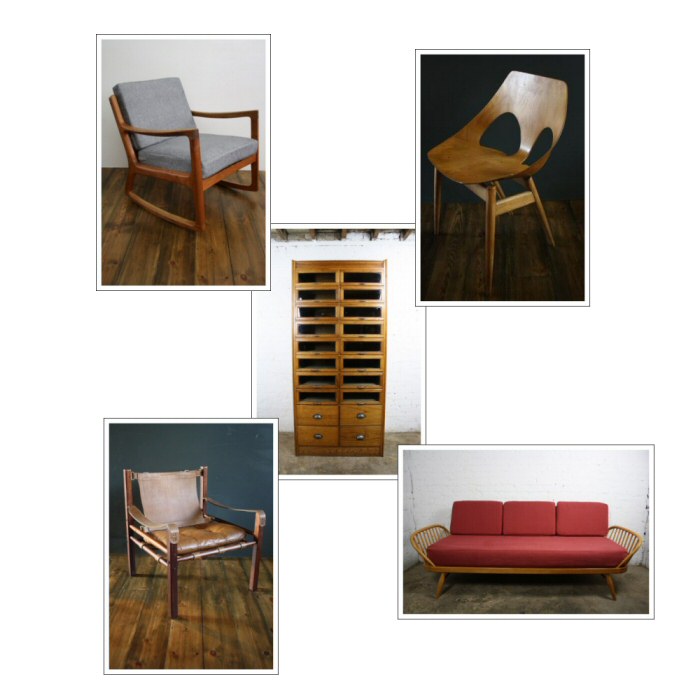 Digger: How difficult are these older items to source these days?

Lucy: Way more difficult than a few years ago. The antiques fairs and flea-markets aren't for bargain hunters anymore and you've got to be prepared to get very cold and walk for miles and come away with nothing. There used to be the promise that you might find some gem in a junk shop, but now all the charity shops have wizened up. The whole process of sourcing and restoring is like detective work – painstaking. And logistically, the process of landing stock is complicated and transportation cost rises make a lot of items that we'd love to get our hands on prohibitive.

But that's the fun of it – I'd feel cheated now, just going to Heals. I love the one-off nature of what we sell and all the great stories attached to our finds.

Digger: What are the USPs and the company ethos for Lovely & Company?

Lucy: I can't think of any other sites right now that are offering quite the same mix as we do. Ours is a simple philosophy: first and foremost, we buy what we like – things we'd like to have in our home (and in most cases do), that we hope our customers will appreciate too. We source pieces that are individual and authentic. There's no set formula and our approach is highly personal. We sell things that will last; we believe our selection of wares is both relevant to now but also enduring – vintage for the modern home.

Digger: Why is vintage, retro and nostalgia increasingly such a big thing in so many people's lives?

Lucy: Vintage accents make a home personal. The best homes aren't prescribed – they're put together over years. The folk revival, recycling and up-cycling in a period of recession are to some extent a backlash against the throwaway furniture warehouses and the high-street generic. That said, there's a definite place for Ikea, we have to say, and a lot of what Ikea's doing is vintage-inspired.

Buying vintage is also, comparatively speaking, value for money. If you buy a sideboard new, the moment you get it home it's worth a fraction of what you paid for it. If you buy a retro sideboard, it will keep its value, if not appreciate. The Siesta chair we bought years ago is now worth 3 times what we paid for it, so in lots of cases you're actually making an investment. It's great to feel you're being savvy, as opposed to being a spend thrift!

Digger: How key is The Internet to what you are doing?

Lucy: The Internet is what's made everything happen for us and suits our set-up ideally. With 3 young children, I can work round my family. It never stops – I send emails while I'm waiting at the school gate and while I'm cooking dinner. It is quite common for Enzo to be doing deals at midnight on a Saturday night! Sourcing products from the US and selling to customers in Australia and Japan is all possible because of the Internet. When we started out, we thought in terms of a bricks and mortar shop, but we have found that a website gives us more scope – we would need a large industrial space to showcase our stock - not too plentiful in Brighton! - so we've gone for a virtual "Emporium/Concept Store" instead! Or that's the aim. Not being slaves to rent gives us more freedom to do what we want to do.

I still think face to face service is highly important, though, which is why we're happy to arrange viewings and people can phone us up to talk through their requirements.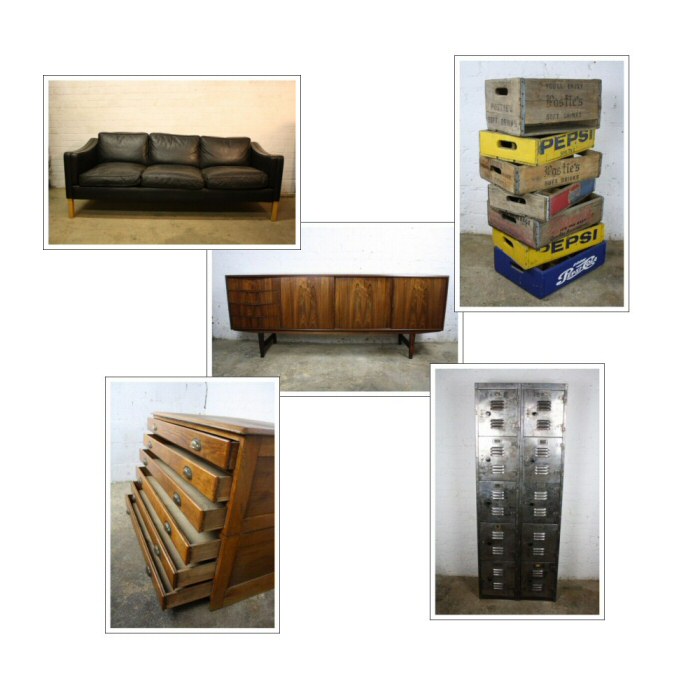 Digger: Where are your customers coming from and what customer feedback/comments do you get?

Lucy: We sell to private clients as well as retailers and design houses. Lots of our customers are London based. A large number come from Europe and we get buyers from further flung places as well – the Australians have a thing for Falcon chairs, for example.

One guy telephoned to tell us how pleased he was with his Ercol butterfly chair – he had it at his desk and he was struck by the light pouring in on it. Brilliant! The objects we surround ourselves with bring us happiness. That's what it's all about!

Digger: What are the best and most enjoyable aspects of running Lovely & Company?

Lucy: Buying things you love is supremely satisfying and highly addictive! I love the ever-changing nature of dealing in vintage items and the characters we come across on our travels.

It's extremely hard work, but I love the freedom of what we do now: it's a family-run, home-based "cottage industry". We had a very successful year last year, at a bad time for retail. Long may it live!

Digger: What are your plans for Lovely & Company in the future?

Lucy: We're outgrowing our premises so we need to expand operations a bit. We're hoping to open a showroom in the near future – we may even go country and are currently looking at stables and barns – in an ideal world, we want to keep everything under one roof and home-grown.
We will be adding lots more lines in the coming months - more home accessories and decorative items.
We'll also be developing the website and starting a blog.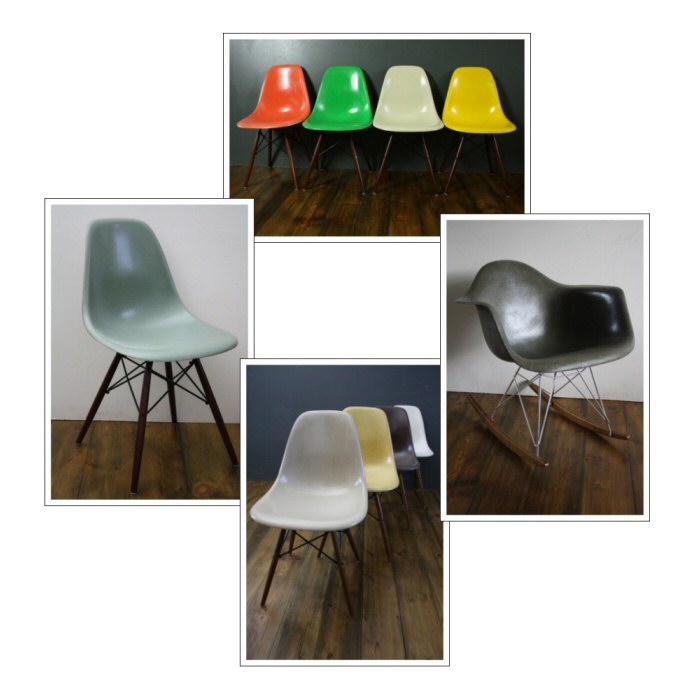 ---
We are Lovely & Company, an online vintage furniture store based in Brighton, England.

There's something for everyone on our site. Most of our finds date from the beginning to the middle of the last century, with a few new bits thrown in.

We both have backgrounds in the music industry and our principles for furniture buying reflect our music tastes – in true Balearic spirit, we believe in mixing it up – industrial, rustic, mid-century, English, Danish, French, American, Indian – lovely things from wherever and whenever.... It's a simple philosophy: first and foremost, we buy what we like – things we'd like to have in our home (and in most cases do), that we hope you'll like too. We source pieces that are individual and authentic. For us, a home isn't static and contrived. There's no set formula. Our selection of wares is both relevant to now but also enduring... modern vintage.

Whilst we stock some design classics, we're not into design snobbery and will happily sell 20th Century design classics alongside soda crates and milking stools. All our items are originals, but not everything is designer. We're inspired by and have tried to capture the vibrancy of a (much edited) flea market – eclectic and ever-changing.

Phone: 07976931671
Email: info@lovelyandcompany.co.uk
www: Lovely and Company