Paul at Your Jukebox Co has a passion for restoring these classic jukeboxes to their original glory.
Here Digger talked to Paul about this love of jukes which sees him with the best of both worlds - running a thriving business where there's a strong customer demand and great personal satisfaction in providing quality restorations.
---
Digger: What is your background Paul?
Paul: I have been working in professional audio for over 20 years designing mixing consoles and power amplifiers for recording studios, bands and music venues. Growing up in the 60's was a big influence on me, especially the music, and so when the chance to work in the music industry arrived I jumped at it. Working with musicians and promoters you soon realise there is no second chance in a live performance so the equipment they use has to work reliably night after night. This, indirectly, was a good grounding for jukebox restoration!
Digger: Can you please tell us how Your Jukebox Company started and how the company has evolved into what it is today?
Paul: In the mid 70's a friend ask me to fix a jukebox he had acquired. It was a classic late 1950s machine that was good fun to dismantle and rebuild. It worked and sounded great after wards and we spent many hours listening to it. Years later, my wife happened to mention she would love a jukebox which was a surprise to me as I didn't know she had any interest in them! So I came by a very run down Wurlitzer that after 6 months was playing music again. We were so pleased with it I caught the bug and bought another jukebox and soon friends were asking if I could find one for them too. It then occurred to me that using the skills I had learnt in my audio career I could combine with my fascination of jukeboxes and start a business.
Digger: You sell, hire and repair Jukeboxes. Are these (and the parts) getting more difficult to source?
Paul: I think it's like most other restoration businesses, when you start looking you'd be surprised what you find. There are various parts around, some reproduction parts are being made and the rest is up to ingenuity!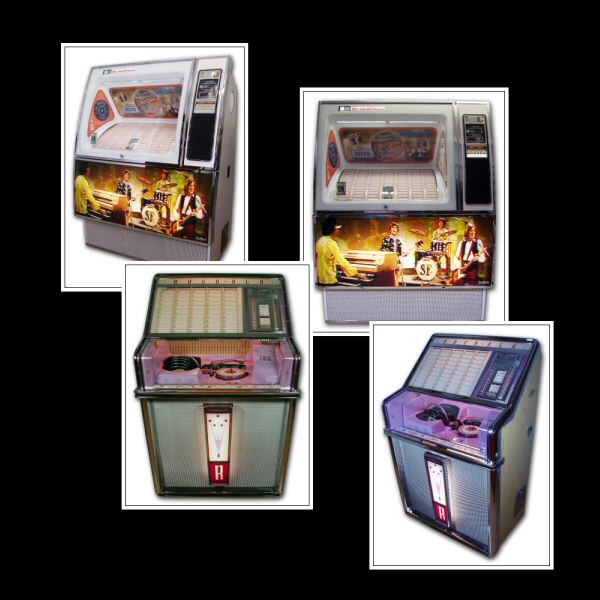 Digger: You have some other unique options and offerings, such as Music For Schools and Customisation. Please tell us more.
Paul: I realised when starting my company that there are already some very good jukebox restorers that had been around for a lot of years. For me to break into this specialist area I wanted to offer something a little different. Not all customers want a visible mechanism jukebox from the 50s or the prices they demand. By taking a 60s or 70s jukeboxes, fully restoring them but creating a completely new look, that can be themed to whatever the customer wants, makes a great alternative.
Custom jukeboxes have helped establish Your Jukebox Company for its quality and reliable restorations which lead to enquiries from schools. It has been long accepted that music in a learning environment stimulates and creates a more receptive atmosphere. Jukeboxes, although not the first thing you may think of, play music, have historic relevance, are a great piece of mechanical engineering and are great fun for the students to use. They also look good in the school entrance! I must stress that the custom jukes do not detract from my classic restorations which I believe equal the best available.
Another feature I added to jukeboxes right from the beginning was a CD and mp3 connection. This lets you play music from other sources through the jukebox which gives a similar sound to the vinyl records. This is a great addition as you are not limited to the records you have.
Digger: Why is vintage, retro and nostalgia so popular in so many people's lives and why are Jukeboxes so evocative of decades past?
Paul: I think because modern technology has no lasting value. As soon as you buy, say, a computer it quickly dates and is superseded by a better one. The pleasure of jukeboxes is strongly linked to the vinyl they play. A 7" record has something special about it especially when played on a bright chrome plated jukebox. The modern equivalent, an mp3 file, can be down loaded and added to the other thousand tracks that a player can easily store and somehow loses its value.
Digger: What advice would you give to somebody planning to buy a Jukebox?
Paul: Buying a jukebox should be fun and be a long term investment. A bargain is a reasonably priced purchase that will work and sound good for many years rather than something cheap that will have problems. A bad experience could put the owner off ownership but unfortunately this does happen when buying unseen or without a warranty. Take some time to look around, see what appeals to you and go along to inspect it. I always encourage customers who have just started thinking about a purchase to see and hear my jukeboxes which always gives them a pleasant surprise.
Digger: Where are your customers coming from and what customer feedback/comments do you get?
Paul: A diverse cross section of people. I have had a good few 40, 50 and 60th birthday surprises, couples that just want to play or start collecting vinyl records, and families that have 'just the right spot' for a jukebox in their house. This is where the mp3/CD connections work well as the kids can plug in their phones and share their choice of music. The great reward of restoring jukeboxes is the immediate pleasure the customer gets as soon as it is delivered. I have put a few testimonials on my web site and purposely choose those from customers that have owned their machine for a few years. It's clear the enjoyment doesn't go away but if anything increases. They generally won't ever part with their jukebox!
Digger: What impact has The Internet had on your business?
Paul: It's certainly opened up the market as a lot more people today are aware of old jukeboxes and can easily find out where to get them from. This, I think, is typical of most specialist industries but you need to look out for the inevitable scams. A typical advert may read 'was working perfectly until last week' and a quick look inside you see parts missing or clearly never worked for many years. It's back to looking for quality first and then the price.
Digger: What are the best aspects of running Your Jukebox Company Paul?

Paul: Without a doubt delivering a completed jukebox to its new owner. Its great seeing the reaction when it's turned on and the first record is selected.
Digger: What are your plans for Your Jukebox Company in the future?
Paul: Build on the reputation I have gained in the last decade which means supplying ever better restorations at affordable prices – the two go hand in hand. I can see a demand for the custom jukeboxes I offer in promotional and advertising work which will be fun. I get great pleasure working with jukeboxes and providing them to delighted customers is what I look forward to.

---
Classic Jukeboxes, Custom Jukeboxes, Music For Schools, Premium Collection

Have you always wanted a jukebox, seen one at a party recently or like the idea of playing your treasured 45's again? Or maybe a jukebox for your company entrance, board room, exhibitions?
Whatever your reason, here you will find a variety of different models and styles of vinyl playing jukeboxes from the 50's through to the 80's
All jukeboxes are finished to a high standard with a commitment to quality and reliability securing your investment for the future.

info@yourjukebox.co.uk

Tel : 07763 719646