Digger asked Mike at the south coast's premier Beatles Tribute Band, The Vox Beatles a few questions.
The Vox Beatles have a wealth of experience playing in other bands and with some big names from the sixties circuit and got together based on their love for the music of The Beatles and for playing live.
So may we introduce to you... The Vox Beatles - John, Mike, Paul and Joe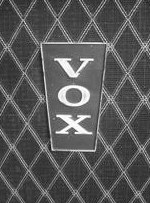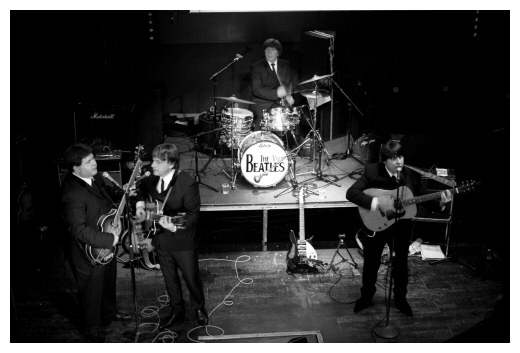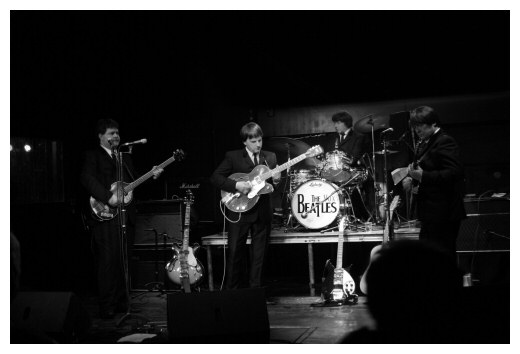 The Vox Beatles are:

MIKE "John Lennon"
Lead Vocals, Backing & Harmonies
Rhythm & Lead Guitar

JOHN "Ringo"
Drums & Percussion

JOE "George Harrison"
Lead Vocals, Backing & Harmonies
Rhythm & Lead Guitar

PAUL "Paul McCartney"
Bass Guitar, Acoustic Guitar, Keyboards,
Lead Vocals, Backing & Harmonies
---
Digger: What is your background Mike and what prompted the formation of The Vox Beatles?
Mike: I've been a mad Beatles fan for years (just like millions of others) and have a massive love of 50s/60's music. My brother John and I have been playing in 60's cover bands since the 80's, most successfully with the Fourbeats which was pro/semi-pro for over 15 years. We were playing alongside the likes of Dave Berry & The Cruisers, The Checkmates, etc. Last year we (me & John) parted company with a pub/social club band, and it was the best thing that ever happened to us. We met a couple of great musicians & Beatles nuts and away we went!!...
Digger: For those not in the know Mike, where does the name come from?
Mike: The name The Vox Beatles came about because ....we wanted to form a Beatles tribute band, and you can't just call yourself The Beatles. So Vox means voice in Latin (so I'm told) and also because the Beatle amps were made by J.M.I. and were called Vox.
Digger: What does the music of The Beatles and the sixties mean to you?
Mike: Almost everything.
Digger: How hard is it to reproduce authentically the look and sound of The Beatles?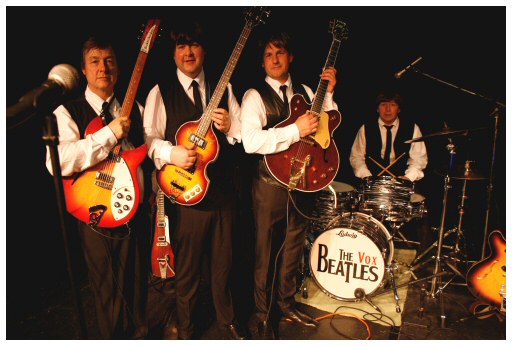 Mike: It's bloody hard on both accounts. We are never going to have there facial looks.... we are older for one thing!! But we try as hard as we can to sound as close as we can, plus we have most of the early stage gear so we are well on the way..........
Digger: What can people expect at one of your gigs and what would be a typical playlist?
Mike: We hope to take them back to the early 60's for a couple of hours of some of the best music ever written played completely live. Plus some great 60's guitars, amps etc. to look at and to listen to. Also our playlist of lots of early hits with some singles and LP tracks. We will be adding later material next year.
Digger: What sort of feedback and comments are you getting from audiences?
Mike: Mostly very good. We are asked to play return gigs at 95% of places we have played....I must remember to put all our feedback on our website!!
Digger: Mike, what are the most enjoyable aspects of running The Vox Beatles?
Mike: For me personally to be with like-minded Beatle people in and out of the band.
Digger: Why is retro and nostalgia such a big thing in so many people's lives these days, including the new generations?

Mike: Because, without looking through rose tinted specs, I think the past is a safe comfort place that cannot be changed. Memories. It wasn't all good, no, but life was less plastic then. More freedom (thanks to our parents' generation) - almost free of traffic wardens, CCTV, health & safety etc. etc..........need I say anymore?!!! Apart from please excuse my spelling!! Not all young people like all new things - some like old things as well.
Digger: Where would you like to see The Vox Beatles in two years' time Mike?
Mike: Please God we are playing bigger venues, more money, women screaming for us etc. etc... Really ....yes! All of that and more?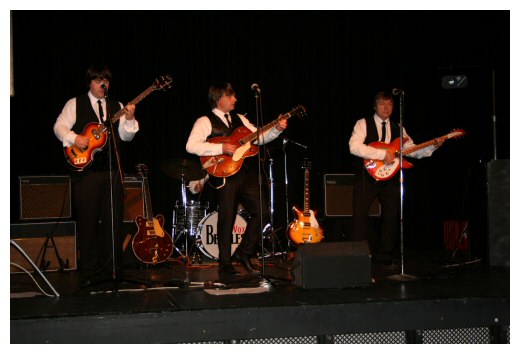 The Vox Beatles - John, Mike, Paul and Joe


---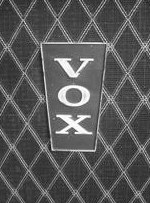 The VOX Beatles are the South Coast's fantastic Beatles Tribute Band available for theatres, corporate events, parties, weddings and all other special occasions.

Their passion, enthusiasm and superb musicianship capturing their famous counterparts, along with years of experience will guarantee that your function will be definitely one to remember and a roaring success!

On a more technical note, authentic amplification, instruments and stage lighting are used to provide a high quality sound and visual experience.

Different packages can be tailored to suit your requirements and also interval and background music can be supplied at your request.

PACKAGES AVAILABLE INCLUDE:-

Option 1 - 1 hour Beatles set
Option 2 - 2 x 45 min Beatles sets
Option 3 - 2 x 1 hour Beatles sets

All supplied with interval music, lighting and visuals.



You can't do that

A hard day's night

All I've got to do

All my loving

And I love her

Anna

Baby's in black

Bad boy


Can't buy me love

Come together

Day tripper

Dizzy Miss Lizzy

Drive my car

Eight days a week

Eleanor Rigby

From me to you

Get back

Girl

Help

Here comes the sun

Here, there and everywhere

I feel fine

I saw her standing there

I want to hold your hand

If I fell

If I needed someone

I'll be back

I'll follow the sun

In my life

It won't be long

Lady Madonna

Love me do

No reply

Norwegian wood

Nowhere man

Please please me

Revolution

Roll over Beethoven

She loves you

Something

Taxman

Thank you girl

The ballad of John and Yoko

The night before

Til' there was you

Things we said today

This boy

Twist and shout

We can work it out

Yes it is

You're gonna lose that girl



Phone Mike for further info - tel: 07796484605
Email: mountfordmike@googlemail.com
www: The Vox Beatles