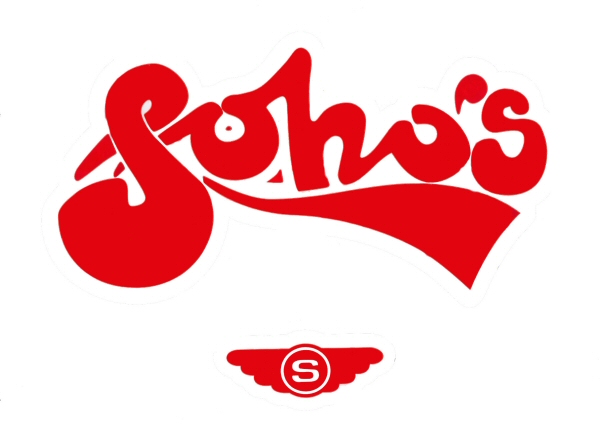 Digger talks to Dan at Soho's Alternative Wear. Whether your look is Punk, Emo, Goth, Mod, Psychobilly or forties and fifties vintage-style, Soho's can supply the clothes that count.
With five flourishing shops in the north of England and a bustling website, Soho's is the place to be for the self-respecting image conscious who are into Alternative Wear.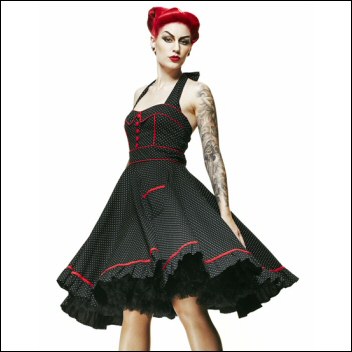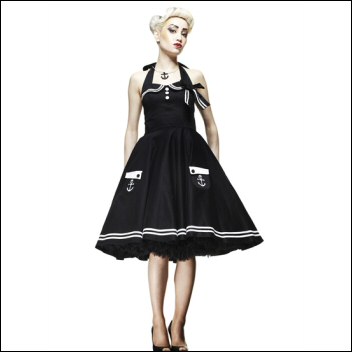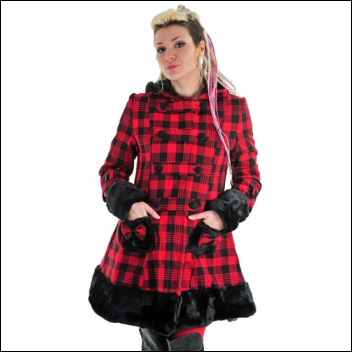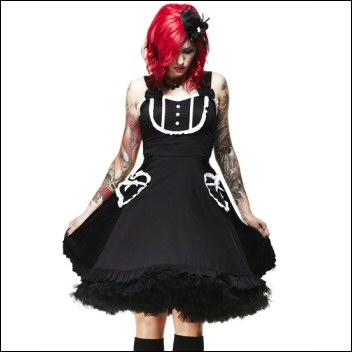 Digger: Can you please tell us a little bit about the background to Soho's Alternative Clothing Dan?
Dan: Soho's has got its own label as well as selling other brands. We've got five high street shops in the north of England which have been going in one form or another for more than twenty years. There's shops in Leeds, Manchester, Liverpool, Chester and Shrewsbury.
Digger: Some good locations. Are they anything to do with you?
Dan: No, I don't look after the shops. I look after the website, set-up in 2006. We launched it to sell to the rest of the UK and the world.
Digger: What impact has The Internet on what you do and on the business?
Dan: Yes, a huge effect. It means we can interact and communicate much better with our customers and reach a much larger audience. We sell all over the world now, from the States to New Zealand.
Digger: Do customers seem to care where you're based or is it not relevant to them anymore? As long as you can get the items to them reasonably quickly then they're happy?
Dan: Yes. A lot of it is to do with time and with a lot of the people from abroad who want to buy from us it's all based on time. We dispatch most orders same day and get it to people in Europe and America within a week. A lot of people are surprised that we don't have a shop in London, being called Soho's.
Digger: New York also has a Soho. What's in a name, eh Dan? So why do pop cultures like Mod, Punk and Goth endure through the generations? They seem to get stronger.
Dan: Yes, that's a good question. I think in the current climate the generation around today face a lot of similar issues that saw the rise of those cultures in the first place.
Digger: Yes.
Dan: The clothing that you might choose to wear can say a lot about yourself without having to utter a word really. There are those that will remain true to those original ideas. But, as with everything, the styles are evolving all the time.
Digger: What are your retro passions?
Dan: In terms of clothing?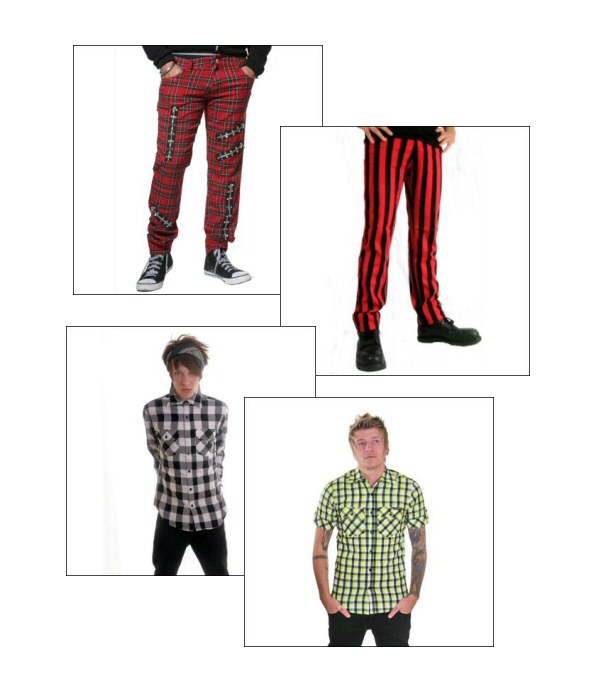 Digger: I'm trying to visualise whether I'm talking to somebody who looks like a Punk or a Goth or a Mod or...
Dan: No, I'm a fairly ordinary type of guy to be honest with you. Disappointingly I'm not painted up like a Goth. Like our shops, I like a bit of everything really - I don't stick too well to a particular style.
Digger: Who are your customers, where are they coming from and what sort of feedback and comments are you getting from clients?
Dan: Most of our customers are in the sixteen to twenty-five year age range but particularly now with the forties and fifties styles becoming popular we've seen lots more people from all ages. We've had loads of requests to stock plus sizes in the vintage style dresses so we've put together a range of fifties dresses up to size 22 which has proved really popular.
Digger: I've been involved with a lot of nostalgia-related enterprises since 2001 and I've seen a phenomenal increase in the popularity of it all. What do you think that's due to Dan?
Dan: I think you're right, it's a lot more mainstream as well and you see a lot more vintage and retro styles in shops like Debenhams these days. It's just turned into a really strong fashion movement but it's still important to the alternative scene as well as the popular scene.
Digger: People like Dita Von Teese, who we've just interviewed, is really revolutionising the burlesque and that's become almost mainstream now as well.
Dan: Absolutely, someone like Dita Von Teese is responsible for bringing it to the wider audience. Definitely. She does great work in terms of bringing it to the masses - she can be right on the edge as well but it's a fantastic thing that she's done for us as well because it means the popularity of that type of clothing is good for us.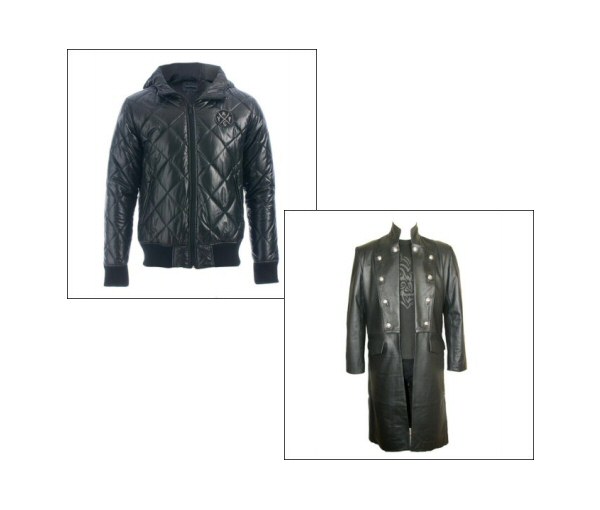 Digger: Please tell us more about the various clothing options you offer.
Dan: The styles we have - we sell all sorts of clothes. Punk, Emo, Gothic, street clothes, Rockabilly and vintage styles. Recently in the high street shops, particularly Liverpool and Chester, they've been branching out by popular demand into vintage clothing - one-offs that they painstakingly hand-picked and selected.
Digger: Original vintage?
Dan: Yes, that's becoming very popular - I don't think it's just a reaction to people not having enough money these days due to the recession. I think also that the retro style's an important part of alternative and popular clothing as well.
Digger: It's also very good value as well Dan. And if you buy something vintage you're guaranteed that there's probably not going to be anybody else wearing it.
Dan: Exactly, that's most important.
Digger: And the quality's there because they did seem to make things to last in those days.
Dan: Absolutely, but in terms of our mainstay - we sell an awful lot of fifties-style dresses. But these designs resulted from one of the brands called Hell Bunny. We sell their classic fifties-style dresses but they also do fifties-inspired styles with an edge to them. A Punky or Gothic edge to the designs which gives something modern and different to a classic and vintage look.
Digger: A Retro feel with a modern edge. What should that be called?
Dan: I suppose you could call it Psychobilly - some people would call it that. Perhaps it's wrong to always stick a label on something.
Digger: I thought Psycho Billy was that mad guy who always misbehaves down the pub! (Both laugh) What do you most enjoy about running the Soho's Alternative Clothing business?
Dan: It's the range of different people that I deal with, from the suppliers to the customers, of course, but every day is different in this business and it's always a challenge. We're constantly having to keep up with changes on The Internet and what our customers want. There's never a dull day in the Alternative Clothing industry.
Digger: And it's good that you've got the physical shops and they're strong as well so you can keep in touch with what's happening literally on the street.
Dan: Yes, they're all going very, very well.
Digger: Is there any temptation to have shops further afield, maybe down south?
Dan: It's all about location and management of the shops and with the cluster of shops in the north it's less to maintain. If we were to put a satellite shop out in London that's a logical next step to take.
Digger: Edinburgh would be a good one too.
Dan: It would. But not at the moment.
Digger: Leeds is perfect and Yorkshire seems to have such a big retro thing going on. Vintage seems to be really big in Yorkshire.
Dan: Yes, a lot of the vintage clothing is picked and the distribution is from within Yorkshire so that drives that, but it seems to be that ten years ago you used to be able to get your cheap retro stuff from Oxfam or other charity shops. But the charity shops these days have jumped on the bandwagon as well and are making good money out of it. They've got very well-organised websites.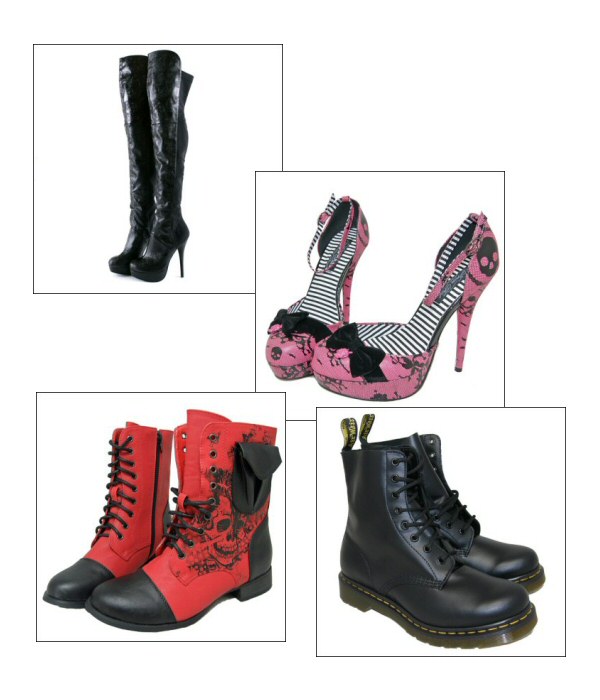 Digger: They're very savvy. What items tend to be the most sought after and the biggest sellers Dan?
Dan: Our leading brand is Hell Bunny by far and it's the vintage-style dresses with an edge that I was talking about. The Psychobilly. We still sell a lot of Punk and Gothic and Emo styles but even our own Soho brand baggy jeans are still really popular.
Digger: Are the chaps well-represented on the site?
Dan: The Chavs? On our site?!
Digger: No, not the Chavs, the chaps - the blokes! (Both laugh)
Dan: Not as well represented as I would like - the large proportion of our customers are female and that is reflected in our offer on the website but in terms of retro clothing our business is 90% female. Although we offer creepers and some custom T-Shirts and things like that, but it's the women that buy most from us.
Digger: And for the future Dan?
Dan: I read in one of your other interviews "World domination."
Digger: Yes, and that was only slightly tongue-in-cheek.
Dan: That's always the goal but it depends on our customers to a large extent. We've got a great following of loyal customers in the north of England - that hot spot around the shops, and now we're growing our following with The Internet. You know we've got customers all over the UK using our website and now we're growing in popularity in Europe and the US. So we're lead by what our customers want styles-wise, for example the shops branching out into vintage. But we never stop searching for the best and the newest.
Digger: You're doing well even in a difficult financial climate. What will it be like when the upturn happens?
Dan: That's when world domination comes in.
Digger: Yes. Sounds like a good plan to me.
---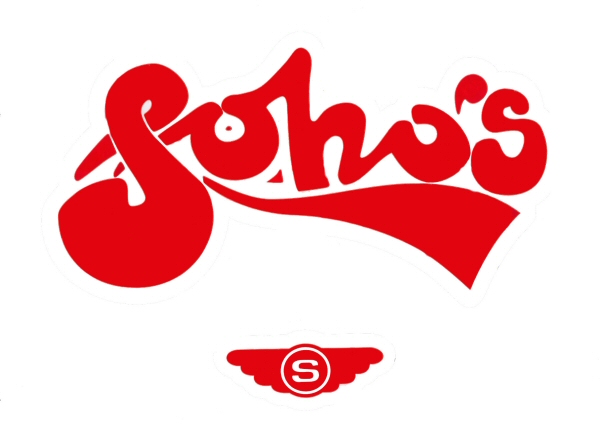 Soho's have been designing and making their brilliant alternative wear collections for the past twenty years, and have well-established branches in Liverpool (Bold Street), Leeds, Manchester (Affleck's Palace), Shrewsbury and Chester. Now the secret is out, and Soho's is online selling vintage style, retro clothing, rockabilly, cyber, Goth, punk and Emo clothing UK-wide and internationally to anyone looking for retro, vintage, alternative to high-street fashion.

At Soho's we take our inspiration from our customers, not from the catwalk. Alternative fashion evolves on the street, as budding stylists customise their own look - our designers are always looking for ways to make this easier. You'll find that our range is very much mix-and-match, so you can express your creativity by combining basic pieces with accessories and jewellery for a style that's unique to you.

As well as our own designer label brands of Emo, punk and Goth clothes, we also stock other well-known brands and makes, such as Death Kitty, Hell Bunny, Mercy, Criminal Damage, Iron Fist and others. We're always looking for exciting new designs and styles, so if there's anything you'd like to see available here don't hesitate to suggest a brand or style to us.

Visit Soho's shops! SOHO'S has shops at:

LIVERPOOL - 80 Bold Street. Tel:0151 707 0880
LEEDS - Kirk Gate opposite the Market. Tel: 0113 242 3778
SHREWSBURY - Lower Floor Darwin Centre. Tel: 0174 335 2774
MANCHESTER - 2nd Floor Afleck's Palace. Tel: 0161 832 2555
CHESTER - 7 Bridge Street Row east. Tel: 01244 403 079

3rdFace Clothing Ltd Soho's
18 Old Station Road
Weymouth
Dorset
DT3 5NQ
United Kingdom Tel: 08453703773
www: Soho's