Chaucer Covers - Britain's leading Autograph Dealer.
Digger talks to Mark at Chaucer Covers about their fifteen plus year-old business that has evolved with the rise in Internet technology but still caters for those who prefer more traditional methods. Dealing as they do mainly in the past, Chaucer are nevertheless up-to-date with online auctions and voice recognition technology to keep them at the forefront of the collectables and autographs market.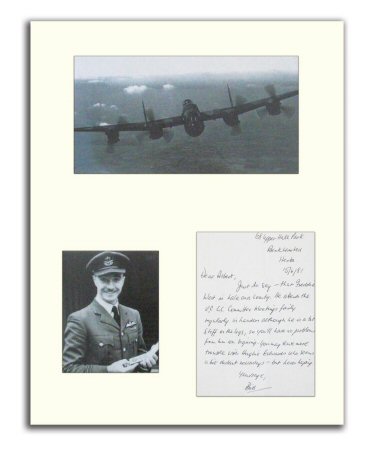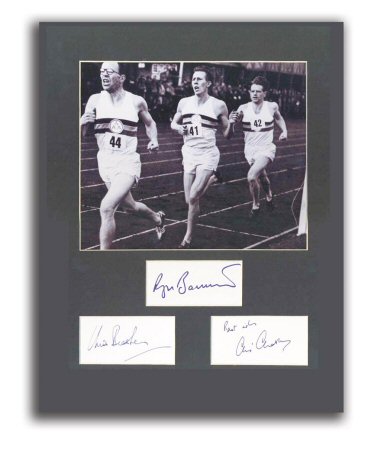 Digger: Can you please tell us a little bit about the background to Chaucer Collectables Mark?
Mark: Well, it's been going for about fifteen years.
Digger: So pre-Internet?
Mark: Yes, it evolved from my history of working with some other collectables companies. It was a mail order company for all that time and now we're doing a lot more with online auctions. Both on The Internet and also the traditional mail order as well.
Digger: There are still customers who like the old-fashioned mail order side?
Mark: We've got a mailing list of about 5,000 people, the majority of whom are older and not so Internet-savvy.
Digger: I was hoping that it was a cliché about the older people and The Internet and that us 'wrinklies' were getting up to speed. The figure I heard the other day was that 8 million people are still not online in the UK.
Mark: I can believe that.
Digger: But I suppose out of the whole population that isn't too bad. Please tell us about the regular auctions you are running.
Mark: We run an auction every month via a company called The Saleroom.com where we actually hold the auction live by microphone rather than live in a room. It's an online auction only. It has the great advantage that you don't travel all around the country to bid on four lots and by the time you get there you find that someone's outbid you. It works very, very well. We've just completed the auction for November 25th and there's about 950 lots. We mail a catalogue out and you can bid, either from the catalogue, or you can go online and bid. Or you can leave us commission bids to place on your behalf.
Digger: If you do go to a physical auction, although it can be interesting, sometimes you have to sit through numerous lots before the ones that interest you come along.
Mark: We have a lot of people who follow the auction all day long and who dip in and out. For this particular one, I've kept things in very distinct blocks. In the past we've had some with whole collections in one go with a mixture of subjects but this time we're trying to keep it in blocks so people will know, for example, that aviation is near the beginning. And as we do about 120 lots an hour they know where they're going to be at any one time.
Digger: You've got quite a few categories there so would you call yourself a specialist?
Mark: Obviously they're all signed and there are very few auctioneers who specialise in signed memorabilia like us. What we normally have is fifty or sixty mixed collections at the beginning, accumulations and bin-end lots and then quite a big batch of space and aviation photographs and covers. We've got an Air France Concorde test pilot signed cover for example. Also a Buzz Aldrin, who, as you know, was the second man on the moon.
Digger: That's a fantastic one. What do you think that might go for?
Mark: He charges about £250 a signature at a show so they normally go for that sort of money.
Digger: So he hadn't done like Neil Armstrong and said he'd never sign anything again?
Mark: No he sits happily signing at £250 a time, no problem. The most interesting lot we've got this time is a first for us - it's an ejection seat from a Blackbird SR71. It's the only one that's not in a museum.
Digger: Was it actually used?
Mark: No, it was obtained from a scrap yard and they thought it was from a Starfighter, imported into England. When they started looking at all the part numbers it became apparent that it was from an SR71. There's a lot of provenance with it and we're expecting a lot of interest in that. We haven't a clue what it might fetch.
Digger: That's the thing with unique items, isn't it?
Mark: I think they're about $3 million each when they are manufactured but I couldn't say how much a second-hand one would fetch. It's certainly a quite interesting item.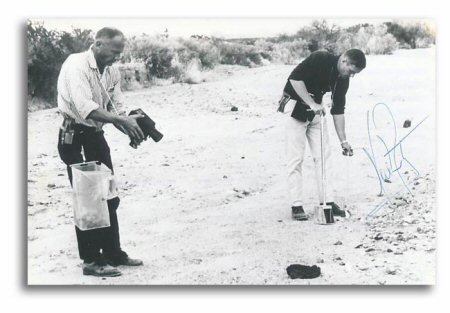 Digger: That must be a big part of the enjoyment of your job - the fact that no two days are the same and that you never know what to expect and you're constantly being surprised, aren't you?
Mark: We are. And obviously we sell bits of history - we've got a photo in the next sale of a guy who flew the first ever rocket plane in 1929 called Julius Hatry. No-one's ever heard of him. He was German.
Digger: Oh, so they were ahead in the rocket technology even back then?
Mark: Yes, by a long way. The other space item we've got is an original watercolour by Michael Collins who went up with Apollo 11- the command module pilot who's very much into art at the minute. So we've got a nice watercolour painting from him. There's an Alan Shepherd item and a Judy Resnick, the lady astronaut who sadly died in one of the Shuttle disasters. Then we've got a selection of navy-signed items - Admirals and so forth.
Digger: Do you ever get anything from the Axis powers?
Mark: We do and we sold an Adolf Hitler-signed document a couple of auctions ago.
Digger: What did that go for?
Mark: About £1,000. And we have, over the course of a year, quite a number of things signed by Luftwaffe pilots and people who were actually in the war other than the commanders. We do see Rommel signatures and others quite commonly.
Digger: You see the old boys who were in Spitfires and Hurricanes in the Battle of Britain at a lot of these events at Duxford and so on and they sign books, painting photos and so on.
Mark: Yes, we sell a lot of those. We've probably got a couple of hundred items in this auction which are military-related and a lot relating to pilots. There's probably 50 or 60 Battle of Britain pilots in there. Then there's a lot of rare items - a couple of King Hussein of Jordan signed items, Frank Whittle, Douglas Bader and Barnes Wallis and quite a number of others.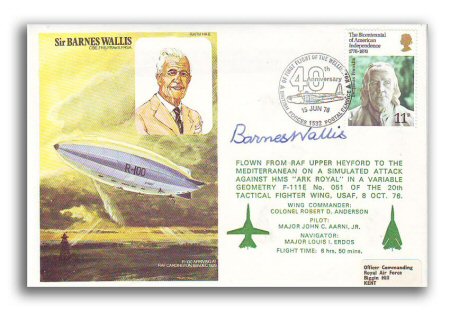 Digger: Does the Spitfire designer Mitchell ever come up?
Mark: Yes, we haven't had one ourselves but there are a number of Mitchell documents around. One of our customers has got one which he's loathe to part with but I've been trying to twist his arm. (Digger laughs) Maybe next year.
Digger: What does your AFTAL membership signify Mark?
Mark: AFTAL is a body of people that try and regulate what we do.
Digger: Self-regulating in a way?
Mark: Yes, we've been part of it since the very beginning and we've got a good relationship with the people who run it. It's useful because to become an AFTAL-registered dealer the AFTAL board have got to have confidence in the quality of the product that you have and it gives the customers some comfort that they're dealing with somebody who's reputable.
Digger: That's key, especially with the dreaded eBay.
Mark: Yes, eBay has had a lot of criticism over the years with the things that are sold on there. They are beginning to improve it and AFTAL are very much involved with that. At the end of the day, interestingly, there are a lot of dealers on eBay, including AFTAL dealers, and there's obviously also a lot of pure forgeries out there that you just want to avoid because they rip the public off.
Digger: So AFTAL should give you a warm feeling that the provenance is guaranteed?
Mark: Yes, we guarantee everything that we do for the lifetime of it. If someone had a problem with something they could come back to us and we would refund them. That's part of the normal trading of ours but also we adhere to the regulations that AFTAL have as well. Having said that, it's the company behind the guarantee that gives the client the comfort.
Digger: And the fact that you've been around for fifteen years.
Mark: Yes, absolutely that's a good sign and the fact that we've got people prepared to give us their collections and put them into auctions. We pay them promptly and that's also the key to good business.
Digger: Have you noticed how much bigger the nostalgia and retro thing seems to be getting?
Mark: Yes, autographs is an interesting subject and quite a lot of people arrive at collecting autographs almost as a subsection of what they were previously doing - collecting stamps or first-day covers or collecting on a certain celebrity. And then they buy some autographs and get into it that way by adding something to their collecting base. But more recently, because of The Internet and the press coverage of a lot of things, it's become common that you see pieces of memorabilia sold a fantastic prices. There is an increasing view that these are potentially good investments and indeed some of them are if you can get hold of the right items.
Digger: The antiques programmes are a good advert for you as well because every one seems to mention some kind of collectable or autograph.
Mark: Sure. Most people collect a number of different things and I'm often amazed by these people who have stamps and plates and coins and all sorts of things. There's a hoarding instinct deeply ingrained of the human genes somewhere.
Digger: Is it more males than females who collect?
Mark: I would say yes that is the case. In any event, they have an incredible knowledge of the subject.
Digger: They certainly seem to know more than the stars they are collecting. So what impact has The Internet had on what you're doing and how has it changed the business?
Mark: I think what it's done is obviously made it easier to communicate Worldwide rather than just within the UK which is where our mail order market is primarily. From the auctions point of view- the last one we had people registered from Hong Kong to Thailand and New Zealand and all over the world. So it's made the marketplace bigger.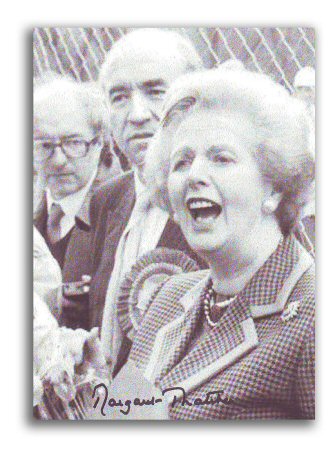 Digger: How have you managed to get yourselves to the number one position?
Mark: Certainly, it's just from experience and from many years of dealing. I think we're in the fortunate position that some of the collections we're selling at the next auction are collections that we sold to people ten years ago. So a lot of material does come around. And because we are actively buying in the market and have avenues to sell either via the catalogue or via The Internet or via the auction, we're very useful to people who might be trying to shift a collection that might be thousands of items.
Digger: And presumably sometimes they might not know much about what they have?
Mark: We quite often are approached by people who are getting older and who want to deal with their affairs and we help them sort their collections out. There's obviously a danger with autographs. With the best will in the world, you put them into a local auction house and you don't even know what they are and they do sometimes fetch quite low prices. Hopefully I'm the one that buys them (laughs) but it is quite a specialist field and if you're going to sell specialist items you're better off going to somebody like ourselves. The one thing that we do at the auctions - they're primarily designed for the private investor. So we don't often batch things up. Other auction houses will do that - in batches of 100 or 200 almost like a trade lot. We're quite happy to have a few more lots but perhaps items that start at a few pounds rather than a few hundred pounds. To give everybody the chance to grab themselves a bargain if they can. We obviously have collections and residues that we do sell and sometimes if someone wants to get rid of a box of stuff that's fine. We'd normally go through it and pick out the individual items that we can get a better price for and obviously that helps us and the customer as well.
Digger: Who are the biggest collectable names? Marilyn, Elvis and The Beatles?
Mark: Yes, obviously those ones are popular but we specialise in military and space and first-day covers.
Digger: Who and what would you recommend for people to keep an eye on Mark?
Mark: Nowadays I'd certainly be buying anything to do with Margaret Thatcher - and famous firsts like Roger Bannister and some of the Formula One drivers like Stirling Moss and people like that. And obviously any up-and-coming actors, so if you can find the next Johnny Depp. There's an interest in people like Ronnie Barker who is popular with photos and covers. And we have a lot of people interested in military and aviation and names like Buzz Aldrin and Chuck Yeager and people like that. The prices of those do tend to increase - they may not leap up but they steadily increase.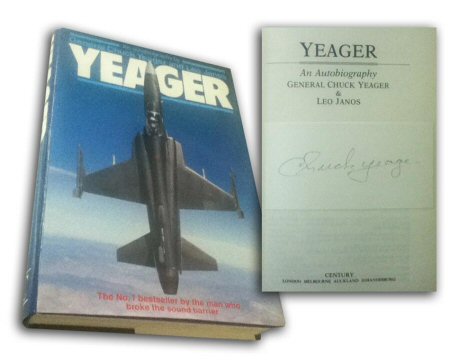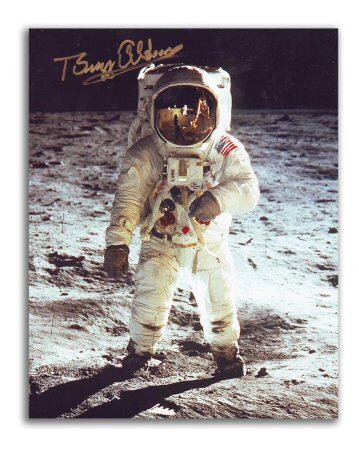 Digger: I suppose the material goes around in circles?
Mark: Yes, Neil Armstrong is a classic example. That photo of him in his white spacesuit. A few years ago you could buy those for a few hundred pounds but I've seen some of our competitors selling them for £5,000 or £6,000. The prices of those sorts of things are heading one way, I believe.
Digger: Just beware of eBay forgeries.
Mark: Indeed, Neil Armstrong is a highly forged signature and you need to be wary and to make sure that you're buying it from a reputable source.
Digger: So what of the future Mark?
Mark: I think the auction is becoming the much bigger part of what we do. With the economy as it is, we've certainly got people coming every day wanting to sell their collections and the auction is a very useful part of what we do. The catalogue is useful if you have individual better items and maybe better in that case than taking a risk at auction. But at least we give people several options of what to do. We've got moiré stuff coming in than we can process - I think our first auction was 300-400 lots and this latest one is just shy of 1,000.
Digger: That's terrific Mark. Onward and upward and we wish Chaucer Collectables the very best.
Mark: Thanks David.
---

Welcome to Chaucer Covers, Britain's leading Autograph Dealer.
Whether you are investing in autographs or collecting as a hobby, you can be confident every signed piece comes with our lifetime money back guarantee. We are members of AFTAL - The Autograph Fair Trade Association Limited and we strongly adhere to the strict guidelines which the organisation sets out. Along with your order you will also receive our excellent magazine full of exciting authentic autographs and memorabilia to order.
The leading UK mail order retailer of vintage and contemporary authentic signed sporting and celebrity memorabilia. Registered dealers with the Autograph Fair Trade Association AFTAL
Britain's leading online & mail order memorabilia dealer.
Having sold over 30000 lots on the internet and over £3,000,000 of collectables by mail, we have access to the worlds top dealers, who we have built relationships with over many years.
So you can buy with confidence from one of the best names in the business. Chaucer Covers was set up to offer collectors a massive range of products for collectors or as gifts. There is something for everyone and a range to suit all budgets. We have 1000's of different items from £3 - £5000 including limited edition film cells from £25 to complete sets of 1966 England Team autographs. We produce a monthly magazine full of special offers and incredible collectable items at extremely low prices.
We can source almost any item you require via our wants service. Call Steve on 0845 1304094 and let him know what you are looking for.
We are always interested in buyer autograph collections, signed First Day Covers & WW2 Military flown & signed covers

Chaucer Covers
Webster House
24 Jesmond Street
Folkestone
Kent
CT19 5QW

For all sales enquiries, advice and orders call
Tel: 0845 1304094
www: chaucercovers.com