Putting Tonic back onto the fashion map
Here Digger talks to Stuart at the Ace Face Clothing Company.
Stuart had been a Skinhead since 'back in the day.' Now a successful thirty-something in the noughties, he was planning to get married, so he decided he needed to do it in style with a Two-Tone Tonic suit - the sort he was wearing back in '79.
That was the easy bit, deciding I mean. There simply wasn't any Tonic available wherever Stuart looked. It was like gold dust. So began a long search up and down the country for some Tonic material. With a bit of divine inspiration and a lot of determination, Stuart got his suit and at the same time created the Ace Face Clothing Company into the bargain!
These days Ace Face are the company of choice for Mods and Skinheads, musicians such as Madness and The Specials and celebrities such as Martin Freeman and Paolo Hewitt and, indeed, anyone looking for a smart, eye-catching yet subtle alternative to an ordinary run-of-the-mill suit.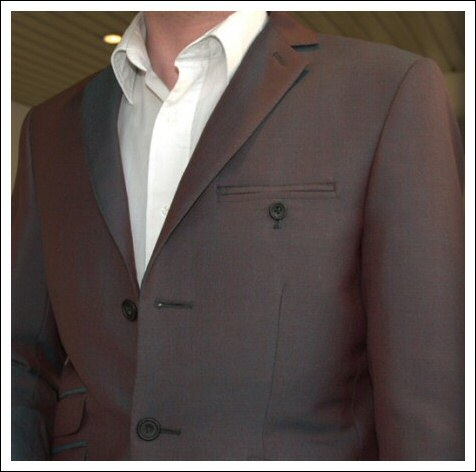 The iridescence of the Tonic suit makes
it stand out from the herd
---
Foreword by Ace Face founder Stuart Murray
Most people today think Tonic is the blending of two colours giving an iridescent sheen. It's not, so you don't have a Tonic shirt, or a Tonic tie. You haven't got a Tonic Harrington, unless, of course, it's an Ace Face one. And you don't, or didn't, wear Tonic Staprest, unless, of course, it's mohair and wool, in which case it wouldn't be Staprest. And for those of us with a fancy paint work on the car or scooter - IT AIN'T TONIC!
'Tonik' was developed by a company called Dormeuil, a French textile company who worked with a British mill (most likely John Foster in Leeds) in about 1957. In 1958 or thereabouts Dormeuil Trademarked the name TONIK. It was impossible to Trademark the cloth as cloth in many different guises has been around since man stopped being a hairy caveman (well some of us at least). And who was to say something similar hadn't been made before?
Dormeuil has always been a high-end textile company and most Mods and the later Skinheads would not have been able to afford this cloth. Britain at the time had a flourishing textile industry and this cloth was copied unashamedly the length and breadth of the country. (Hence the many different qualities of the cloth the suits etc. were made from). Tonik was essentially a 3-ply mohair/wool mix, its contrasting effect caused by the weave of the warp and the weft and the chemical shrinkage and singeing of the cloth. And, contrary to popular belief, Tonik/Tonic didn't have to be contrasting colours. Plain greys, blacks, browns etc. are to be found to this day still. All the products that were made by these other mills were called TONIC.
Tonic is an obvious play on the Dormeuil Trademark, but Dormeuil haven't bothered about it. I think they were more interested in the stars of the day - David Niven, Roger Moore, Michael Caine etc. than a potless 16 year-old Mod from Plaistow. The Tonic that was produced ranged from the very, very good, as good if not better than Dormeuil, to the cheap and nasty. Some were made of just wool, some were a wool Trevira mix (for those not in the know, Trevira is like its cousin Terylene another name for polyester). And some were pure Polyester. The late sixties/early seventies saw the demise of the tailored clothing era and Tonic had a few last gasps in the very early seventies before dying off. Apart from a few diehards the Mod/Skin movement had gone. 1977/78 saw a brief reappearance of Skinheads in any real force, but it wasn't really until Quadrophenia and the Two-Tone Ska revival of the end of the seventies that saw Mods and Skinheads really back in force. The new cloth was crap - too thin, too shiny, but if you couldn't afford a tailor-made suit from a tailor who had a bit of old Tonic in storage then the market stuff sufficed. Today's stuff, thirty years on from the late seventies and early eighties revival, bears little if any relation to the original cloth of forty-odd years ago. And people call Tonic anything with a slight sheen to it.
Our cloth at Ace Face is what we consider a very high-end cloth that any fastidious sixties Mod would have been proud to wear.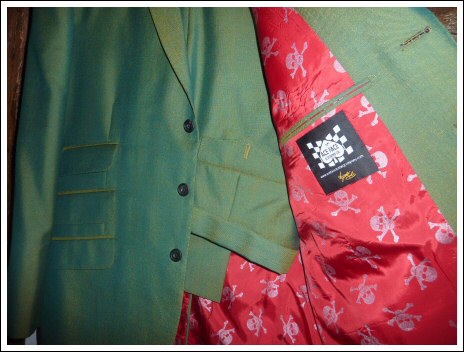 Tonic suit from Ace Face London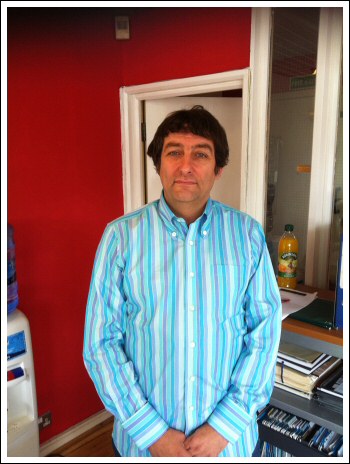 Paolo Hewitt
Digger: Please tell us about your background and about your passion for Mod and Skinhead fashion and music Stuart.

Stuart: From my earliest memories of being a kid at school I had always tried to follow fashion. It wasn't every trend. I wasn't ever into Jazz/Funk or anything like that. At junior school, long hair and flairs were de rigueur. Patch pockets, high waisters trouser in greens and blues, browns. Wedges and platforms on shoes, f**k off collars and patterned shirts. Later on, Doc Martens made a comeback. We were baby boot boys, a hangover from the Skinheads, except those of us without big brothers couldn't really remember the Skinheads. Though bigger boys over the park giving us our first taste of cigarettes would tell us stories of these mythical beasts of folk law and legend!
Around 1976 Punk exploded on the scene. This coincided with a RocknRoll revival that had been gaining momentum over the previous couple of years. The battle lines were drawn. The talk in the senior school playground that we had all just moved up to was "Ere mate what are you a Punk or a Ted?" I never gave it any thought. I had been brought up on rock 'n roll - my parents blared it out at every opportunity. I, like everyone else of my age group, had danced around with a tartan scarf singing Shang-A-Lang by The Bay City Rollers. But when it came down to it, rock 'n roll was here to stay (oh baby). We had the odd mock fight with the Punks at school that turned into real ones, and the Arra Teds were doing their best to make the area a Punk-free zone.
Quadrophenia was a landmark film of the era - suddenly kids wanted to be Mods. I class myself as on the Mod end of the Skinhead spectrum nowadays. But at the time I wasn't sure if I wanted to be a Rocker or a Mod. I wasn't ever a real Ted but that was my mid-seventies aspirations when I grew up. Suddenly, there was a mode of dress that appealed to me, Mod, but also the big bikes and the noise. I was split, so at school both lots got a clump. (lol - only joking). Then, the Two-Tone explosion came about. Gangsters, the prince, Message To You Rudy, One Step Beyond. The music was great, the clothes were Mod but the look was, dare I say tougher. I found my calling and that was me from fourteen years of age till Twenty-One. It's also interesting that violence broke out between the Mods and Skinheads at the time leading to divisions and mistrust till this very day in some instances. Remember, the Mods gradually evolved into the Skinheads and until the press called Skinheads that name they thought of themselves as Mods. Ten years later, take two groups of kids. Call one lot Mods and the other lot Skinheads, stick them in a room with lots of booze and not enough women. Well, what do you think is going to happen? lol.
With Ace Face I realised the passion was still just below the surface. My mob were like any other Skinhead mob of the time except we were aspirational. We went back to its roots, most of us were in shit jobs, lucky to have one. This was the time of Maggie's millions, UB40s, 1 in 10 - signifying that 1 in 10 people were unemployed. We worked hard and, dare I say it, we were bloody good thieves. We were driving nice cars. My mate and fellow Ace Face director Gary, had a 4.2 cream Daimler coupe about 3 years old, I had a triumph 2.5pi and so did another one of us. 2.8 Granadas and other nice motors made sure we never got more that 50 yards without police interest. lol.
But the main thing was our clobber. Jack Geach, a Mod tailor in the 60s then later a Teddy Boy tailor in the 70s, made our clothes. Handmade Tonik or Tonic (lol) suits. Real Crombie overcoats, material from Crombie sent down with the label. We wore the best brogues and did our best to look and act the part. Of course, daytime was still Levis and Doc Martens, but as we got older the nice clobber was becoming the norm. Poor old Jack - he is dead now.
Digger: And what about the background to Ace Face Clothing Stuart?
Stuart: Ace Face came about as an accident. I'm an estate agent. Yes, that's right, a f**king estate agent as most people say. About eight years ago I was chatting with Marc, a fellah I grew up with from about thirteen or fourteen years of age. We started chatting about the old clobber and Tonic suits. Marc is a Savile Row tailor. I then decided I wanted Marc to make me one. We searched high and low for the cloth to no avail. I gave up the quest until my marriage was imminent. I went to Marc, who becoming increasingly irritated by my constant hounding. He suggested that seeing that no tailors or textile companies had any, perhaps a mill might have a scrap or two left. I wanted to get married in a Two-Tone mohair tonic suit and where there is a will there is a way. A tailor in Richmond, Surrey came up trumps and I was so excited I nearly widdled myself. He got 3.5 metres of cloth in (enough for most gentlemen's suits). It was beautiful. I asked him to keep it for me until I had lost a stone or two in weight. Two stone duly lost, I popped into the tailors to get measured, the cloth was opened and to our horror the cloth had a UV light bleach mark right the way through it. The tailor rang up his source and was told that was it. "No more, it's gone, the last ever." I was crestfallen.

After my Tonic-less wedding, I resumed the search and Marc and I popped "Oop north" to a mill. The chap we met was very nice and after a guided tour declared that he wasn't sure what we were talking about but he would give us access to the archive room. It was in a huge late Georgian/early Victorian (that' the estate agent coming out in me!) attic of this huge mill. There were vaulted glass skylights for light and air. We were told to expect no order, that cloth from 1880 could be cheek-by-jowl to a piece from 1990. Four hours later we had given up. I leant on a piece of cloth and swore at Marc stating that I had given up. Just then, a cloud moved away from the sun and a ray of light hit the cloth I was leaning on. I couldn't have made this up, it was a form of Tonic. Single-ply wool/mohair blend, meaning it had a Trevira content. But at least we had a starting point. By that time I couldn't have cared less if it had been made from jelly beans.
The mill owner seemed very excited as well. We discussed what colour I wanted and he suggested that he made a sample blanket incorporating the colour I wanted but with hundreds of variations and different colours. Three months later, we went back and we were delighted. More colours than I thought possible were on the sample. I pointed out the colour I wanted and promptly ordered 3.5 metres. His expression didn't change. I thought as he had worked hard I'd order another 3.5 metres of another colour and Marc chipped in with 3.5 metres for himself. I cant repeat the words that came out of his mouth, but a troop of Tourettes sufferers couldn't have bested him. It was then he realised we wanted a suit length and we realised he thought we were 'Charlie big potatoes' ordering ship loads. After being told to go forth and multiply, Marc and I rang Gary our third partner. We chucked in quite a few grand each and Ace Face was born.

Digger: You offer suits 'to suit different pockets' as it were. What are your most popular lines?

Stuart: All our suits are made with 3-ply mohair/wool premium Tonic. In our opinion the best available. The main difference is on the bespoke - you get a floating chest canvass. Not fusing. It's a technical thing but anyone that knows tailoring will know. The suits that start at £800 have floating canvass jackets and are styled and lined to a customers liking. The customer is measured, then has a mid fitting.
The £497 suit is a generic,3-button, 4-button cuff. No choice of styling, albeit will be generic Mod/Skin style with ticket pocket etc. Covered buttons or horn are extra, the lining is standard. The customer sends in own measurements and if it needs alterations the customer gets it done themselves. Having said that, unless they have Ray Charles or Stevie Wonder measuring, them it should be near enough to alter. Both are going strong. If anything, I would say more people go for the full service.
We also do handmade shirts and top quality mohair/wool Tonic Harringtons.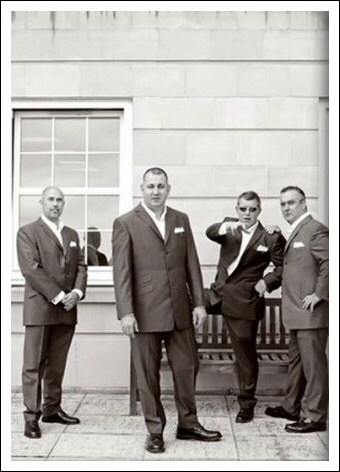 The Tonic suit can be made in any number
of colour combinations and styles
Digger: Can you please tell us more about your suits and what options people can have?

Stuart: What more can I tell you about our suits that I haven't said already? If someone has a favourite suit that fits them, we can copy it. Styling is down to the individual on the more expensive suit. There are tailors that profess to be gurus on the Mod Skin style. In my experience styling and fads differed from as little as different postcodes in the same area. And, lets face it, we ain't fifteen anymore. A bum freezer with a four-button high break skinny collar won't cut the mustard on a seventeen stone 46 year-old that likes a pint or ten. lol. Neither will skinny leg drainpipes.
Digger: I remember wearing my first tonic suit in the seventies. Why is Retro and Mod so enduring?

Stuart: Mod is quintessentially English. It may have Italian styling but it's as English as red pillar boxes and John Steed. It's also evocative - it brings back memories of a bygone time when teenagers were just maturing. They had pulled out of the naivety of the rock 'n roll era but weren't as old before their time as the crack- taking, style-less work-shy kids of today. Fifties America was a time of optimism, big-finned cars and flash clothing and music. The sixties was Britain's time.
Not all kids of today fit the above description but a large minority do.
Digger: What is it that makes Ace Face Clothing special?

Stuart: I do, so does my wife, so does Gary. We are passionate. You can get on the phone and speak to me about what suit/shirt etc. you want. You will, in all probability, meet me (maybe not so good. lol) What I'm saying is it's a hobby/business. We like the people, we like the scene, we understand the scene. We offer a service that few, if any, can or are prepared to do.
Digger: What gives you most pleasure about what you are doing?

Stuart: It's when a big guy can't get a suit to fit him, or in the case of one of our customers, gets called fat by a so-called Mod tailor that only wants to do skinny kids. We can make him a suit. It's the look of pleasure that we get from a customer that has been searching for years for that suit in the material he remembered from yesteryear. But he has been making do with a cheap imitation. Then they find us. It's meeting friends, old and new and having a beer with them. It's me being allowed to indulge in the style I love. Allsorts really.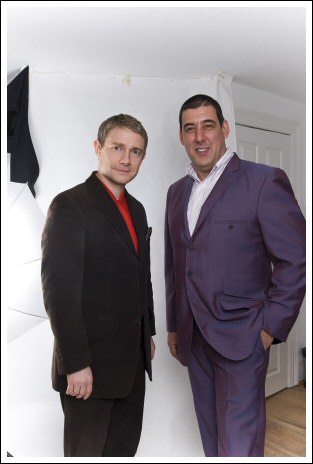 Martin Freeman with Stuart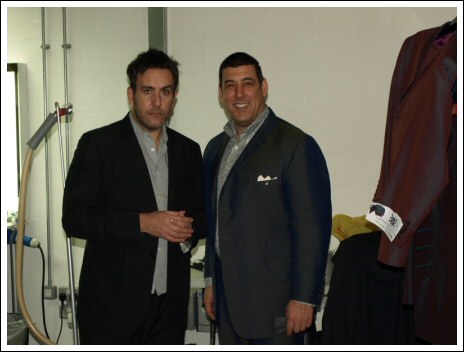 Terry Hall of The Specials with Stuart
Madness and The Specials are regular customers at Ace Face
Digger: What sort of feedback do you get from customers, where are they coming from and how key is The Internet to your business?
Stuart: The feedback we get is good. I can't make someone a bad suit/shirt/trousers/Harrington. Because if I did and let's face it we all balls up from time to time, I will make it again, until the customer is happy. The Internet is fantastic for Retro Sellers. Before, it was word of mouth and cliquey, now someone can be sitting at home and think I wonder whatever? A few clicks of a keyboard and that wonder turns into an answer.
Digger: What plans have you for the future of Ace Face Clothing?
Stuart: To let it grow organically, I suppose. I don't honestly know. I'm enjoying myself too much.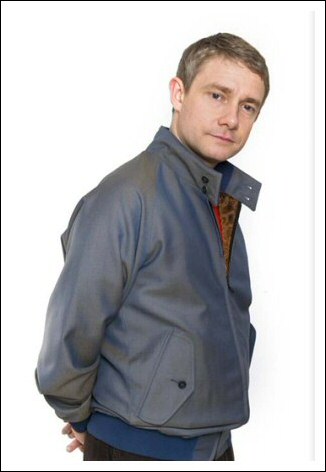 Martin Freeman wearing an Ace Face Harrington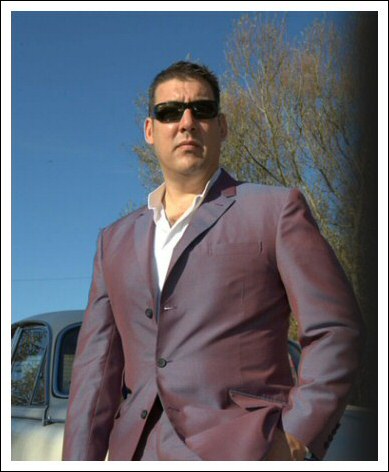 Two-Tone Tonic - the retro look
that stands the test of time
---

Putting Tonic back onto the fashion map
If you've always wanted a tonic suit, then you've come to the right place. Originally worn by 60's Mods, tonic made a revival during the late 70s when bands such as The Beat and The Specials burst on to the scene with Ska. For those of a 'certain age', who can forget the excitement of heading to Carnaby Street to get your first tonic suit? The contrasting colours & shimmer of tonic made the wearer stand out from the crowd; it was smart and individual. Ace Face is now giving tonic the renaissance it deserves.

Whilst so called 'tonic' is out there, we've checked out the competition and it just isn't what we at Ace Face call the real deal. Our tonic is 100% authentic and 100% made in Britain.

We offer a range in a wonderfully luxurious pure mohair and wool 3-ply cloth. None of our 3-ply cloths have any man made materials in their composition.

We also make suits in other cloths such as Prince of Wales, dog tooth and so on, so if you want a different suit cloth, we can make one for you.
Got a question or comment? Telephone 01342 835447

Lowlands Farm house,
Eastbourne Road,
Newchapel,
Surrey.
RH7 6LF
e: info@acefaceclothingcompany.com