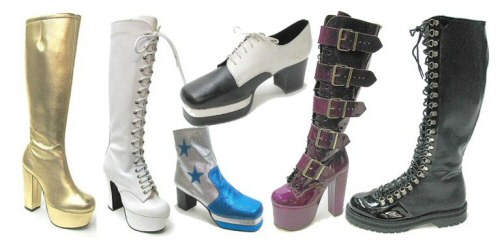 Here Digger talks to Sarah who, with partner Andy, runs Retroshu. Founded on the basis that there is a worldwide demand for cult and classic retro shoes & boots, Retroshu is supplying a wide variety of styles and designs to the discerning 'Retrophile'.
Not only do Sarah and Andy sell shoes from their online shop to customers in the Far East, Australia and the USA as well as Europe and the UK, they have a strong presence on eBay and are about to sell on Amazon. They are also looking for physical premises for a shop.
With Andy and Sarah's shoemaking skills, ideas, drive and enthusiasm, Retroshu looks a cert to have a strong and promising future.
---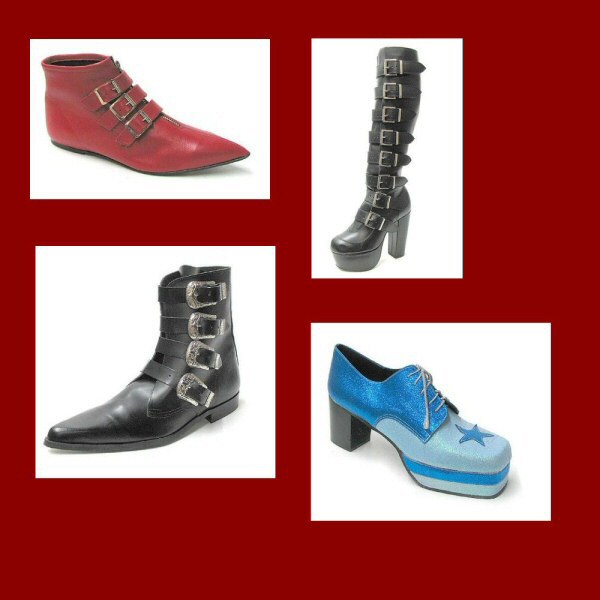 Digger: Hello Sarah, it's Digger.
Sarah: Oh, hi David!
Digger: Please tell us about your background and Andy's.
Sarah: I was brought up in East London in the seventies.
Digger: Born into a time of platform shoes, flairs and kipper ties?
Sarah: (Laughs) Yes, I used to think my mum dressed really weird.
Digger: if she was dressing in the seventies, and anything like me, then it would have been weird. So what about Andy?
Sarah: Andy was born in the sixties in Highbury. So he's a Gooner.
Digger: I thought he might be - don't mention that I used to support West Ham and Chelsea when I lived in Essex in the seventies.
Sarah: I won't - that's disgraceful. I used to watch West Ham, coming as I did from Upton Park.
Digger: Where did Retroshu come from?
Sarah: Andy started making shoes because his dad was a shoemaker and he learned that trade off of his dad. Originally, Andy wanted to be a pilot. He tried and got through to the last stages and then failed that.
Digger: Does he still fly?
Sarah: No. And he started getting into the shoemaking like his dad and by the age of 21 he had his own Porsche.
Digger: Wow.
Sarah: So he was a money-making machine then.
Digger: Retroshu has a very diverse range of shoes and boots covering a lot of styles, pop cultures and retro tastes. What tend to be the most popular lines?
Sarah: Do you know what? It differs from month to month. It's often the brogues which are the most popular but then the Dawns and the Gothic boots sell more on the website. Then on eBay the Winklepickers and Thigh High Boots are big and I have a lot of orders from America for those. So it is a different range of people all the time.
Digger: No rhyme or reason so you can't plan for it really?
Sarah: No, I could never predict which one's going to be more popular - only the brogues are consistently popular. But now the Creepers have crept in! So we do those and the Chukka Boots.
Digger: Generally have you noticed an increase in the interest for retro?
Sarah: Yes, it's really weird. When we started Retroshu last year we got the website going and Andy was working at the factory where he makes the shoes with his boss.
Digger: Because he makes shoes for other people doesn't he?
Sarah: Yes, he still does. He still works for BAM who own the factory. And we thought that Andy's talent had never been shown even though it's him that does the shoes. So last year we decided to set up our own website.
Digger: And people are finding you on the web?
Sarah: Yes, it's just really mad. At the moment I have plans to open my own Retroshu shop around here and I have been looking at premises.
Digger: Some people are happy just sticking to the web but others want to open up various physical shops too.
Sarah: I've just got this thing in my mind, and I'm sure that a lot of people say this, but Retroshu will be a big thing. I know with hard work and perseverance and with everything that we're doing...
Digger: There are one or two people who do seventies platform boots and there's a guy up in Liverpool who does the Beatles Boots, but that's about it - there's nobody else.
Sarah: No and there's no-one who makes hand-made shoes in the UK. Ikon get theirs made abroad.
Digger: Yes, even Doc Martens went abroad for their manufacture.
Sarah: Yes, Underground get theirs made abroad too.
Digger: What gives you most pleasure about what you're doing?
Sarah: Andy loves making shoes - that's his one passion. Every pair of shoes - he take pride in it. You know when people get bored with a job after a while? Not Andy, he just so enjoys making shoes and loves when customers say what good quality they are - he gets a big buzz out of it.
Digger: Isn't that great? And so rare as well that you can do something that you enjoy and also makes you a good living as well?
Sarah: And the thing is he's a really quiet, placid man and not over the top or anything. He keeps himself to himself and is totally the opposite to me!
Digger: Are you going to get an apprentice there so it gets passed on?
Sarah: Yes.
Digger: Will it be you?
Sarah: No! (Both laugh) I don't want to get my nails ruined.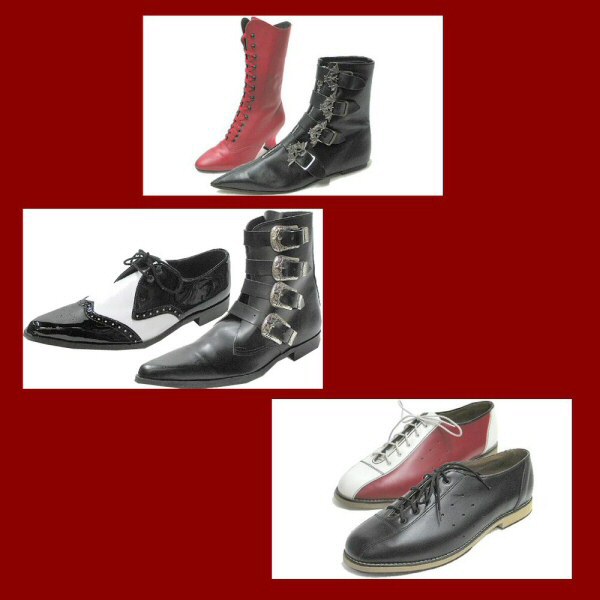 Digger: You are chalk and cheese but complement each other well.
Sarah: We are, but we work together and level each other out. Opposites attract.
Digger: They do, but it helps if you've got something in common.
Sarah: I think the thing we have in common is we've both got goals and we both work together, not one without the other. We work it out and come up with a plan and we do communicate a lot.
Digger: What are the USPs and strengths of Retroshu compared to other shoe companies?
Sarah: One of the things is that Andy probably gets it done quicker than some of the others can. He doesn't have to work to other people's schedules, because Andy's self-employed and does our work and also fits in work for BAM as and when.
Digger: Why do you think retro and nostalgia are so enduringly popular and why are there so many strong cults and pop cultures like Punk and Mod that never disappear?
Sarah: I think it's to do with fashion and that revolves. When I was young it was Naff and Benetton and over the years things go around. I don't think retro has ever gone out and that's why we wanted to say this was a retro shoe company. And hence Retroshu.
Digger: Retro is a moving target. One year the eighties will be back in and then the forties and so on.
Sarah: But with the shoes that we do they all fall into the same sorts of categories, I think.
Digger: Do you do anything really way back from the 1920s and 30s?
Sarah: I don't know if you've seen the series Broadwalk Empire? There's a man in that who has some brogues that are totally different to what anyone else wears. George Cox have a version of that shoe and its about £300. A customer came to us and asked us if we could do something like that but cheaper and Andy designed and made it and it cost him £80. The good thing about the shoes we do is that we can change any colour panels and we can make them based on material from the customer. If they want to change the heel or anything on the shoe we can do that.
Digger: Do you keep the 'footprint' of customers for the future?
Sarah: Only if they're made-to-measure. If someone has something like a Thigh Boot then they pay for the made-to-measure and we charge £30 for that. That pattern will stay for as long as they want and is labelled with their details.
Digger: That's good value. What does The Internet mean to your business Sarah?
Sarah: In a couple of weeks I'm going to start doing Amazon.
Digger: You want to be one of their top sellers?
Sarah; Yes, I'm not competitive but I'm really driven. eBay's a big market for me.
Digger: So you're everywhere on The Net?
Sarah: Yes, I sell all over the world. China, Hong Kong, America and Australia are really big for me.
Digger: You just wouldn't be able to do this if it wasn't Internet-based.
Sarah: No, the only way to do it would be to have a shop and do a lot of advertising.
Digger: The old-fashioned way with mail order and ads in the papers. Remember that?
Sarah: (Laughs) Yes.

Digger: So you come in each day and have loads of orders on your computer.
Sarah: I go to sleep dreaming of shoes and I wake up dreaming of shoes! I've got my phone which does my orders as well so I never get to miss a customer's question or anything.
Digger: I always find it ironic that so many of my retro customers are dealing with retro and vintage items and are using the very latest technologies to run their businesses.
Sarah: Yes. We do rely on the Blackberry for emails and the majority of the time the odds are if you reply to somebody straight away then they will buy something.
Digger: That's a good point. If people are making buying signals then that's the best time to talk to them. So where do you hope to see Retroshu developing in the future? What are your plans?
Sarah: To retire some day!
Digger: In your late forties or early fifties?
Sarah: Andy's already in his late forties. I'm still in my thirties. I'm going to make sure he's got another few years!
Digger: Get yourself an apprentice in there quick.
Sarah: Between us we've got six children so that's a good plus. They're really all very supportive, which is why if we were to get a shop they'd all help run it. I want it as a family business but when we get a shop I do want an apprentice - a young person to learn the trade a little bit and to give that youngster the opportunity and make it really go far.
Digger: Some of my clients who repair jukeboxes and arcade machines have young apprentices in and that's heartwarming when you know that the trade's going to be passed on.
Sarah: That's it. And a lot of people like the fact that the shoes are hand-made in the UK.
Digger: I think that's probably your best selling point actually.
Sarah: That's what all my stickers say on the parcels I send out as well.

Digger: Thanks for answering my questions Sarah. That was great. And regards to Andy.
Sarah: Thank you David.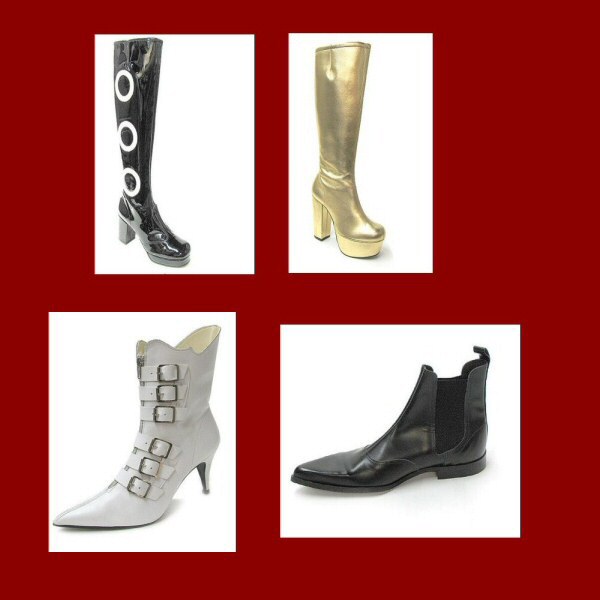 ---


Retroshu for Alternative Footwear Gothic, Punk and Retro shoes and boots - Made In The UK
Retroshu is a family business run by Andy and Sarah providing a wide range of alternative footwear with our unique past and present styling.

Andy began making shoes with his father from the age of 12, and to this day still enjoys making quality footwear for his customers.

Sarah brings 14 years of high level customer service to the company, which is why together we believe this is what makes Retroshu a thriving and successful business.

At Retroshu we manufacture a wide choice of gothic, punk, retro and related alternative footwear right here in the UK.

Whether you are looking for winklepickers, punk boots, bowling shoes, pointed toe boots, brogues, platform boots, saloon boots, 70s glam boots or - pretty much anything alternative, this is the website for you.
Email: sales@retroshu.com
Tel: 07908549456
www: Retroshu