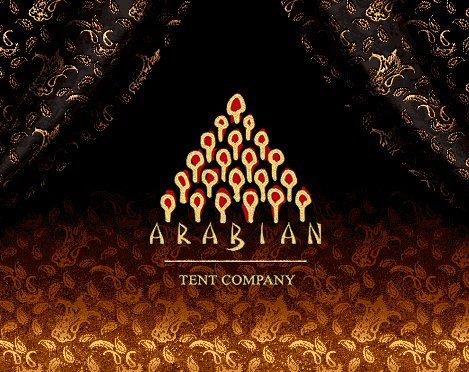 Digger talks to Katherine Hudson at The Arabian Tent Company.
With her love of textiles and fabrics, and particularly William Morris designs, Katherine has created the UK's leading business providing themed interiors under canvas.
Arabian, Raj, Moulin Rouge, English Tea, Bombay Boudoir, Purple Palace, Cornish Cream and Katherine's beloved William Morris are some of the themes on offer.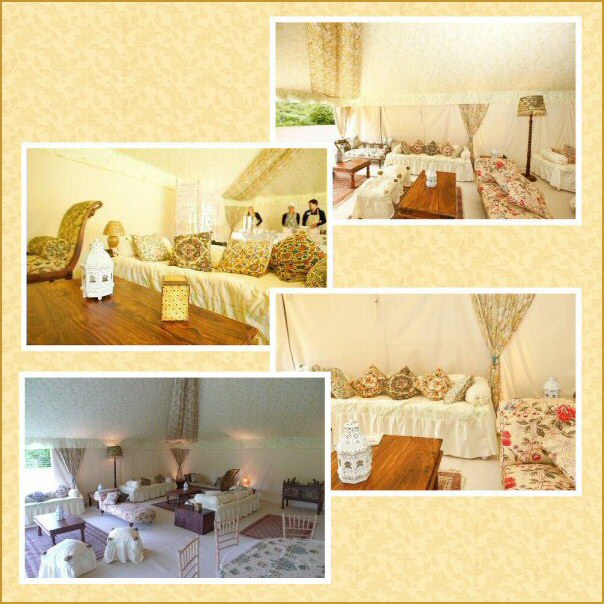 William Morris
Digger: Hello Katherine. How are you?
Katherine: Very well thanks.
Digger: Can you please tell us about your background and the background to The Arabian Tent Company Katherine?
Katherine: I suppose it all started in the summer of 1999 when some friends roped me into driving to Cornwall for the eclipse parties that were going on there. This was my first experience of an outdoor party of this type, it was liberating and exiting. I met many like-minded people for the first time and also my first boyfriend. We quickly became inseparable and moved in together and proceeded to attend every party we could find. After a while we decided to put on our own party, we wanted it to be the best party possible, but to our surprise we couldn't find an interesting tent to hold it in.
So, the seed was planted, and the next couple of years were spent running festival cafe's, we had a great time and I made more money each weekend than I could in a whole month as a PA, so I decided to quit my job. After this we started to make our own tents, the festivals continued to love us and we grew and grew and got our first big break with an event organiser booking our tents for a polo match for Prince Charles. Unfortunately problems arose in our relationship and this coupled with our massive growth in such a short space of time was too much, I walked out leaving him with everything we'd built together.
In November 2004 I started The Arabian Tent Company, I wanted to focus on designing and creating a selection of interiors. The mission I gave myself was to create the most beautiful collection of marquee interiors in the UK. I spent months in India and my life savings designing The Moulin Rouge Interior, The Bombay Boudoir and an Alice in Wonderland themed tent.
I still go to India each year to design and produce a new marquee interior, it's one of the most important parts of what we do.
Digger: As the best things often do - all these combinations come together to make a new venture.
Katherine: Yes, Arabian Tents has developed from having three different interiors, my vision has become a reality and we now have the biggest range of themed interiors available in the country. Since moving into a larger premises we also have two other companies, The Complete Chillout Company offering furniture hire and venue transformation and The Pearl Tent Company which provides architecturally unique white canvas marquees.
Digger: They're very impressive to look at on your website. Some of them are James Bond-scale.
Katherine: The Moulin Rouge has definitely got something James Bond-ish about it. You can do a lot with accessories, each interior looks different depending on what furniture and accessories you put in it. The Moulin Rouge is actually inspired by the film and has a burlesque theme, but it has been hired for James Bond parties in the past.
Digger: Can you please tell us more about the vintage and classically-inspired designs of your tents, interiors and props such as William Morris and the Indian and Arabian influences?
Katherine: William Morris has always been one of my favourite designers - I was brought up in a big rambling old family home with William Morris curtains and furniture coverings. I think most of us have owned something with a Morris print on it as children, and therefore have fond memories of his designs.
This, coupled with the fact that vintage as a style has become so popular, drove me to create a William Morris inspired marquee interior, the walls of the interior are a delicate floral print, it's a great backdrop for vintage themed parties and weddings.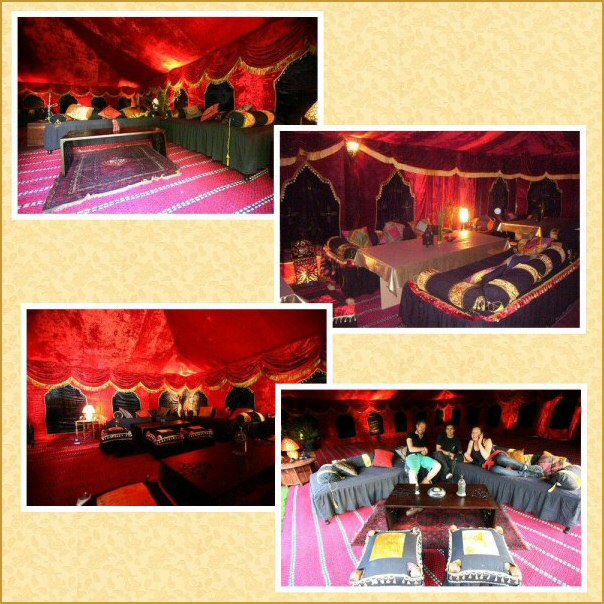 Moulin Rouge
Digger: Why is Retro and Vintage such a big thing for so many people these days?
Katherine: Vintage has been getting more and more popular over the last 3 – 4 years. I think it has a lot to do with the recession. People are looking back to 'the good old days', it's comforting to surround yourself with the memories of good times when things are hard.
Digger: You do a variety of themed events and weddings. What can clients expect?
Katherine: They can expect to walk into a tent and be transported into another world... That's the idea of them.
A lot of our clients talk about it being magical and like a fantasy world. The idea is to immerse people in atmosphere. It's all created through furnishings and fabrics, but it gives a real feeling of permanence. I think that's partly down to the amount of hard work that goes into designing and making each tent, it's given them a life of their own.
Digger: Is this a three-day turnaround for you? A day to set-up, a day for it to be in-situ and then a day to dismantle?
Katherine: Yes, exactly. I have an amazing team of 25 who set up, take down and clear up afterwards, all with a smile on their faces!
Digger: What should customers consider when thinking about using your services and hiring you for an event?
Katherine: The most important things to consider are how many people will attend the event and what kind of atmosphere you want to create.
It would be great if they had a site but we can and do recommend venues frequently.
Digger: And whereabouts?
Katherine: We operate nationwide, but have lots of links in the South East and Sussex with beautiful venues that are flexible and great to work with. We are based in Sussex so we've done a lot of work in this area and built up some great working relationships here.
Digger: What would you say is the ethos and the 'USP' for The Arabian Tent Company?
Katherine: One of the most important factors of The Arabian Tent Company is that we are perfectionists. This is apparent both in the way we deal with our customers and the attention to detail in the marquees and the accessories and furniture to go with them. We are also very creative and artistic.
Digger: Is it difficult staying ahead or is that all part of the fun and the challenge?
Katherine: I love coming up with new ideas and designing and creating beautiful things, so staying ahead is most definitely part of the challenge. I get bored quite easily, and you can't get bored with this as it's constantly changing.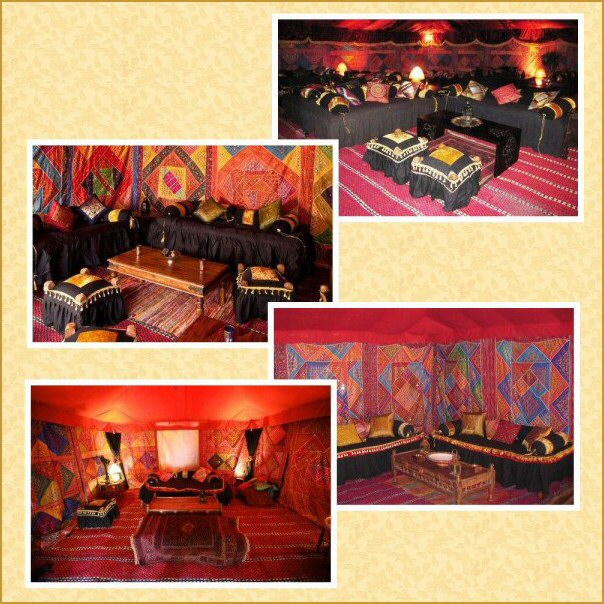 Arabian
Digger: What are the most enjoyable aspects of what you do Katherine?
Katherine: Being able to decide what direction to go in because we are now established enough so that I can have complete control over what happens.
Another hugely rewarding part of the job is all the incredible thank you letters I receive from brides and grooms, it's amazing to know that you've made so much of an impression on someone with something you have created from scratch. We are getting a lot of recommendations these days, it's great to see how many people enjoy the tents.
Digger: And what about your personal passions for Vintage?
Katherine: Yes, absolutely. My house is full of antiques - I don't like new furniture. I like things with a history and a story. The vintage stuff is classic and doesn't ever go out of fashion so it's good value if you're going to invest in furniture, or even clothes.
Digger: That's right. You're going to stand out a little bit as well. What plans do you have for the future for The Arabian Tent Company?
Katherine: I think I'll be focusing on more specific eras of vintage. I have a feeling that the 1920s, 30s and 40s are going to be very popular next year. I've been to some great high end parties recently and you can see a lot of 20s- 40s inspired style going on. The fashions of that period are absolutely great.
Digger: You're a trendsetter Katherine and dictating what the fashions are going to be next year!
Katherine: Yes, pretty much. There's been a few instances where I've designed a tent in a particular style that went on to be incredibly popular later on that year. I designed the Moulin Rouge tent the year that burlesque really took off. That was 2005. The following year it was the English Tea Tent and we made biscuit cushions and bought doilies and vintage tea cups, and that was the real start of vintage - it was the year that Selfridges started their Biscuit City and everyone started making cupcakes.
Digger: Thanks for letting us know about the workings of The Arabian Tent Company and the various options you have, Katherine. It was fascinating. They certainly look like a great ingredient to creating a stunning and memorable vintage-inspired event.
Katherine: Thank you David.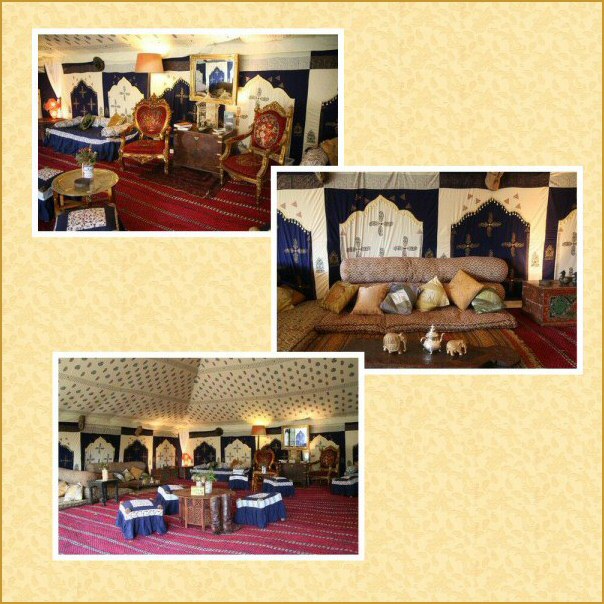 Raj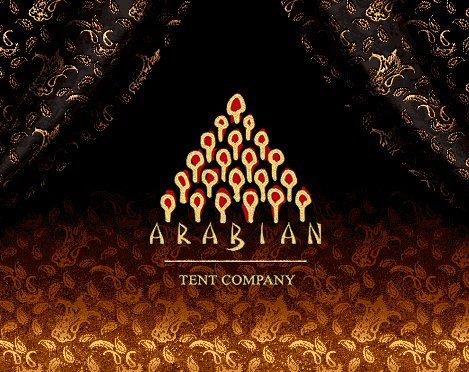 - a perfect fusion between Ethnic
style and Western practicality
The Arabian Tent Company was born out of a passion for creating beautiful, sumptuous party surroundings and a love of colour, textures and patterns from the East.
This enthusiasm led to travelling the World sourcing tent ideas from Morocco, textiles from Thailand, Arabian furniture from Dubai, craftsmen from India and structure designs from America to create a range of bespoke tents, marquee linings and event furniture, to provide a perfect fusion between Ethnic style and Western practicality.
This collection of themed tents have Arabic, Indian, Bollywood and Moroccan influences, as well as some more unusual offerings such as a Peacock inspired Tent, a Purple velvet interiored 'Regency' marquee and a Vintage Tea Tent...with a new interior being added to the collection every year.
2011 sees the introduction of the William Morris inspired tent, created after a suggestion by our friends at The National Trust that they needed a tent for their July celebrations at Standen House marking the centenary of the founding of Morris & Co.

Katherine Hudson
Events Director

Office: (+44) 0800 88 15 229
Mobile: (+44) 07941 370 241
Email: info@arabiantents.com
www: The Arabian Tent Company