Simply a great Rock 'n' Roll show

In these uncertain times there's nothing that lifts our spirits more than a great show packed with our favourite songs.
Here Digger talks to Lord Tim and Lady Eve Croxford about their Rock 'n' Roll Paradise show.
With tributes to Elvis, The Big Bopper, Buddy Holly, Eddie Cochran, Jerry Lee Lewis and Roy Orbison and over 40 songs, the show is guaranteed to get you rocking and bopping.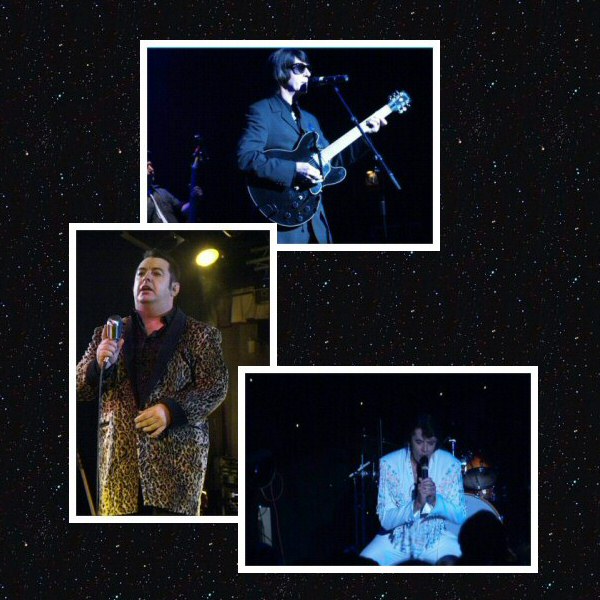 ---
Digger: Please tell us something of your background and about the background to Rock 'n' Roll Paradise.
Tim and Eve: To cut a very long story short, two and a half years ago a booking agent friend came to us and asked if we'd like to back Rockin' on Heaven's Door, a great show which was going bust. As Tim had just had cancer surgery, and we love the show, we thought it would be a great idea. However, the 'friend' turned out to be a snake in the grass and kept all the theatre money for 8 months, so we are in legal action against him. At the same time we were warned off using that name, or anything similar, with the threat of legal action from a Dutch agent who represented the show in Holland. We changed the name to Paradise, took on the whole cast except a guitarist, and brought in new artistes to add to the mix. Today the show is the most popular on the circuit, but the competition's massive.
Digger: The show features tributes to Elvis, The Big Bopper, Buddy Holly, Eddie Cochran, Jerry Lee Lewis, Roy Orbison and over forty of their hits. Is it hard to fit so many big names and their hits into a single show?
Tim and Eve: No, it's easy to put so many great artistes' songs into a show when there's no plot or storyline and the music is non-stop. The hard bit is choosing which hits to include. We chop and change some numbers from show to show and often have requests, especially for Elvis, on the night.
Digger: This might be a daft and obvious question but have you ever thought about including some of the rock and roll ladies in the show too?
Tim and Eve: We're often asked - there are only about three that would fit. Brenda Lee, Connie Francis and, not so obvious, Wanda Jackson who is touring again . But there aren't that many bearing in mind that all my front guys are Americans. You've therefore ruled out Petula Clark and Dusty Springfield and so on.
Digger: There are a lot of players around covering the British girls.
Tim and Eve: There are, but you'd get terrible problems with the guys not wanting women on the tour bus and then some of their wives and girlfriends aren't keen and so on.
Digger: Yes, I see.
Tim and Eve: And, of course, it adds tremendous cost. Our biggest issue is the cost of the show. You've got four guys in the band, six front men, you've got sound and lighting engineers and all the equipment that goes with it. Adding ladies to the show would make the costs shoot up. In fact, a lot of the venues we would like to be at are struggling at the moment and so it's not the best time to be adding costs to the show.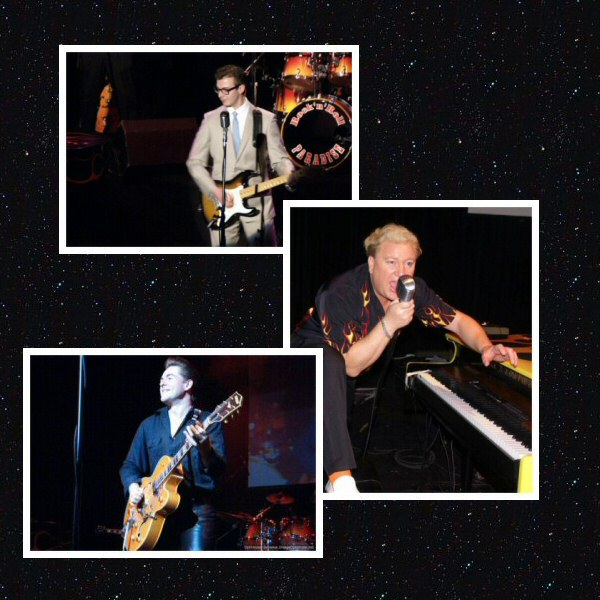 Digger: What else can people expect from the show?
Tim and Eve: Rock and roll will always be popular, the music's brilliant, the artistes were true giants in their lifetimes, and the music appeals to every generation. People come along expecting to see an ordinary rock and roll show and are totally blown away by the artistes and their performances. This is West End standard - the standing ovations show how good everyone in the cast is.
Digger: You have a diary packed full of gigs. Why does Rock 'n' Roll remain so popular and is it so with the younger generations too?
Tim and Eve: Grandparents, mums and dads and kids love the music, it's feel-good and it's impossible to sit still. Plus, everyone remembers the words!
Digger: What are your retro passions and what gives you most pleasure running Rock 'n' Roll Paradise and Rock 'n' Roll Heaven Ltd?
Tim and Eve: Well, my (Tim) main pleasure is going to see a show and it all coming together. Because I know, and you know, that there's aggravation behind the scenes. But when the sound is right and the lighting engineer's doing his thing and it all comes together... whether it's 200 people or 2,000 as there were at Skegness a while back. They come up to you and say "When are you coming back, when are you coming back?!" That's certainly the most pleasurable part of it. The downside is theatres taking longer and longer to pay you, especially the ones owned by councils. It doesn't matter if they've got contracts saying pay within 28 days, three months later they're still trying to find the money. The bigger they are the harder they play it.
Digger: Yes, they make it a company policy not to pay for at least four months.
Tim and Eve: Yes, they do and then they wonder why businesses close down. Bournemouth Pier and the theatre at Dundee have just closed because of not enough bums on seats.
Digger: Why do you think there continues to be such a huge interest in retro, vintage and nostalgia in all forms?
Tim and Eve: In today's world, the retro and vintage nostalgia is how we'd like to be now, not in the rat race and facing the world's problems. Retro may not have been brilliant, but it was a safer, gentler world than it is today, people would like that to return.
Digger: Who are your typical audiences, if such a thing exists, and what sorts of comments and feedback are you getting?
Tim and Eve: Audiences are mainly middle-aged and older, but lots of youngsters are finding the music and the way Paradise portrays it totally addictive. Feedback is 100% positive, audiences give the show standing ovations, and every theatre wants us back.
Digger: What impact does The Internet have on your business?
Tim and Eve: Tim "can't use, won't use" computers. So I use the Net to publicise the show, email everybody and generally broadcast where and when we are performing.
Digger: What other shows do you have/in the pipeline and where do you see the future for Rock 'n' Roll Paradise and Accelerator?
Tim and Eve: Some of the cast do solo shows, or go out as a trio/quartet/quintet. They all know each other so well they can mix and match for parties, weddings, private functions etc.
Rock and Roll Paradise is a huge influence on everyone who comes to see it. Top quality singers and musicians, a professional show and nothing but praise for the show. Accelerator Entertainments confines itself to the one brilliant show, it's a full time job running a show with 10 on stage and 4 crew.
Digger: I'll have to come along when it's in my area.
Tim and Eve: We'd love to hear your views on the show.
Digger: I'll invite myself along to the gig and do a review on the site.
Tim and Eve: Yes, of course. Please do, just let us know when you want to come along. We look forward to that. Take care.
Digger: Thanks Tim and Eve. You take care too.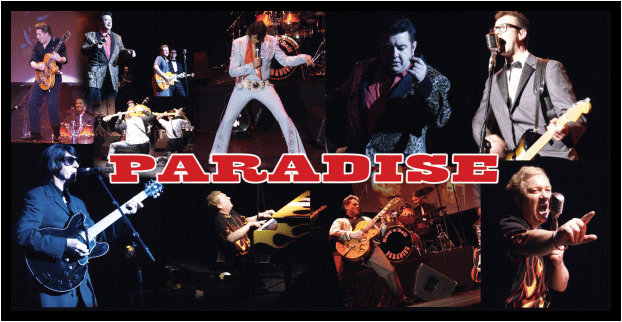 Simply a great Rock 'n' Roll show
---

Elvis, The Big Bopper, Buddy Holly, Eddie Cochran, Jerry Lee Lewis, Roy Orbison - all your favourite Rock 'n' Roll stars in one show!

Rock 'n' Roll Paradise is simply a great Rock 'n' Roll show where the music does the talking and plays the leading role.

Featuring over 40 of your favourite classic Rock 'n' Roll hits. Six Brilliant tribute acts supported by the superb Paradise Band will have you up on your feet and dancing in the aisles.