Rockpots - Contemporary Rock Artwork on Ceramics

Here Digger talks to Simon Hart about his business Rockpots. Simon is producing contemporary rock artwork on ceramics, so you can have mugs, teapots, plates, cups and saucers with images of your favourite bands on them. Simon also offers other items for sale, including a big choice of rock T-Shirts. And there's a big range of exclusive Sandy Denny items.
---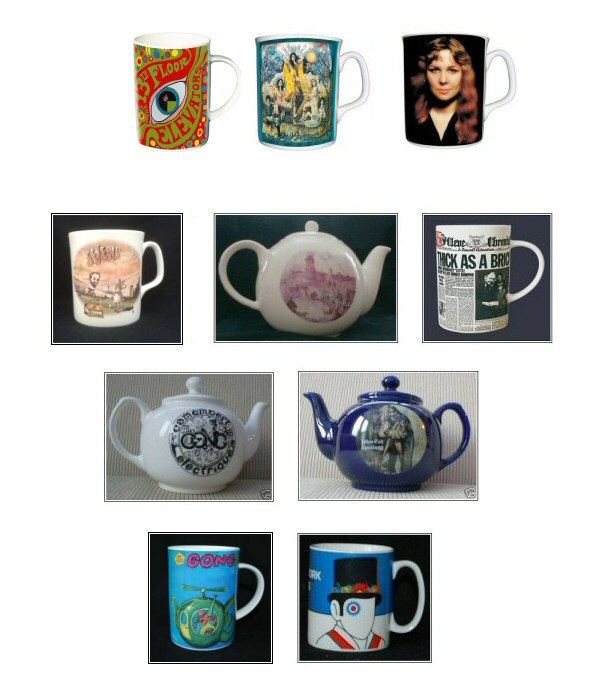 A range of mugs and teapots emblazoned with rock images
Digger: You have an impressive portfolio of bands featuring on your ceramic mugs Simon. What was the inspiration for Rockpots?
Simon: Well I've always been a hippie, and a few years ago I took a temporary night job at Tesco filling shelves. One of the items I was shelf-filling was a green teapot and in my mind I thought this would make a great Gong 'flying teapot' teapot. But first I had to check that no-one else was making them and then how to go about contacting someone or a company that could make said teapot. Of course, I needed to speak to David Allen founder of the band Gong to make sure he was happy with all this. And, of course, he was delighted that it had taken someone (me) just under 40-odd years to think about making a 'flying teapot' teapot. That was the inspiration to basically put an image on ceramics that reminds people of a golden age of music.
Digger: Can you tell us a little about these mugs and the other merchandise you are offering?
Simon: The mugs are china and whilst trying to keep the industry within the UK, the teapots are made and decorated in Stoke, whilst the mugs are imported from the EU and are produced and decorated in Stoke. Each teapot has a full-colour screen print of either an album cover or part of the album cover artwork. The mugs generally have a full reproduction of either the front or front and back of the album cover wrapped around the mug from handle to handle. And the mug handle is generally decorated with lettering or and album artwork image. I have also now moved into selling T-shirts - the Sandy Denny range are full-colour images on ethnically sourced cotton shirts and the printing is environmentally friendly, of course. The tye dye shirts are all imported from a company in America that I have been dealing with since 1986.
Digger: What sort of feedback are you getting from clients and where are they coming from?
Simon: In the two or so years I have been trading both at festivals & online the feedback has been very good. I have hit the nail on the head with some of the designs as it reminds people of an era past. The quality of my products are high with both the china and the printing and this is often picked up on by my customers. They are not getting a cheap old tatty market stall mug that will fade in the dishwasher after half a dozen washes.

Digger: Can you describe the relationship you have with these bands and their managements?
Simon: Overall very good. I would say that at present I have around an 80% success rate. Some artists/bands are locked into deals that I'm afraid doesn't allow and third party merchandise, but generally what I try and do is acceptable to all concerned.

Digger: What does The Internet mean to your business?
Simon: At present it is around 80-90%. I am out and about in summer at various music festivals but overall the business comes in over the Net or mail order. Although I am about to go nationwide with a chain of retailers, as well as a number of local independent shops from the south coast of England, Wales, Scotland to Ireland. We also sell quite a lot overseas via eBay.

Digger: What are the most enjoyable aspects of what you do?
Simon: I think because I'm dealing with an era that I was a part of, the late 60's - to late 70's early 80's produced such fine music. Album covers were a big part of that scene, long before miniaturisation of the covers for CD's and downloads. A lot of people like vinyl still and, of course, the covers all remind them of a time past. As I always say "music is the photos the camera never took" and I still think that's true. It gives me great pleasure to search through the records and come up with covers I think would make great mug designs. A business advisor once said to me " if you are going into business for yourself would you buy your own product?" So I guess i would!!

Digger: What are your Retro passions?
Simon: Well, any 50's & 60's classic TV - Robin Hood, Bonanza, Rawhide, William Tell, The Saint, Danger Man, No Hiding Place, Dixon of Dock Green, The Avengers etc. etc. Where do I stop? - I love films and TV and I suppose it was part of growing up in the late 50's and 60's. I still collect all sorts of memorabilia like Corgi/Dinky cars, Britains soldiers, Victor, Hotspur, Valiant, Hornet annuals, Subbuteo. Where will it end? Maybe never!!!

Digger: What are your plans for Rockpots in the future?
Simon: I have some interesting new projects lined up, including an exclusive range of ceramics featuring the artwork of artist Paul Whitehead - he drew the early Genesis and Van der Graaf Generator/Peter Hamill album covers. Working with Charly records to make a range of record label mugs e.g. Red Bird, Sun, Charly, Vee Jay & Immediate as well as a range of jazz and blues artist image mugs. There are ongoing discussions to produce album cover designs for a number of progressive rock bands such as Asia, Yes, Emerson, Lake & Palmer, Gentle Giant & Uriah Heep to name but a few. The range is as broad as it is long as to what is inside my head for designs. Long may it continue
Digger: Hear hear!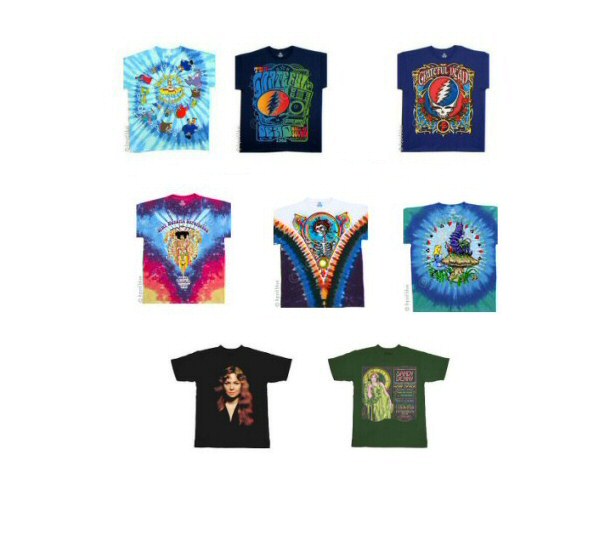 T-Shirts by Liquid Blue
---
Rockpots - Contemporary Rock Artwork on Ceramics
Work In Progress with Bands & Acts Include:
Gong, Jethro Tull, Jethro Tull Board on Facebook, Caravan, Curved Air, Stackridge, Sandy Denny & Fotheringay (Exclusive to Rockpots) Steeleye Span, Allman Brothers, Grateful Dead, Pink Fairies, John Martyn, Family, 13th Floor Elevators, Utopia, Genesis, Van Der Graaf Generator, Wishbone Ash, Focus, Asia, Uriah Heep, Snakecharmer (ex-Whitesnake), Larry Wallis, Planet Gong, Pretty Things, The Strawbs, Bo Hansson (Lord Of the Rings.)
And with more titles on the way during 2011 & 2012.


Contact:-
103 Darkes Lane, Potters Bar, Herts.EN6 1BW
Call us: (0) 7576 463933
Web: rockpotsonline.co.uk
eBay shop: http://stores.ebay.co.uk/Rockpots-2008