Team Pixie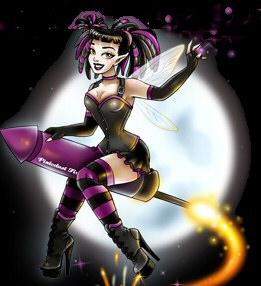 The Team Pixie website is the retail outlet for Pixiedust fireworks and party company based just outside Bristol in north Somerset, United Kingdom. Team Pixie are a leading supplier of quality professional makeup and face paints.
Teampixie are also suppliers of fancy dress, costumes and accessories as well as vintage clothing.
Here Digger talks to Lindsay Smith about this 'shining example' of a vintage web-based business where the customer always comes first.
---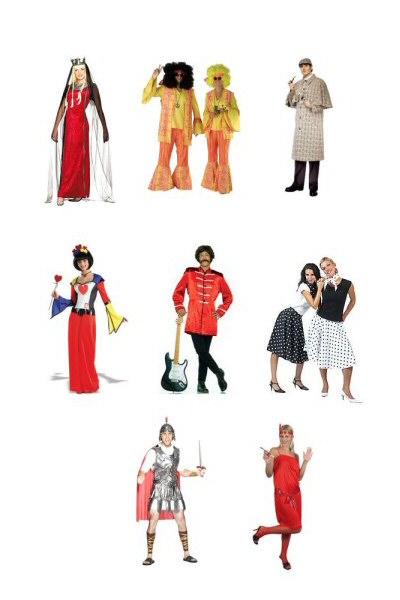 Medieval, hippy, Sherlock Holmes, The Queen of Hearts,
Sgt. Pepper, 50s rock and roll, Roman and flappers costumes.
All and more are available to make your event go with a swing.
Digger: Please tell us about your background and the background to the Pixiedust / Teampixie.co.uk business.

Lindsay: A little bit about my background and Team Pixie... I am a make up artist and specialise in special effects. I've always had interest in make up and in historical make up.
The Team Pixie website has grown from our love and knowledge of make up and vintage clothing. We specialise in 1940's clothing, as my big Interest is the home front. We also hire uniforms and civilian clothing as well as retailing vintage and reproduction clothing. The website only shows a small amount of what we do.

Digger: Please tell us about the new Teampixie.co.uk website.

Lindsay: The new website is still in development but will have a wider range of make-up products with tutorials and lots of advice for the buyer. We will be adding more costumes to hire and expanding our ranges to cover more vintage clothing and products for the re-enactor.

Digger: What impact does The Internet have on what you do? And from how far do people come?

Lindsay: The Internet plays a large role in our business. We sell products all over the world, but we are always on the phone to help our customers and able to take telephone orders and offer advice. We try to post out all orders the same day and offer a good service to our customers. We carry a vast amount of stock in our Bristol warehouse and are happy for customers to collect orders. Although we are web-based, it's important for us to get out and about and we attend many shows during the year.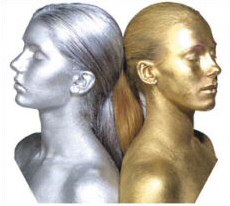 Startling silver and gold face paint

Digger: What sort of feedback and comments are you getting about your service and the products you sell?

Lindsay: We always strive to get good feedback and work very hard to have happy customers. We have a large following on Youtube and Facebook and many of our customers have become friends. Being a web business it's important to us that we are approachable to our customers., We always answer the phone from 8-10, 7 days a week, giving the customer the confidence to order on-line.

Digger: There are a lot of Retro-themed parties and events these days. Why is Retro and Vintage such a big thing in so many people's lives?

Lindsay: We have noticed that big increase in vintage and retro, and since getting Involved in vintage we have only met nice people and made some wonderful friends. Vintage is a culture and therefore has its own community which more and more people want to join.

Digger: What are the best sellers?

Lindsay: Our best sellers in the make-up range are fixers which allow the wearer to have perfect make up all day. In the retro range we hire our Home Guard uniform out a lot and our children's range of 1940's clothing is also very popular.

Digger: What are the best and most rewarding things about what you do?

Lindsay: The best thing about Team Pixie for us is earning living from doing something we both enjoy.

Digger: What are your plans for the future of Teampixie.co.uk?

Lindsay: We have many plans for the future including attending more events and we are always looking out for the unusual.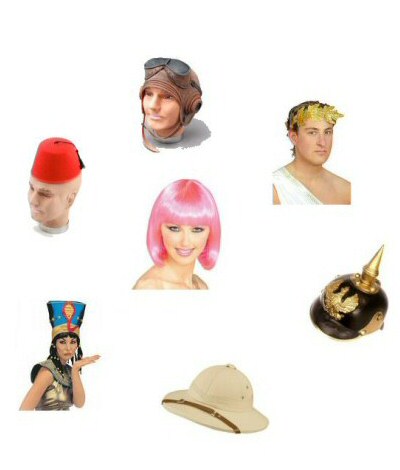 Just a selection of the headwear available
from all genres and themes & through the ages
---
Make Up & Face Paint, Zombies, Halloween & Horror, Ladies - Fancy Dress, Masks, Wigs & Beards, Children's Costumes, Fancy Dress Hats, Men's - Fancy Dress, Accessories & Props, Firework Shop, Costume Hire, St Patrick's Day, World Book Week, Chinese New Year, Australia Day, Roald Dahl Day, Bestival Fancy Dress, Christmas, American Independence Day, Easter, Alice in Wonderland, Fancy dress

The Teampixie website is the retail outlet for pixiedust fireworks and party company based just outside Bristol in North Somerset United Kingdom. We are a leading supplier of quality professional makeup and face paints. We are knowledgeable about the products we sell and can provide everyone from a single face painter, re-enactors, amateur theatre groups to professional theatre, film and television companies.

Our stock includes, face and body paints from Wolfe fx, Aquacolour, Supracolour, from Kryolan, Pancake greasepaint from Leichner, Foundations, Special effects and metallic make up from Graftobian, face & body paints from Snazaroo. White zombie eye contact lenses for Halloween, foundations and vintage make up from Ben Nye, clown make up from Mehron, Face and body painting magazine from illusion, and a vast range of eyelashes from glamour lashes to colored fun eyelashes.

If you don't see what you are looking for or need some help and advice, we are only too pleased to help. We offer free advice supplying costumes, fancy dress, fireworks for just about every form of event.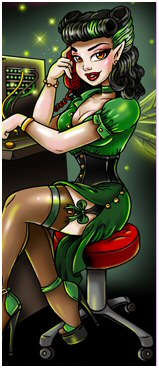 Contact Pixiedust Fireworks:-
Call us now on: 01275 371717
Email: info@teampixie.co.uk
Web: www.teampixie.co.uk