Vintage Fountain Pens -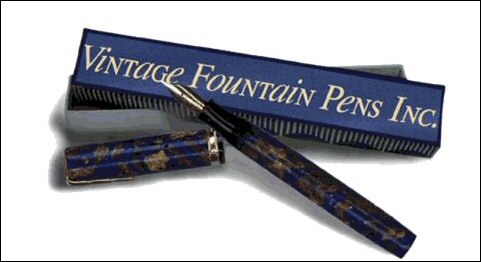 ready to use today
Vintage Fountain Pens Inc. was established in 1976. Chris Robinson, (n.b. Chris is a Miss and not a Mr), was an avid collector who branched out into Vintage Fountain Pen restoration and then into sales.
Chris now offers a large variety of vintage fountain pens and desktop items via the web and has built up a successful business based on her love of vintage pens. The testimonials Chris receives from clients are indicative of her dedication and attention to customer service and to the customer's experience as well as to the quality of her products.
Digger caught up with Chris and asked her a few questions...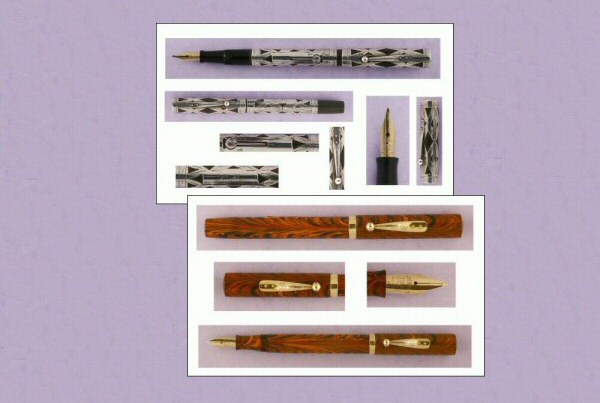 ---
Digger: Please tell us a little about your background Chris and how you caught the 'fountain pen bug'.
Chris: How did it all begin? In common with a number of fountain pen collectors, I caught the collecting "bug" when coming across an old fountain pen at an antique fair which had been restored. It was a Conway Stewart No. 75, the model I lost at school. From that moment I was hooked.
Digger: How did this passion turn into the Vintage Fountain Pens Inc. business?

Chris: With my early working life spent in retail and marketing, it was only a matter of time before I started to sell the pens I had restored in London antique centres and fairs. Whether customers bought because of my enthusiasm or they appreciated the care taken in restoration, it is difficult to tell. However, a new owner seems to quickly bond with their vintage fountain pen so I am sure they are satisfied with their purchase as they often return to my site.

Digger: These pens are very affordable for such a slice of history and quality. What are the most popular types?

Chris: With regard to date, pens manufactured between 1920 and 1950 are the most popular - Parker, Waterman, Swan, Sheaffer, Conway Stewart etc. The vintage fountain pen collector will be looking for a good example of model, finish and filling mechanism. The general purchaser will simply wish to have an attractive and working vintage fountain pen in good condition - either for their own everyday use or as a gift for that special occasion or to present to a member of their family. So because vintage pens sell for differing reasons, in my particular experience, there is no one pen which sells more than others. Even ink cartridge filling pens are now sought after, primarily by general users.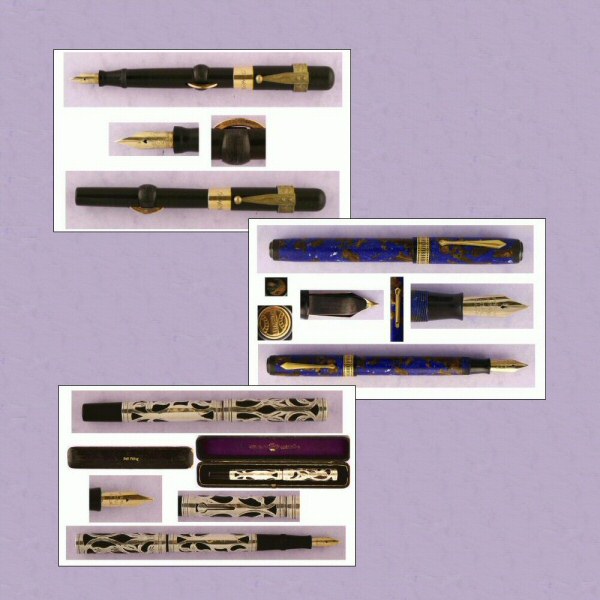 Digger: And what are the most valuable and rarest Vintage Fountain Pens?

Chris: The view on which pen is the most desirable will differ from person to person. A "family" pen will have an intrinsic value over and above its material worth. For example, a hard rubber 1920's Waterman where the gold band has been engraved with the message "With sincere gratitude. Mr. & Mrs Shaw & Baby." has a greater value than a similar model, when you realise that it originated from grateful parents following an emergency delivery by a policeman! Rare pens include early silver or gold overlay eyedroppers by the major manufacturers of the period and, more recently, pens vintage and non-vintage, made specifically for the collectors' market.

Digger: How difficult are these Vintage Fountain Pens to source these days?

Chris: I am fortunate in that I have been dealing in vintage pens since the late 1970's so I have a number of contacts regarding stock. Also people contact me regarding pens they have found following a family house clear out. Even so, rare models are becoming more and more difficult to source.

Digger: Can you please tell us about your restoration service?
Chris: There is great satisfaction in taking a pen previously ignored in a drawer for 20-30 years and restoring it to, as near as possible, its former glory. This skill, initially self taught, was subsequently enhanced by expert tuition from the late Arthur Twydle - to whom I remain grateful.
Restoring your own vintage pens is fun. Restoring customers' fountain pens is a responsibility not to be taken lightly. Vintage pens are usually very brittle, have hardened inner sacs and seized up mechanisms. Even a very simple repair can be tricky and very time-consuming and some, despite one's best efforts, become casualties. Thankfully these are few.
Restoration charges vary depending on the filling mechanism, fault and the need for spare parts and in no way reflect the time and care involved. It is however, tremendously rewarding to return a pen to its owner once again in working order, particularly if it has been handed down the generations.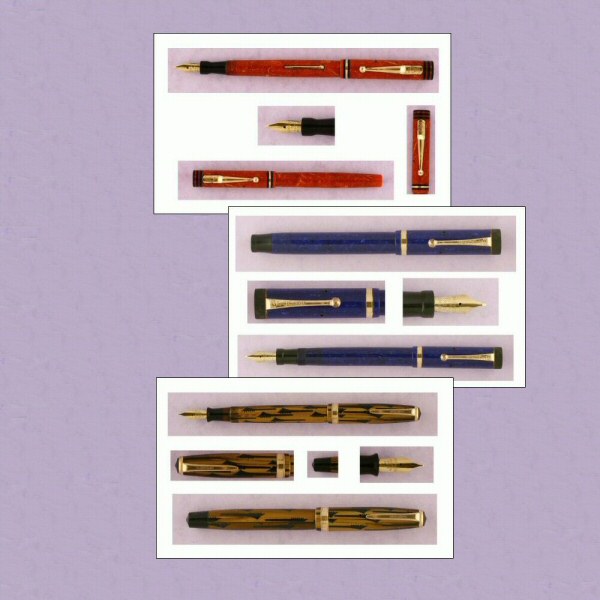 Digger: Besides pens, what other items do you offer?

Chris: On my website (vintagefountainpensinc) there is a section entitled "Desktop Items". Here you will find items such as inkwells, blotters, stationery boxes, early writing sets etc. This section is always worth a look when you are browsing the site. Currently I have a particularly pleasing silver stationery box and blotter from the late 1800's.

You will also find a "Sold Archive" section for both fountain pens and desktop items. It provides information to budding vintage fountain pen/writing equipment collectors and social history students. Each piece forms part of the collective history of its period and has a history unique to that particular item. For example, in the 1930's a silver banded fountain pen was purchased and inscribed by estate workers, with no doubt hard earned wages, as a silver wedding gift to the land owner. It was reported recently that before the National Health Service, when health care had to be paid for, a man pawned his fountain pen to raise funds to pay for his wife's hospital bill. A writing cabinet was a presentation piece to recognise 40 years of loyal service in a period when jobs were for "life". Just three examples which only scratch the surface of the lifetime of memories held within each item. A treasure trove of history that no new fountain pen or desktop item could convey.

In addition I offer a "Gift Voucher" service which is ideal for those customers who would like to gift a vintage fountain pen but are unsure as to which one to purchase.

Digger: What are your thoughts on 'the text and Facebook generation' and the future of handwriting?

Chris: Text is a great tool for quick and easy communication and I personally find it very useful. With regard to the "Facebook generation" - whilst I am not a Facebook member it is an excellent way of communicating with a large number of people of varying ages, some of whom find their way to my site.

With regard to the future of handwriting, despite my best efforts and having used hundreds of pens over the years, mine is such that I am really in no position to comment. However, a number of customers comment that, where in the past they have used biros, their handwriting has improved when using a vintage fountain pen nib. I stress the word "vintage" as new nibs provide a very different writing experience.

Digger: What are the most enjoyable aspects of running Vintage Fountain Pens Inc?
Chris: Restoring and supplying vintage fountain pens ready to use today. There is great satisfaction in taking an item handed down from grandfather to mother to son or daughter or, as in one case, found in a gutter forty years ago, and used until it seized up, and restoring it to provide the same satisfaction and length of service as when it was originally manufactured.
A fountain pen is not a fashion accessory, although it can be used as such, it has a curious way of attaching itself to its owner. People remember with fondness the pen they lost or the pen given to them on graduation or some other special occasion. They remember their mother's handwriting when making up a list for the grocer or writing a special message in a birthday card. I enjoy providing an opportunity for customers to become part of the social history of writing equipment for future generations.
Digger: Can you tell us what sort of feedback and comments you are getting from customers?
| | | |
| --- | --- | --- |
| | | "I just had to send you a quick note to say how much I am enjoying the Flighter 51 fountain pen! I have never had such a smooth-writing pen and it has really re-awakened the joy of things hand-written. I have quite a few 51s, but none as fine as this." |
| | | |
| | | "The pens are exactly as described on your web site, I have tried them out and I am highly delighted with them. (Please feel free to quote me should you wish to do so)." |
| | | |
| | | "The Pen arrived today (as you said it would)." |
| | | |
| | | "Totally delighted. Excellent site, service and of course, pen!" |
| | | |
| | | "Just to let you know that the ink well arrived today and it is just perfect." |
| | | |
| | | "Thank you for sorting everything so efficiently. Pleasure to do business." |
| | | |
| | | "I have just picked up your email and the lovely surprise of more money than expected. It was very sweet of you to pay more for the pens than we originally agreed and I do appreciate the gesture. It will also be great news for my mother who will be so pleased that the pens were worth more in the end!" |

Digger: And where are these customers coming from?

Chris: The web is of course a wonderful tool for reaching wider markets. I sell primarily to the UK/European market but also to Hong Kong, U.S.A., Israel and Australia.

Digger: What are your plans for the future for Vintage Fountain Pens Inc?

Chris: To continue to provide a good service and to build on our current success.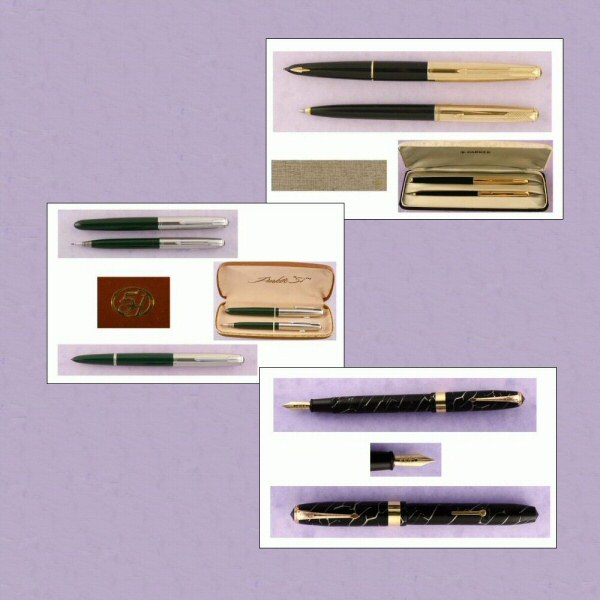 ---

Vintage Fountain Pens - ready to use today
Vintage Fountain Pens Inc. (VFPI) was established under its former name, Vintage Fountain Pens, in 1976.
We provide vintage fountain pens – restored and ready to use today and vintage desktop items. Vintage fountain pens are by their very nature second, third or even fourth hand, condition will vary and this is stated and reflected in the price.
A fountain pen gift box is available free of charge with each purchase upon request. Just tick the relevant box at checkout.
Fountain pens are part of our social history. Few items these days can be handed down from grandfather to mother to son or daughter and provide the same satisfaction and length of service. Those I meet at fairs remember the pen given to them on graduation or some other special occasion, or their mother's handwriting when making up a list for the grocer or writing a special message in a birthday card. Others, no longer enamoured of "biro" or "gel", arrive at my stall seeking a pen which reflects their personality, is aesthetically pleasing, a pleasure to use and reliable for everyday office and personal use.

Vintage Fountain Pens Inc.
PO Box 7242
Sherborne
DT9 9DE
Phone: 07932 037 630

Email: info@vintagefountainpensinc.com
www: vintagefountainpensinc.com