Gary produces visually stunning phonecards framed with original records and DVDs.
Digger caught up with Gary at the Brackley Biker's Festival where his stall was doing a brisk trade in rock 'n roll related Music Frames.
---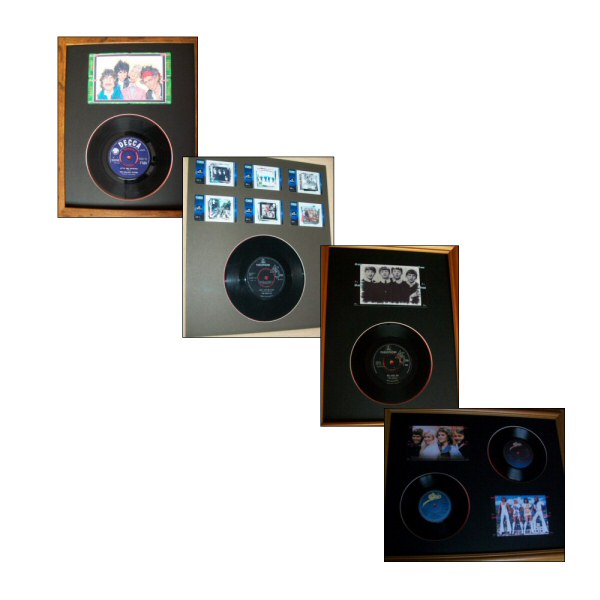 Phonecards and vinyl make a great combination framed.
And Gary takes extra care to cut the vinyl and cards
into the mount and to choose frames and mounts
that set off the display.
Digger: Can you please tell us a little bit about the background to Gary's Music Frames?
Gary: I started framing records about one and a half years ago as a hobby. Then I found a decent record mount cutter at about the same time as I came across the used phonecards.
Digger: What sorts of sets and options and formats are you offering Gary?
Gary: I offer a record and set of four cards that make up a complete picture or two records and two sets of four phonecards.
Digger: Can you source particular items, titles or combinations for people?
Gary: I can source particular items like particular artists or records although I stress I am not an expert on many artists.
Digger: What sort of feedback and comments are you getting from clients?
Gary: I am getting great feedback from people because of the unusual and different nature the phonecards have. The comments are that they look stunning and vibrant.
Digger: What do you most enjoy about running the Gary's Music Frames business?
Gary: I enjoy running the business because I like making the frames up and get a lot of enjoyment out of the finished articles. This is very new to me being a businessman - I have only been going nine months.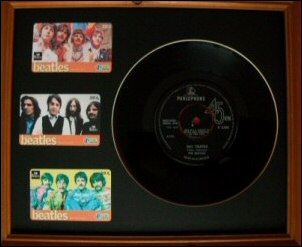 The Beatles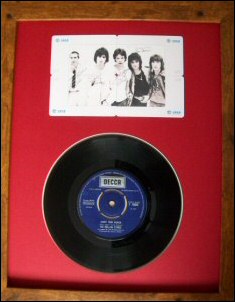 The Rolling Stones
Digger: Why is retro and nostalgia such a big thing in people's lives?
Gary: Retro and nostalgia is such a big thing inn people's lives because it takes them back to their teens; an exciting time for most people. And then there is an element of mystery involved with nostalgia.
Digger: What are your best sellers and what are the most unusual pieces/sets?
Gary: My best sellers are the legends in music really – Elvis, The Beatles, The Rolling Stones and a lot of rock 'n roll stars like Buddy Holly, Gene Vincent and Billy Fury. My unusual pieces are Tin Tin and Asterix The Gaul cartoon cards. Although they are not music-based, they look great framed.
Digger: How difficult are these items to source these days?
Gary: Some are difficult to source but I can get a large variety generally speaking.
Digger: Where do you see the future for Gary's Music Frames?
Gary: I hope to build up Gary's Music Frames over the next three to four years when upon I get to 55 years of age. I hope to take my company pension and spend a lot more of my time building up the business and diversifying. I already have some good ideas for the future. I have had good feedback from people about these ideas.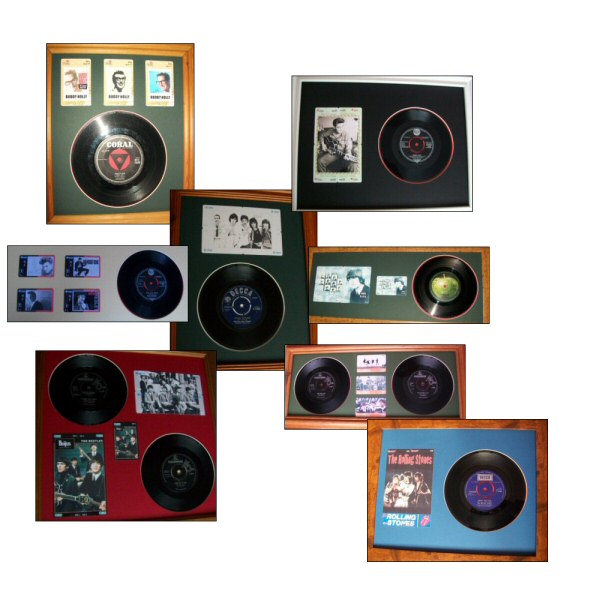 From rock 'n roll to the seventies and eighties,
Gary's Music Frames are a unique gift or
an economical treat for yourself.
---
I am pleased to offer for sale these music and DVD frames. They make the ideal gift at a reasonable price. Please take a browse round my website to see if you can find anything which you would like. I am happy to try and make up these frames for you, just contact me with the artist or film you would like.
Visually stunning phonecards framed with original records and DVDs. Find the ideal gift for that special somebody by purchasing a nice frame with their favourite record alongside a visually stunning set of phonecards.

Also available football, films, celebrities.

Contact Me
Phone: 07788 693972
Email: vinyl45s@hotmail.co.uk
www: Gary's Music Frames