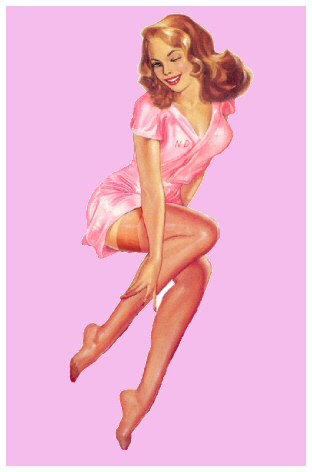 Nylon Dreams Hosiery and Lingerie Online brings you the latest exciting collections of hosiery, nylons, pantyhose, tights, nylon stockings, fully fashioned stockings, quality suspender belts, garter belts and Designer Lingerie for that special occasion or just to "Dress To Impress".
Here Digger talks to Steve about this flourishing web-based business with manufacture from the UK.
---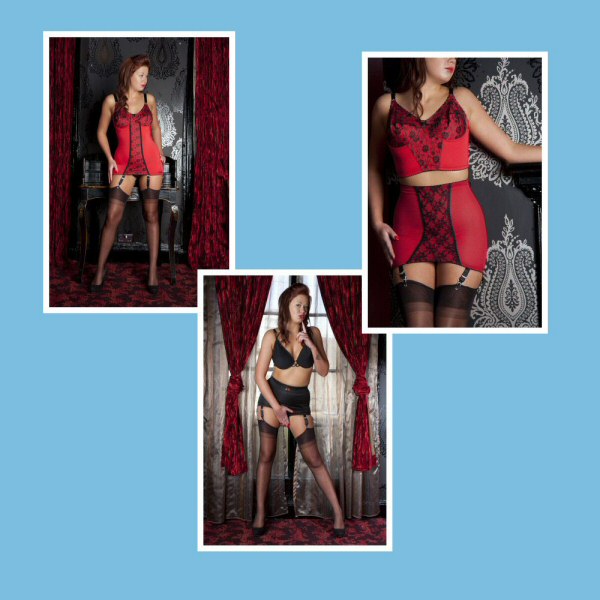 Digger: Please tell us the background to the Nylon Dreams business Steve.
Steve: I used to be in the engineering plastics industry ,but I used to make websites as a hobby for friends and family and for one or two people I knew in business.
But my wife Linda and I always had a love of retro lingerie, stockings and suspender belts,
We've been married since 1979, so we've got quite a few years under our belts.
Digger: Under your suspender belts! (Both laugh)
Steve: Well, yes exactly. Very well put. So we decided, after I'd done about half a dozen websites, to do our own. My wife said "Why don't you create a site for ourselves selling lingerie." So I looked into it and we launched the first site in 2000.
Digger: You were a bit of a pioneer weren't you?
Steve: Yes, even Google wasn't around in those days. It was early days for the internet back then.
Digger: I can recall when I was in IT in the eighties and nineties we were always being accused of using jargon and nobody knew anything about computers and The Internet. Now it's so totally part of everyday parlance and culture.
Steve: It is. Well back in the old days it was much harder as you know because there was nothing you could read about SEO work and how to get it up the rankings. In those days, thinking back, there were Alta Vista, Yahoo and some others were but there was no Google. You could submit your site to search engines but there was no written word as to how to optimize your site.
Digger: You just hoped for the best.
Steve: Exactly. That was what all you could do. We launched our site nylon-dreams.co.uk in Christmas 2000, which was the first site. After submitting it we waited three months for an for our first order. (Both laugh)
Digger: People at Yahoo then actually went to your site and reviewed it and decided whether to include it or not.
Steve: Yes, we quickly found out that just submitting your site was not enough. When you end up on page 23 of 10,000 pages, you're not going to get any business. So we quickly thought we had to do something, so we found out which companies were on page one for certain keywords that we wanted to be found on. We optimized our site and, lo and behold, we went up the rankings. Our first order was for a pair of pure silk stockings for £19.95. So we celebrated with a bottle of champagne, as you do.
Digger: Which cost you £30?!
Steve: Yes, exactly. (Both laugh) And that was the start.
Digger: Where was the first customer from?
Steve: It was a UK order.
Digger: Are you doing lots of international business as well?
Steve: Yes we are, we export to virtually every country in the world. The only country we won't export to is Nigeria for obvious reasons.
It was our intention then to just treat it as a hobby and all we aimed for was enough profit to pay for a decent family holiday once a year. That was our goal. But it very quickly overtook that and it carried on growing so we launched two more websites nylondreams.co.uk and suspender-belts.com. We make sure that these sites are unique in terms of content.
Digger: Yes, there's a lot you need to be aware of for Google.
Steve: It's a minefield and what's more it's an ever-changing minefield as well. Where there weren't any mines yesterday, Google plant more today.
Digger: I suppose they need to keep making changes - it's a necessary evil. It does mean that sites that aren't maintained properly or well will slip down the rankings. Google see a lot of coding techniques as spamming and for the uninitiated, or even for the initiated sometimes, there's a lot to be aware of.
Steve: I guess really it keeps some of the cowboys out.
Digger: I had a colleague who was making £1,000 a month just from a few referrals sites which were picking up people who had got the wrong spelling for some of the more prominent website URL's.
Steve: Yes, there's a lot of money to be made in affiliations. I have a friend with a holiday website and he makes a lot of money out of affiliations with people like Thomsonfly and others.
Digger: That's good, isn't it?
Steve: It's a full-time job for them because they have to optimize the site every day and keep their eye on the ball.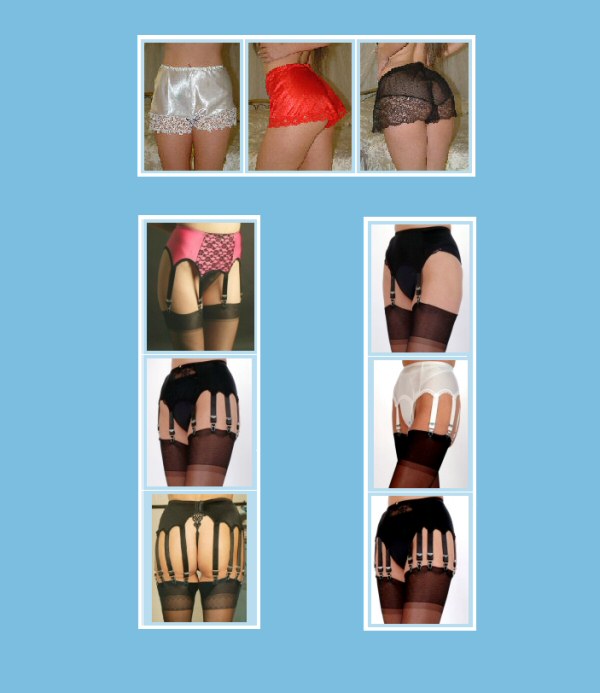 Digger: Similarly Steve, one of my clients runs a site which gives information about places of interest and places to visit. He started that as a hobby, because he loved visiting places and writing about them, but now gets enough income from ads and affiliations for it to be a living.
Steve: There's money to be made.
Digger: Please tell us about your products and product range.
Steve: As the years went on we expanded our range. We started off with classic six strap suspender belts
Then we went on to a lace front suspender belts and then we went eight strap, ten strap, twelve strap, fourteen strap. We've even been asked for more than fourteen strap but you have to draw the line somewhere! Then we launched our own range of Cami knickers, bras, briefs, corselettes and girdles.
Digger: Where are these made?
Steve: All in the UK.
Digger: That's unusual.
Steve: We manufacture here in the UK.
Digger: It's happening a bit more these days, though. I was talking to a client who sells shoes and boots yesterday and all of their shoes are made in the UK too.
Steve: I think the thing is there will always be the need for certain UK manufacturers because a lot of the mainstream high volume garments you see in the high street obviously go to the far east and cheaper manufacturing countries. But where you've got niche markets like this, where you're not selling the same volumes, you can manufacture here a lot more competitively and turn it around much quicker.
Digger: What sort of feedback and comments are you getting from clients and who are your 'typical' clients?
Steve: Our typical clients are women with style. Also, we supply quite a few transvestites - the TV market. They come to us quite regularly and weíre happy to help. Also anybody who hankers back to the nostalgia of the fifties and sixties for stockings and suspenders.
Digger: Have you got gentlemen buying for their ladies as well?
Steve: Yes we a lot of repeat customers ordering for ten years now.
Digger: The best sort of business you can have.
Steve: Yes, we get a great kick out of that. Giving a good service and looking after our customers is important to us.
Digger: What are your best-selling lines Steve?
Steve: We're very well known for our suspender belts. I've been told that we have the largest range of suspender belts in the world. That could quite well be true.
Digger: What about people from the forties community? Do you get lots of re-enactors and suchlike as customers?
Steve: We have had a few and we've also supplied people who have stalls at the retro events, such as RAF Cosford. And we also sell wholesale now quite a lot now into small shops and boutiques around the country and around the world. One of our selling points is, we don't have a minimum order. So they'll place a trial order with us, see what moves and depending what sells they'll come back re-order and off it goes. We also have manufactured our own bespoke Nylon Dreams hangers, which look very nice with the products on the shop rails, so our clients can have their very own Nylon Dreams retro section.
Digger: Has the retro thing boomed in the ten years you have been going?
Steve: I wouldn't say it's boomed but it is growing every year, And I think it is becoming more popular nowadays with a TV programmes like Madmen and The Hour and so on. Stocking tops and suspenders shown on those programs are helping to bring it all back, plus you've got people like Dita Von Teese who does the burlesque on stage and that also helps promote it.
Digger: I suppose even people like Amy Winehouse, God bless her and Lady Gaga?
Steve: Definitely.
Digger: Why do stockings, suspenders and vintage lingerie remain so popular?
Steve: It's classy and elegant.
Digger: And sexy as well.
Steve: Yes, it is and people will buy it to feel special and to make the occasion more special.
Digger: This all-pervasive nudity and in-your-face stuff just does nothing, does it?
Steve: That's right. I've always been a firm believer that a girl looks far nicer in really nice lingerie than she does with nothing on.
Digger: Yes. I'm not sure if chaps would do though! (Both laugh) I was sitting in Baker Street at a cafe watching the world go by with some mates one day and within half an hour three separate transvestites all passed us by. Each one was clearly male, with square jaws, remnants of stubble, broad shoulders and manly legs.

Steve: Yes, that is a bit obvious.
Digger: You wonder if that's almost done deliberately, like a cult within the transvestites who like to look like men dressing up.
Steve: At the end of the day it's every man to his own and if that's what they want to do, as long as they're not harming anyone...
Digger: Yes, I agree. Each to their own and as long as they don't harm themselves or anyone else then anything goes.
Steve: We do get some tvís that regularly visit us here and even try clothes on in our toilets. They're welcome to, as long as they don't come out parading in reception in it.
Digger: (Laughs) Which toilet do they go into?
Steve: (Laughs) It can get a bit confusing at times.
Digger: What do you enjoy most about what you do?
Steve: Offering a good service, getting repeat customers. We always get a big buzz when we recognize repeat orders coming in.
Digger: Yes, I bet. Do you have a sourcing service or offering information and advice Steve?
Steve: If people come along and don't know what they want, we'll guide them through it. If they tell us how many straps they want and what size they want then we'll give as much advice as we can to make sure they get a comfortable fit. And make sure they get the garments that are right for them.
Digger: It can be quite daunting for blokes and I did this just the other day. When I go looking for clothes for my girlfriend, if you come out with something that you think is the right size, style and colour then you have a big self-satisfied grin on your face. Because we're really not conditioned in this country to buy clothes for our ladies. I don't think so anyway. And it can be rather intimidating.
Steve: That's right. Thatís why we give a lot of advice and but one thing we do find is that sometimes the guys will guess a size too small.
Digger: Whoops! Yes, I do that.
Steve: They say "She's a size 10-12, she's a medium." So we send it off and, lo and behold, we'll get a call or an email a couple of days later saying "Actually she's a size up, can you swap it please?" And we always do swap our garments free of charge anyway, so it's never a problem.
Digger: That's good Steve. What about the future for Nylon Dreams?
Steve: We're developing new products all the time. I can't say too much about them but I think it's important to keep introducing fresh ranges.
Digger: Thanks Steve for telling us all about Nylon Dreams and your passion for vintage lingerie and best of luck with the new ranges.
Steve: Thanks David.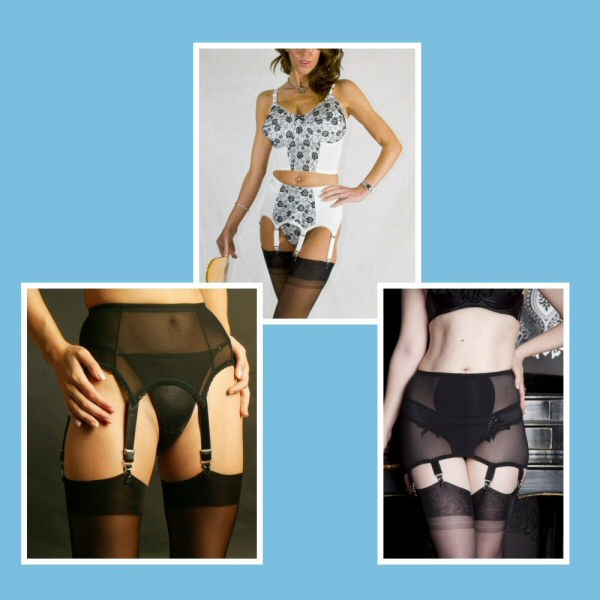 ---

Excellence in stockings, nylons,
pantyhose, tights
Suspender belts, Cami Knickers, Frilly Knickers, Leg Garters with 4 Straps, Waist Cinchers, Bridal Waist Cincher, Girdles, Basques, Bra and Suspender Belt Sets, Vintage Style Bustiers, Stockings, Pantyhose / Tights, Shape Wear, Fully Fashioned Stockings, Gio Fully Fashioned Stockings, RHT Stockings, Hosiery Gloves, Body Stockings, Fluffy Slippers, Patterned Hosiery, Adore Lingerie, Nylon Dreams Sexy Lingerie, Panache Lingerie, Diamante G Strings, G Strings and Thongs, Latex Rubber Wear, Latex Rubber Stockings, Latex Rubber Shiner, Leg Garters, STAYSPUT BODY GLUE, CELEBRITY FASHION TAPE, Support Hosiery

Welcome to Nylon Dreams Hosiery and Lingerie Online. We bring you the latest exciting collections of hosiery, nylons, pantyhose, tights, nylon stockings, fully fashioned stockings, quality suspender belts, garter belts and Designer Lingerie for that special occasion or just to "Dress To Impress".

We believe that to survive and flourish in today's market, our customers must come first. We manufacture our own Nylon Dreams Brand of quality vintage Lingerie including Deep Lace Metal Clasp Suspender Belts in 4, 6, 8, 10, 12 and 14 straps here in the UK.
Suspender Belt Sizes XXL now available We also manufacture a range of vintage style Lace Cami Knickers.

Save by buying online direct.

We also supply wholesale to shops and boutiques across the world, please contact us for more details.

Email: sales@nylondreams.co.uk
Telephone: 0044 (0) 2476 630780