MG Productions
- A World of Entertainment

MG stands for Mickey and Grace. They have worked in the entertainment business for the past twenty years and now work with some great artistes and musicians.

At MG productions you can book Mickey and Grace as a Duo (or Solo), or using their contacts they can supply you with different scenario Trios, Tributes and Cabaret shows. With their vast knowledge and experience of the entertainment industry they can guarantee a professional and friendly approach plus top quality entertainment with attention to detail and planning.

Here Digger talks to Grace about what makes MG special.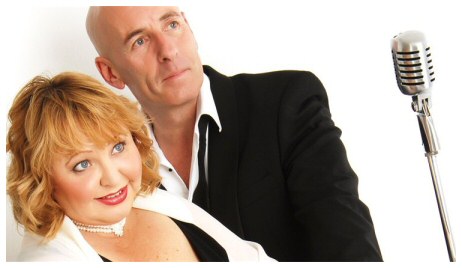 Grace and Mickey
---

Digger: Hello Grace. It's Digger.
Grace: Hello Digger.
Digger: Please tell us about your and Mickey's backgrounds.
Grace: I was in the school choir and fell in love with drama and acting. Sunday school and different classes that my mum sent me to – a proper little showbiz kid encouraged by my mum. Then I did a drama course when I left school and got involved with Theatre In Education where we went round and did productions for schools – history and that sort of thing.
Digger: Glad to hear you got some encouragement from mum. So it was pioneering work ahead of Horrible Histories?
Grace: That's right. So I was doing that back in the eighties. So from there I did a lot of 'am dram' and joined a repertory company touring with a couple of shows. Acting was my first love, then the singing side of things came in my twenties. I'd already done the choir, but then I was hanging out with different bohemian people who told me about their experiences. And I used to do old jazz quartets made up of old boys - in their seventies and eighties I would imagine. One of them was blind and I would get up and do the odd song with them now and again and the singing just went from there.
Digger: It sounds as though you had quite a grounding – you've covered everything haven't you?
Grace: Yes. (Laughs) But more - then I went on within rock bands and different duos. Mickey and I met kind of later on in life – Mike has always had a background in music. He was in his school band and played trumpet and then he went into DJ'ing and was very popular doing that but it didn't really satisfy his need for performance and creativity. But unlike myself, he hadn't had the exposure I'd had. And his parents were much more conservative and less supportive than mine had been. So he met me and used to sing to me in the kitchen or wherever and I thought "Do you know what? He's not got a bad voice." So I entered him into a talent competition, unbeknownst to him, and he got into the semi-finals. He didn't win it or anything but it kind of really gave him the hunger to go on. And he started getting his own sound together – he's a real crooner – he sings the Rat pack and Nat King Cole just because both of us love the golden era so he has gone that route. But when we sing as a duo we sing absolutely everything. He was lucky enough to support Jane McDonald at The Lakeside Country Club. I went off into cabaret as a solo singer and then got to my early thirties and went solo there and worked with a lot of the old stars like Freddie and The Dreamers and Frank Carson and Lionel Blair on the cabaret scene. Unfortunately, they're all going now aren't they?
Digger: I think Lionel's still holding on. We lost Freddie a while back.
Grace: Freddie really took to me and he said I was like a younger Lulu (Laughs.)
Digger: That's very complimentary. Are you tiny like Lulu?
Grace: Not any more! I was very much like her when I was working with Freddie and there's a passing resemblance I suppose and with the way I belt out songs. Freddie let me use his equipment, which apparently is unheard of. He was quite staunch at people bringing their own equipment in but he warmed to me and couldn't do enough for me.
Digger: It's always good to hear when these people are human.
Grace: Absolutely. I found him to be lovely and he was very nice and left a lasting impression.
Digger: I still remember him on Blue Peter doing that funny dance.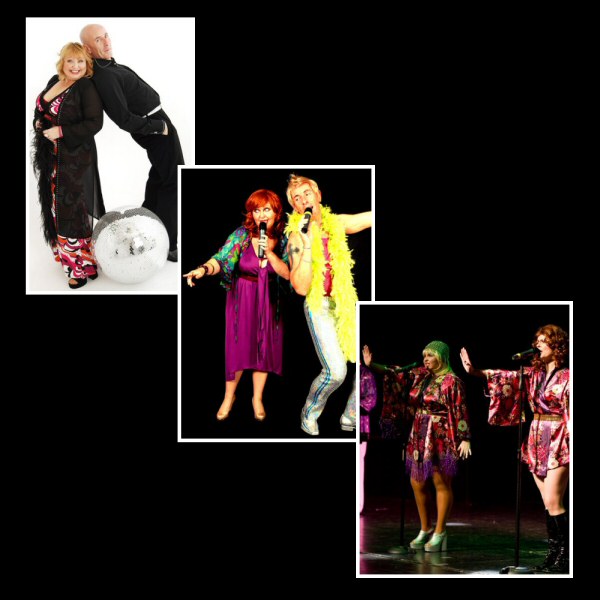 Grace: He still did it later.
Digger: How and why have you created MG Productions and Event Crashers?
Grace: MG Productions came first and that was myself and Mike out there doing our thing. To get ourselves established as a due we started to do quite a few showcases. And on the showcases we kept meeting the same artists over and over again. We started chatting and finding that we all liked the same things and so on. There were two artists in particular – Karen and Steve - she was a Karen Carpenter tribute and Steve an Elvis tribute. We got together and put a show together called Step Right Back. We toured the Step Right Back show and because it had such big dance numbers and so on we started to break it down into smaller cabaret shows and to cover that we created MG Productions.
Digger: Sounds very grand – sounds like something from Hollywood!
Grace: Do you know? I hadn't even thought of that! MG is Mickey and Grace and we liked it because it's got the connotation with the car and a bit of a retro feel. So that started and then it gave us an umbrella to put our shows on – we don't purport to be agents and we don't try and compete with agents because we've got very good relationships with all the agents we work with. But obviously we do take bookings from people and we do self-promote and go round to the wedding fairs and so on. We do take on our own work as well as getting it through agents.
Digger: And a lot through your website as well I suppose?
Grace: That's right. We saw a gap in the market here in the south with Event Crashers and also it puts our acting skills to work which is something I've been angling to do for quite a while. To get back with the acting, so that covers our skill-set which is acting and singing. Unfortunately, Steve who was Elvis and who was also the fourth member of Step Right Back moved to Florida. So we lost him for our Abba show and our Bee Gees show as well. He was so versatile and the point of the show was that we covered a lot of styles and that's why the four of us got on so well. Because Steve wasn't just an Elvis impersonator – he was a really good singer who could sing falsetto and harmonise and there's not that many good Elvis acts that can also do all this other stuff. So when we lost him that put Step Right Back on hold for the time being and Event Crashers took over. Event Crashers is much easier to sell – it can go anywhere, it can be big or small, we can bespoke it to the clients and their audiences and it's a very flexible act.
Digger: That's the important thing these days – you have to be able to be really flexible.
Grace: Absolutely and I think we are. We do retro shows for care homes for people of eighty or ninety right through to pubs and clubs with the younger crowd. You've got to have quite a wide range to make people happy. And you have to read your audience. I think that's something we're very good at doing. If we do go somewhere where we think "We're going to go this tack." And you get there and it's totally different then we're able to change it quickly.
Digger: Sometimes the performance area and equipment night be different to what you expect as well as the audience too.
Grace: Yes.
Digger: Why are vintage and retro so popular?
Grace: We think because it brings back memories of happier times, hopefully, doesn't it? That kind of nostalgic warmth and music is so emotive at bringing back memories, especially of childhood and our formative years. It's one of the reasons why it's so popular. And, of course, now a lot of artists are trying to emulate the sounds of the fifties and the sixties. It's a massive retro movement at the moment.
Digger: There don't seem to be many new styles actually do there?
Grace: No, but I actually quite like the music at the moment because it is nostalgic. We've had all the new stuff and we've been in a wilderness at points but I love British pop because it's always moving and always fresh. We keep quite up-to-date and even if we don't sing the songs ourselves, if ever we have a younger audience then we try and keep things up-to-date and play things they want to hear. Even if we can't sing it then our iPod is full and we're forever buying new music, new music to keep ourselves current and fresh. Even if it isn't your bag that's not what we're there for – we're there for other people.
Digger: When Mickey did the DJ'ing I don't suppose he liked every track he played either?
Grace: No, I mean I must have been singing Hi Ho Silver Lining for about thirty years and there comes a point where you think "Oh my God not again." But there are times when you've got certain audiences and you know as soon as that song has started their arms are going to be in the air and they're all going to be singing or dancing along and having a great time. And who am I to say otherwise? (Laughs)
Digger: People sing along to that but I'm sure we don't know what the lyrics are about. Please tell us about the shows and packages offered Grace.
Grace: We bespoke most shows to our clients' needs so with Event Crashers we'd go over with them what characters and scenarios they want. With the Event Crashers and Wedding Crashers we liaise very closely with them about the music, the characters , the scenario for their event and if they don't have any ideas we will suggest things until they're happy with what we've come up with. And that's what makes it so popular.
Digger: What sort of feedback and comments are you getting from audiences and clients?
Grace: Absolutely fantastic. People are rushing up and kissing us, especially at weddings. Because a wedding day is such a big event in people's lives and they spend so much money on it that they want it to be absolutely perfect. And, touch wood, we have never let them down yet. We have made people cry (Both laugh) But with joy!
Digger: I knew what you meant. There's a very funny video of a wedding reception where the best man does a speech and asks any men who have been boyfriends of the bride in the past to queue up and hand back her flat keys. And every man and boy in the hall gets up, joins the queue and hands in a key. The bride buries her head in the table. (Both laugh) It may take a special sort of person to be able to take a joke like that.
Grace: Yes, obviously you've got to consider the mums and dads, the aunts and uncles and you do have to be careful not to offend.
Digger: It can get quite emotional when families get together and haven't seen each other for a long time.
Grace: Thankfully, with Event Crashers, we're there during the wedding breakfast so that's when that particular performance takes place. And that's perfect because it's such a great time. You've had the wedding and the elation and then it all calms down, the pressure's off and in that lull we bang in and all of a sudden the party's back! If ever I'm a secret guest I won't eat a great deal – I eat enough to look as though I've had something but you don't eat a lot because you know you're about to burst into song.
Digger: Can you tell us the best aspects of what you're doing Grace?
Grace: It has to be seeing the enjoyment that we give to people. It's also satisfying when you hear you were recommended. We take pride and professionalism in what we do and we always try and keep it fresh and are upgrading what we do. We don't stick with the same old same old. Even if we hear a better backing track we may incorporate it – sometimes with piano and sometimes with brass and with drums. It depends who we're working with.
Digger: Some people are funny about using backing tracks or hiring people that use them. Yet, if people wanted a live orchestra they would have to book fifty musicians, some of whom might not turn up for one reason or another. Plus you have to pay a premium for these musicians who may not even get the sound as authentic or accurate as a well-crafted backing track can be. So backing tracks are often the best answer.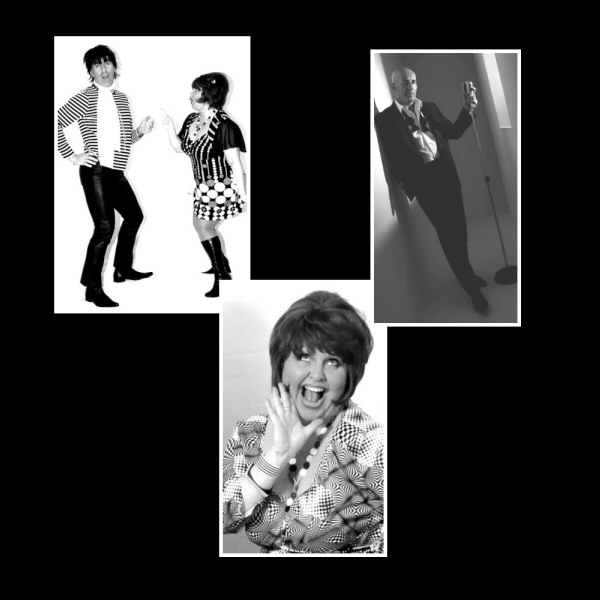 Grace: The one thing that we pride ourselves on is that the tracks we use are quite precise to the sound and they are all musical instruments. We do not use sampled or synthetic sound. We go around to different events with different shows and there is nothing worse than seeing a Frank Sinatra or Dean Martin and they're singing along to what sounds like a Bon Tempi organ. It sounds awful – they're standing there, looking amazing in their suit and then you've got (Grace sounds like a chicken impersonation – Digger laughs) and you think "What the hell is that?!" And that's one thing Mike and I are very staunch on the fact that we really research our music. Because we love our music so we don't want to be sounding like The Chipmunks. As you say it does annoy me that as a vocalist you're not considered to be an artist. But look at Frank Sinatra and Barbra Streisand they are vocalists and yet they're revered. If you go out and sing to a backing track there is some snobbery. Luckily people that we work with do see the value.
Digger: You can tell people they can have a big orchestra but it will cost them a lot more and I suppose most will then be happy with a backing track.
Grace: Absolutely. And especially if you do someone's party which they seem to be having a lot more at home these days. And they might have a big conservatory or big garden and they still get the big band sound but at a vastly reduced cost. It's quite easy for us to get our gear in and out, set-up in twenty minutes and it doesn't take up much space if they are a bit limited on space. They are getting the best of both worlds.
Digger: What are your Retro passions?
Grace: I've got a Karmann Ghia which is being done up at the moment and that's been on hold for some time but we've finally started to work on it.
Digger: Is that part of the image so when you turn up at a gig you are already in Retro mode?
Grace: Yes, we'll definitely have some photographs taken in it. It's nice to be whizzing around Portsmouth in it but it wouldn't really get us to a gig. There's no room to put anything in it either. We've got two people carriers and we can take the seats out of the back so they're like vans, aren't they? We do like our cars and Mike's quite interested in getting a Lambretta at some point. Mike is a bit cool for school and he'd look good on a Lambretta.
Digger: So what about the future Grace?
Grace: Just to maintain our high standards and stick where we are but keep changing and keep up with the times. We already do Adele and Duffy and poor old Amy Winehouse who just died. And she really turned British music around – I loved her and didn't like seeing her falling apart. It was tragic. It didn't come as a shock, but it's still an awful thing. We discovered her when Back to Black first came out which was 2005/6 and we've been doing her for that long.
Digger: She opened the doors for Duffy and Adele and others.
Grace: Absolutely, and turned British music cool again and brought female singers to the fore again because let's face it what did we have before then? – The Sugababes and The Spice Girls. British music was floundering and it was kind of that pop no-man's-land and then all of a sudden Amy came along and you're saying "What the hell was that? That's bloody amazing." I wasn't that keen on Rehab because of the connotations but you couldn't help hear the artistry behind it and when Back to Black came out it's full of angst and so emotive.
Digger: Yes. So more of the same? Which doesn't mean standing still…
Grace: No, always moving forward and listening to the clients. We're too old to want to be famous – we want to stay where we are but maintain our standard because that's a difficult thing to do. Staying fresh and keeping up with current trends.
Digger: You're in one of the hardest businesses I know.
Grace: Yes and a diminishing business because so many pubs and clubs are going out of business. It all has a knock-on effect.
Digger: But when you come through this climate you'll be a lot stronger.
Grace: Yes exactly and MG Productions have something called The Ultimate Party Night which is where people can choose what they have for their evening and they have a choice of one, two or three tributes and even a game show like Play Your Cards Right. Mike is Brucie and I am a Dolly Dealer and we do a nostalgic quiz or whatever the client requires. We worked for Bayer and they supplied all of the pharmaceutical questions! It's what they wanted and it's all great fun with the costumes and wigs. We always try and add a little bit of comedy if the clients want it so that it's not just the music.
Digger: I like a bit of comedy in between the music – a bit of patter.
Grace: Yes, I have just had a new item launched and have had some cards done. Rather than be called Mickey and Grace it's called All In The Swing because we love the forties and fifties and the crooning and it's all about retro and vintage but also some contemporary singers who sing in the swing style – Paolo Nutini and so on.
Digger: Good stuff. Well thanks Grace for letting us know all about what you and Mickey are doing.
Grace: Thank you Digger.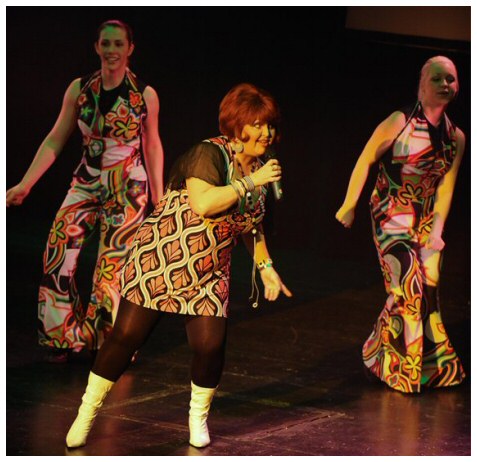 ---

MG Productions
- A World of Entertainment
Web: MG Productions
Mickey and Grace have a selection of exciting and entertaining Tributes and Shows including The Rat Pack, Swing, Sixties, Abba, Motown, The Carpenters, The Scissor Sisters

Email: mickeyandgrace@mgproductions.co.uk

9am - 9pm / 7 days a week

02392 614 212
07760 177 579
Event Crashers - Make YOURS the event everyone is talking about
Web: Event Crashers
Based in Hampshire and covering the South of England we offer a professional service in entertainment, specialising in Hidden Staff and Secret Guests.
Included in our service is the installation and use of a professional P.A. system. Background music tailored to your event. A microphone for your use, ideal for speeches etc. We go that extra mile for the personal touch. We carry ten million pounds PLI and all equipment is PAT tested.
02392 614 212
07760 177 579