Digger: Please tell us something of your background and the background to Carlight John.
John: My background is that I've been in the leisure world for the last five years and before that I was in car sales. The last three years I worked at Brownhills selling motor homes, which are basically caravans on a trailer. And for two years selling caravans of all different types. Carlight was established in 1932 in Sleaford in Lincolnshire and we built caravans right up to 2002. Then we stopped building caravans but still undertook to refurbish them. The Carlight name itself was still available at that point and we used to service them and refurbish them. We continued that until October of last year when our boss, Mr Durant, took over and he actually bought the Carlight name. He is a local man from Boston and he's got several businesses all over the UK. He has always wanted the Carlight name and when it came to taking over the company he was able to buy it with the name.
Digger: When you look at your website and see the evolution of the Carlight over the years it's very noticeable how the designs seem to reflect the decades in which they are from.
John: Yes, Paul Hobson has still got all the decades of classic caravans from the 1930s right until the 2000s. I know Mr Durant is possibly looking to purchase them and put them in a museum.
Digger: Sounds good. So how did things develop from there?
John: So from then Mr Durant started to build Carlights and still refurbish and service.
Digger: Are there a lot still around needing servicing and repair?
John: We've got a Carlight Club and a Carlight Enthusiasts Club and every year they have a meeting in the Lincolnshire area and come to see us. We had an open day on the 9th July which was very well attended - we had over 450 people here. Since the 9th July we've sold seventeen Carlights. In fact, each Carlight we've got in the workshop now is sold.
Digger: That's impressive in these times John. Sounds like a good business to be in. Is this UK-wide or is there an international element too?
John: No just UK at the moment. We've got our work cut out just doing the UK because as fast as we're building them we're selling them.
Digger: Caravans are really popular at the moment and they've taken off because of the economy and the 'staycation' and so on. But why do you think vintage and retro are continually so popular with both the older and the newer generations?
John: Well, with Carlight, if you looked at them in terms of the motor world they'd be the Rolls Royce of caravans. What we've never lost is the tradition of building them. So all our caravans are bespoke and you can have them built as you want. Each caravan is hand-crafted and we've got guys here who have served their time as cabinet makers. All our interior furniture and fittings are hand-built.
Digger: Do you get people having cocktail cabinets put in as they do in Rolls Royces?
John: Oh yes, I've got an order in front of me here for a chap who wants a different layout. I've sold a sixteen footer to a lady a couple of weeks ago and she wanted what used to be like a wet room converted into a shower and toilet for them.
Digger: It must make it interesting for you because no two jobs are the same.
John: No they're not, but it's not as difficult as it sounds because we've got proper craftsmen who can do virtually anything that you want them to do.
Digger: These craftsmen - are they all in-house?
John: Yes.
Digger: Oh I see, so it's a bit like where I am here in Northampton with a lot of the prestige car manufacturers around here and they do the same sort of bespoke work.
John: All our chaps here are experienced cabinet makers, so what we do is we make up the chassis - either Al-Ko or BPW chassis and then build on top.
Digger: What would you say are the main USPs for the company and its products?
John: The main selling point is tradition - they're still traditionally-built with a lantern roof and a one-piece roof, fibre glass front and back and aluminium sides and our aluminium is thicker than anybody else uses. They've never changed, so if somebody saw a new Carlight now they'd immediately recognise it because of the lantern roof. We don't want to get away from that, you see. And the other thing is the quality of build. The thing is, with a Carlight, if you bought one today and somebody bought another make of caravan you couldn't go to another manufacturer and say "I don't want that, I want this." Because they're built as a standard van but the tradition is the Carlight name, the quality of build and people know that come ten years down the line it's still going to be a caravan that is still functional and not falling apart. And any caravan we sell we'd buy back off of somebody and that's a policy that Mr Durant has introduced.
Digger: Who are your 'typical' customers, if such a thing exists?
John: Generally, older people I would say. Forty to fifty. These days, though, we are attracting a lot more younger people.
Digger: How are you doing that?
John: By advertising and actively trying to get to people who are younger too. Obviously with newer vans people are going to come and buy new vans because we've got quite a range of vans now ranging from thirteen foot right up to twenty-six foot so I think that's where we're going to get these people.
Digger: I think the attraction also is that you can tailor these to individuals as well?
John: Exactly, whatever people want. Even somebody who was disabled, we can put a bigger door on and ramps and so on so if somebody wants something in particular then we can do that.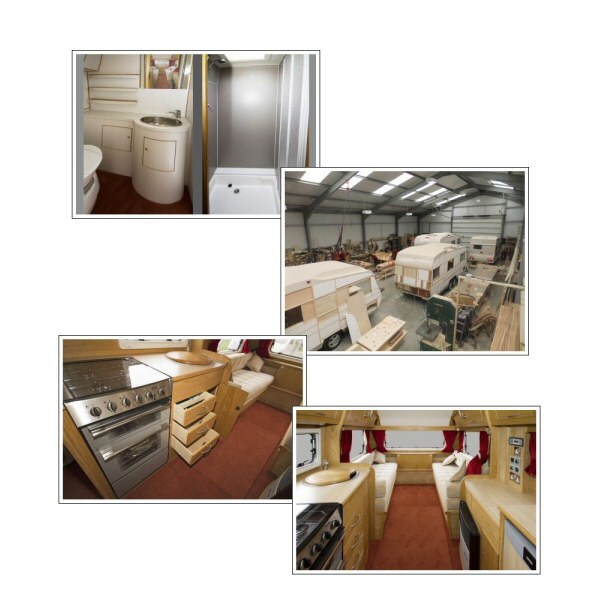 Digger: Is the fact that people are getting bigger these days an issue?
John: Not really, because if there was a shower room and you wanted it larger you could do that. The problem with a smaller van is that you are restricted to space but with a twenty-six foot van you can have the toilet area larger if you wish.
Digger: I've been stuck in a shower in a smaller caravan before so that I had to exit the shower cubicle to dry myself!
John: With these you can have them as big as you want.
Digger: What sorts of comments and feedback are you getting?
John: Very positive. Everybody we spoke to at the open day said it's nice that Carlight are back up and running and they do like the traditional outside, because we do try not to change the outside - if we did then you'd be losing the ethos of the lantern roof.
Digger: It's your branding, like the radiator grill on a Rolls Royce or the distinctive shape of a Jaguar.
John: Exactly, I remember when they changed the Mazda 3 from the old sleek back to a different design, people went off it straight away because they'd changed a fundamental part of what made it popular.
Digger: What things should people consider when buying a new or vintage restored Carlight?
John: The thing they need to look at is which layout they want, what year and what they really want to spend. I can't second-guess what somebody would want. They have to think that if they're buying a Carlight they are buying something that's going to last a long time. Whereas buying from an ordinary maker then the chances are things will start falling off after three or four years.
Digger: I've been in a lot of flimsy caravans and you wonder how they stay together. It's nice to have something more solid and rugged. What about the future then John?
John: From here what we're looking to do is to build a factory in the Sleaford area and then Mr Durant wants to open up franchises all over the UK really.
Digger: That sounds great. So he's really going for it then?
John: Oh yes, it's something that he's always wanted to do and it's a passion. He wants to build them here and have them sold around the country.
Digger: That's bucking the trend for engineering and manufacturing to go abroad. I like that.
John: Now he's got it he wants to make it work and that's witnessed by the fact that we're building new models like the twenty foot, the twenty-three foot and the twenty-six foot whereas before it just went up to eighteen foot. We are opening it up so that people can put them onto static sites. And you know yourself that people who are retired want a bigger area to live in. For somebody who goes away for a week then an eighteen foot is sufficient but if you want to go somewhere for a couple of months then ideally you want a large and comfortable space. And the other thing is that if you didn't want a shower in the caravan then we could take it out - a lot of people like to go on sites and use the facilities there and not use their shower. So all they're doing is having a loo and then using the showers at the campsite.
Digger: John, thanks very much for letting us know about Carlight and their history but, more importantly, their future which sounds very exciting.