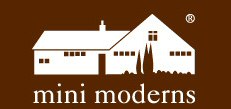 Mini Moderns is a range of interiors products designed and produced by London-based design and branding agency, Absolute Zero Degrees. It is a print-driven collection including wallpaper, textiles and home accessories for kids (and kidults!) and design-conscious families. The print designs are themselves at once retro, and modern, with influences ranging from textile designs of the 1950's to vintage toys and games.
Digger talked to Keith Stephenson at Mini Moderns about the brand and their products. Keith's knowledge on retro and pop culture is extensive and these influences are self-evident in Mini Moderns' designs. The mix of retro and modern is clearly appealing to a very wide group of consumers and age ranges both in the UK and internationally.
---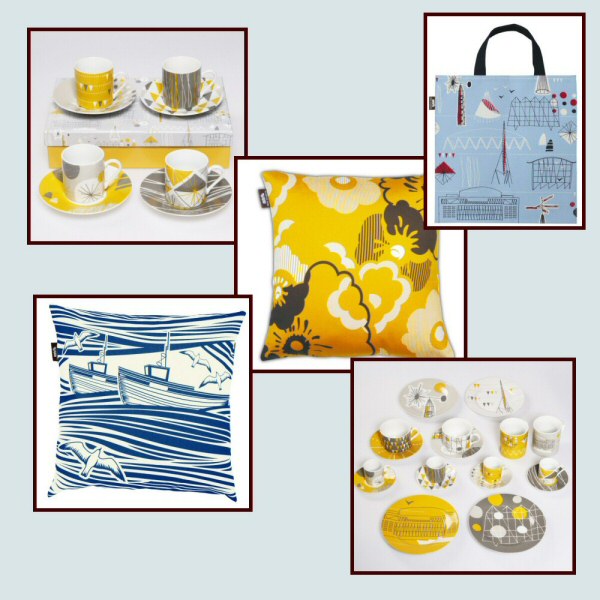 The successful Festival design (bottom right) is applied
across a wallpaper, cushions, bags and porcelain collection
Digger: Please tell us a little bit about your background and the background to Mini Moderns.
Keith: Mini Moderns is a collection of wallpaper, homeware and accessories for design conscious families created by UK branding and design agency Absolute Zeroº, which was set up in 2001 by Mark and myself. Our experience ranges from fashion clients, to Interiors, to Product Branding & Design – all of which have been a good grounding for launching Mini Moderns.
We were probably one of the first companies to appeal to a cross-generational market - creating wallpapers and home accessories which are contemporary but take their design influences from different eras.
We achieve the mix in Mini Moderns designs that brings retro styles up-to-date by using both colour and scale. Colour plays a great part in this which is where Mark tends to take the lead. Also scale plays a great part too - sometimes to stop a design looking too much like a pastiche of a vintage or retro design we will shrink it or blow it up bigger to give it a much more contemporary edge. We also try not to stick to a particular era for influence - although 'Whitby' was influenced by 1950s linocuts we also wanted a bit of a 60s Op Art feel to it as well as being influenced by more contemporary art too. Other designs are influenced from anything from textile designs of the 50s, travel to vintage toys and TV shows.
Digger: That's a very large and diverse range of products that you offer. Can you please tell us about them?
Keith: Predominantly Mini Moderns is a pattern design brand – with our core product range being wallpaper, but we have diversified into a wide collection of home wares from bone china mugs to hand tufted wool rugs.
Each season we create a small collection of new patterns with a theme rather like a fashion collection. This season we launch our 'Daytripper' collection, which includes four new designs and a re-coloured Mini Moderns classic.
'Festival' has been a runaway success already from this collection which features our favourite sights and pavilions from the 1951 Southbank Exhibition. The design is applied across wallpaper, cushions, bags and a porcelain collection. 'Whitby' has been hot on heels in terms of sales – which is also on wallpaper, bags, cushions, porcelain ware and a range of wash bags which will launch early next year.
Two of the new prints are collaborations – Hold Tight is in collaboration with the London Transport Museum and launches in September – and Vanessa is a print inspired by Vanessa Bell commissioned by the Courtauld Gallery.
Digger: What sort of comments and feedback are you getting?
Keith: We are getting amazing feedback – initially it was a challenge as our references may have seemed rather obscure when we started out seven years ago, but now vintage is such a major trend that the inspirations are understood a little more.
It was also difficult to explain that we were cross-generational too – no-one else was really saying this even though we weren't the first company to be doing it – we were possibly the first one to state it.
We are really gathering a firm and loyal following – and its great to meet people who say they love our designs – it makes it all worthwhile.
Digger: It's a big year this year with the 50th anniversary of the Festival of Britain. Why do you think Retro and Vintage continue to be such a big thing in so many people's lives?
Keith: Coming from a fashion background – it was not unusual for our prints to have an eclectic look from different periods. Some designs appeal because of the escapism of looking back to a more innocent time – especially in times of austerity. Others are successful because of the mix and match nature of our patterns. Clashing design influences and mixing up eclectic vintage styles is something that we think people find inspiring – they can mix these up to create something of their own. It has always happened in music and fashion – and I think we do it with interiors.
Our Alice print from our 'Folk Rock' collection was actually inspired by a piece of 1940's fabric we found in an L.A. thrift shop – but when we did our own spin on it - it sat nicely with our 1960's West Coast theme. It was also named after the heroine in Grace Slick's 'White Rabbit'.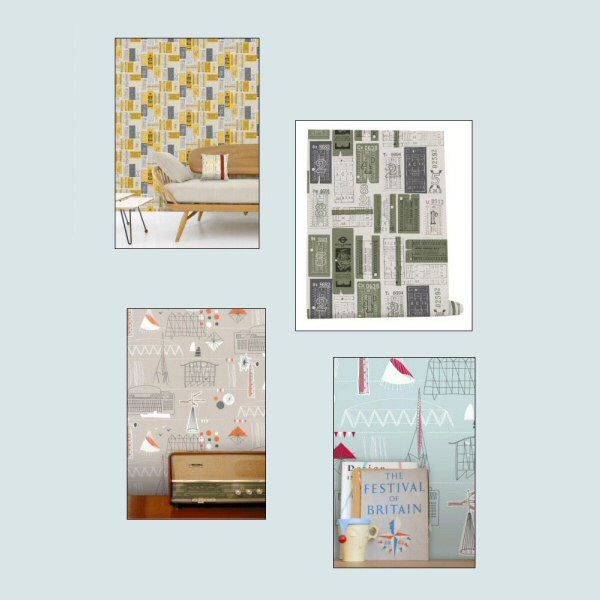 Wallpaper influences include The Festival of Britain
and London Transport iconography
Digger: What are your Retro and Vintage passions?
Keith: We have a lot of vintage passions – ranging from design to music, and we are very eclectic in our tastes – for example we love textile and furniture design from the 1950's but are not particularly interested in the music of this period.
We are as happy listening to new music, as 70's bubblegum, 60's Folk Rock, and psychedelia, 80's electronica, early hip hop and new Folk. Everything goes into the mix with us.
We are very lucky that we have very similar visual tastes and understand each other's point of references immediately. As short hand we will make up phrases that instantly we both understand – like 'psychedelic Victoriana', '70's art nouveau' or 'Mayfair bachelor pad' – and we get the visual mood immediately.
Digger: What are the best things about running the Mini Moderns business?
Keith: We are a partnership and are in total control of what we do and how we want to do it. On the whole, it's great fun – but it is incredibly hard work. Luckily we have a similar work ethic – so it's a lot of late nights working but is very rewarding. It's a very liberating feeling not to have that 'Monday feeling' of dreading the week ahead.
Digger: You place a lot of importance on ethical suppliers. What would you say is the ethos of the Mini Moderns business?
Keith: We have always produced in the UK – it has been our policy from the word go. We wanted to utilise the amount of great UK producers and build good relationships with them – that way we know that our products come from sweat shop-free environments. Any products that aren't UK made are our licenced products - like rugs and our collaboration on the porcelain ware with Magpie. We have always tried to seek out manufacturers that are still going strong in the UK. We get to know these factories very well – and they help us with production issues or what the best materials are to use. In return we stick with them even though sometimes it would be much less expensive to produce outside the UK.
Digger: How key is The Internet to what you do and from how far do your clients come?
Keith: We already have distribution in the US, Australia, Germany, and Sweden for the wallpaper collections. Since we updated our online Shoppe the response has been incredible and we sell every day on it.
We have visitors from all over the world and everyone is so supportive of our brand.
We have since we started always had a following in the world of blogs – and we are always happy to chat about Mini Moderns and do interviews for them – like this one!
We also have great support via twitter too – and spend too much time with our followers on there – but it is really interesting to share news and experiences there. We can also do loyalty discounts and let people know about new products immediately. It's also good fun.
Digger: Where do you see the future for Mini Moderns?
Keith: Obviously we want to continue to grow the brand. This year has been great in terms of what we have achieved – still as a privately funded, two-person business.
Next year we would like to be able to do larger collections with more home accessories. There are lots of things we would like to do with the brand – lots more collaborations, and new product areas. We always have more prints than we can afford to manufacture at the moment – so it would be great to get all of our prints out there.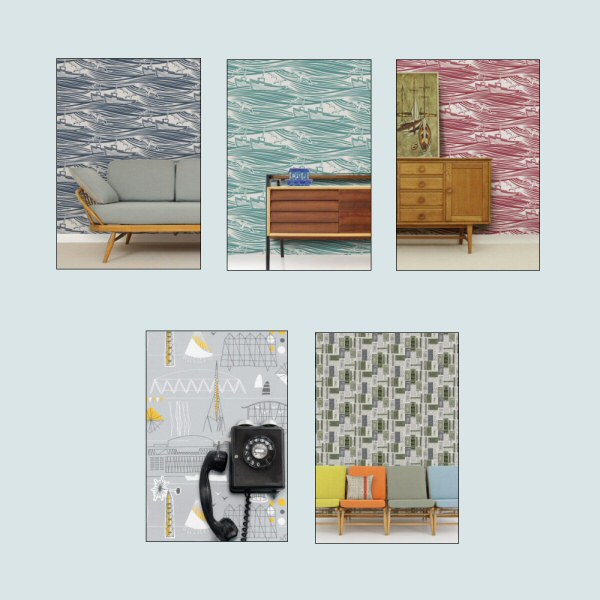 Whitby wallpaper (top left, middle and right)
available in a variety of colours
---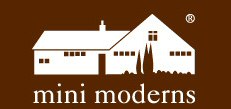 Operating a predominantly 'Made in the UK' policy helps keep our carbon footprint to a minimum and supports local businesses. As the collection is produced in factories known to us, we can be confident that all Mini Moderns products come from sweatshop free environments.
Mini Moderns/Absolute Zero Degrees

Email: info@minimoderns.com
www: minimoderns.com
Twitter: http://twitter.com/minimoderns
Tel: +44(0) 20 7737 6767
Credits:


Whitby Wallpaper
By Mini Moderns
Price: £45 per roll (52cm by 10m drop)
Available in 4 colourways: Washed Denim, Awning Red, Stone and Lido
Photo Credit: Josh at Love Vintage Furniture
Website: www.minimoderns.com


Whitby Cushion ( Washed Denim)
By Mini Moderns
Price: £35
Website: www.minimoderns.com


Festival Cushion (Grey)
By Mini Moderns
Price: £35
Website: www.minimoderns.com


Festival Canvas Bag (Blue)
By Mini Moderns
Price: £15 each
Website: www.minimoderns.com


Festival of Britain Wallpaper
By Mini Moderns
Price: £50 per roll (52cm x 10m drop)
Available in Concrete & Mustard, Stone & harvest orange and Bunting blue & red.
Website: www.minimoderns.com


Festival Porcelain Tableware
By Mini Moderns for Magpie
Mugs £7.50 each
Plates £18 (set of 4)
Espresso cup and saucer sets £20
Cup and saucer sets £15
Website: www.minimoderns.com


Hold Tight Wallpaper
by Mini Moderns
£45 per roll (10m x 52cm)
Printed with water based inks in the UK on paper from sustained forests
Available in 3 colourways: Harvest Orange, Mustard and Lichen

Photo credit (lifestyle images only) : Josh Love at Love Vintage Furniture
Website: www.minimoderns.com


Alice Cushion from The Folk Rock collection
By Mini Moderns
Price: £35
Website: www.minimoderns.com