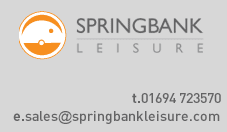 The 'Tab' caravan was developed in Germany as an alternative to the big, heavy, rectangular traditional touring caravans for people who want a lighter and more stylish solution. In fact, many people who have never towed a caravan before opt for a Tab because of its lightness, elegance and easiness to park and move. And inside as well as out there's a high-spec finish.
Here Digger talks to John West at Springfield Leisure about these Retro Chic Off-Road Tab Caravans.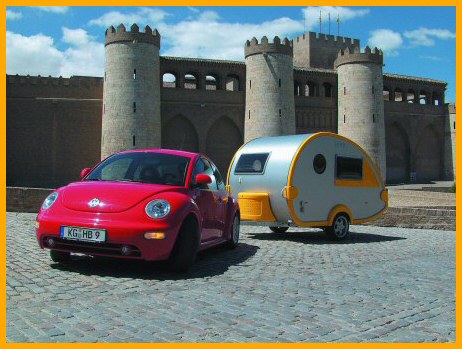 ---
Digger: Hello John:
John: Hello David.
Digger: Can you please tell us about the background to Springbank Leisure and your Tab Caravans?
John: In 2005 some people moved into our area and asked us to store a Tab caravan with yellow trim which they had bought a year earlier when they were on the continent. And I saw the Tab caravan for the first time and thought it was a very unusual product. I had no idea where it was manufactured. I did a little bit of research, initially thinking it came from America but then I found out it was manufactured in Germany. Up until 2005 it has only been brought in to the UK via individual people in its continental form, with two-pin plugs and non-British conforming upholstery and things like that. So I then went over to Germany with two colleagues and met the people at the factory and had a good look at the product. I decided that it was not only unusually-styled but also extremely well-built.
Digger: What a surprise for a German product eh?!
John: Well, yes. Most of these compact caravans on the market are things that have a rather homemade look about them. They look rather like a double bed on wheels but this is a proper caravan and extremely rigid as well, so the walls donít move when you lean against them. You slam the doors in a typical German way and itís built in such a way as it currently holds the world land speed record in its standard form. The retro model was taken around the Nurbergring Grand Prix track in Germany where Lewis Hamilton won last weekend.
Digger: Does Jeremy Clarkson know about this?
John: He does actually. It was 238 k.p.h. The standard model with standard steel wheels and dragged around behind a Porsche Cayenne turbo. And yes, in answer too your question, Jeremy Clarkson is allegedly quoted as saying that if he was strapped down and had boiling oil poured into his eyes, the caravan he might deign, in fact, to enter might be a Tab caravan.
Digger: (Laughs) Thatís great.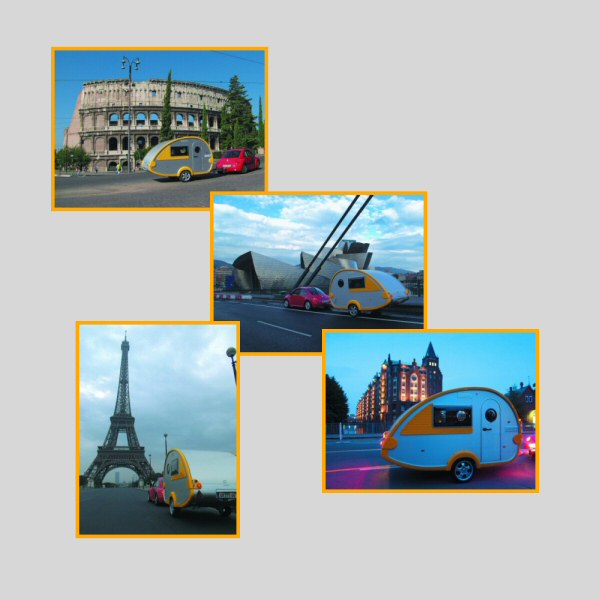 John: Itís appeared on things like The Gadget Show and also various celebrities have used it. It was known as 'Boycieís caravan'. I donít know if youíve ever seen the spin-off from Fools and Horses called Green Green Grass? John Challiss lives quite close to us here in Shropshire and in fact he was doing Much Ado About Nothing this season at the Ludlow outdoor Shakespeare company.
Digger: (Boycie impersonation) Oh no Marlene!
John: When Marlene threw him out of the house he went and stayed in his Tab caravan in the garden. So I did actually get involved with Springbank giving a Tab to the BBC for the filming. In fact, we went down to Pinewood Studios afterwards where they did a lot of the studio shots rather than the outdoor shots which were done up here and one of the cameramen had grown to love it so much that he actually bought it off me. So I didnít have to collect it after the rental period had expired with the BBC.
Digger: So that was a good result all round.
John: Yes. So in 2005 we got involved and took on the agency to buy directly from the factory in Germany. Not an easy thing to do as theyíre very picky as to who imports from them and since then weíve just been building up . We sell around about three to four caravans per month and that suits us fine. So there is a degree of scarcity, if you like, in the Tabs. Apart from ourselves, we obviously sell throughout the British Isles, there are also two other outlets available, one in Southampton from a motorhomes dealer and one in north Yorkshire from a big caravan dealer. We only deal, exclusively, in Tabs and donít deal in anything else. We like to think thereís nothing we donít know about Tabs. My two colleagues have been factory-trained, so we can sort out any little technical issues which might crop up. We are genuinely the Tab specialists.
Digger: How long have they been going John?
John: 2003 they were first produced in Germany.
Digger: Oh I see. I thought they would go way back from the look of them.
John: They were designed as a complete contrast to the companyís mainstream production. The mainstream line is a range known as the Tabbert and that range is best-known for being the first choice for all travellers in Europe. So no self-respecting Romany gypsy would not want one Ė itís their lifeís ambition to own and live in a Tabbert.
Digger: When it comes to caravans and what goes in them they know their stuff donít they?
John: The build quality is completely in a different league to pretty well everything else.
Digger: My dad has a Sprite Musketeer in the sixties and seventies and it was rather flimsy.
John: Iím afraid certain other manufacturers think that the way to get a lightweight caravan is to get a standard caravan and just thin down on all the materials. That wasnít the idea with the Tab Ė the construction is so lightweight, with a special internal cleanable liner and then itís bonded with polystyrene to the aluminium outer shell. So you have this laminated, if you like, shell which is incredibly rigid but astonishingly lightweight at the same time. So the net weight of the Tab is 550 kilos- thatís with it full of water and with gas bottles on board. And the standard tab is mounted onto a chassis which is 150 kilo chassis so, having filled it up with water and having put your gas container at the front of the Tab, you have the option of loading up to 250 kilos worth of stuff just onto the standard chassis. You can get an upgraded chassis up to 1 ton if you like.
Digger: What about options?
John: There are essentially two options Ė the standard Tab which is a two-person caravan which is available with a built-in fridge and a built-in heater. And then the most popular extras people choose which are the window blinds set which includes mosquito nets. Also, luggage nets to stop things flying around when youíre in transit. It comes as standard with steel alloys wheels but you can have alloy wheels as an option. And essentially all the running gear under the caravan is made by the company Al-Ko who are a German manufacturer who have had their headquarters in Rugby Warwickshire for thirty years I believe, maybe longer.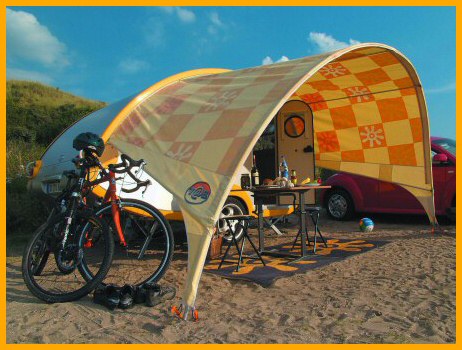 Digger: At the NEC caravan show I remember seeing their name a lot.
John: Virtually every British caravan now is using Al-Ko chassis and Al-Ko self-breaking wheel hubs and Al-Ko hitch locks and all the running gear. So while the body is made at the Tab factory all the underside is made by Al-Ko. Itís quite nice to know that there arenít any strange hybrid bits and pieces kicking around on the caravan. I believe that there are about 170 Al-Ko registered service agents throughout the British Isles, so even if you buy from us any servicing requirements can normally be catered for very locally to whoever buys it.
Digger: Who buys them John? Individuals, corporates or a complete mix?
John: Itís a different market in the UK to that on the continent. On the continent, itís marketed more for students and people in their twenties as a young personís funky caravan. In the UK, it seems to appeal to people who are not, shall we say, natural lovers of the idea of towing a rectangular white brick caravan around the country. And people whoíve seen these white brick caravans swaying majestically up and down the motorway and have decided that they were a little bit frightened of towing something of that weight and something that isnít that aerodynamic. The people who the Tabs appeal to are the ones who are not caravanners at all Ė in fact well over 50% of the first-time buyers have no experience whatsoever. It only weighs half a ton, it can be moved around like a wheelbarrow, itís perfectly balanced and so you donít need any mechanical or elector-mechanical caravan movers, such as remote controls to park. With a Tab, because itís so, lightweight it can literally be moved by two modestly strong people into position. So thatís a big plus point.
Digger: What should people consider when thinking about buying your caravans?
John: Quite simply, itís open to being towed from really a quite modest engine size of around 1000c.c. up to what people would probably normally consider to be a normal caravan size engine of two litres plus.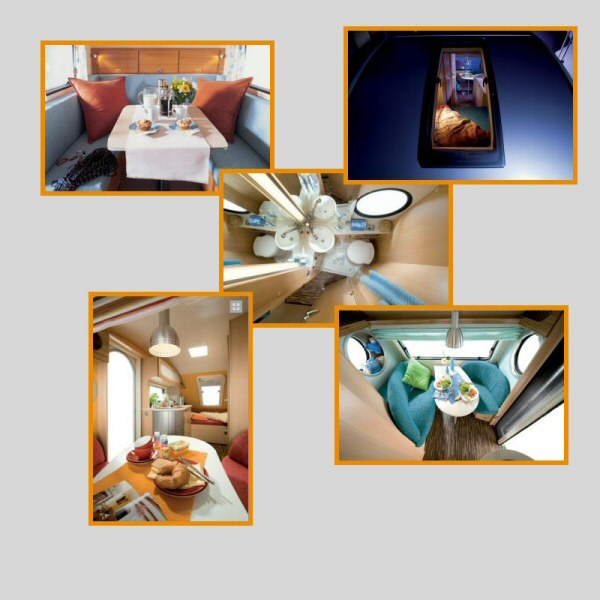 Digger: Or a Porsche?!
John: Or indeed a Porsche. It can be towed behind a classic Morris Minor Countryman to classic Porsches and E-Type Jags and MGTFs and all that sort of car Ė they look very good and weíve sold one to a Morgan owner. The new little Fiat 500s, the sort of bubble cars, they are legally able to tow a Tab. 120cc VW Polos. There are two or three cars, and the Smart car is one, that have no rating for towing and the other one is what I call the Keystone Cops Chrysler VT Cruiser Ė you know that rather strange-looking thing. That doesnít have a towing rating at all and it must be something to do with the chassis I think. Generally speaking, one big plus point is that the majority of people donít have to upgrade their vehicles for a more petrol-thirsty car because itís so light that it can be towed by all mainstream medium to small-sized vehicles.
Digger: What's the width John?
John: The width of the standard Tab is 2 metres Ė there is a large Tab which is similar shape-wise but it incorporates a bathroom and the large Tab is 2.3 metres which is the maximum legal width of a towing vehicle in the UK. The large Tab is a much heavier beast Ė itís got a 1 ton net payload and itís mounted onto either a 1200 or 1300 cc chassis. That is more akin, although shape-wise it still has the same style as the standard Tab, but the large Tab or Tab L as itís called is much more like a traditional touring caravan. The standard Tab, which is known as the Tab 320 because itís 320 cm long Ė 3.3 metres, is a camping caravan. It appeals to people who want to upgrade from tent camping or trailer tent camping to a caravan but not have the inconvenience of bulk and so on.
Digger: What are the best things about what you do?
John: We wouldnít deal with traditional caravans for two reasons. Obviously itís already well-catered for by all the major caravan retail outlets but the second reason we like the Tabs is, to be quite honest, because we like a vehicle which not only looks good but also is extremely easy to tow. The thought of towing anything but a Tab is not very appealing, particularly if youíre going on a long journey. You scarcely notice that youíve got the Tab behind the car and thatís the nice thing about it. The build quality is of course the other thing Ė because itís the natural aluminium shell it doesnít tend to weather in the same way as the white caravans do. They tend to have an unfortunate tendency to become yellow after a period of time, particularly if theyíre stored on the coast., I think the salt does something or the humidity of the air all around the coast. So really a five of six year-old Tab looks exactly the same after five or six years, fortunately, as a new one.

Digger: Amazing, isnít it? So what sorts of comments and feedback are you getting from clients?
John: Feedback from clients Ė theyíre almost unanimously in favour. There is a national talk shop, if you like, called the Tab Forum which is completely independent from us and whilst I donít visit it on a regular basis I hear from others. And because weíre a three-man company we try to be very approachable. Any little minor technical issues that crop up are dealt with quickly and professionally. And because itís extremely well-built - for example the fridge is built by Dometic which is part of Electrolux and the support for anything like the fridge or the heater or the electrical control box are all made by household names. So generally speaking any form of after-sales needed is advice rather than rectification.
Digger: What are your ambitions for the future of Springbank Leisure and the Tab caravans now that you're selling 36 a year and building up a big customer base there?
John: We're not looking to widen our product range because we don't want to become big - we'd rather maintain ourselves as a small, specialist outlet and go along with a manufacturer who is always looking for new ideas. Whilst I can't reveal what they are, I am aware that there is going to be a totally new style of Tab being available from about November of this year. So it's a question of watch this space and you'll see that the development offices in Germany are continuing and evolving the model. The two styles, the standard style which is by far the bulk of the sales and there's also a part of the sales from the new Tab L which was released about three years ago. As I mentioned, it's more of a traditional touring caravan and not as lightweight. So development's looking good, the fabrics change quite regularly inside and the actual build quality outside is mirrored by the internal material quality. Very stylish and not the traditional type of interior you'd expect from a caravan and very much designer. This gives itself a very pleasant, open feel when sitting inside the caravan. Not at all claustrophobic, wide, open spaces. In fact a lot of people call it a Tardis because whilst it's the size of a peanut outside, once you're sitting inside you very quickly forget you're sitting in a caravan of such modest dimensions.
Digger: You had some input into this latest design did you?
John: I normally pop over to Germany once a year and we make a few recommendations on how things can be improved and they obviously consider them. The average order value is around £9,000, which includes factory fitted extras and the delivery charge. We don't want to price ourselves much more than that because then obviously we are getting into the same prices as the big rectangular white caravans.
Digger: Thanks John for telling us about the Tabs and best of luck with the new models.
John: You're welcome. Thanks David. Bye.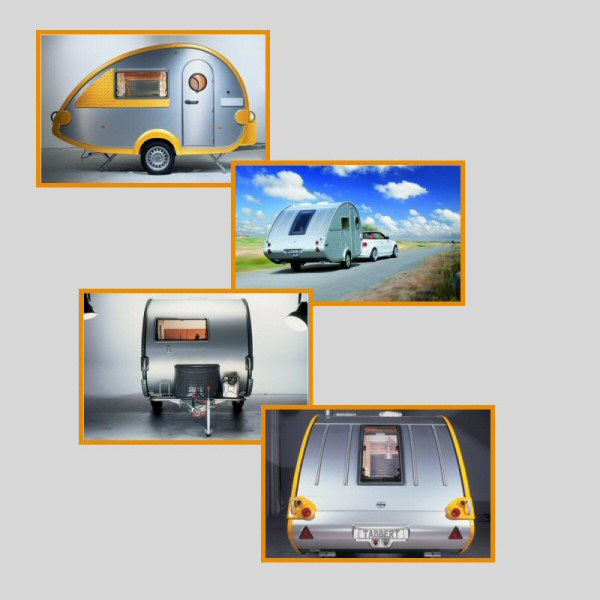 ---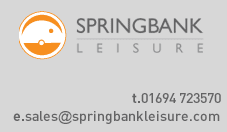 TABs Caravan direct from the Tabbert Caravan factory near Frankfurt in Germany are now available in the UK.

T@B caravans start life at the Tabbert Caravan factory near Frankfurt in Germany. Their unique seamless aluminium insulated shell construction with high quality external and internal fittings, pay tribute to the highest standards in German manufacturing techniques.

The T@B is a lightweight, easily manoeuverable unit with outstanding aerodynamic stability. The range is now extended with the larger, heavier model TAB-L (single-axle), with fixed bed and bathroom.

Springbank Leisure
Shrewsbury Road
Church Stretton
Shropshire
SY6 6HB

T. 01694 723570
F. 01694 724160
M. 07970 694752 / 07966 528146 (direct sales)
E. sales@springbankleisure.com