Playable Picture Frames - present our framed vinyl album cover artwork. Unusual gifts for him and her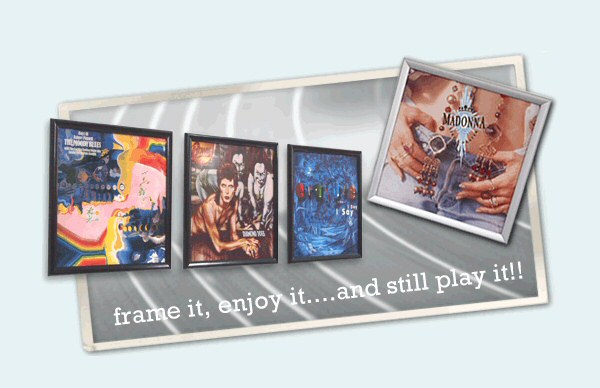 Digger often bemoans the loss of the 'album experience' with the advent of digital. That is, you can't see, feel, read, admire, display and cherish an MP3 like you could an LP.
In 'my day', the album cover would be a key part of the experience of buying music - often the motivation for buying it. The excitement of getting the album home, putting it on the turntable and listening to it for the first time matched by the enjoyment of admiring the album cover artwork and reading the detailed sleeve notes telling us everything we wanted to know about the recording and the artist.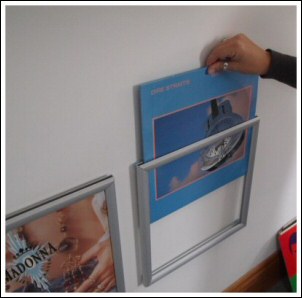 Here, Digger talks to Kirstie at Playable Picture Frames. Kirstie has come up with an innovative way to display classic Album Cover Art and also be able to play the albums inside.
---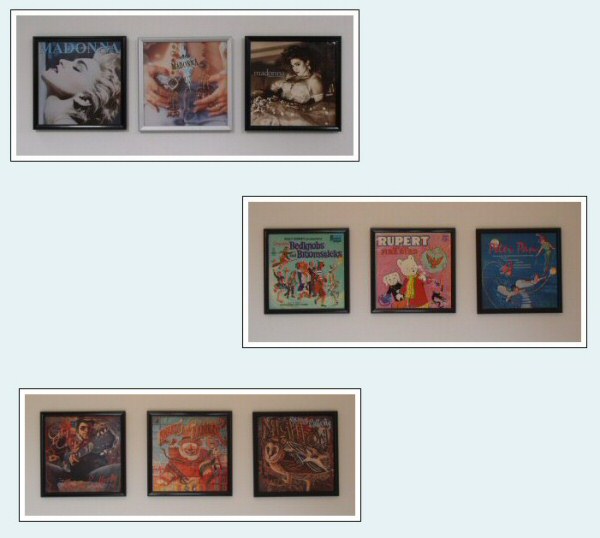 Digger: What was the inspiration for Playable Picture Frames?

Kirstie: The thought, "I can't bear to throw away my old record albums" was strong enough to inspire the creation of the Playable Picture Frame. In essence, a record collection is more than just space-taking, dust-collecting vinyl, it is a moment of your own personal history and as such understandably hard to part with.

Digger: Can you tell us a little about the service and products you are offering?

Kirstie: The Playable Picture Frames Company has gathered a range of old favourite record albums from a multitude of genres, to enable you to select a record album which is particularly special to your friend, partner or relative and by choosing from a black or silver finish to suit their specific environment, you can really personalise your gift of a Playable Picture Frame. Your selection will then be neatly packed in our funky pizza style box along with a delightful gift card with your message in it, and dispatched to an address of your choice in the UK.

In addition, we also sell just the frame for those of you who still have your own original record collection. The Playable Picture Frame is designed to be top loading, the ease with which the record can be changed whilst the frame still hangs on the wall enables one to change the album displayed to suit your mood or season. The frame is double-sided so that both the front and back of the record album can be easily viewed without the need to remove the record from the frame. The protective front sheets prevent the cover from being damaged whilst being displayed and appreciated.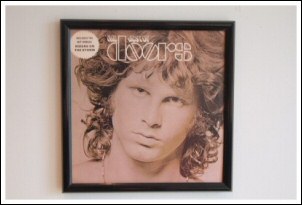 Digger: What sort of feedback are you getting from clients?

Kirstie: To date, we have had very positive feedback from our customers. As a gift, the Playable Picture Frame is as easy to order as a delivery of flowers but can be so much more personal and obviously lasts for much longer. As a Birthday Gift it can be a nostalgic trip back to teenage years, a rare album (which will increase in value) or perhaps a children's album in the silver anodised frame makes a very unusual Christening gift, and the love song albums have proved quite popular as wedding gifts. To be surprised by the postman with what looks like a "stale pizza" and discover a long forgotten treasure, seems to create the intended feel-good factor.

Digger: With MP3 and digital we have lost the beautiful album cover artworks and sleeve notes and that whole album experience. What are your thoughts on that?

Kirstie: You're absolutely right. In this modern age most music can be found at the touch of a button, but in my teenage years buying a particular track by a favourite band could be a time- consuming business. Even more so, if your penchant was for music by independent labels that were not readily available in chain stores but had to be sourced from backstreet record shops. A whole day could easily be spent hopping on a bus, finding the record shop and thumbing through row upon row of vinyl. Finding a rare pressing or picture disc was a wonderful feeling, an inner sleeve with the lyrics was a bonus, the artwork on a new album much anticipated. In my mind this is a definite example of where progress has been made with sacrifice, one that sadly our children do not miss because they were never able to experience it, but I do wonder if they enjoy the music as much when they haven't had the challenge of finding it.

Digger: What genres and styles have you got and can you source specific titles or artists for people?

Kirstie: We have tried to include all styles and genres. Our selection has been determined by those albums that still possess a good clean cover, which in turn offers a nice piece of artwork once in the Playable Picture Frame. However, some albums are so old or rare that we have listed them but always clearly state any major flaws if there are any. Obviously a phenomenal number of records were produced over the years and it would be impossible to stock them all. We will always endeavour to obtain an album that isn't listed, but obviously these would have to be quoted on an individual basis.

We haven't just focused on the music side either, we have included Film Soundtracks, Comedy sets, Children's TV, sport commentaries and other vintage recordings that might strike a chord with our customers. So if you select a record for its whimsical memories, "the first time you ……" or for it's icon status, or purely for the artwork of the cover, the Playable Picture Frame will transform it into a beautiful addition to your home. Whether it's for a Birthday, Wedding, Anniversary or Christening, the Playable Picture Frame is certain to delight the most challenging of recipients.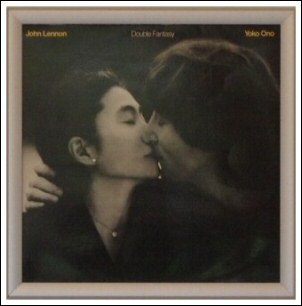 Digger: What are the most enjoyable aspects of what you do?

Kirstie: I love searching for the records, sifting through the old albums and finding a treasure, being able to use (or should I say recycle) records and combining them with a tasteful, aluminium frame (of superb quality.) I am able to transform these boxes of yesterday's nostalgia and recreate them as today's retro artwork displays.

It's great to be green and as a gift the Playable Picture Frame is "extracting the bare minimum from Earth's precious capital". The Playable Picture Frame is made and designed in England (how often can you say that these days) by a local manufacturer, and is constructed from recyclable aluminium. Although sourcing ethical manufacturing does have a knock on effect on the price! Likewise the cardboard pizza style box your gift is despatched in can be reused.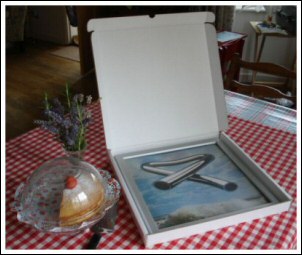 Perhaps to store a handful of favourite record albums so the image can be changed in your Playable Picture Frame. The majority of our record albums are sourced from a variety of charities, and by making a donation we are able to reuse these redundant records, reducing potential landfill and supporting worthy causes simultaneously.

Finally, when you dispatch a Playable Picture Frame as a surprise gift and enclose the sender's message, your feel like you are sending someone sunshine.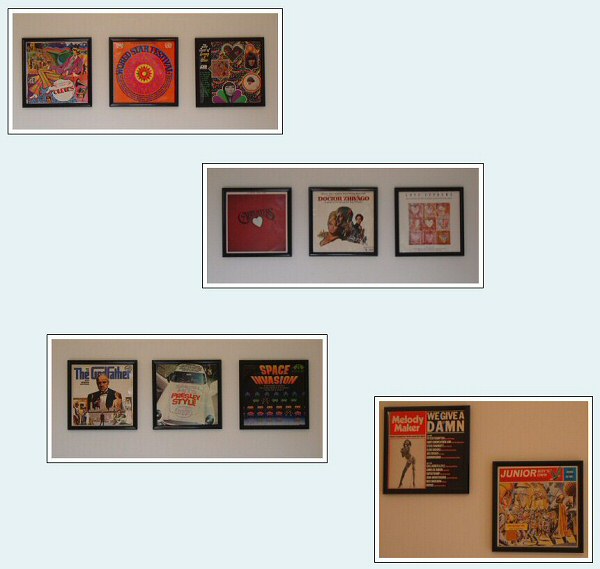 Digger: What are your personal Retro passions?

Kirstie: Gosh that is such a difficult question, probably because I have so many. But I would say top contenders are Morris Minor Travellers, tea from a teapot with tea cosy, home baked chocolate cake, with Tony Hancock on the radio or Benny Hill on the television. Oh, and absolutely bring back Top of the Pops, my Thursday nights are just not the same without it!

Digger: What are your plans for Playable Picture Frames in the future?

Kirstie: To expand on our wide selection of record albums, and to continue to provide a good service to our customers. It would be nice to expand on our gift range to incorporate other retro products, but that will definitely be a for the future plan.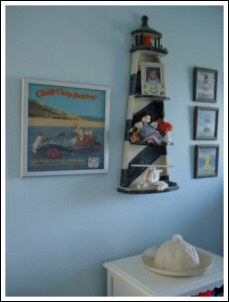 ---

Whether the occasion is a Birthday, Wedding, Christening, or Anniversary our Playable Picture Frames are a unique and wonderful, personalised gift that are certain to delight.

Select from our range of vintage vinyl, your favourite records and classic albums, then combine with our tasteful aluminium frame of superb quality and boxes of yesterday's nostalgia are recreated as today's retro artwork displays. Categories include Rock, POP, Vintage to a range of other genres.

If you can't find what you're looking for you can Request a Record and we will try to locate it for you.

The top loading mechanism of the frame, enables the easy placement or removal of the album, so that the artwork of the album's cover can be displayed on the wall but still allows easy access to the record to enable you to play it.

Telephone: 07718922034
Email: carnabystreetltd@hotmail.com

www.playablepictureframes.co.uk