Britain in the forties - a time when you could leave your door unlocked, when you could enjoy a singsong around the piano. A time when you could take your girlfriend to the movies and a meal and still have change from a pound, even if Jerry was bombing the living daylights out of your neighbourhood and everything was on the ration!
Here, Digger talks to Johnny Victory and Frances Belle about their highly popular wartime tribute show 'Victory Belle'. This show features music, dance and comedy banter in a nostalgic package that is guaranteed to get you singing along and waving your flag.
Johnny Victory and Frances Belle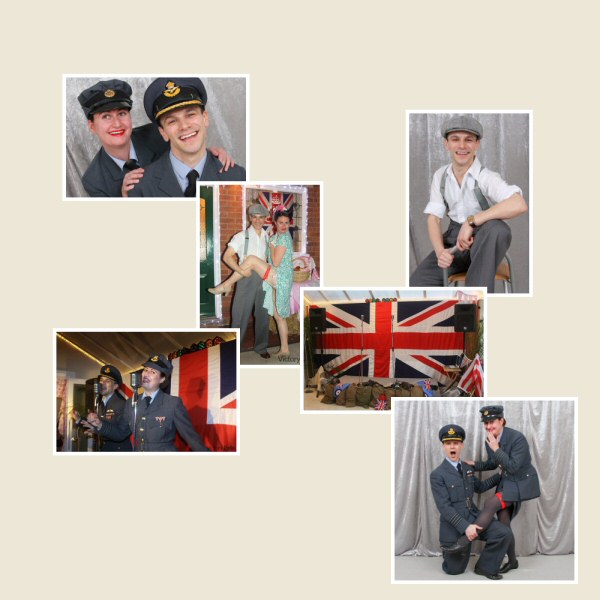 ---
Digger: Can you please tell us about your musical backgrounds?
Frances: I started at three years old, at Barbara Fothergillís school of dance and drama, progressing to the Italia Conte Stage School, where we received tuition in acting, singing and dance. I performed in the West End in various musicals and continued my singing development under the tuition of local vocal teacher Annette Woods.
Johnny: I have a passion for all sorts of music from opera to the classics - to Lady Gaga even! Saying this, I have always had an affinity with the songs from the 20s, 30s and 40s. I studied acting and drama throughout school and afterwards took tuition in classical operatic singing. I became part of a local opera company performing nationally, but the draw of the great songs from the golden period of writing, by masters like Gershwin, Cole Porter and the like has brought me to where I am now.
Digger: We have interviewed Dame Vera Lynn and Petula Clark many among others. Who were your musical inspirations and why?
Frances: Without thinking I can say Judy Garland. And the masters of dance Ginger Rogers and Fred Astaire, with Gene Kelly coming a close third. Without having seen their movies, I wouldnít have been inspired to undertake the journey into the footlights and the years of training involved. Just as they created a dream in me, I wanted to inspire and entertain others.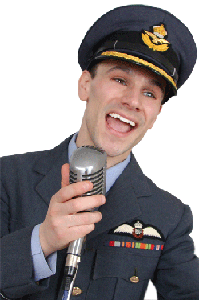 Johnny: I watched the movies of Busby Berkeley and was entranced by the glamour of the art deco period. I wanted to be like the hero and get the girl, so naturally I wanted to be Dick Powell and sweep Ruby Keeler off her feet. Musically, I love Noel Coward, a fabulous mix of composer and witty lyricist. And I suppose a reason I love George Formby tracks: slightly naughty, but ever so comical and clever.
Digger: Can you tell us about your forties shows and what options are available?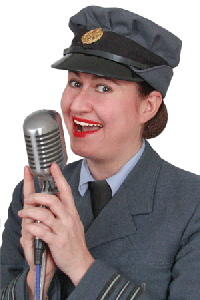 Johnny and Frances: Our shows are a high energy mix of 1940s song and dance - a mixture of wartime and nostalgic songs. We aim to entertain our audience but also to get them involved, whether it be up and dancing, singing along or reminiscing of better times. We provide a total service coming complete with our own PA and stage decorations. We entertain in original period costumes, both uniform and civvies, creating an authentic experience. We travel all over the country and have performed at all sorts of events: from a Birthday party in someone's front room, to the Imperial war Museum, to an aircraft hangar in front of thousands.
We are very hands-on in our shows and encourage people to get involved, dancing along or dancing with us! We can perform at an all day event, on and off, or provide a wonderfully atmospheric evening for any occasion.
Digger: And what about the other shows and 'packages' you offer?
Johnny And Frances: We also provide entertainment for other periods or occasions. As Equity registered performers we can turn our hand to anything! We have done carols at Christmas in period Victorian dress, 1950s Rat-Pack and 1930s as Fred and Ginger. As individuals, we are also available for any other theatrical work such as, acting, modelling and extra work.
Digger: WWII and the forties seems bigger than ever - why is it such a big thing for people and so enduring?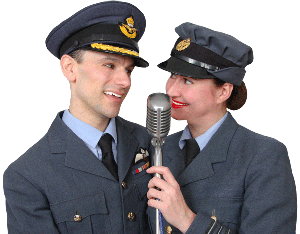 Johnny and Frances: We all acknowledge the horrors of the second world war, but at the same time it was a period when the country truly was united for one cause. The sense of camaraderie that existed was comforting to a whole generation and its this that we look back on with fondness. Having said that, none of us are aiming to celebrate war, just to recreate and educate those who come after. Also for the re-enactor, the dressing up opportunities are endless! Whether it be civvies or uniform, there is so much to choose from and for us entertainers the music of the period is magical. They didnít call it dance music for nothing! You simply can't not move your feet to the strains of Glenn Miller and the romance of the vocal talents of Dame Vera Lynn are simply divine. We are also helped by the fact these events are held in wonderful surroundings: steam railways, beautiful countryside, museums, stately homes... the list is endless!
Digger: Do you think the British still have the same kind of spirit and character that they demonstrated in the war years?
Johnny and Frances: Yes, We like to believe that somewhere within each of us still lies that Churchillian spirit and that we shall all stand together united for a common cause. In todayís society people are so distracted by other issues, that the communities we once lived in are so very different from the wartime years. Even with conflicts abroad, until our own homes are under risk of attack, we shanít see it.
Digger: How hard is it to reproduce the different sounds and styles of these various artists so authentically?
Johnny and Frances: The key to getting the sound right is research and rehearsal. So many of the artists of the 40s were so distinctive that we feel it is our duty to do them justice. Itís a process of listening to them and developing their style and mannerisms.
Digger: What are your retro and vintage passions?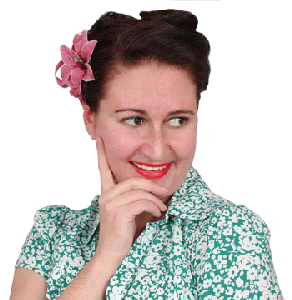 Frances: One of my passions is the history of the Titanic. I have a direct link, as an ancestor of mine was one of the survivors. I collect memorabilia of all kinds and my newest acquisition is a dinner service; an exact replica of that which was used in the First Class restaurant.
Johnny: I have so much old junk it's unbelievable! Saying this, I do love vintage wirelesses and gramophones, which Iíve been restoring for years. Iím also qualified as an antique furniture restorer, which means trips to the auctions always reveal an Aladdinís cave for me. Wartime memorabilia has become a passion too and we use lots of it to dress our stage area in our shows.
Digger: What sort of feedback and comments are you getting from audiences?
Johnny and Frances: We couldnít be happier with the feedback from our audiences. Weíre constantly amazed by the number of complementary comments and the number of people who take the time to talk to us after our shows. The biggest compliment of all is that many people book us for their own events after seeing us, so you canít say better than that! It fills us with a deep sense of satisfaction that not only have we enjoyed performing, but that it has touched and stirred long forgotten memories.
Digger: What do you enjoy most about performing this sort of material?
Frances: It fills me with an immense sense of pride. I love the love about it. I love the feeling it gives me, seeing the audiences react and respond. It transports you to another world, a time when, when everything seemed dark, we were able to overcome the worst.
Johnny: I love to perform. I love being Johnny Victory and dancing with Miss Belle. I love transporting the audience back in time and recapturing the past. The music is so evocative and thereís no escape from its charm. I am honoured by meeting Veterans who fought for us and I am amazed by their stories of heroism, though so humble themselves.
Digger: What are your plans and ambitions for the future of these shows?
Johnny and Frances: Victory Belle is going from strength to strength. We aim to widen our sphere of work and add to our repertoire of song and dance. Johnny hopes to learn the Banjolele so that he can do some George Formby numbers, ďturned out nice againĒ and Frances is choreographing new dance numbers for us. Our overall aim would be to fulfil our dream of performing full-time; entertaining and educating across the country.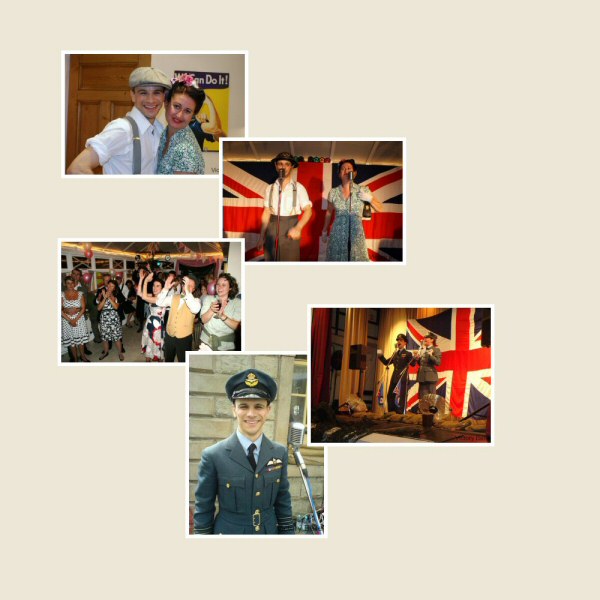 ---